Cao Bang is an immensely beautiful and sparsely populated border region in northern Vietnam. This mountainous expanse is on the northeast border with China and is home to many ethnic minority communities. Although the Ban Gioc waterfalls have become a popular attraction, this area is often overlooked by tourists, which means its unique beauty and culture have been well preserved.
The area is beginning to attract more attention from adventurous travelers looking to get away from the crowded and over-visited tourist areas and want to experience the rugged beauty of the border region. Due to its northern location, Cao Bang is cooler than the rest of Vietnam with an average temperature of 25-28 degrees in summer and 16-17 degrees in winter. Some of the highest peaks occasionally see snowfall in particularly cold spells. Cooler climates, rich forests and fresh air make Cao Bang a great nature getaway.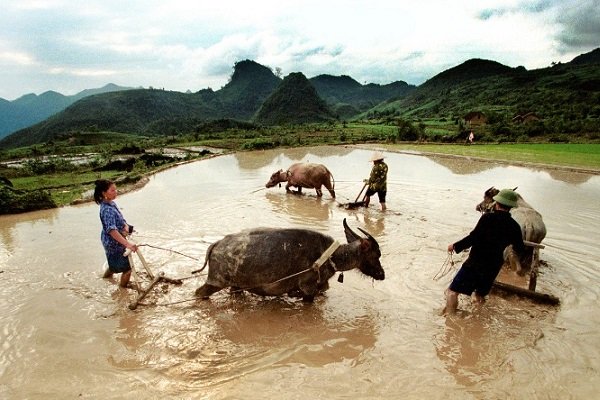 The landscape here is characterized by jagged mountains carpeted with thick vegetation, sporadic rice paddies and thin winding roads. Typically, Vietnamese populations tended to avoid mountainous regions in favor of the best agricultural lands in low and flat areas. This meant that these remote and hilly areas were inhabited mainly by the ethnic minority communities and this is still largely the case in Cao Bang. The main groups living in the region are the Nung, Dao, Tay and H'mong.
The breathtaking Cao Bang Geological Park in Vietnam was recently recognized by UNESCO, and it is considered one of the most beautiful landscapes in Vietnam. Discover with us the mysteries of Cao Bang Vietnam!
Where is Cao Bang located?
Cao Bang province is located 300 kilometers northeast of Hanoi and shares a border with China. The park itself covers 3,000 square kilometers with two distinct parts separated by the Cao Bang-Tien Yen fault line. The eastern half of the park is largely made up of limestone and includes magnificent caves, limestone mountains, lakes and rivers, as well as the Ban Gioc waterfall, one of the largest in the world. The beauty of the falls is also a landmark for visiting the Cao Bang Geological Park.
When to go to Cao Bang?
The temperate climate has four seasons, spring, summer, autumn and winter, and even some light snow in winter in some high mountainous areas like Trung Khanh and Tra Linh. The temperature is highest in May, and coldest in January. The average temperature is 25-28ºC in summer and 16-17ºC in winter.
We advise you to visit Cao Bang during autumn or spring.
Routes: How to get to Cao Bang?
How to get to Cao Bang from Hanoi?
By coach,  from My Dinh Station in Hanoi (No. 20 Pham Hung St, My Dinh), there are many high-quality, air-conditioned coaches to Cao Bang Station, the travel time is d around 9 hours and the price is around 8 euros
On a motorcycle.   If you want to discover the beauty along the road, the motorcycle will be your companion. However, the road to Cao Bang has many steep slopes and many big trucks, think carefully before embarking on such an adventure!
In a private vehicle, for a better experience combining comfort, culture, safety and autonomy, we offer you our car services with a driver and guide. You stop where and when you want to take beautiful photos on the road!
Where to stay in Cao Bang?
Most hotels and homestays meet in downtown Cao Bang. Staying in the city of Cao Bang is a good base for visiting the surroundings. Some hotel recommendations are Bang Giang Hotel (No. 1 Kim Dong St) and Hoang Anh Hotel (No. 131 Kim Dong St).
To give you an idea of ​​the cost for one night in Cao Bang and the accommodation budget to be expected, please refer to the prices below:
– Youth hostel (Hostel): 4 to 5 € in dormitory
– Guest house (Guesthouse): 8 to 10 € per person
– 3* hotel: 15 to 30 € for a double room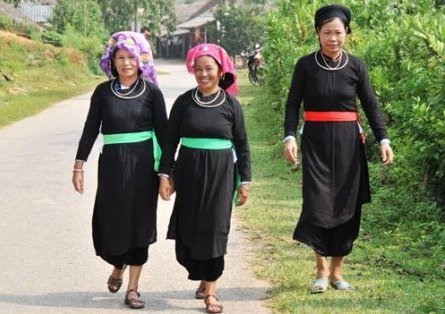 What to eat?
Restaurants are limited in Cao Bang. Opt for dinner at the small local buffet by the river, it's always a bargain. You have almost no restaurant as such in the region, there are always small local eateries where they cook rice with lots of different things. Follow your instincts and follow if there are Vietnamese in the restaurant (always a good sign).
For a good, familiar snack, look at 89 Kim Dong Street, where there's a nice little stall selling banh mi (bread) and pate. They will make you a great little savory sandwich for just 30,000 VND.
On the main street, there are many good local cafes, the best of which is the Trung Nguyen cafe in the city center.
A place steeped in history
Historians believe that humans first inhabited this area around 20,000 years ago and therefore this area has deep historical significance. The ancient kingdoms flourished during the Bronze Age and survived centuries of turmoil with Chinese invaders. Cao Bang is also the cradle of the Vietnamese revolution; Ho Chi Minh himself established a revolutionary force in this province in 1941. About 250,000 people from various ethnic groups inhabit this region today, all with their own cultural traditions, festivals, folklore, performances and crafts.
Cao Bang City
The town alone is worth a visit, especially its large riverside market, and the sunset at Cao Bang is an event, best viewed from the bridge or walking along the riverside promenade. . From here, you can watch water buffalo graze and locals paddle with little skill to bring their produce to market. What brings people to Cao Bang, besides the appeal of the region's fun rural roads, is the famous Ban Gioc waterfall northwest of town, one of the most photographed waterfalls in the world. Northwest of Cao Bang are the Pac Bo caves where Ho Chi Minh hid on his return from China. On designated days, usually weekend mornings, you're sure to stumble upon hill tribe markets in towns outside of Cao Bang (on your way to Pac Bo or Ban Gioc), a dream of a photographer.
What to see in Cao Bang?
As a certain sage said, the important thing is not the goal but the path. This diction is necessarily true for Cao Bang because the trip to get there is interesting. Roads leading to points of interest pass through beautiful mountain scenery in the heart of ethnic hill tribe villages. You will likely pass seemingly makeshift ethnic markets on the side of the road.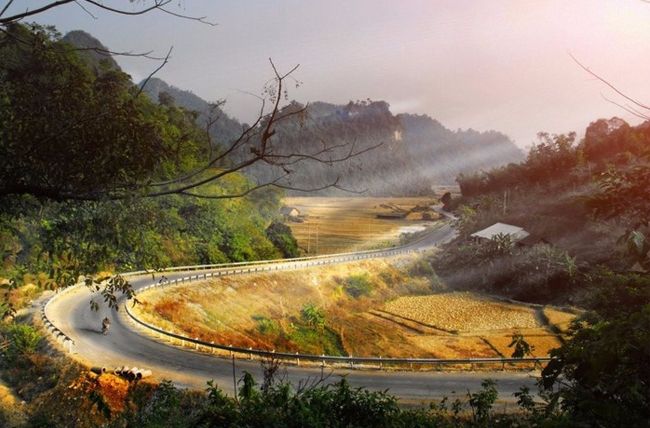 Ban Gioc Waterfalls are undoubtedly Cao Bang's number one attraction, and it's easy to see why. The wall of water marks the border between China and Vietnam. The water crashes over 30 meters creating a roar that echoes across the land. The waterfall behind the huge mountains is a unique and captivating sight.
A trip to Ban Gioc Waterfall is usually combined with exploring Nguom Ngao Cave which is a short distance away. The cave is 2 km long, but only the first kilometer is open to visitors. The name itself roughly translates to Tiger Cave and for a long time the cave lay dormant as local legend said that tigers inhabited the cave. Luckily, rather than an ambush of angry tigers, those who enter the cave are met with stunning scenes of rock formations. The cave is filled with stalactites and stalagmites of various shapes and sizes, their shapes emerging from the cliff face and often depicting mythical creatures or magical scenes.
Another stunning natural attraction is Thang Hen Lake. It sits in a quiet valley surrounded by rocky, forested mountains. The colors of the turquoise blue waters and rich green trees are intensified by the bright sunshine on a clear day. The lake is peaceful; the calm air is disturbed only by lazily grazing horses and sky-diving birds. The lake is actually made up of 36 different lakes, but during the rainy season when the lakes swell, they flow into each other creating a large body of water. Small wooden boats wait on the shores of the lake to take visitors on a journey around the lake, the perfect way to bask in the beauty of the mountains and the lake.
Pac Bo Grotto is not only famous for its incredible beauty, but also for Ho Chi Minh's shrine after returning from exile in China. A pleasant walk past Karl Marx Peak and Lenin Creek, named by Ho Chi Minh, leads to the entrance to the Chief's Hideout. The cave still displays the modest living conditions of Ho Chi Minh, settled among the fascinating karst rock formations. It was here that the national treasure spent his days writing poetry, reading and translating the texts of the leaders he admired. The setting is certainly inspiring, the chirping of birds and the peaceful ambiance are the perfect accompaniment to contemplation.
What budget for a stay in Cao Bang?
Vietnam is one of the cheapest countries in Asia! Here accommodation, transport and food are really accessible for a small budget. What's more, Cao Bang an off-the-beaten-path destinations, it's even hard to spend money!
We can think that a budget of 10 and 20 euros per day and per person for an economical trip will allow accommodation, food and travel.
So for a slightly higher budget and with additional comfort, between 30 and 40 euros per person per day is a fair range.
Recommended travel route: Ha Giang → Ba Be Lake → Cao Bang
The roads connecting the three northern provinces of Ha Giang, Cao Bang, and Bac Kan (Ba Be) pass through some of the most spectacular and remote areas of Vietnam. The surrounding landscape is extraordinary: many travelers consider this place to be their favorite place in Southeast Asia. Connecting two of the most scenic routes in the country (the Far North Loop and the Northeast Loop), a handful of incredible mountain roads weave their way through the complex terrain of steep valleys, limestone karsts and raging rivers. There are several different route options for riding between Ha Giang, Ba Be Lake (in Bac Kan province) and Cao Bang; all are amazing, but none are particularly simple. You can consult our Ha Giang and Ba Be guide to get an idea of ​​these places.
In order to organize this magnificent loop, do not hesitate to contact us, we will be happy to prepare this tailor-made trip with you.
Conclusion
Is a trip to Cao Bang worth the detour. Our answer is definitely yes. If you want to discover an area off the beaten track, beautiful and wild, you must go to Cao Bang.
The province is widely accessible and you can ask us for a tailor-made tour to include this exceptional destination.
Also if you are interested in large wilderness areas and off-the-beaten-track, check out our guide to Ha Giang.