Ha Long Bay, the beauty of the 7th wonder of the world
A Ha Long Bay cruise is often considered a must-do when traveling to Vietnam. Located in the northeast of Vietnam not far from Hanoi, it is considered one of the most beautiful bays in the world. In Vietnam, there is a distinction between terrestrial Ha Long Bay and maritime Ha Long Bay. In this article, we describe the specificities of maritime Ha Long Bay.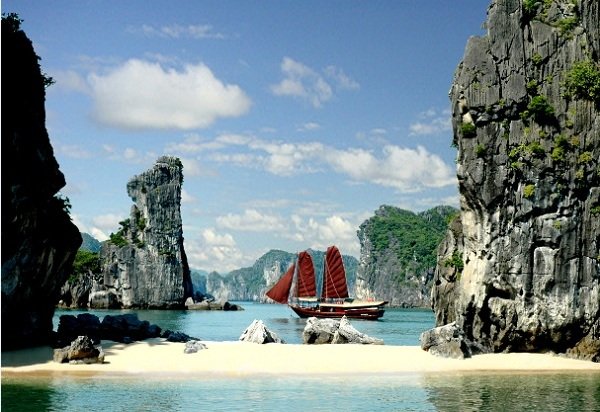 Legend of Ha Long Bay
Ha Long Bay is recognized as World Heritage by UNESCO, it extends over a perimeter of 1500 km2, and has about 1,600 islands and islets with dizzying relief emerging from the mist. . The name "Ha-Long" means "descent of the dragon" in Vietnamese.
Legend has it that dragons descended from the sky, sent by the Jade Emperor to help the Vietnamese fight the invader. They spat out thousands of pearls that would have turned into islands. When the enemy ships arrived, they crashed against the rocks. The Vietnamese then emerged victorious from the battle.
Most Vietnamese still see Ha Long Bay as the fundamental symbol of the nation. But they also see it, like the many tourists who criss-cross the waters of the bay, a place of exceptional beauty and perhaps one of the most picturesque in the world.
In reality, the islands of Ha Long Bay were built from a limestone formation between 300 and 350 million years ago. Erosion has sculpted them, creating multiple "sugar loaves" with vertiginous walls, natural arches, narrow passages, interior bays, a veritable marine maze in which to get lost.
Fauna and Flora Ha Long Bay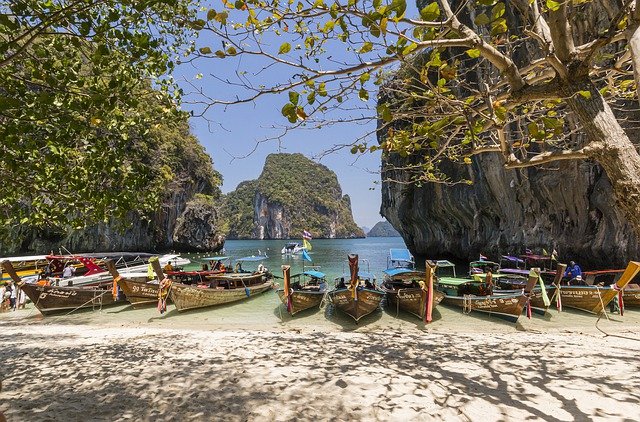 Most of the islands are uninhabited and home to a variety of wildlife including land mollusks, spiders, and insects. Most mammals have disappeared. A lush tropical forest covers the sloping walls and is home to a variety of plants, such as cycads and orchids. Ha-Long is renowned for its great ecological diversity: mangroves, corals concentrated to the east and south of the bay…
the 1,500 square km area contains some 3,000 rock and land islands, usually in the form of jagged pillars of limestone rising out of the sea, and several that blend together to produce an exotic and picturesque seascape. A diverse population of marine and land mammals, reptiles, fish and birds are found in tropical waters and forests.
A delicate balance since 90% of the mangrove has been destroyed by pollution and by the demolition work undertaken to enlarge the space reserved for aquaculture. Corals have also suffered greatly from the increase in pollution linked to discharges and the sedimentation of the seabed.
Where is Ha Long Bay located?
Ha Long Bay, is said in Vietnamese Vinh Ha Long ("Where the dragon descends to the sea"). The bay is on the northwest coast of the Gulf of Tonkin, near Ha Long city in Quang Ninh province, northern Vietnam.
Located 164 km southeast of Hanoi, it takes about 2 hours by car from the capital to reach Ha Long pier.
The bay covers a gigantic area there are different ways to explore it and different starting points. In reality, there are three distinct places: Ha Long Bay, Bai Tu Long Bay, and Lan Ha Bay, these are neighbors and offer the same landscapes.
Ha Long Bay
It is best known. It is recognized as one of the 7 wonders of nature and still retains its charm. We embark from the Ha Long cruise port. Hundreds of boats and tourists, especially in high season, are in the bay every day.
Lan Ha Bay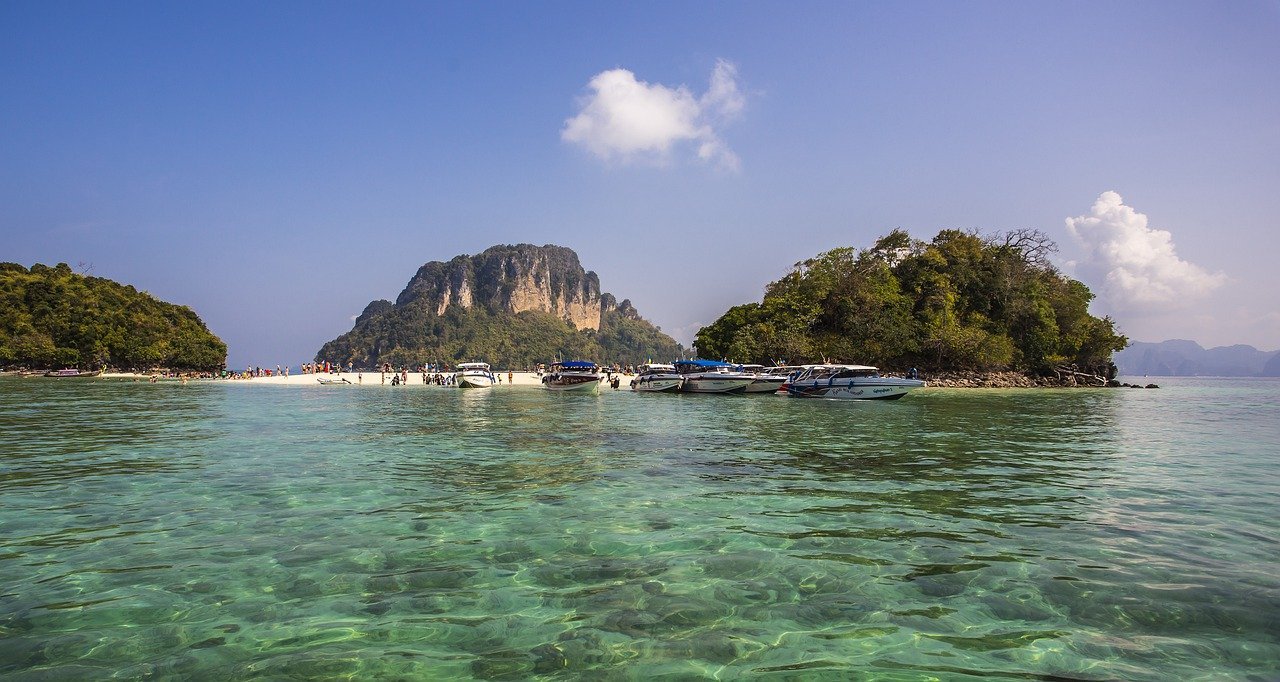 Called "forgotten paradise", Lan Ha Bay is the smallest bay in the trinity. It is located south of its famous neighbor. It is less touristy, less populated, and as beautiful as Ha Long Bay itself.
During a cruise to Lan Ha Bay, we embark from Cat ba Island. This island is located about fifteen km south of Ha Long Bay. It is pleasant to spend a few days on the island of Cat ba to enjoy the beach and the natural park.
Bai Tu Long Bay
Located east of Ha Long Bay and near the Sino-Vietnamese border, Bai Tu Long Bay brings unexpected and original wonder.
It is accessible from another pier in Ha Long. To know everything about this bay, we are devoting an article to our cruise to Bai Tu Long Bay.
Map of Ha Long Bay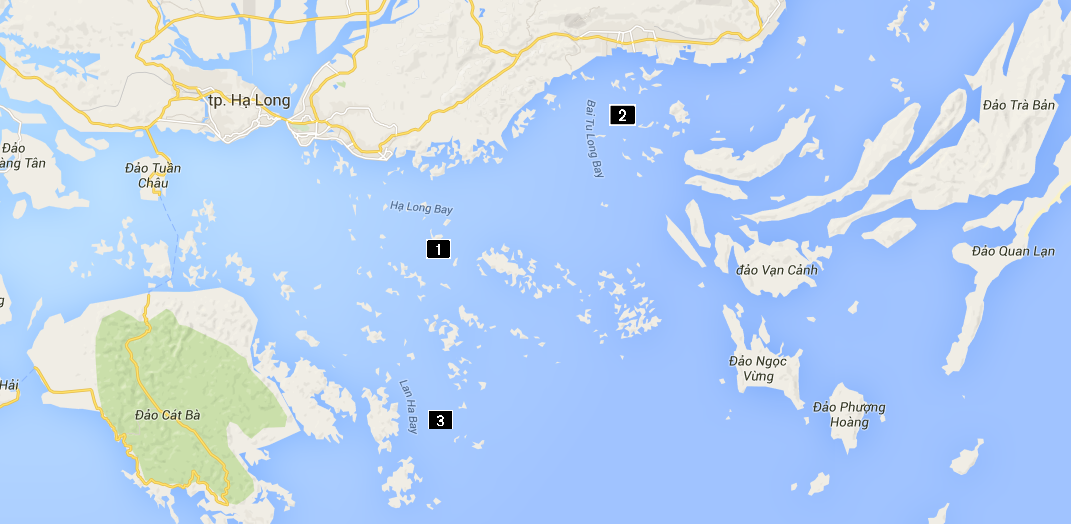 Best season
The period from October to December is the best time to visit Ha Long Bay from a climatic point of view. The weather is pleasant and there is a slight chance of rain. However, there is a strong influx of tourists.
The period from March to May is also an ideal season to visit the bay, at the end of winter, the temperatures are warm but not extreme with little rain.
While June to September is the lean season and has a higher risk of storms and typhoons.
March – April – May: Between 20 and 22°C.Clear blue sky. Occasional light rain.

June – July – August: Between 26 and 28°C. Very sunny. Watch out for typhoons and sudden, heavy rainfall.

September – October – November: Between 26 and 28°C. Best time to enjoy Ha Long Bay.

December – January – February: Between 18 and 20°C. Cold with wind. Some days are foggy and rainy.
Ha Long Bay Cruise
The best way to enjoy the bay is to take a boat cruise. 3 options are commonly chosen: 1 day, 2 days one night, 3 days one night.
Depending on the place of departure and the cruise passengers chosen, the activities and planning vary. You will generally be offered good meals, swimming and kayaking activities, cave visits…
And above all, you will have time on the pontoon to admire the landscape and take beautiful pictures!
Check out our article on a Bai Tu Long Bay cruise to find out more!