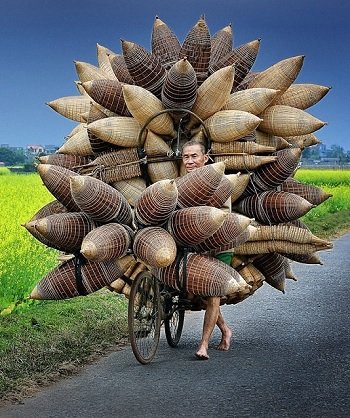 Indochina. Each time this word resounds, it reminds us of a very exotic land and arouses audacious dreams of escape. Indochina once encompassed three countries, namely Vietnam, Laos and Cambodia, which, in turn, are each made up of an astonishing diversity of landscapes, very rich and different cultures inspired by North Asia, Europe and other corners of the world. Many of the natural and cultural treasures of these lands are recognized by Unesco as world heritage. This is what makes it arguably one of the most attractive destinations in Asia.
Horizon Vietnam Travel, before being a travel agency known to travelers and professional tour operators around the world, was first of all a small group of young Vietnamese, curious and passionate about discoveries, exchanges , sharing and encounters. The objectives that Horizon Vietnam Travel has been able to trace in fact translate an intelligent concept of tourism dear to its founder Bau, a daring young man who never ceases to make it understood to his employees, his guides, his partners and his customers. . Here is what Horizon Vietnam Travel wants to bring you:
+ Make you admire natural and cultural beauties, world heritages, taste the flavors and splendours of Indochina, accompany you on the most authentic paths, make you immerse yourself in the heart of an Asian life to live experiences of the most enriching.
+ Offer you tailor-made trips, completely independently with the accompaniment of a guide, a car and a private driver, trips totally to your desires and inspirations; you create your own emotional journey.
+ Help you organize a trip differently with original itineraries, off the beaten track. The human side of your trip is the heart of our concept: we favor cultural exchanges, meetings, sharing, nights with locals for a unique experience, as well as accommodation in small structures and in charming hotels. .
+ Ensuring you a stay with total flexibility. Our presence on the ground is an asset, because we are able to provide you with a quick and direct intervention at any time, to adapt the trip to your rhythm, it is tailor-made and flexible. We respect everyone's rhythm and desire.
+ Help you have a trip with a solidarity vocation, ensuring respect for nature, people, cultures, customs, customs and traditions.
+ Ensuring you a trip with complete peace of mind. Passenger satisfaction is always at the heart of our concerns and our action. So far, we are always proud to have been able to persuade our most demanding travelers to choose us, because we always believe that the most difficult customers measure our competence, and so we always strive to give the best of ourselves. to meet your needs!