The Pu Luong nature reserve located 150 kilometers from Hanoi is one of the most spectacular regions of northern Vietnam. The mountain karstic landscapes dotted with terraced rice fields cultivated by the Thai minority ethnic group give the whole a unique character. What makes the Pu Luong Valley so special is its wild character still untouched by mass tourism. This place is ideal for a few days of relaxation and hiking.
Pu Luong spans over 16,000 hectares and is mostly made up of tropical forests. It is the living place of the Muong and the Thai. Moreover, Pu Luong means the highest peak of the village, in the Thai language. You will have understood that a visit to Pu Luong is a destination off the beaten track, a real immersion in nature at the heart of tribal customs.
In order to allow you to better understand your discovery of Pu Luong, we give you in this complete guide all the information on the region. Best advice and activities, unusual destinations, weather, tips. Here's everything you need to know about Pu Luong Nature Reserve in Vietnam!
Fauna and flora of Pu Luong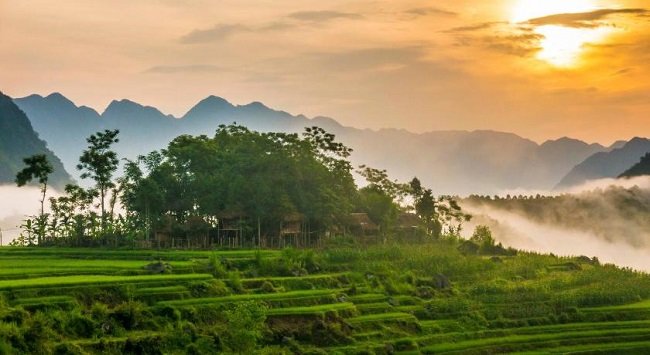 The biodiversity of the reserve is immeasurably rich, Pu Luong has the most extensive plain forest in northern Vietnam. It is home to several plant and animal species, many of which are rare or even endangered. Pu Luong is particularly known for hosting Delacour's Langur primate horde. It has been precisely identified 84 species of mammals, 162 species of birds, 55 species of fish, 28 species of reptiles, 13 species of amphibians, at least 158 ​​species of butterflies and 96 species of land snails. Among them, 13 species are currently endangered.
In addition, The Vietnamese park is composed of 5 major types of forest varying according to the altitude. This is how a lowland forest on calcareous soil and primary forests breaks down. On the flora side, Pu Luong records no less than 1109 species of plants.
Where is Pu Luong located?
Pu Luong Nature Reserve is located in northern Vietnam in Quan Hoa and Ba Thuoc districts, 130 km northwest of Thanh Hoa city and about 170 km from Hanoi.
How to get to Pu Luong?
Until now, there are no direct bus lines and there are no trains (and even fewer planes!). So, using public transport turns out to be quite difficult and time-consuming. It is necessary to take several vehicles if you want to take a bus. The most convenient is to use private Vietnam transfer services from Hanoi. It takes about 4.5 hours to get there by car from Hanoi.
Another option for sports enthusiasts is to go to Mai Chau and take a bike tour from Mai Chau to the reserve. You will then spend a night in the heart of the park for an unforgettable experience.
Surrounding map
When is the best time to visit?
Being a mountainous area surrounded by virgin forests, the climate in Pu Luong is quite pleasant throughout the year. It was still very hot in summer in the middle of the day.
The best time to visit Pu Luong will be during the rice harvest season, from September to November, when the rice fields take on shades of yellow and gold. Also, February to May is the green season when the rice stalks have grown. The weather there is pleasant.
Or sleep?
There are not many hotels in Pu Luong. Homestay accommodation is more popular in the area, located mainly in Co Lung. Most host families have shared rooms at low prices. You will have the opportunity to experience daily life and try special dishes prepared by the owners of the house. However, some structures have been built recently to meet the growing demand for hotels.
There are also small "ecolodge" establishments that offer private bungalows with all the comforts of a hotel. The best known are Pu Luong retreat and Pu Luong Eco garden.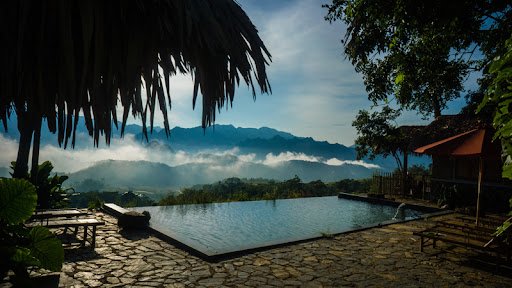 Visit advice
There is a multitude of possibilities to discover the region depending on the time you have. a duration of 2 or 3 days on-site is generally a good choice. The essential activity here will of course be hiking which gives the opportunity to explore the surrounding rice fields and lush forests. Alternatively, it is possible to cycle through the reserve and stop at several of the small and beautiful villages like Kia, Kho Muong and Hang. Additionally, this type of tour often includes a homestay with a local family for the most authentic experience.
Example of a one-day on-site visit
Considering you sleep in Mai Chau the night before, here are the places that fit into a one-day loop.
After your breakfast, you leave for the reserve of Pu Luong early in the morning. Pu Luong Nature Reserve is about 2 hours away by car or motorbike.
You visit the Don village, you enjoy a beautiful hike where you have the opportunity to pass through the settlements of local tribes on the way. You will pass by the hamlet of U'oi, by small roads in the wooded surroundings and eventually to the village of Lan. Along the way, you will have many opportunities to observe local life, especially that of the farmers tending to their crops.
You can stop for lunch in Lan, then continue to another charming village named Nua. This market town is about half an hour away by car, you can also have lunch here. Here is the beginning of a hiking trail which offers you a nice walk in the heart of the reserve. The path takes you to Pho Doan.
As the day is busy, you can choose to return to Hanoi or Mai Chau or sleep there.
If you don't particularly appreciate strenuous climbs, there are also small tarred and gently rolling roads for a pleasant bike ride.
Video Pu Luong
In order to immerse you in the beauties of Pu Luong, here is a video offering a typical day to visit the region with hiking and a bamboo boat ride!
Conclusion Pu Luong Vietnam
Conclusion Pu Luong Vietnam
Pu Luong Vietnam is a pearl of the country still very wild and off the beaten track. A visit to the reserve will leave you with unforgettable memories during your stay in North Vietnam.
Horizon Vietnam Travel supports you in organizing your trips to Vietnam. Request a free quote now.