Between relaxation on the white sand beaches and expeditions in the jungle, cultural visits, or nature outings with the family, there is no shortage of entertaining experiences in Phu Quoc Vietnam. Best Activities Phu Quoc offers a number of must-do attractions during your tropical vacation. Located in southern Vietnam, Phu Quoc Island is home to a varied coastline of beaches, a UNESCO-listed natural park, Buddhist temples, bustling markets, traditional fishing villages, and pepper plantations. The peninsula is a perfect place for travelers who want to experience the local way of life while relaxing.
Here are the 10 best popular and unusual activities in Phu Quoc Vietnam to allow you a balanced stay between free time by the sea, hiking, delicious meals and visits!
Relax and swim on the beautiful beaches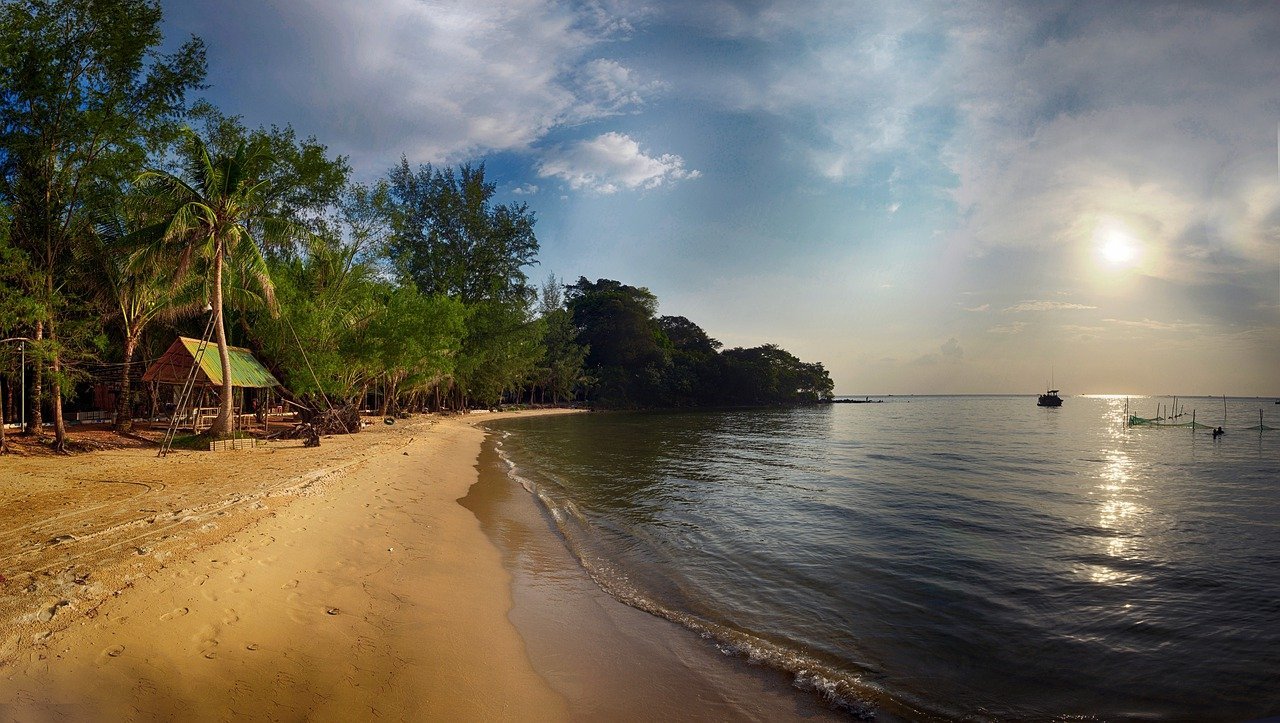 Obviously, we cannot talk about holidays in Phu Quoc without mentioning the beaches. Turquoise water, fine sand and palm trees provide an ideal environment for idleness. It's a real pleasure to take a walk on its long stretches of sand and let yourself go while looking at the horizon.
It must be admitted that more and more hotels are building their bungalows right up to the water's edge, spoiling the landscape a bit, but you will always find a little corner lost by walking a little. Here are 6 beaches where you will have a great time in Phu Quoc.
Sao beach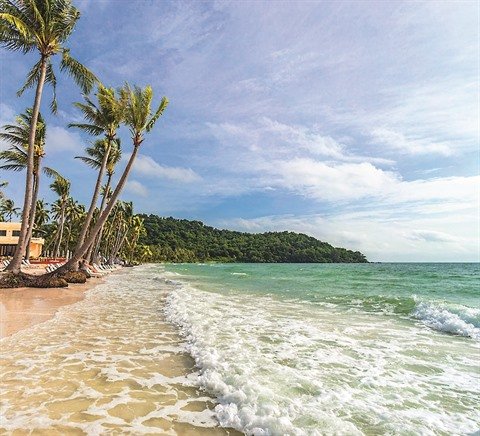 Also called Bai Sao, it is considered the most beautiful on the island. The white sand extends over a length of about 6 kilometers. The place is surrounded by trees bringing a good shade. Rocks are scattered here and there to complete the drawing of a very pleasant place. The transparent waters of the sea and always at a pleasant temperature will also convince you!
The beach is located southeast 25 km of downtown Duong Dong. A road allows easy access by motorbike or taxi. Count approximately 45 minutes of the journey.
Khem Beach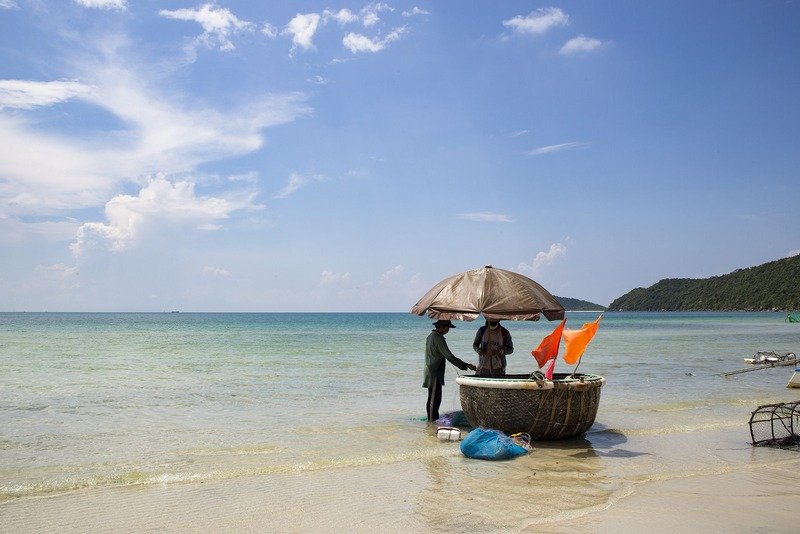 A wild place not far from the jungle with white sand. Khem also has the assets to please you. You can enjoy water activities but also venture into the surrounding jungle to play Robinson Crusoe. If you have changed you may come across some monkeys! Possibility to rent kayaks
Located south of Phu Quoc, near Sao beach, 25 km from the town of Duong Dong.
Ong Lang Beach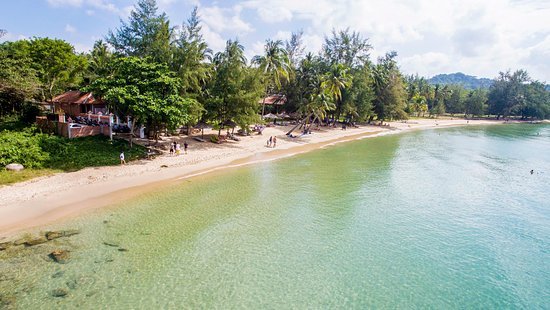 Charming Ong Lang Beach is another charming, shady beach on the west of the island. This beach is perhaps less crowded than its counterparts in the south. Here you can meditate on your deckchair and spread your toes undisturbed! Leisure activities and zero stress guaranteed!
6km from the town of Duong Dong in the northwest of Phu Quoc.
Mong Tay Beaches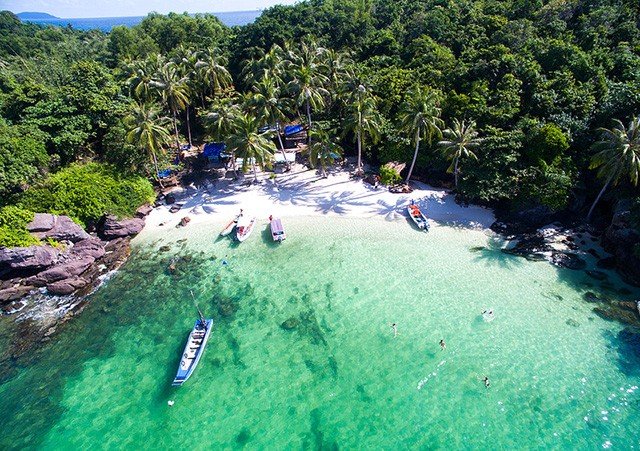 If you have a little time you can access superb beaches located on the mini-islands around Phu Quoc. Among them, Mong Tay beach stands out for its unique beauty and quick access.
It hosts a pristine wild beach with fine white sand surrounded by turquoise blue water! It is an ideal place to practice the activity of snorkeling, in other words, tuba swimming to observe the maritime life and the corals of a thousand colors.
It is located north of Phu Quoc in Duong Hoa town. It is accessible by boat from the pier of An Thoi. (ask at your hotel or our agency to go there)
Vung Bau Beach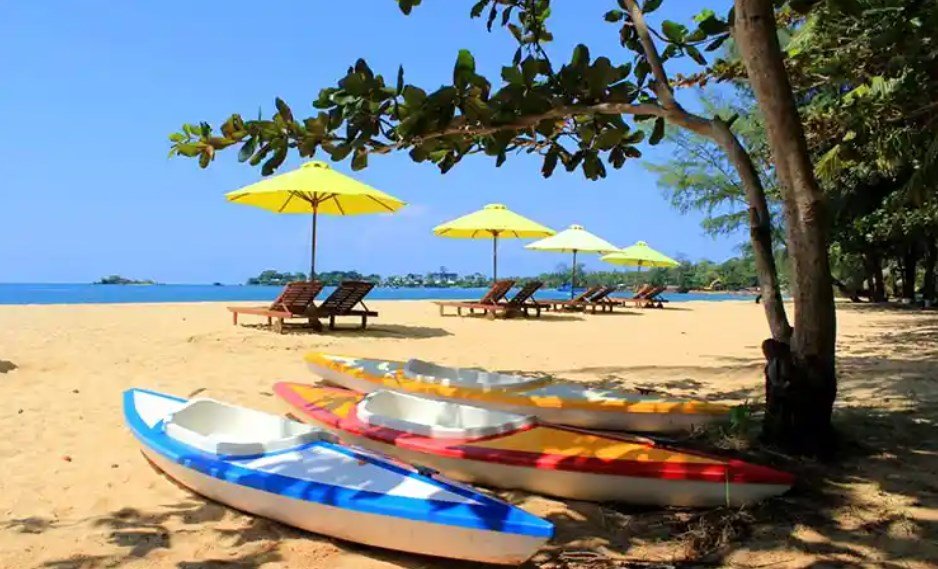 Magnificent half-moon-shaped beach not far from Ong lang. It has similar characteristics. The little extra here is the village of Cua Can which you can visit on occasion.
It is a great choice for picnic activities, swimming or snorkeling.
May Rut Beach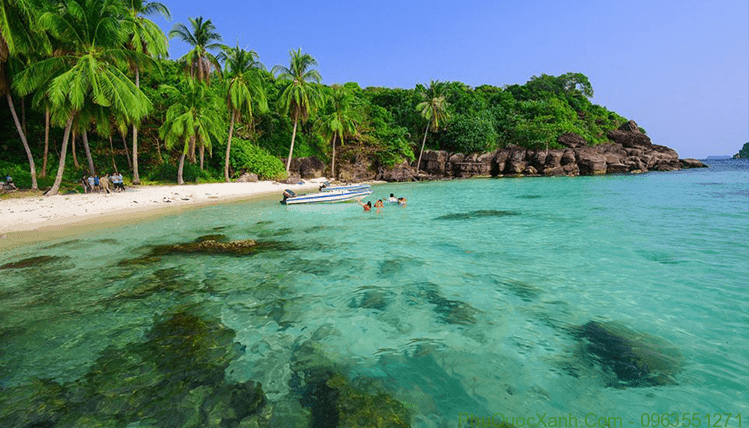 Another islet that is worth the detour with the beach of May Rut. You will have another magical time sheltered by the coconut trees trying to filter the white sand. You can also enjoy pleasant walks around as the beach is surrounded by dense exotic forests. The discovery of corals and fish with a mask is also a recommended activity here.
About 10km from An Thoi commune in the southwest of Phu Quoc. A small boat takes you there from An Thoi.
Phu Quoc National Park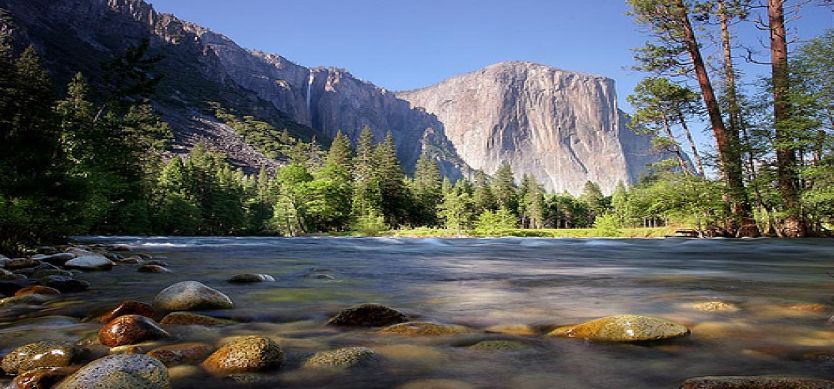 Location: 26 kilometers north of Duong Dong, Phu Quoc Island
In another register, the Phu Quoc National Park offers a range of nature activities that will suit those who prefer the mountains to the beach! Phu Quoc National Park occupies more than half of Phu Quoc Island. Here, nature lovers can spot some very exotic flora and fauna. Recognized by UNESCO Biosphere Reserve in 2010, part of this verdant landscape is easily accessible and offers beautiful, exotic hiking trails.
Apart from rich flora, the fauna of Phu Quoc National Park is also diverse. It includes more than 30 species of mammals, 200 species of birds and 50 species of reptiles. Among these forms of life, about fifteen are included in the list of preserved animals of Vietnam.
During the walk, you can therefore indulge in the observation of birds and animals. This is an opportunity to take beautiful photos.
Also, if you want to test your level of endurance, Mount Heaven in Phu Quoc National Park can be reached during a challenging four-hour hike through the forest. Once up there, your effort will be rewarded with a unique view of the surrounding landscapes.
Night market in Dinh Cau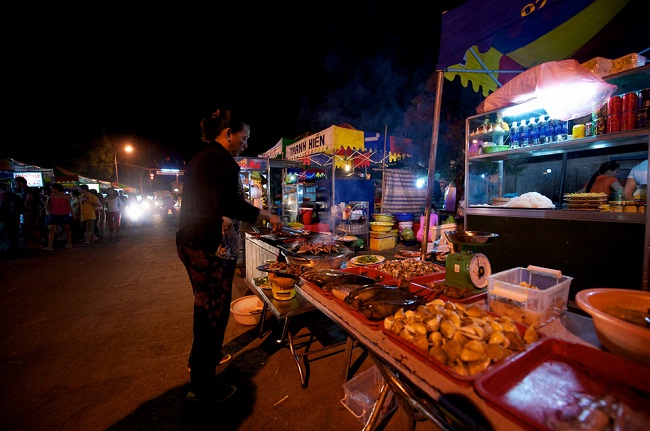 An unusual walk consists of visiting the night market near the port. It is a lively place for a pleasant night stroll. Certainly the place is very touristy and lacks a bit of authenticity. But we are still immersed in local folklore. It's always the opportunity to buy a trinket, drink a beer or eat fresh fish on the terrace!
Duong Duong local market
If you're looking for an authentic activity, Duong Dong Market, located along Tran Phu Street, is the busiest open-air market for locals. It is the largest on Phu Quoc Island. The best time to visit is in the early morning when you can see locals bargain hard for household items, fresh and dried seafood, meats, sweets, and fruits from Vietnam.
If you are peckish, the place is ideal for a meal. Duong Dong Market is also home to many food stalls serving fresh seafood, juices, and Vietnamese cuisine at relatively low prices. As the island is famous for its dried mushrooms, pepper, and cashew nuts, we highly recommend buying some as souvenirs for your loved ones or for yourself.
Contemplate starfish at the fishing village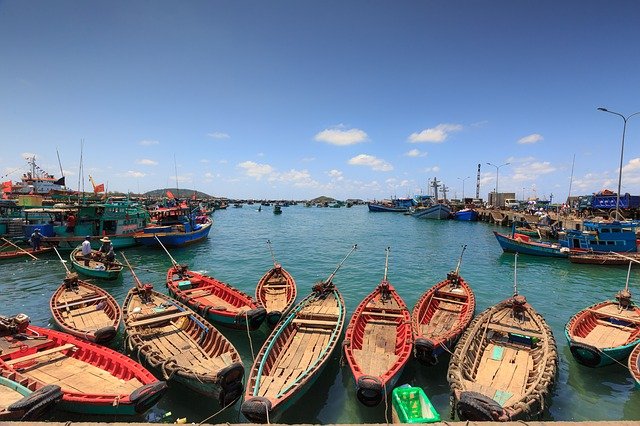 Location: 15 km northeast of Duong Dong
An unusual and unforgettable moment for your holidays. Take advantage of a fishing boat to reach a lost beach in the north of the island. Here you can contemplate and bathe in the middle of a multitude of starfish in translucent water. Finally, eat fresh fish in a floating restaurant run by local fishermen! It is also a good opportunity to experience some human contact with the locals.
Visit the pepper farm
Phu Quoc Island is not only famous for its turquoise blue beaches but also for its pepper.  Phu Quoc pepper is one of the best peppers you can find in Vietnam. It is therefore a great cultural activity to go and visit one of the pepper plantations.
the visit to the pepper farm is an opportunity for a pleasant walk in the countryside of Phu Quoc. Here we crush the still green pepper berries between our fingers to smell this unexpected perfume. The farm uses natural methods with the aim of improving the agricultural and natural environment.
You can even take cooking classes at the pepper farm! At the end of the visit, don't forget to leave with a little local pepper!
Dinh Cau Rock (Cau Temple)
Opening Hours: Daily 7:00 a.m. to 6:00 p.m.
Address: Bach Dang Street, Duong Dong, Phu Quoc Island
Here is another unusual attraction offered by Phu Quoc Vietnam. Dinh Cau Rock is a strangely shaped natural formation next to Duong Dong Fishing Port. The site is home to a lighthouse and a Buddhist shrine with a rooftop terrace. Also known as Cua Temple, it was built in 1937 to commemorate Thien Hau (the Goddess of the Sea), who locals believe provides protection to fishermen going out to sea.
There are 29 winding stone steps to reach the top of Cua Temple, where you will be greeted with spectacular views of Dinh Cau Beach, Duong Dong Town and nearby islets. Entrance to Dinh Cau Rock is free and there are plenty of food and drink stalls at the base of the temple if you are feeling peckish. You may find some locals practicing meditation.
An ideal place to watch the sunset!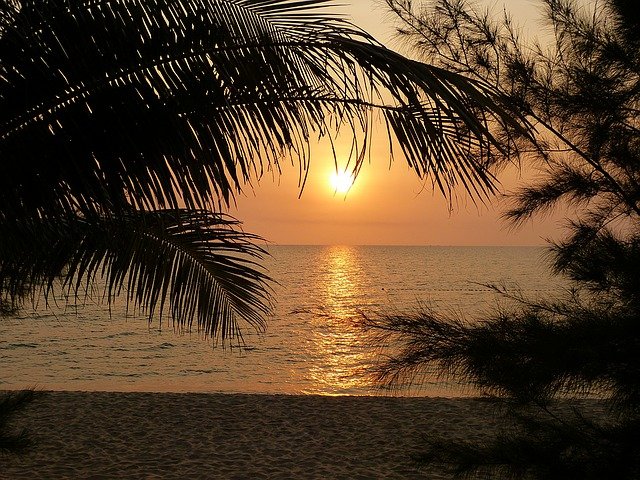 Suoi Tranh Waterfall
For a nature getaway and freshness, this place is to visit absolutely. Suoi Tranh Waterfall is a 4-meter-high waterfall surrounded by lush vegetation. Many hiking trails lead you to discover caves and pools of clear water in which you can swim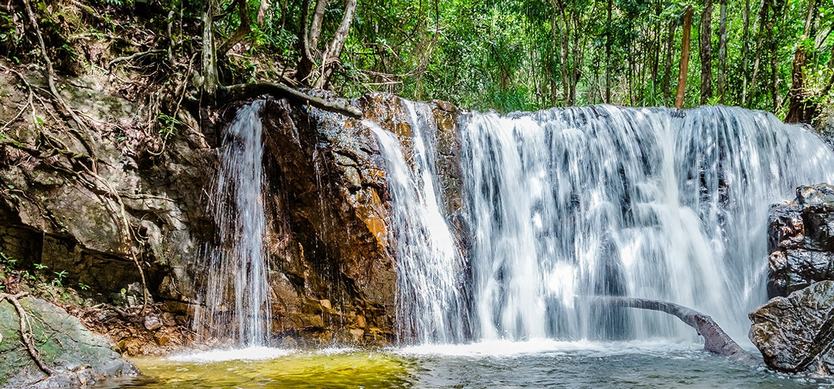 Located 7 kilometers west of Duong Dong is easily accessible. Nature lovers can enjoy recreational activities such as picnicking, jungle trekking, swimming and bird watching.
For sports enthusiasts, you can walk to the very top of the waterfall to visit Hang Doi (Bat Cave), which is 200 meters high and houses unique stalactites.
Attention: Suoi Tranh Waterfall is usually packed with locals during weekends and holidays.
Location: 7 kilometers west of Duong Dong
Price range: 5000 VND
Su Muon Pagoda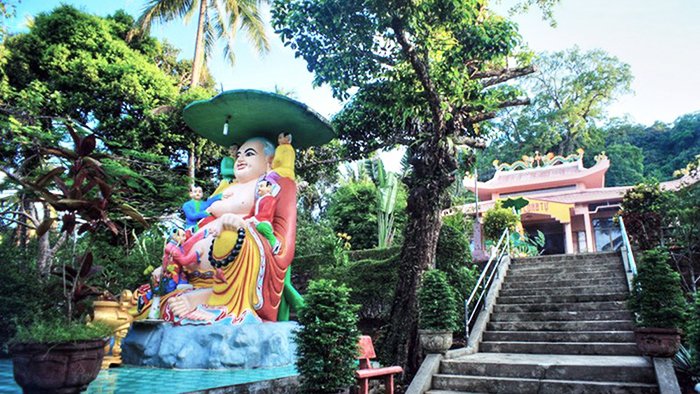 Su Muon Pagoda sits on top of a hill about four kilometers east of Duong Dong town. Built in 1932 by accountant-turned-monk Nguyen Kim Muon, this pagoda is mostly frequented by locals. It is not very touristy because of its rather hidden location.
First of all, visitors will be impressed by the peace, calm and solemn exuded by this place. Su Muon Pagoda is designed in a privileged geographical space. It is located halfway up a hill in the heart of a green forest with superb landscapes in the middle of the mountains adorned with century-old trees.
A large Buddha statue is the central element of the whole. The main hall is reached by a staircase of 60 steps, housing colorful relics and golden statues of Buddha. Su Muon Pagoda is a great place to see monks and devotees praying and paying their respects to Buddha.
As with most religious sites around the world, dress conservatively and avoid making noise during your visit to Su Muon Pagoda.
Hours of Operation: Daily 7:00 a.m. to 6:00 p.m.
Location: 4 kilometers east of Duong Dong
Phu Quoc Jail
Phu Quoc Prison is a cultural and historical attraction, a dark reminder of Vietnam's checkered history. Here over 40,000 North Vietnamese soldiers were imprisoned during the Vietnam War. Built in 1949 by French settlers, this war museum now houses instruments of torture, photographs of former inmates, and exhibits of brutal punishments such as crucifixion, starvation, and electrocution.
Hours of Operation: Daily 7:30 a.m. to 11:00 a.m. and 1:30 p.m. to 5:00 p.m.
Address: 350 Highway 46, Phu Quoc Island
Fee: 5,000 VND
Conclusion Phu Quoc activities
Although Phu Quoc is in full development and is a victim of its own success, welcoming many tourists, the island remains an idyllic place with many corners of paradise. If you are looking for an unmissable place that combines opportunities for relaxation, natural and cultural discoveries. The island of Phu Quoc is to be discovered absolutely.
To summarize, the cultural activities are the visit to the pagoda, the exploitation of pepper, and the prison. While relaxing or family activities focus on the beaches. For sports enthusiasts, excursions in the natural park, hikes to waterfalls or even water sports should satisfy more than one!
Finally, to complete this list of Phu Quoc activities, we have written an island guide article to give you all the practical information.
Certainly, you will come across constructions or plastics that will scratch your sight, but besides that you have the opportunity to spend a relaxing stay in a setting that remains authentic.
Keywords to find this article: Activities Phu Quoc, Attraction Phu Quoc island, activities Phu Quoc Vietnam, Activities Phu Quoc island, what to do in Phu Quoc.