Here is the essential Phu Quoc guide to travel on this island in southern Vietnam. Phu Quoc Island is the largest island in the country and has some of the most beautiful beaches in Vietnam. It is called the Emerald Isle for its natural treasures. This island displays an abundant wilderness, consisting of hills covered with forests and beautiful white-sand beaches.
Bathing in blue and temperate water, slipping your feet in the sand… It is quite easy to take advantage of the assets of Phu Quoc, a priori no need for a guide. However, being well oriented on this essential of Vietnam can allow you to discover unusual places and make the most of your trip!
In this complete guide, we give you all the information about Phu Quoc. Best advice and activities, unusual destinations, weather, tips. Here's everything you need to know about Phu Quoc Island in Vietnam!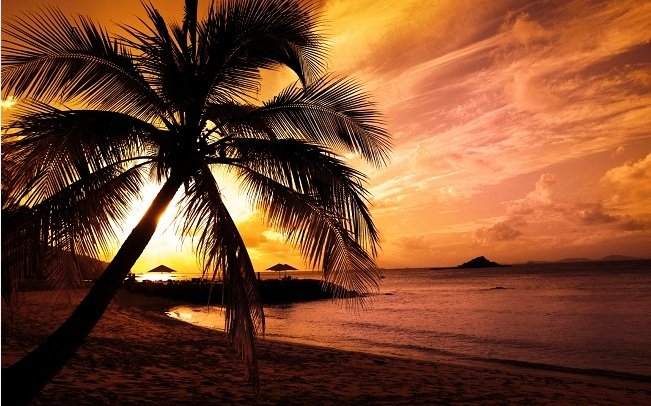 The atmosphere of Phu Quoc
Coming to this island, you will enjoy a very quiet space away from the hustle and bustle of big cities. Here, in peace, far from the hassles of everyday life, it's a return to basics that regenerates body and mind.
Quoc Island boasts idyllic beaches, romantic sunsets, exotic forests and a serene atmosphere, making it an ideal vacation destination for travelers looking to escape busy city life.
Where is Phu Quoc located?
Nestled in the Gulf of Siam 45 km off HaTien. It is located 45 kilometers in the extreme south of Vietnam. Phu Quoc is close to the Mekong Delta in Vietnam and 15 km from the southern border of Cambodia.
How to get to Phu Quoc?
The best option to get to Phu Quoc Island is undoubtedly by plane. The new international airport offers flights from major cities like Hanoi, Ho Chi Minh, and even Cambodia. From Hanoi, the flight time is about two hours while it takes one hour from Saigon.
The cheapest alternative is to take a bus from Ho Chi Minh City to Ha Tien or Rach Gia and cross the Gulf of Thailand with a speed boat.
Map of Phu Quoc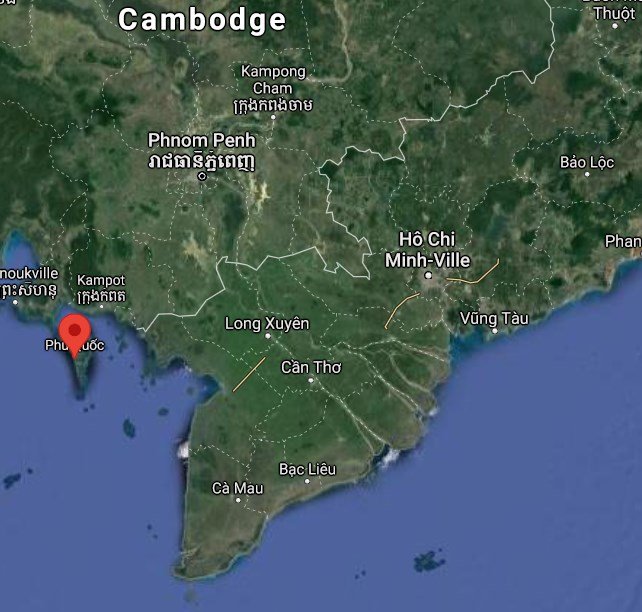 When is the best time to visit Phu Quoc Island?
The best time to visit is between November and March when the weather is calmest.
Throughout the year the temperature is stable in Phu Quoc. The hottest month of the year is April with an average maximum temperature of 33°C and a minimum of 25°C. The coolest month of the year is August with an average daily maximum of 30°C and a minimum average of 25°C.
What to do in Phu Quoc?
Apart from seaside activities, visitors can also explore traditional villages, vast natural parks, and Buddhist pagodas, all easily accessible by motorbike, taxi, bus, or even day trips.
The island of Phu Quoc shelters in particular a natural park favorable for the excursion and some buildings to be visited such as the Su Muon pagoda or the prison of Phu Quoc. Furthermore, the peninsula is known for its pepper production, and visiting a pepper farm is a spicy unusual activity!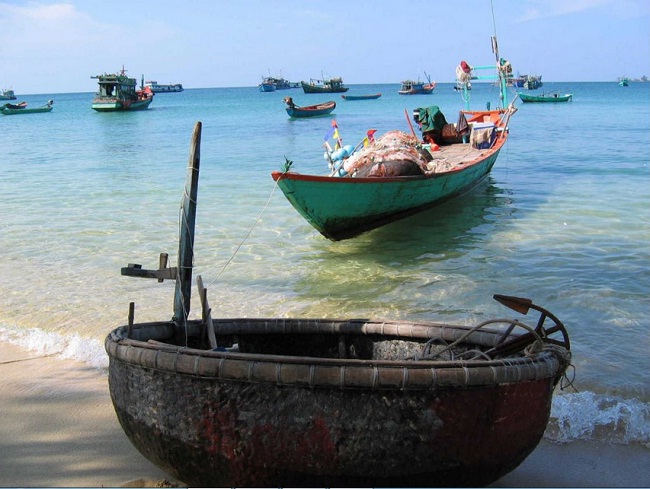 A must-do activity is swimming with starfish near the fishing village! Finally, an attraction to favor children. You can take the cable car to admire the magnificent maritime views and access the amusement park and its rides.
For the evening, a stroll through the Phu Quoc night market is a must. Located on the port, you will find many trinkets and souvenirs to buy for a ridiculous price. The choice to eat is also well provided.
Also if you are a follower of the concept, you can look for the most beautiful spots for your Instagram photos and send them to your friends. Success is assured especially in winter when it is cold in France and you bathe in lukewarm water under a beautiful sun!
What to do in 24, 48, and 72 hours in Phu Quoc? Depending on the time you have you can deepen your discovery of the island or your level of relaxation! Between idleness and adventure, you have the choice. Check out our article on the best destinations and activities in Phu Quoc to find out what to do on the island: What to do in Phu Quoc?
Where to sleep in Phu Quoc?
As the island is a popular beach holiday destination, finding accommodation in Phu Quoc is not difficult. From affordable hostels to luxurious hotels to comfortable resorts, Phu Quoc offers a variety of accommodations to suit your tastes and budget. Below are some suggested hotels, resorts, and hostels to check out.
5-star luxury hotel category:
The Veranda – 100€ per night. Surrounded by a tropical garden, the 5-star establishment occupies a French-style mansion located by the sea

Fusion Phu Quoc – 250€ per night. A superb hotel located slightly north of the island. Offering high standard accommodation in Cua Spa, a private swimming pool, an on-site restaurant, and a garden.
Intermediate accommodation category
Pepperdine Resort: – €60 per night. Located right on the beach and featuring a garden with hammocks, Peppercorn Beach Resort is a small family-run boutique hotel located on the peaceful northern shore of Phu Quoc Island. You can enjoy its outdoor swimming pool.
Cheap bungalow category
Ninila Fruit resort -30€ per night. a very good value for money with family service and a beautiful swimming pool, located in the center of the island.
What to eat?
Catering to almost every budget and preference, Phu Quoc's food scene ranges from local markets selling fresh seafood and Vietnamese street food to fancier restaurants offering the best Vietnamese dishes. There are also a few expatriate-owned fine dining establishments offering authentic Western and European dishes.
One of the best places to taste the local dishes is the local market. Duong Dong Market is also home to many food stalls serving fresh seafood, juices and Vietnamese cuisine at relatively reasonable prices.
Here are three easy-to-find local dishes that we recommend you try.
Goi Ca Trich (raw herring salad) is one of the must-haves on Phu Quoc Island. The dish is served wrapped in rice, fresh lettuce, and herbs. People in Phu Quoc often drink 'Sim' wine (pink myrtle wine) when eating herring salad to accentuate the flavor. A bit like in France with wine and cheese!
Taste "Ghe Ham Ninh", the crabs of Ham Ninh. They are quite small, but firmer and tastier than other types of sea crabs. Ask the fishermen to cook the crabs for you in their traditional way and savor the taste of the sea while (still) sipping wine" SIM".
" Coi Bien Mai " (grilled scallops) The dish is made from a kind of sea scallop that has a triangle-shaped shell. Grilled, it is crunchy and soft to taste. Tourists can try this specialty at all the seafood shacks along the beaches of Phu Quoc.
What budget for a three-day stay in Phu Quoc?
Phu Quoc Vietnam is an accessible destination on a budget. However, premium services do exist. Depending on your choice of accommodation categories and restaurants. however, prices can vary greatly.
The budget for a three-day stay with our agency Horizon Vietnam Travel is around 60 euros per day and per person for a three-star hotel category.
Request a tailor-made quote from our agency to get a precise idea of ​​the price!
Phu Quoc guide video
To make you dream even more, here is a video of Phu Quoc Island:
Pollution Phu Quoc Island
As an island with high potential and high tourist development, there is waste pollution as well as many construction sites.
However, many places remain preserved, where there is not too much waste, it was a little dirty in places but Vietnamese education is in full development on this subject. Expect to see a lot of plastic to the north in the fishing village.
Tours including Phu Quoc
You now have a good overview of the island. Of course, it would be a shame to come to Vietnam just to visit Phu Quoc. Then you can consult our travel construction guide to know the destinations to add. Enough to build a beautiful tour from North to South!  To give you an idea, here is a sample itinerary below. You can add or remove the steps you want for a 100% tailor-made stay.
Call our travel consultants for a tailor-made quote!!!

This sample trip takes you on an itinerary from North to South Vietnam to quietly discover the must-see sites of Vietnam. In 16 days you take the time to discover famous places while taking side roads. warm  contacts with locals are privileged
keywords to find this article: Guide Phu Quoc, Guide Phu Quoc Vietnam, guide Phu Quoc island, Phu Quoc island, Vietnam island guide Phu Quoc, guide Phu Quoc activities