What to do in Ha Giang? It is a vast region richly endowed culturally and naturally. You could spend several weeks here without having had time to see everything. There are many ways to discover what is considered one of the most beautiful regions of Vietnam. Many tourists do a loop on a motorbike, but it is possible to use the services of a private vehicle with the driver.
How to visit Ha Giang?
To help you choose the best experiences to include in your itinerary, we offer some practical information in this article. In the first part, we offer you a classic loop that can be done by motorbike or private vehicle for a standard duration of three days. You can take this route as a framework to plan your discovery of the place.
In the second part, we describe all the exciting and magnificent sites to visit in Ha Giang, which it is possible to add to your experience in Ha Giang depending on the time you have. These sites are often not far from the places recommended in our loop and it is easy to make a detour to take advantage of them.
Finally, to have all the best information and best prepare for you to stay in Ha Giang, don't forget to complete your reading with our Ha Giang guide.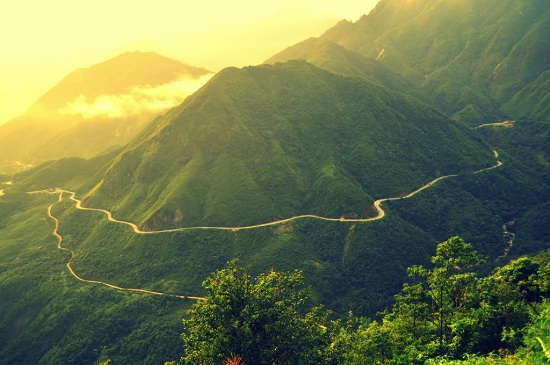 The Ha Giang Loop
During this three or four-day itinerary from Ha Giang, you will have the opportunity to travel a road that winds through canyons and mountain passes offering breathtaking views. The Ha Giang loop is an adventure now accessible to all, adventurous travelers eager to drive on a motorcycle or more cautious travelers who choose the comfortable services of a private vehicle as part of a tailor-made trip!
We advise you to plan 4 days to make this trip without rushing too much. It can be shortened or extended depending on time and desires! The route starts in Ha Giang, to find out how to get there, see the info in our Ha Giang guide article.
Here is the map of the Ha Giang loop that we offer: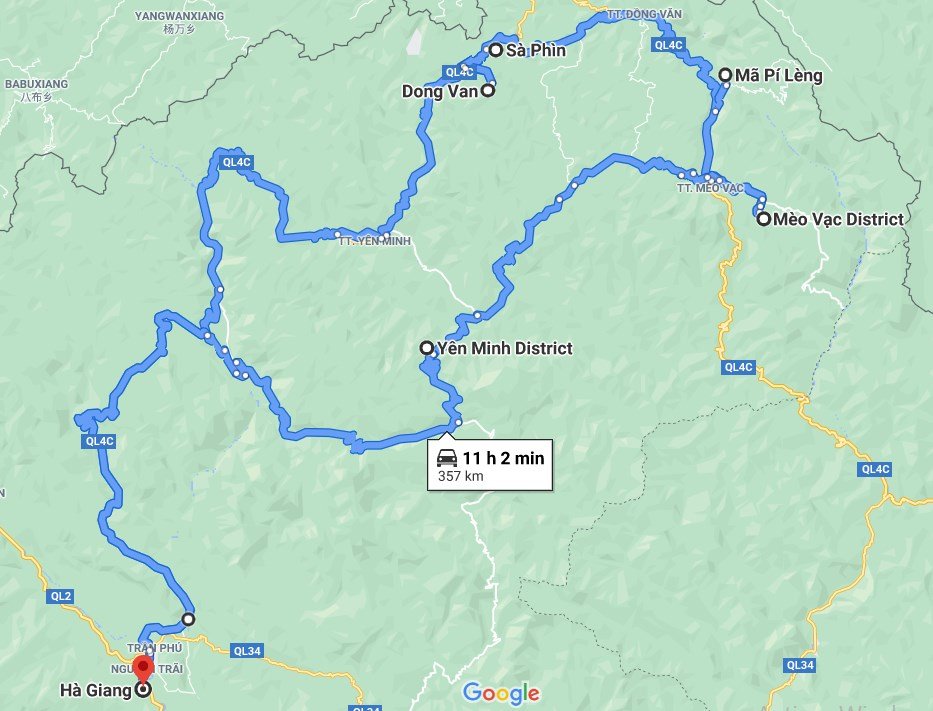 Pack your gear, charge your camera batteries and get ready for an adventure! This three-day itinerary follows QL4C northeast from Hà Giang to Bảo Lâm and QL34 southwest from Bảo Lâm to Hà Giang.
Whichever way you choose to do it, the general route will likely be similar. Starting from the north of Ha Giang City,   heading east from Ha Giang to Dong Van, you will start to see the landscape change due to the altitude. A real high mountain landscape now appears. Endless rice paddies will slowly give way to the famous limestone mountains, deep canyons and rock structures that make this province so unique. It's all part of the Dong Van kart plateau, a UNESCO-recognized geopark.
Once on the plateau, you visit an amazing building perched in the mountains. Sa Phin is a village that is home to an important historical site, the Palace of the Hmong King. Built in the 1920s for Vuong Chinh Duc, also known as the Hmong King.
The palace is an interesting building with European and Chinese style elements and was one of the most luxurious houses in the area. Richly decorated with beautiful flower carvings and adorned with the most modern fixtures of the time, the palace was often the place of visits by dignitaries and important businessmen.
Today the palace is a museum and you will find fascinating relics giving you an idea of ​​the life of the owners.
After that, you head south, stopping at Dong Van Old Quarter. Here the visitor is dazzled by the shimmering colors of the traditional costumes of the mountain dwellers. The old streets, stretching for miles, retain their cultural traits. The houses are of an original architecture: stone-paved floors, rammed earth wall,s and roofs covered with double tiles. In addition, the Dong Van market is lively and multicolored.
Not far from Dong Van is the Lung Cam cultural village where people from the Lo Lo, Hmong and Han tribes live together. Here, artisans create beautiful local handicrafts like colorful hand-woven fabrics.
About 90 minutes from Dong Van, another incredible sight awaits the Lung Cu Flag Tower. At an altitude of 1,100 m, it is a border district, the extreme north of the country whose Lung Cu summit (1,600-1,800 m) is nicknamed "the roof of Vietnam". It is a huge mast placed very close to the Chinese border. You can climb and enjoy stunning views of green hills and mountains. If the visibility is good, you will even get a glimpse of China!
Further on the way, you will come to the Ma Pi Leng pass considered by many to be the most spectacular natural landscape in the country. You observe an impressive area with an endless view of the Nho Que River, its canyon and the soaring mountains on either side.
Take the time to stop along this road and enjoy the view. Chances are you will come across a few other travelers and locals doing the same.
Here the road is carved straight into the cliff as you wind your way through the valley of Meo Vac, a charming and authentic neighborhood filled with local ethnic minorities.
After enjoying Meo Vac, you will continue south and west through Yen Minh and Bac Me, finally returning to Ha Giang city.
Other sites of interest to add to your trip
As we told you, Ha Giang is a vast region that is impossible to visit in a single stay. Here are the other exciting places to visit that you can consider discovering here.
Hoang Su Phi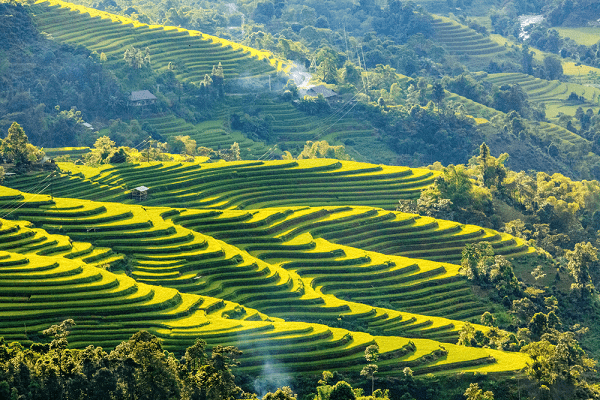 The rice terraces of Hoang Su Phi in  Ha Giang province are known as the most breathtaking in Vietnam. In addition to enjoying a bird's eye view of the rice fields, you will enjoy an exceptional panorama of karst mountains.
Six villages in the region are recommended to admire the landscapes: Nam Ty, Thong Nguyen, Luoc, San Sa, Ho, Phung and Ho Thau. The most beautiful rice fields are in the communes of Ban Luoc and Ban Phung. Standing in the center of Ban Phung province, you can see the panorama of rice terraces made up of colorful stairs to the top of the mountain.
This landscape of rice fields in Vietnam has been crafted by the skillful hands of ethnic minority people: Nung, La Chi, and Dao for hundreds of years.
Thon Ta village and waterfall
Located not far from the city of Ha Giang which has little tourist interest, the village of Thon Tha is a pleasant discovery nearby.
A stop here allows you to observe how people live in this part of Vietnam. Many villagers run their own farms and live in traditional houses, renting out their extra rooms to travelers. This is your chance to sleep in an authentic stilt house, overlooking the verdant rice fields and greeting the buffaloes when you wake up.
A short walk from the town, you will find a beautiful waterfall that provides timely refreshment after a hike.
Khuoi My and Tai Con Linh Village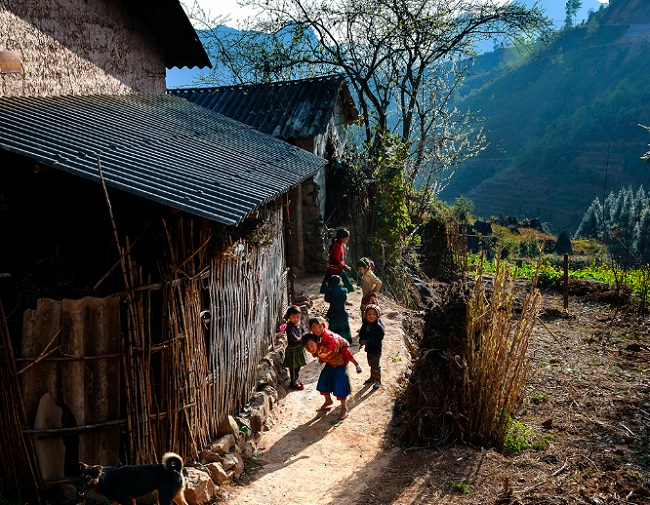 If you're looking for a hiking experience that's both affordable and offers stunning scenery, head to Khuoi My Village on Tay Con Linh Peak from Thon Ta.
If you leave early in the morning, you'll get there by lunchtime and you'll have plenty of homestays to choose from for a local lunch. The hosts are known to be very welcoming and eager to share stories about their life, culture and traditions, so don't hesitate to ask!
As you travel along the mountain trails, the countryside of Ha Giang will unfold before your eyes and offer breathtaking views of the surrounding rice fields, forests and mountains.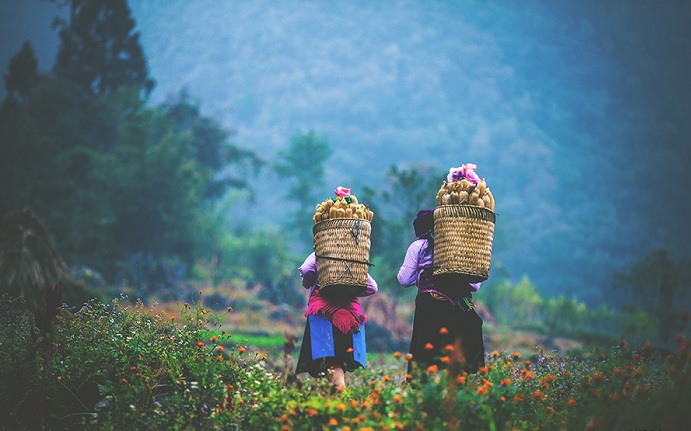 Sung La
Near Sa Phin, Sung La is another small Hmong village that is also worth visiting. It is particularly known for its beautiful flower meadows. Ideal for making some Instagram photos!
Meet Vietnamese ethnic minorities

Let's talk about those who, with the sweat on their brow, cultivate these beautiful landscapes, shaping the terraced rice fields that the whole world takes to want to photograph!
The people here belong to local ethnic groups.  Their ancestors were far from thinking that their work would become real tourist attractions years later. Indeed it is for practical reasons that they drew these mountains on staircases. As demonstrated by Galileo, water does not remain on a slope and this is necessary for the cultivation of rice! Even today the majority of ethnic groups live from agriculture.
Throughout Ha Giang province, you will have the opportunity to meet locals living in remote areas. He often maintains an authentic way of life. It is impressive to observe and discuss with these followers a way of life that seems from another time… Several minorities live there such as the Dao, the Hmong, the Tay, the Nung, the Lo Lo, the La Chu…
Ha Giang local markets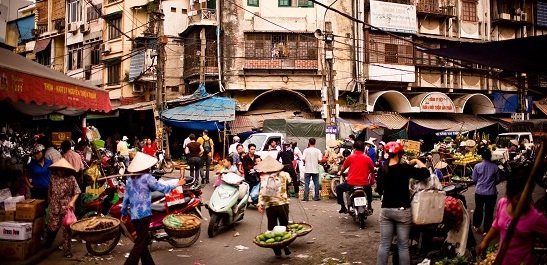 Without doubt, the best way to immerse yourself in local life!
Early in the morning, Hmong men and women, accompanied by horses laden with goods, descend from the high ridges. They sell and buy their products there. Negotiations are going well as the market empties, they gather together and fill the atmosphere with the harmonious sounds of their Khaen (Khèn).
Some feast around a pot of "thang cô", the favorite dish of the mountain people, while drinking until the sky and the earth seems to them to merge.
So their wives gently load them onto the backs of the horses, which they follow briskly on the way back. To
In Hà Giang, be sure to go to Khâu Vai to visit a market that bears the sweet name of "lovers' market", which is held only once a year, on the 27th day of the third moon (from moon calendar). People come here to find their childhood friends with whom they are not married, to relive the emotions of their twenties, in full view of their spouse.
A principle is respected in Hmong homes: we are born to love and true love is not a bad thing.
Ha Giang Tour
If you are convinced by Ha Giang and want to experience a great adventure in Vietnam, check out our offers. We can offer you a directory of unmissable and off-the-beaten-track sites. Then, it's up to you to personalize them by making your modifications as you wish, according to your tastes, your availability, your means, but also the weather conditions…, in order to program your own North Vietnam circuit.
In addition, we have written several articles to help you build a North Vietnam stay or a Vietnam tour from north to south.
Northern Wilderness in 14 Days

Places: Hanoi – Vu Linh – Bac Ha – Ha Giang – Cao Bang – Lang Son – Ha Long Bay
This beautiful tour will take you through splendid mountain trails in Northeast Vietnam. You travel through mountain ranges, magnificent terraced rice fields, and pretty ethnic villages but also you will meet warmly mountain ethnic groups still living to the peaceful rhythm of their ancestral tradition. This authentic circuit off the beaten track, adventure trip will be a real homecoming. You will gain in human warmth and friendliness.
Conclusion what to do in Ha Giang?
You now have a better idea of ​​what to do in Ha Giang, one of the most remote provinces in the country. Thus the region and its surroundings are to be preferred for travelers eager for adventure off the beaten track and original experiences!
To sum up, this sector is endowed with a majestic landscape of the Mountains. It is inhabited by Hmong people who plant corn in the sloping valleys. Also, open-air markets are commonplace in Ha Giang. Indeed, Ha Giang is renowned for its unique fairs that embody the culture of the local people. One of the best-known fairs is the Lung Phin fair, it's a real mix of colors, flavors and smells!