Ha Giang, off the beaten track
Located at the edge of the country, Ha Giang in Vietnam is not the easiest place to reach, it is less crowded and offers travelers the opportunity to explore the raw beauty of Vietnam. Nature lovers and adventurers will adore Ha Giang for its pristine nature and the diversity of ethnic minorities living in the villages connected by the steep and winding roads of this region.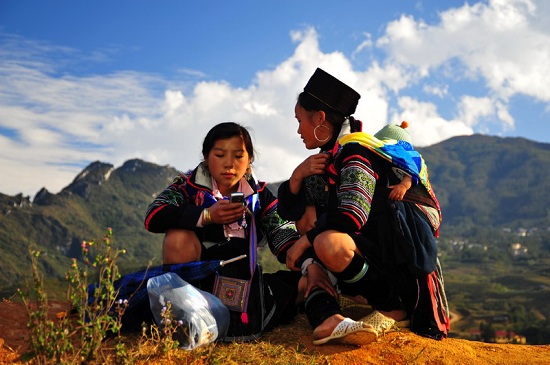 Want to get off the beaten track (in every sense of the word!) and discover a lesser-known side of Vietnam? Here is our guide to Ha Giang!
Where is Ha Giang located?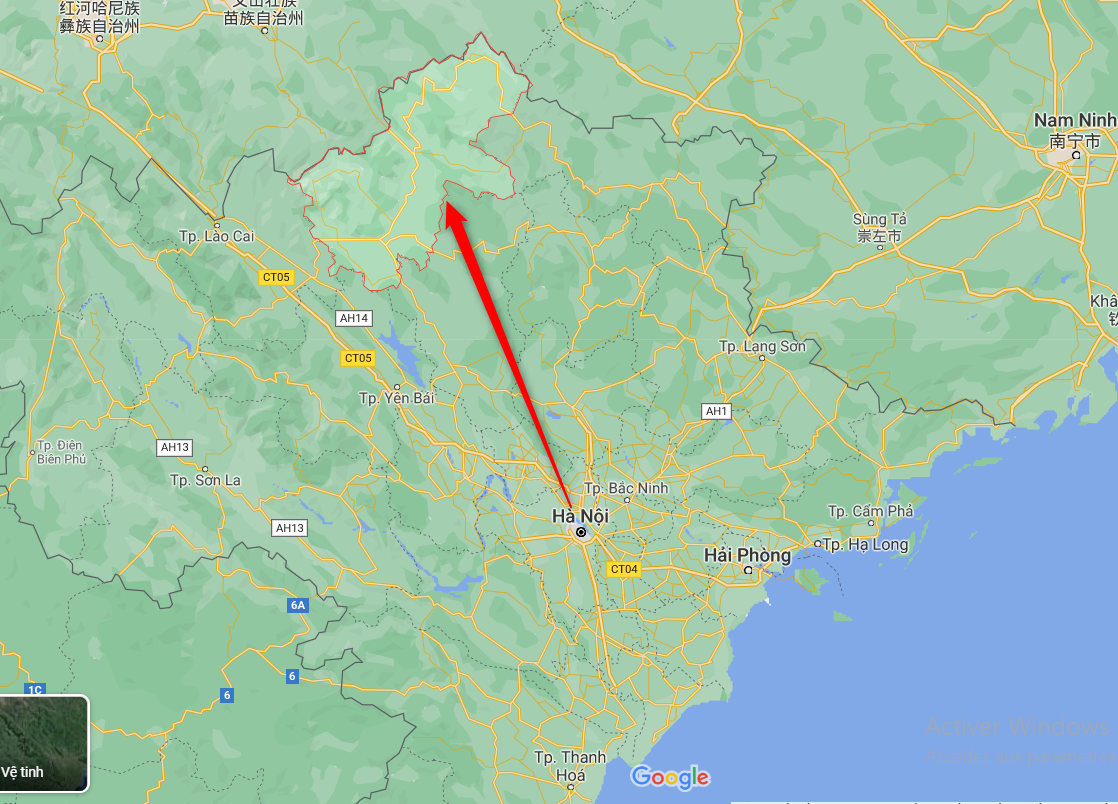 Located 350 km north of Hanoi, Ha Giang Vietnam province is located in a valley surrounded by mountains, on the banks of the Lô River. Ha Giang is the highest latitude province in Vietnam.
It is surrounded by Cao Bang, Lao Cai, Yen Bai and Tuyen Quang regions. It shares the border with China to the north.
The city of Hà Giang has the same name as the province. It is the gateway to the region, is nearly 300 km from Hanoi. Day and night buses run daily or tours can be arranged from Hanoi. Public transport in the province is limited, so rent a motorbike (available in Hà Giang), or make this trip with a car and driver.
When is the best time to visit Ha Giang?
You can visit Ha Giang all year round. Indeed Ha Giang in Vietnam offers a different perspective at every moment of the year.
Ha Giang experiences two main seasons: the rainy season from April to October and the dry season from November to March. Due to the altitude the region enjoys a cool climate all year round.
If you come between January and March, you will see the hills and mountains come alive after their winter slumber. Peach and plum blossoms add dots of white and pink to the green hills, creating a beautiful sight and a beautiful fragrance.
From May to July, farmers irrigate their rice paddies which turn them into a rich, vibrant green.
Ha Giang or Sapa?
We can legitimately ask ourselves the question of going to Ha Giang or Sapa. They are two magnificent destinations. These two locations are located at altitudes in northern Vietnam and allow you to see beautiful rice terraces. Discovering the minority ethnic groups of Vietnam and their way of life is also possible in Ha Giang and Sapa.
However, there are significant differences that will help you make your choice:
Sapa is more accessible and you can do the round trip in two days, the night train to Sapa is a great experience!

Ha Giang is more remote and it will take a minimum of three days to stay there. Due to its lost nature, Ha Giang retains, even more, its authenticity and its wild aspect.
How to get to Ha Giang?
By private car
The most convenient way to reach Ha Giang is by private car. It takes about 6 hours by road from Hanoi. This service also adds flexibility, as you can stop at any time, whether for a photo or to try food along the way.
By bus
A cheap and quite comfortable way to get to Ha Giang is by night bus. Several leave Hanoi's North Terminal every night, and the cheapest cost you less than $10. The coaches have fully reclining berths which make it easier to sleep.
Count at least 7 hours of travel. Usually, the night bus will arrive in Ha Giang around 3:30 in the morning. The good thing is that drivers often let passengers sleep on the bus until morning.
Where to sleep in Ha Giang?
The Ha Giang region is still not a tourist destination. The choice of accommodation is more limited. Most of the hotels are small, but there are still a few choices adapted to the needs of international tourism.
The most interesting is to sleep with locals in the surrounding villages
In the city
Ha Giang is a small town, in which not much happens, most of your discoveries will be outside the city. Given the trying road, you will have made just before arriving, it will be necessary to rest before continuing (unless you arrive early in the morning by bus, in which case, no need to stop, go directly to Dong Van). In the city itself, you will find many guesthouses and small hotels in Nguyen Trai, Tran Hung Dao, Nguyen Thai Hoc or Minh Khai streets.
Homestay in a nearby village
Ban Me or Thon Tha, a few km from the city of Ha Giang, are Tay villages that will be happy to welcome you to their houses on stilts. In Quan Ba, you can rest in one of the many Nha Nghi (guest houses) or in the immediate surroundings.
In  Quan Ba, an association brings together several guest houses in the surrounding towns.
Sleep in Dong Van
150 km from Ha Giang, on the route of the famous loop, you will find rooms or small hotels at very good prices. Choose accommodation in the city center to enjoy the ethnic market early the next morning (every Sunday)!
Two guest houses with a higher level of comfort are worth a visit: The Bui homestay or  Dong Van B&B.
Sleep in Meo Vac
Inns, bed and breakfasts and high-end accommodations await all travelers, from the richest to the most modest, in this tiny city.
History of Ha Giang
With over 3000 years of history, Ha Giang has some stories to tell. Home to a large number of ethnic minorities, this region has seen rulers from several different tribes, including the Hmong and Dao tribes.
When the French came to set up one of the largest military bases in North Vietnam in 1886, they quickly encountered resistance from the local population. The initial rebellions were quickly suppressed but the region always remained opposed to French influence.
Vương Chính Đức was accepted as the Hmong king in the early 20th century, the French made an effort to convince him to tighten their grip on the region. Initially, this worked, but Vương Chính Đức's successor decided to support Ho Chi Minh in his quest for independence from Vietnam.
Nowadays
Today, Ha Giang in Vietnam is a quiet province in the northeast of the country. Ethnic minorities still make up the majority of the population and make this area an exciting and interesting place to visit for travelers wishing to learn more about rural Vietnam and the country's cultural diversity.
What to see and do in Ha Giang Vietnam?
The main attraction for the visitor is the splendid and poetic mountainous landscapes. In addition to encounters with local ethnic groups, human exchanges during local markets make the experience a transcendent immersive journey. A homestay night in Ha Giang area will be an experience you won't forget.
In order to take advantage of the natural resources, you have the opportunity to visit many cultural and historical sites, passing through villages and picturesque hiking trails.
As a mountainous region, Ha Giang and its surroundings are full of hiking routes offering beautiful views and photos. You can walk from village to village to feel the local atmosphere. We advise you to be accompanied by a guide.
There are several ways to visit Ha Giang, to find out all about the best activities and sites in Ha Giang and its surroundings, see our special article on what to do in Ha Giang. 
Meet Vietnamese ethnic minorities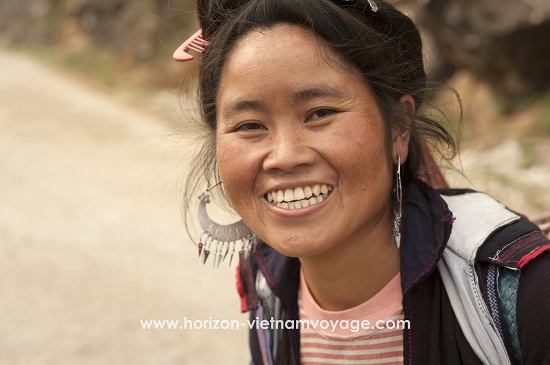 Throughout Ha Giang province, you will have the opportunity to meet locals living in remote areas. He often maintains an authentic way of life. It is impressive to observe and exchange with these followers of a way of life that seems from another time…
Several minorities live there such as the Dao, the Hmong, the Tay, the Nung, the Lo Lo, the La Chi…
Ha Giang local markets
Without doubt, the best way to immerse yourself in local life!
Early in the morning, Hmong men and women, accompanied by horses laden with goods, descend from the high ridges. They sell and buy their products there. Negotiations are going well as the market empties, they gather together and fill the atmosphere with the harmonious sounds of their khènes.
Some feast around a pot of "thang cô", the favorite dish of the mountain people, while drinking until the sky and the earth seems to them to merge.
So their wives gently load them onto the backs of the horses, which they follow briskly on the way back. To
In Hà Giang, be sure to go to Khâu Vai to visit a market that bears the sweet name of "lovers' market", which is held only once a year, on the 27th day of the third moon (from moon calendar). People come here to find their childhood friends with whom they are not married, to relive the emotions of their twenties, in full view of their spouse.
A principle is respected in Hmong homes: we are born to love and true love is not a bad thing.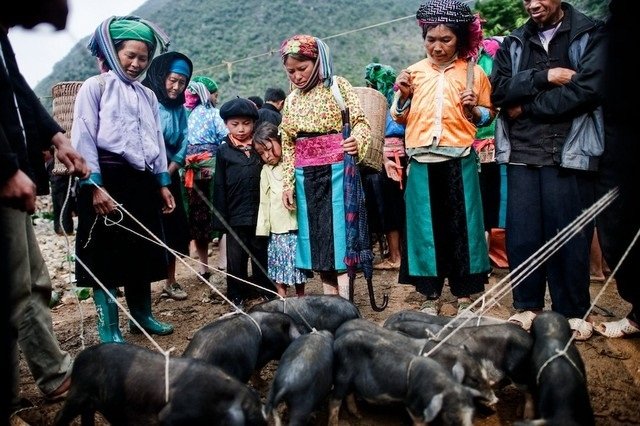 Meeting the inhabitants you will live unique experiences. For example, older men usually offer you cigarettes or even rice wine. The children are smiling and trying to pronounce the few English words they know. Brightly dressed older Hmong women smile as they carry heavy goods on their backs along steep paths. The population of this region will touch you with its generosity.
Conclusion
Ha Giang is the ideal place for outdoor activities such as hiking and camping. It is a preserved place of Vietnam for an authentic encounter with the country.
Did you know, in China, in the Yunnan region, the city of Yuanyang is the sister of Ha Giang, discover it with our partner Ciel Yunnan!
Discover our stays in North Vietnam to visit this wonderful region!