Located 85 km south of Ho Chi Minh City, at the end of one of the important arms of the Nine Dragons River, Ben Tre; the land of coconut palms has the most typical landscapes of the Mekong Delta. It is also the largest rice granary in the country. A day trip to the Mekong Delta to discover the legendary land of Ben Tre, as well as the local daily life, is a thrilling experience.
The region is known for its tropical climate resulting in exceptional wildlife. It is a resource of exotic fruits available throughout the year. Lychee, carambola, mangosteen, rambutan, durian, dragon fruit, passion fruit, mango, Long An are all fruits that you can taste during your excursion in the meanders of Ben Tre
You will also have the opportunity to visit some craft workshops to see how local products are made. Watch how locals make coconut products or the famous Hu Tieu noodles!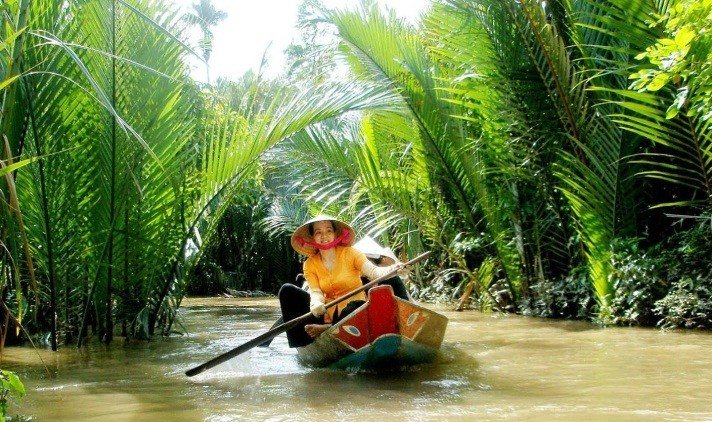 A stroll along the water
Indeed, when you arrive in Ben Tre, you will find yourself in a world made up of canals, rice fields, coconut palms, orchards full of tropical fruits, peaceful villages…
Nothing is more pleasant than taking a small boat to slip through its charming little streams of water, making a few stops to visit, either on foot or by bicycle, villages where people whose hospitality and generosity are innate to them. They still perpetuate ancestral local crafts, whether it is a brick factory or the production of sweets or coconut cakes…
The discovery of Ben Tre is really an escape rather than a well-guided visit.
Where is the Ben Tre?
At the southern end of the country, between the agglomeration of Ho Chi Minh City, the Cambodian border, the China Sea and the Gulf of Siam, extend an immense and low plain, the Mekong Delta, extremely fertile, crossed by the nine branches of a river bursting into pieces (Cu Long in Vietnamese, which means "nine dragons") which flows into the tropical sea. In this region is Ben Tre, located 85 km south of Ho Chi Minh City.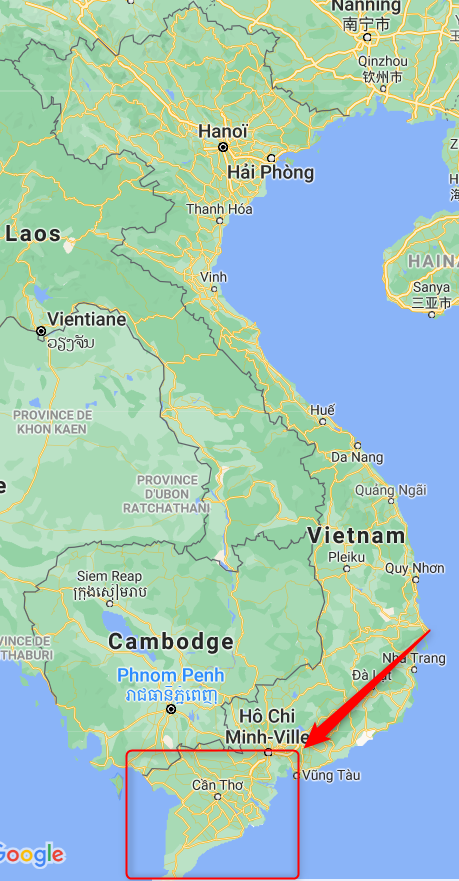 Here are the sites to recommend
– The Vam Ho bird garden; is a nature reserve of rare bird and animal species about 30 km southeast of Ben Tre.
– Phoenix Island (Cồn Phụng) covers an area of ​​28 hectares. The island has many verdant coconut trees and colorful fruit gardens.
– The island of Con Oc is known for its coconut gardens and grapefruit orchards.
– The fruit garden of Cai Mon, on the banks of the Tien River where almost all the fruit trees of South Vietnam are concentrated.
What to do in a day in Ben Tre?
Here is an example of a typical day that we offer from Saigon, note that the visit to Ben Tre also fits very well into a more complete loop of the Mekong Delta.
Depart from Saigon and head straight to Ben Tre (90 km ~ 2-hour drive). Upon arrival, board a small boat to visit typical workplaces, including small brick factories, a coconut processing workshop, and a local mat weaving house.
Stop in a quiet village, take a short walk to witness local life and board a xe-lôi (a kind of motorized rickshaw) to reach a good restaurant by the river for a lunch local. After lunch, take a short bike tour to explore the surrounding fields before boarding a sampan for a leisurely journey along the scenic canals. Return to the port and continue to visit the local Ben Tre market before returning to Ho Chi Minh city and returning to Ho Chi Minh city.