Draped along the banks of the Hau Giang River (Bassac River), Chau Doc Province belongs to the Mekong Delta in southern Vietnam. Chau Doc sees many travelers pass on the river route between Cambodia and Vietnam. It is indeed located very close to the Cambodian border in the South West of Vietnam.
It is the homeland of mainly Cham and Khmer people therefore Chau Doc's cultural diversity, present in nearby mosques, temples, churches and pilgrimage sites, makes it fascinating to explore. you will have the opportunity to experience Cambodian culture without going to the country.
Taking a boat trip to the Cham communities across the river or going to nearby Sam Mountain and the Tra Su Bird Sanctuary are some of the highlights of the area. While the bustling market and waterfront provide beautiful backdrops to a few days of relaxation.
Please find our Chau Doc in the Mekong Delta tourist guide to make the most of this special place in Vietnam.
Geography: Where is Chau Doc located?
Chau Doc (Vietnamese: Châu Đốc) is a small town in An Giang Province, in the Mekong Delta region of Vietnam, bordering Cambodia. The city is located near the Hâu River (a branch of the Mekong River crossing Vietnamese territory) and the Vinh Tê Canal. The city is 250 kilometers west of Ho Chi Minh City.
Map of Chau Doc:
As you can see, Chau Doc is really on the edge of Cambodia, in the South of Vietnam.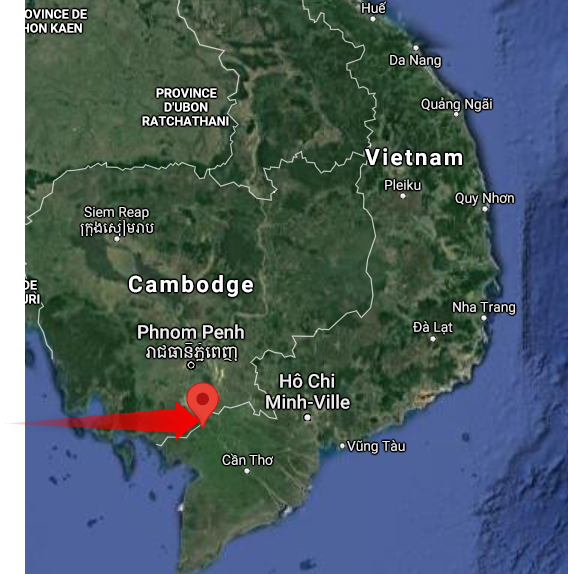 Routes: How to get to Chau Doc?
From Ho Chi Minh City and it takes about 6 hours by car to reach it. There are two means of transportation that many visitors choose to come to Chau Doc: bus, motorbike, or private vehicle.
On a motorcycle:
From the city center, follow National Road 1A through Long An, Tien Giang, then Via My Thuan Bridge to Vinh Long. Just after the bridge, you will see National Road No. 30 on the right, follow this road to Long Xuyen Town. From there continue another 50 km to reach Chau Doc. Motorcycling is the adventure of seeing the beauties of tropical gardens along with the provinces of the Mekong Delta on the way.
Bus:
Public bus from Ho Chi Minh to Chau Doc is daily. En route, there are a few stops in the provinces of the Mekong Delta region. Here are some bus companies to travel to. Count 7 to 8 euros for the price of the one-way trip.
By private transport:
This is the most convenient and comfortable way to get to Chau Doc. Along the way, you can stop at Mekong Delta provinces such as My Tho, Ben Tre, Can Tho, Tien Giang.
Why choose Chau Doc?
Less known than Can Tho or My Tho, Chau Doc conceals natural and cultural treasures that will delight lovers of off-the-beaten-path routes.
The surrounding mountains with a peak of 700 meters are an extremely rare sight in the Mekong Delta. These mountains were once islands in the sea, which were incorporated into the landmass by the extension of alluvial land by the Mekong River.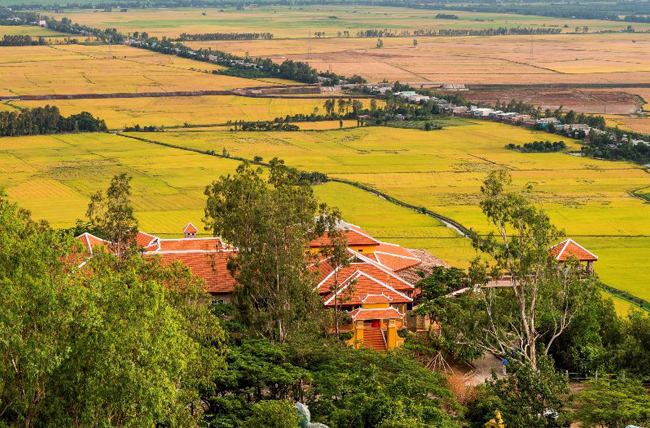 The town of Chau Doc is a starting point for excursions to the sacred mountain of Sam (about 5 km). On this 230m high hill, you can have a magnificent view of Chau Doc, the surrounding plantations, rice fields, small canals and the mighty Hau River, all the way to the Cambodian border. The highest mountain in the Cam Mountain region. It is located about 40 km south of Chau Doc and attracts many Vietnamese tourists who love hiking.
Colorful temples such as Lady Xu Temple and the beautifully decorated Tay An Pagoda, which was built in 1847 with influences from Hinduism and Islam are must-see cultural discoveries. They are among the most popular temples in southern Vietnam. Due to the many pilgrims, it is a very lively place.
In addition, Chau Doc and its region conceal cultural, natural and historical treasures to discover, here is the list:
Top Attractions in Chau Doc
Tra Su Bird Sanctuary
Tra Su Bird Sanctuary is a stunningly beautiful and serene place about 25 km from Chau Doc. This huge forest covers 800,000 hectares and is home to an impressive number of waders. On the Tra Su Bird Sanctuary Eco Tour, visitors first take a short speedboat ride, then there is a leisurely 20-minute rowing boat ride along narrow canals through the sunken forest gnarled and green. It's a very beautiful moment for a trip immersed in nature. The best time to visit is from December to January when the babies are hatching.
Floating houses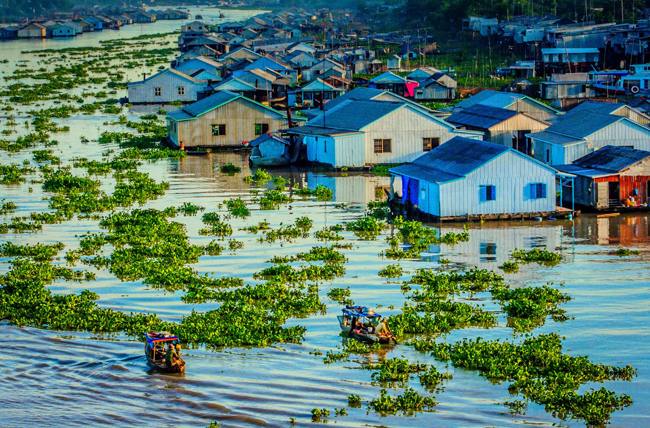 On your journey up to Chau Doc and it is easy to see floating houses along the river. It's in the Mekong Delta, so most of the locals live and dwell along the banks. By taking a boat along the river, visitors can see floating houses and observe the aquatic life around them. Under each house, the fish are reared in suspended metal nets. The fish thrive in their natural river habitat; the family can feed them with leftovers on hand. It is easy, when renting a tourist boat, to have a close view.
Chau Doc Floating Market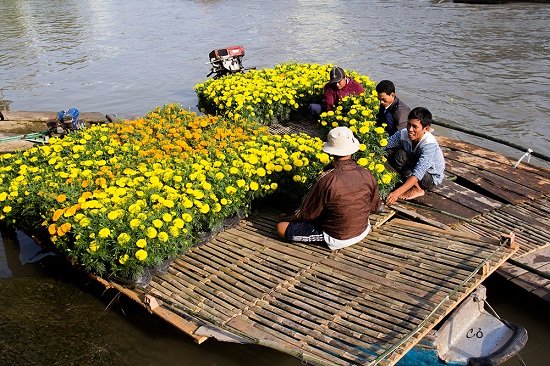 The Chau Doc Floating Market shows the lifestyle of people living along the Mekong. The charming market is the most attractive destination for visitors. The best time to see the busiest market is around 5 am to 6 am. This is when locals gather to buy fresh produce in bulk.
The floating market is in the middle of the Hau River. Therefore, visitors must take a boat to visit it. Expect to pay 100,000 to 200,000 VND depending on the length of your cruise.
Mountain Sam
Sam Mountain is one of the things to see and do in Chau Doc. It is called a sacred place for Buddhists. And it is the refuge of many temples and pagodas. The Chinese origin strongly affects this place and makes it popular with Chinese tourists. It is fantastic to enjoy the excellent scenery at the top of the mountain to admire the panorama of Chau Doc. You can climb the mountain either on foot in about 45 minutes (2 km one way) or by motorbike taxi (Xe om). Along the way there are many stations with refreshments and even a cafe at the top. Halfway you will find the newly built Tay An Temple.
Cave Pagoda (Chua Hang)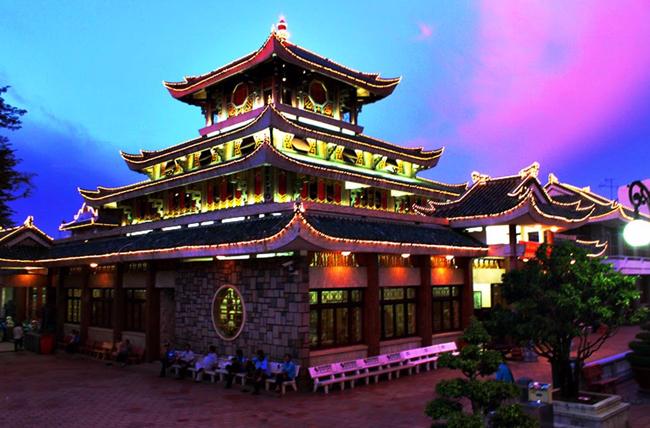 The cave pagoda is one of the highlights of Chau Doc. To visit this pagoda, the traveler has to climb more than 400 steps to the Buddhist temple called Cave Pagoda on Sam Mountain. Founded in 1926 with the purpose of commemorating Nguyen Huu Canh under the Nguyen Dynasty, it regained the territorial sovereignty of Vietnam. The structure contains Chinese styles colors with funerary tables.
Archaeological site Oc Eo
Between Chau Doc and Long Xuyen is the Oc Eo archaeological site. It is believed to have been an important port city in the Kingdom of Funan, which ruled the Mekong Delta between the first and seventh centuries. Most of the excavations, however, have been brought to the museums of Can Tho and Saigon.
Chau Doc Fish Sauce Market
Chau Doc is also very famous in Vietnam for fish sauce. Therefore, the fish sauce market is one of the must-visit places once the trip to Chau Doc. The market is at the head of Tien River and Hau River. There are many types of fish sauce here with different flavors to try and taste. Don't forget to check out this place.
Handicrafts in Chau Doc
Chau doc ​​by its geological quality is a place of fish farming. But many households are still dedicated to silk work, especially in Tan Chau district. You will have the opportunity here to find beautiful silk works to bring back from your trip.
Seasons: When to go to Chau Doc?
The weather in Chau Doc is very different. It is hot all year round. The chance of rain is very low throughout the year. Chau Doc has two seasons, wet and dry. It is wet from May to November while it is dry from December to April. The best time to visit Chau Doc is during the dry season as the rain will not affect the visit.
Accommodation: Where to sleep in Chau Doc?
Since Chau Doc is not yet very touristy, the choice of infrastructure and range of comfort is a bit limited. Know that we strive to retain the best establishments to welcome tourists. You will still find a wide enough range of accommodation to spend a few days
To give you an idea of ​​the cost for one night in Chau Doc and the accommodation budget to plan, please refer to the prices below:
– Youth Hostel (Hostel): 5 to 8 € in dormitory
– Guest house (Guesthouse): 10 to 20 € per person
– AirBnB rental: 10 to 20 € per person
– 3* hotel: 20 to 30 € for a double room
– 4* hotel: 30 to 50 € for a double room
– And 5* hotel: 75 to 120 € for a double room
Naturally, the location of your accommodation will be decisive as to the budget to be provided. The downtown district will be the most upscale.
Gastronomy and culinary specialties: What to eat in Chau Doc?
Related to the cuisine of the Mekong Delta, the cuisine of Chau Doc includes dishes based on broken rice.
Street food and small restaurants are particularly affordable here. You can for a few euros taste one of the local Vietnamese dishes.
If you want to eat in a more "conventional" establishment, count 7 to 10 euros per person. Tourist restaurants will be more expensive and are not necessarily recommended.
Here are the culinary specialties that you will easily find here for a small budget!
Bun ca Chau Doc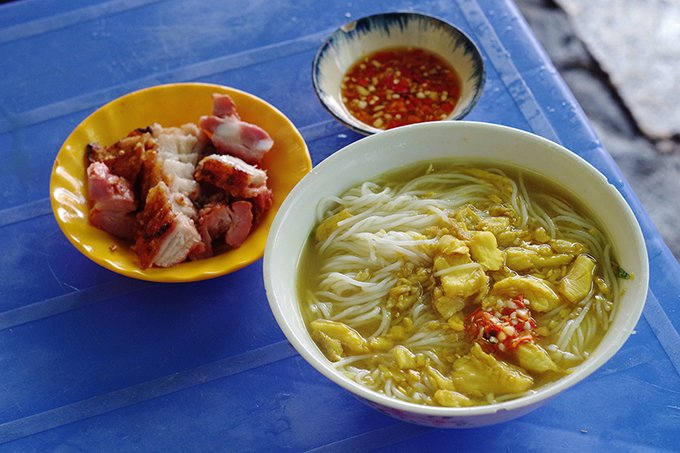 A Chau Doc fish noodle soup originated in Cambodia before the people of the Mekong Delta modified it to suit their tastes. The main ingredients are snakehead fish, broth, and noodles. After cleaning and boiling the fish, the chef fillets it, marinates it with spices and briefly fry it in a pan with turmeric to give it a golden color and a pleasant aroma.
The success of the dish lies in the broth made from fermented carp, shrimp paste and cattle bones. It also has a pale yellow color from crushed turmeric and fried fish is added to enhance its flavor.
Cost: VND10,000-20,000 ($0.43-0.86)
broken rice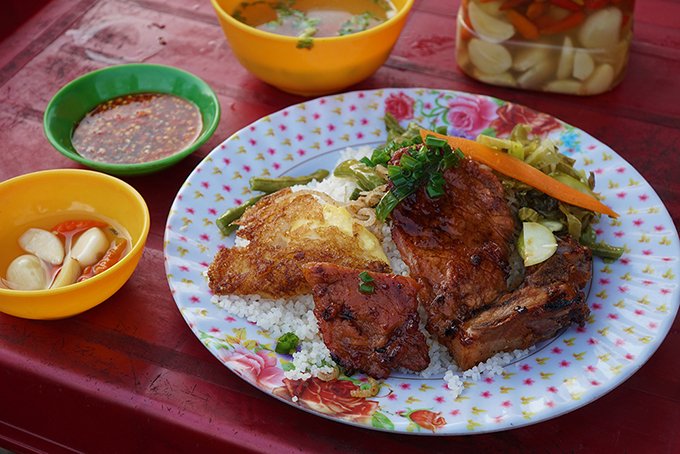 Son Nam, a famous Vietnamese writer said that broken rice was a popular dish among the working class in the Mekong Delta. When workers migrated to urban areas, they took the dish with them, modifying it over the years. But its basic ingredient, fragments of broken grains of rice remained unchanged.
Com tam,  broken rice is mainly associated with Suon Nuong (grilled pork ribs) and bi (pulled pork skin and meat). However, cha (a Vietnamese meatloaf with steamed pork, eggs and other ingredients inside) is another popular filling. The dish is topped with fatty onions and pickled vegetables like daikon radish and carrot and served with a drizzle of fish sauce.
First-time visitors can easily find this dish on Le Loi and Thu Khoa Huan streets and around the Chau Doc market.
A plate of Suon bi cha here costs 25,000-30,000 VND ($1.08-1.29).
Beef intestine sausage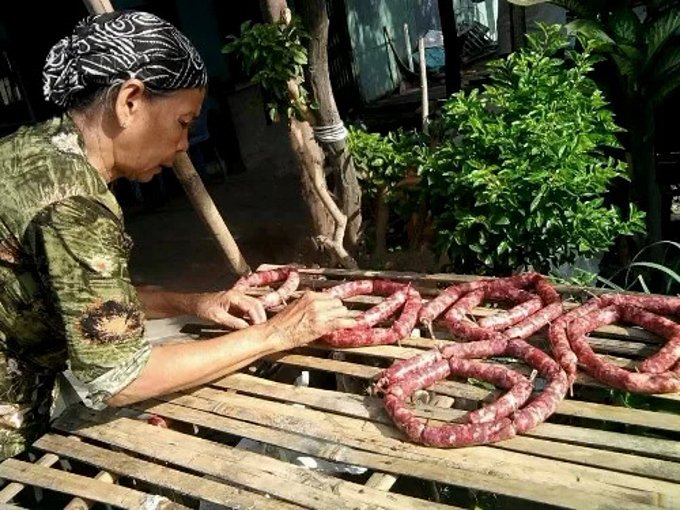 Tung lo mo, or cow gut, is a regional dish of the Cham ethnic group living in Chau Doc. Visitors can see strings of sausages hanging to dry all over the streets of the outskirts.
The Cham people around Chau Doc, who practice a form of Islam, abstain from pork. Thus, tung lo mo became a staple beef dish in religious ceremonies. The locals cut it into small slices and grill it on a charcoal stove until it releases a fragrance. When it's cooked, they chop it to the desired size.
There are two versions of this dish, sour and non-sour. Locals dip it in soy sauce and eat it with rice.
By biting, it triggers an explosion of tastes and flavors. There's the aroma and fat of grilled beef and the slight sour, sweet, salty and spicy tastes from soy sauce, basil and pepper.
A kilo of tung lo mo costs 150,000-250,000 VND ($6.47-10.78).
Grilled Pork Rice Vermicelli Sheets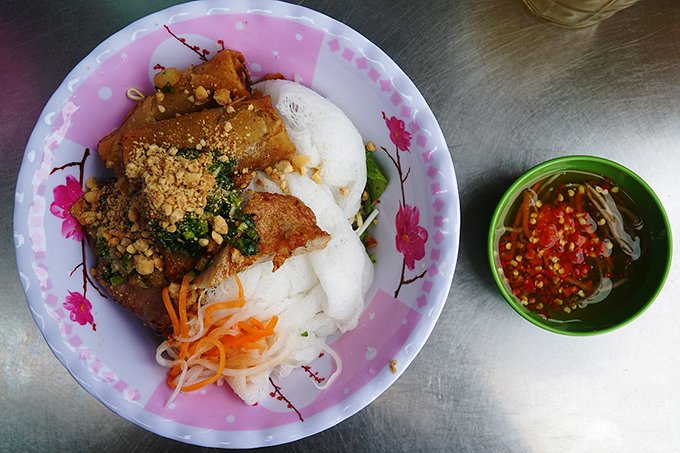 Banh hoi is similar to rice vermicelli and is made from a very thin sheet of rice flour. The dish is most delicious when moist and covered with a thin layer of oil to get rid of the raw flour flavor.
Locals eat Banh hoi with marinated and fragrant pieces of pork that are grilled over charcoal.
The dish is garnished with fatty onion and crushed peanuts. Some stalls add spring rolls (cha gio) and fish cakes (cha ca) to the dish. Each element comes together when eaten with a sweet and sour fish sauce. It can be dipped in sauce or the sauce can be added to the dish.
A bowl of Banh hoi thit nuong costs 25,000 VND ($1.08).
Beef ball noodle soup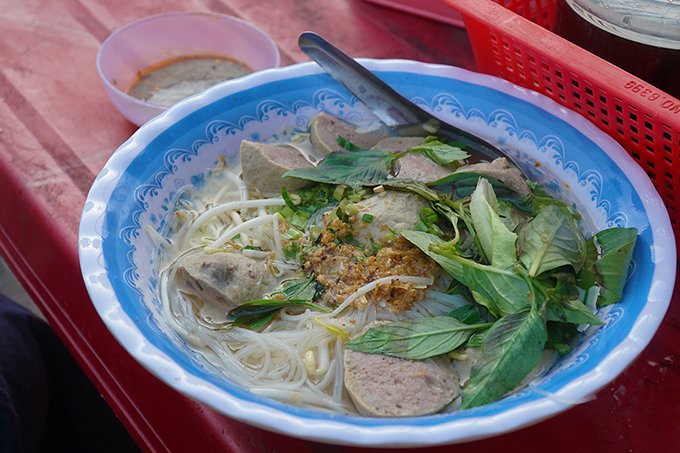 Hu Tieu bo vien, or beef meatball noodle soup, can be seen all over the city center, with locals eating it in the morning and evening. In Chau Doc, Hu Tieu, a noodle made from rice, is distinguished by smaller, soft and fluffy strands.
The cook puts the noodles in a bowl and adds the bone broth and small pieces of bo vien (beef balls). Fresh herbs are also available for people who like their taste.
A bowl costs around 20,000 VND ($0.86).
Fermented seafood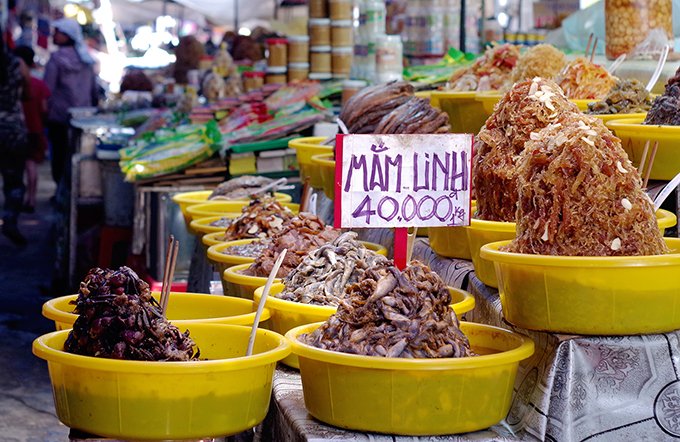 Chau Doc is known as the capital of fermentation, or mam in Vietnamese, and locals use many spices to preserve various types of seafood. Vietnamese people usually eat mam with rice. It tastes slightly sweet at first, but has a salty aftertaste.
Mam is so iconic here that tourists buy it as gifts. The best place to find and try this dish is Chau Doc Market.
Video Chau Doc
Here is a long and beautiful immersive video of Chau Doc filmed by Thuan Van Nguyen
You have the opportunity to see:
– Kinh Dao market.
– Chau Doc market.
– Street view, street food.
– The Chau Doc floating fish farm.
– The landscape of the Hau river, the Vinh Te channel.
– The landscape of Sam Mountain, Ba Chua Xu Temple.
Conclusion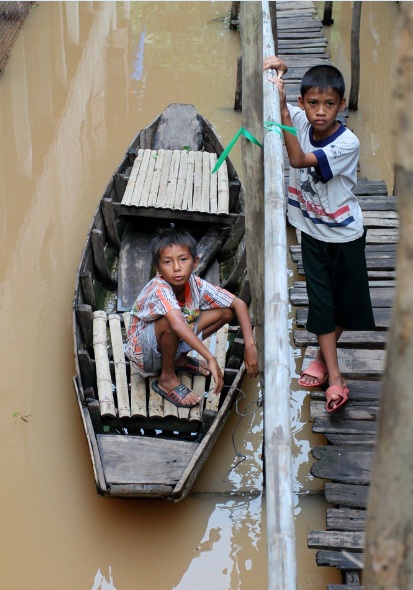 Is a trip to Chau Doc worth the detour? Our answer is definitely yes. If you want to discover an area off the beaten track, beautiful and wild, you must go to Chau Doc.
Its natural site, and its lively shopping streets make it pleasant for travelers passing through. It is a city where life is good, the atmosphere is peaceful and the inhabitants are very welcoming. If you want to recharge your batteries for a few days, while having an exotic experience, this city is for you!
The province is widely accessible and you can ask us for a tailor-made tour to include this exceptional destination.
In addition, if you are interested in large wilderness areas and off-the-beaten-track, consult our North-South Vietnam tour guide to find out which beautiful destinations to plan for your trip to Vietnam.