Mui Ne is a small seaside resort that stretches for 10 km along the southeast coast of Vietnam. Its popularity over the years has come in waves. Favored for its crescent of sandy beaches and clear waters, the town has a friendly, laid-back atmosphere. Easily accessible by bike, train or car from Ho Chi Minh City, Mui Ne is a popular escape from the stress of Saigon City.
There are also beautiful pagodas, spectacular red and white sand dunes and a variety of water sports to experience. In addition, the area is famous for its fish sauce, an indispensable ingredient in most Vietnamese dishes.
On August 24, 2020, the Ministry of Culture, Sports and Tourism decided to recognize Mui Ne as a national tourism zone. The local tourism sector must now focus on improving infrastructure and services to make Mui Ne one of the most popular destinations in Asia Pacific. There is a wide range of accommodations, attractions and restaurants offering a wide selection of seafood at very affordable prices.
Everything is gathered in Mui Ne Vietnam for a relaxing and exciting stay!
In this complete guide we give you all the information about Mui Ne. Best tips and activities, unusual destinations, weather, good plans. Here is everything you need to know about the destination of Mui Ne Vietnam!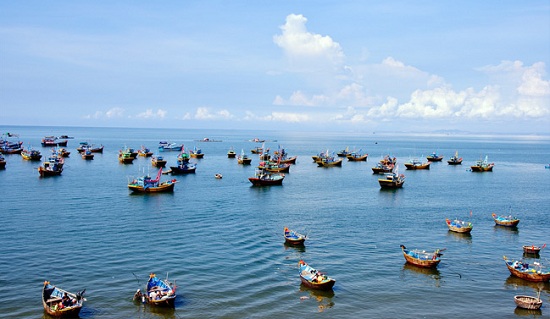 Everything is gathered in Mui Ne Vietnam to have a relaxing and exciting stay!
In this complete guide we give you all the information about Mui Ne. Best tips and activities, unusual destinations, weather, good plans. Here is everything you need to know about the destination of Mui Ne Vietnam!
Geography: where is Mui Ne located?
Mũi Né (Cape Né) is a seaside resort in Viet Nam located in the city of Phan Thiet, in the province of Bình Thuận, about 1,500 kilometers south of Hanoi and 183 km northeast of Ho Chi Minh City.
Seasons: when to go to Mui Ne?
The best time to enjoy Mui Ne is from November to March, when the sky is sunny with strong winds, resulting in optimal temperatures and wave conditions. Thanks to its rock-free waters, Mui Ne beach is ideal for swimming, kite surfing, kayaking, surfing.
How to get to Mui Ne?
Bus from Saigon to Mui Ne
There are many buses that travel the dusty and choked roads between Mui Ne and Saigon.  They stop for food halfway.
For your 130,000 dong (5 eur) ticket, you will receive a bottle of water, a fresh towel. The bus ride takes 7 hours.
Tickets can be booked at the De Tham office near Pham Ngu Lao.
Buses leave from HCMV at 7:00am, 7:30am, 8:00am, 1:30pm, 2:30pm, 3:00pm, 6:00pm and 7:00pm.
Buses leave from Mui Ne at 1am, 7:30am, 8:30am, 9:30am, 11am, 2:30pm, 3pm and 3:30pm.
In both cases, the bus will ask you where you are staying and drop you off right at your door.
By train
The train is a pleasant way to reach Mui ne, which stops at Phan Thiet station.
While the Saigon-Phan Thiet train is an express and direct service some trains make short stops in Bien Hoa and Binh Thuan.
For schedules, timetables and online ticket purchase, visit Vietnamese Railways here
Activities and attractions: What to see and visit in and around Mui Ne?
Mui Ne is not the place recommended for historical discoveries, it is rather indicated for idleness and walks to breathe the sea air.
The must-see thing in Mui Ne is a walk on the red sand dunes. It is especially recommended to go there at sunset.
Here are some other nice activities to do in Mui Ne. For more details, check out our full article on "What to do in Mui Ne?"
Enjoy the beach and swimming!

Rent a motorcycle and explore Mui Ne itself and the fishing catches that come in and out of the sea. At dawn until about 10am, there is also a morning market in Mui Ne village.

Borrow a bicycle and head to the sand dunes, about 10 kilometers from the city.

Try your hand at kitesurfing (a list of schools here).

Take a hike and visit the nearby Fairy Spring.

Visit the port of Phan Thiet and its many large fishing boats, with fresh catches of the day for sale on the bridge connecting Phan Thiet and Ham Tien, and pho fish at the nearby market.

Drive up to Mount Takou and its nature reserve (about an hour away).

Enjoy the view from your room and stroll along the waterfront at dusk.
The beach of Mui Ne
Located 11 km east of Phan Thiet city and 200 km from Saigon, Mui Ne is a 20 km long ribbon of white sand lined with coconut trees and the famous White Sand and Red Sand Dunes that border Mui Ne.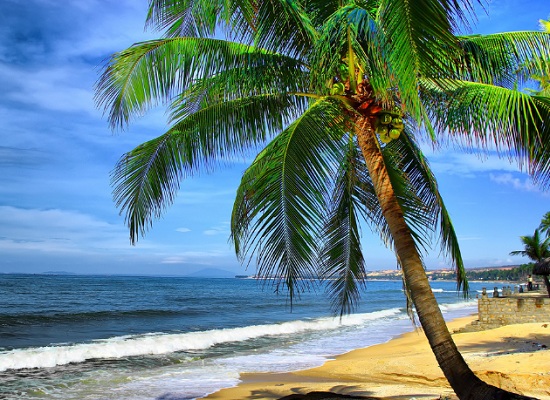 This paradise offers you many possibilities of excursions, a small tour perhaps on the side of the fishing port of Phan Thiet which will allow you to make splendid photographs of multicoloured fishing boats, to discover villages of fishermen as well as the industry of manufacture of fish brine, to plunge in the emerald water of the southern sea, to make nautical sport, relaxation, rest… on beautiful beaches of fine sand Mui Ne is still an ideal destination for beach and relaxation.
Fishermen's village
As Mui Ne has developed mainly as a tourist destination, most of the town is now devoted to the tourism industry.  However, the traditional life of the fishing village is visible as you move away from the main street. Visiting the nearby fishing villages is a great way to experience the local culture and meet the locals. The colorful basket boats look charming as they bob on the waves with their reflections rippling underneath. They are perfect subjects for great photos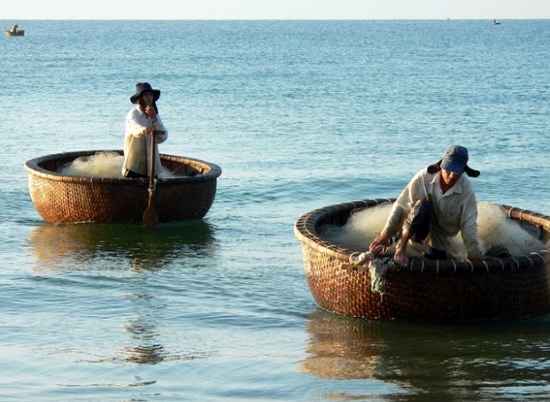 Fishermen's basket boats in Mui Ne
In addition to discovering the local life, these villages are an ideal place to taste freshly caught seafood.
Cham cultural relics
Mui Ne also has remnants of ancient culture. The Cham civilization spread throughout Vietnam from about the 2nd to the 19th century and what remains of the Po Shanu towers offers a glimpse of this ancient culture. Similar to the ruins at My Son, the ravages of time and war have taken their toll on the impressive towers, but the remains abound in historical significance. There are two tall towers and a small building, dedicated to the worship of the Hindu god Shiva, whose detailed architecture shows the creativity of the Cham civilization. The location of the temple on top of a hill offers a breathtaking view of the surroundings.
Culture: History of Mui Ne
Mui Ne means "sheltered peninsula" and is indeed used as a seasonal port by local fishermen. This area was once occupied by the Cham kingdom, as evidenced by the Cham towers overlooking Phan Thiet. They were built in the 8th century to worship Shiva and are said to be among the oldest in Vietnam.
In Binh Thuan province (where Mui Ne is located) in 1306, King Tran Nhan Tong accepted the marriage of Princess Huyen Chan to King Jaya Sinhavarman III of the Cham kingdom. The area is rich in local traditions and superstitions, with many stories of ghosts, fairies, local gods, monsters, magic and miracles, old and new.
In 1692, Nguyen Phuc Chu took over the area and named it Binh Thuan Dinh. The city of Phan Thiet is however very recent and the modern occupation of this area dates only from the last century. Phan Thiet is the provincial capital and Mui Ne is more or less a suburb.
The K'ho, Rai and Chan Ro ethnic groups are now engaged in intensive agriculture.  Crops include cashew, rubber, coffee, mango, orange, lemon, banana and dragon fruit. Binh Thuan has 6,500 ha of wet rice fields, 1,000 ha of corn fields and 3,000 ha of orchards. The electronic age has also arrived to Vietnamese minorities. Among minority groups, 90 percent of households have radios and televisions.
Ho Chi Minh spent a year in the nearby town of Phan Thiet. The Duc Thanh School, a cultural and historical relic, located at number 39 Trung Nhi Street, was built in 1907. In 1910, teacher Nguyen Tat Thanh (future president Ho Chi Minh) stayed and taught at Duc Thanh School for one year. At present, the school has preserved many objects related to Ho Chi Minh's life, such as a writing table, an inkwell and a wooden bed. The Ho Chi Minh Museum is right next door.
Accommodation: Where to stay in Mui Ne?
If you are visiting Mui Ne for the first time, it is important to know where to stay and which hotel best suits your budget and preferences.
The capital of Binh Thuan province, Phan Thiet is home to many inexpensive hotels and resorts, most of which are located along Mui Ne beach. This coastal town remains relatively traditional despite its growing popularity as a tourist destination.
To give you an idea of how much it costs to stay overnight in Mui Ne and how much you should budget for accommodation, please refer to the prices below:
– Youth Hostel: 4 to 6 € in dormitory
– Guesthouse: 8 to 15 € per person
– Hotel 3* : 10 to 20 € for a double room
– Hotel 5* : 50 to 100 € for a double room
Food and drink
Mui Ne's coastal location and long history as a fishing village make it a great place to enjoy delicious seafood. There are seafood grill pans along the beach offering freshly grilled seafood. The main dishes here consist of succulent stuffed fish and fresh juicy seafood, all cooked in tasty Vietnamese sauces. In addition to being extremely fresh and well prepared, the seafood dishes are affordable.
Beautiful Video Mui Ne
Conclusion
Mui Ne in Vietnam is an ideal and accessible destination to relax and enjoy the benefits of the beach. A stopover here is a perfect part of a Vietnamese tour from north to south!