Bac Ha, perched 700 meters above sea level in the upper North region of Vietnam, is considered the "little Sapa ". It is indeed much less developed for tourism, so it is an ideal place for tourists who love nature and hiking off the beaten track. Bac Ha is particularly popular for its Sunday market animated by local ethnic minorities. This is a unique opportunity to commune with the local people and observes the way of doing business in the highlands of northern Vietnam.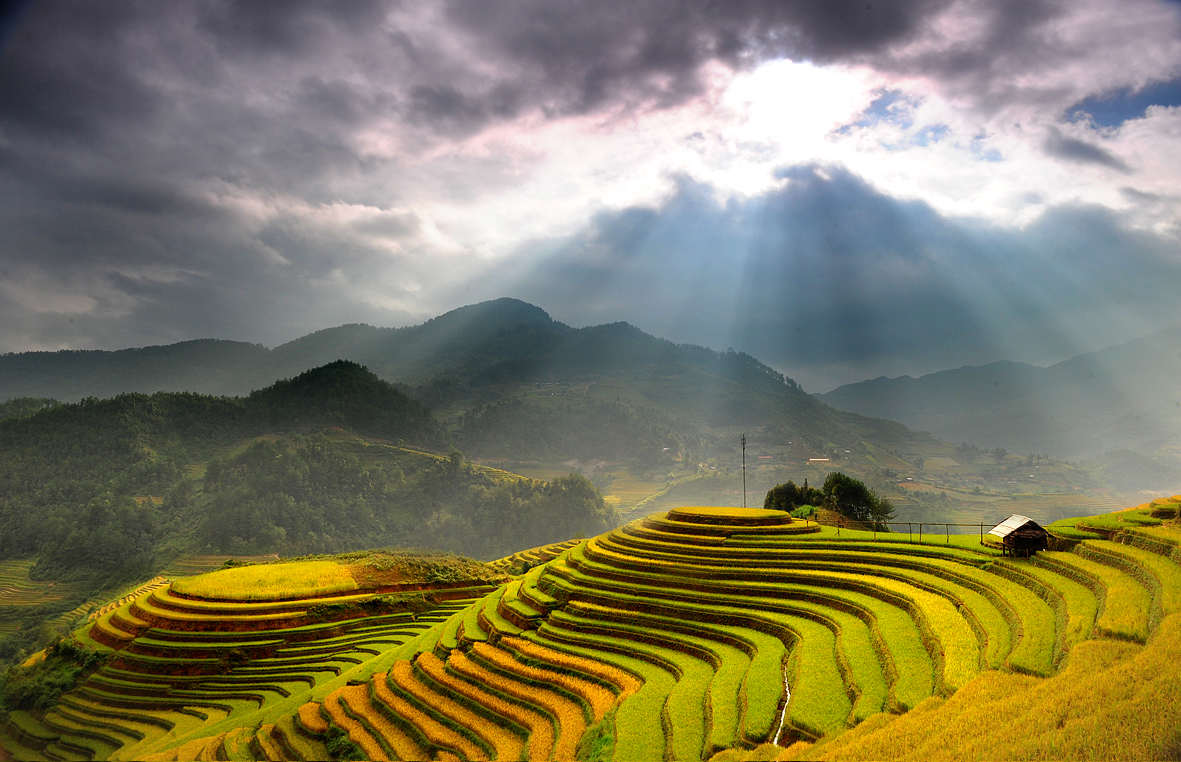 In addition, the Bac Ha area offers a splendid view of the rice fields of Vietnam in the middle of the mountains. What a joy to take a few hikes, going from hamlet to village to discover people and their smiles!
As is often customary here and there, spending a night at a homestay in Bac Ha will further enhance your experience. Horizon Vietnam Travel presents the guide to Bac Ha. Weather, accommodation, restaurants, sites to discover, we give you all our best advice and information.
Good reading!
Bac Ha ethnic groups
First of all let's talk about those who, with the sweat of their brow, cultivate these beautiful landscapes, shaping the terraced rice fields that the whole world takes to want to photograph!
The people here belong to local ethnic groups. Their ancestors were far from thinking that their work would become real tourist attractions years later. Indeed it is for practical reasons that they drew these mountains on a staircase. As demonstrated by Galileo, water does not remain on a slope and this is necessary for the cultivation of rice! Even today the majority of ethnic groups live from agriculture.
The Bac Ha region is a land of residence for many ethnic minorities in Vietnam.
The Flower Hmong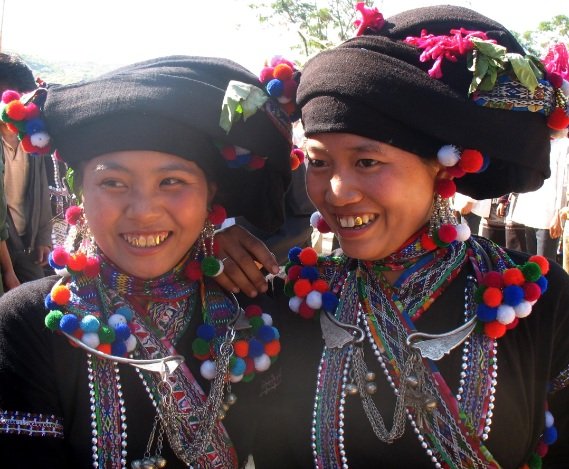 Bac Ha is considered the capital of the Hmong Hoa, one of Vietnam's most vibrant ethnic groups. Besides the rice business, the Hmong raise buffaloes, oxen, pigs, poultry, and horses. The latter serves as a pack animal, very effective in high mountain regions. For this reason, the horse is very close to Hmong families.
The inhabitants of the Hmongs excel in crafts, such as tanning, blacksmithing, making horse saddles, furniture, wooden containers, or even silver ornaments. The markets of the Hmong constitute a place of exchange of goods, meetings between friends or between boys and girls. This is a typical trait of the Hmong of the high northern border mountains. Corn, vegetables, and bundles of wood are brought to the market on horseback. The " Thang co" stew is very popular with the Hmong, it consists of meat of all categories, bones, tripe, liver, heart and lung of beef cut into small pieces and cooked in a large pan.
The Daos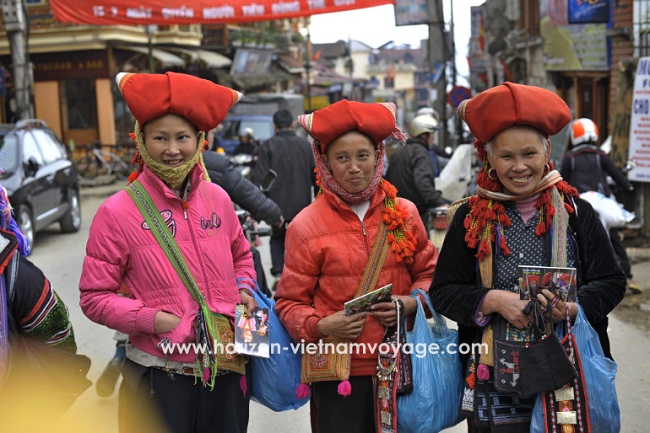 There are several populations within the ethnic group itself. The white pants Dao, the tunic Dao and the red Dao. Like the Hmong, they raise buffaloes, oxen, pigs, and chickens on the mountain slopes. The Dao woman wears a bun surrounded by a kerchief. The collar of his jacket is embroidered with designs in garish colors while encrusted silver eight-petalled flowers are pinned to his chest.
The Dao are very talented in cotton growing, weaving and in handicrafts. The manufacture of silver objects, mainly necklaces, bracelets, neck or foot rings, earrings, chains, betel boxes… It is a profession that is transmitted from father to son. The Dao practice ancestor worship and adopt primitive beliefs, and agricultural rites. He also practices Buddhism and especially Taoism. A significant event among the Dao is "Cap Sac", a traditional ceremony for young Dao reaching adulthood.
The Phu La
The Phu La are a small ethnic group of about 6500 people. They live in groups in small villages. Depending on the locality, you live in a house on the same ground or on stilts. The attic is built far from the house, sheltered from the fire. The Phu La practice slashes and burn cultivation and work on the rice terraces. The Phu La also practice cotton growing and weaving to meet the clothing needs of the family. Taking advantage of the time when she is at home, the woman unravels the cotton and spins it.
Where is Bac Ha located?
Bac Hà is a rural district of the province of Lào Cai in the northeastern region of Vietnam. It is the capital of the Flower Hmong region, one of Vietnam's 54 minorities and one of six groups of Hmong people.
Bac Ha is located 300 kilometers from Hanoi and a 5-hour drive
How to get to Bac Ha?
Bac Ha is about 65 km from the center of Lao Cai town, from Lao Cai you can take a local bus or a private vehicle. From Hanoi, you must first go to Lao Cai. You can get to Lao Cai by train or bus.
By train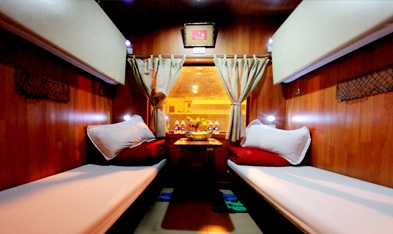 By bus
There are daily buses departing from Hanoi at 6:30 am or 10:00 pm. The one-way trip takes between  6 and 7 hours.
Traveling by bus is both fast and it goes directly to Bac Ha without stopping at Lao Cai like by train. If you take a private car, you can even reach Bac Ha in 5 hours. You can find more information about bus timetables and booking here: https://www.hanoisapatrain.com/sapa-bus.html
Map of Bac Ha
Bac Ha Hike
Bac Ha is a mountainous region and its surroundings are full of hiking routes offering beautiful views and photos. You can walk from village to village to feel the local atmosphere. We advise you to be accompanied by a guide.
The flowery Hmong villages, the Lung Phing valley, discovering the Dao and Ha Nhi black minorities as well as magnificent rice and corn fields are within walking distance. On the way, you can see many school fruit farms. Children are also happy when you take pictures with them, it is also a memory for them.
Bac Ha market
What is also worth a visit to Bac Ha is the Sunday market. Every Sunday morning, people from across the region gather at Bac Ha, and it becomes a cacophony of color, sound and vibrancy. Members of the surrounding hill tribes come to shop and sell, making this a fantastic opportunity to see a range of ethnicities in one setting.
Women and men from surrounding communities, all dressed in elaborate costumes – their Sunday best have gathered here to trade for over a century. It's an opportunity to stock up on fresh produce, buy clothes and textiles, but it's also a social bath from other villagers. Many people travel long distances on foot or on motorbikes to attend.
What to eat in Bac Ha?
One of the best places to eat authentic food is the market! Not only are the products here worth buying, but the food here is also worth trying. Speaking of food in Bac Ha market, if you feel like an adventurer you must try " thang co" – a special food originating from Bac Ha. "Thang co" is made from horse meat and viscera, with some spices and herbs, cooked in a large wok. This dish is one of the most popular specialties of the locals!
Perhaps easier to grasp, five-color sticky rice, "mem men" and corn-based "banh duc" are exceptional dishes that you can enjoy for a small price!
Or sleep?
Bac Ha is a mountainous town. Located 3 hours from Sapa, the choice of accommodation in Bac Ha is more limited there. Most hotels are small, but there is still a bit of choice. The Bac Ha district offers around 50 accommodations including 23 hotels.
The most interesting is to sleep with locals in the surrounding villages such as Pho village, Na Lo (Ta Chai), Trung Do (Bao Nhai), Na Hoi Tay and Na Hoi Nung hamlets.
Video of Bac Ha
Tours including BAC HA
So if you want to visit Bac Ha, you can check our tours. We can offer you a directory of unmissable and off-the-beaten-track sites. Then, it's up to you to personalize them by making your modifications as you wish, according to your tastes, your availability, your means, but also the weather conditions…, in order to program your own North Vietnam tour.
If you already want to start building your trip, check out our North to South Vietnam tour building guide!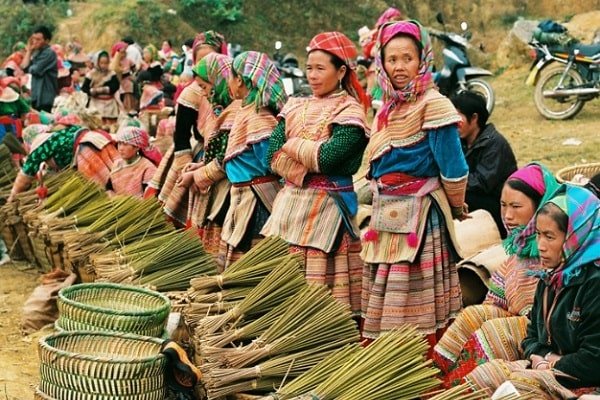 Locations: Ha Noi – Vu Linh – Bac Ha – Ha Giang – Cao Bang – Lang Son – Ha Long Bay
This beautiful tour will take you through splendid mountain trails in Northeast Vietnam. You travel through mountain ranges, magnificent terraced rice fields, and pretty ethnic villages but also you will meet warmly mountain ethnic groups still living to the peaceful rhythm of their ancestral tradition. This authentic circuit off-the-beaten-track, adventure trip will be a real homecoming. You will gain in human warmth and friendliness.
Discover all of our North Vietnam tours HERE!
We hope to see you soon for a stay in North Vietnam!
Keywords to find this article: Bac Ha Vietnam, Bac Ha guide, Bac Ha information, Bac Ha market