A Vietnam tour from north to south is most often preferred when it comes to traveling in Vietnam. Indeed, the silhouette of the country, all in length lends itself perfectly for a discovery of the north to the south.
However, there are many ways to travel this route. There are of course the must-sees but also more exclusive places.
What to do in Vietnam in 15 days? You can imagine a trip from north to south. Two Vietnam itineraries from one end of the country to the other can be identical in terms of locations visited.  They can, however, be different according to the way of surveying the places.
How to prepare for your trip to Vietnam from North to South?
In this article, Horizon Vietnam Travel gives you the must-see places to visit during a first stay in Vietnam.  Then we indicate you the less known places. They are interesting alternatives or extension options for your trip. Finally, we give you ideas and tips to travel off the beaten track in all circumstances!
Once you have the desired destinations in mind you can build your Vietnam tour from north to south according to the geographical locations.
If you are short of time and still want to avoid rushing to visit, it may be wise to focus on one part of the country. Please consult our North Vietnam tour guide to know everything!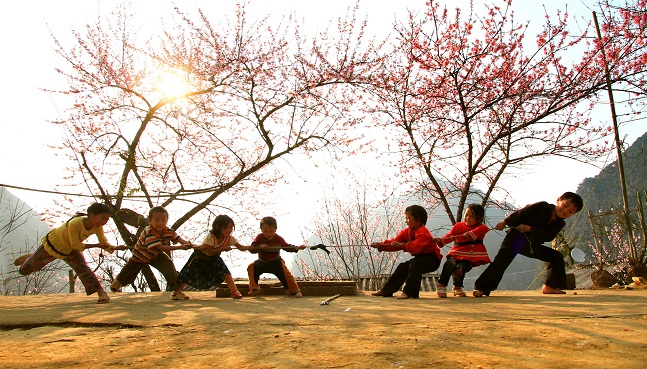 TOP 8 must-see destinations in Vietnam from North to South
The destinations below are must-see for a Vietnam tour from north to south. On the one hand they are each famous for their charm and their specific richness which made their notoriety. On the other hand they are logical stopping points for a trip from North to South. These destinations cannot be avoided. They constitute a good framework for the construction of your Vietnam tour from North to South. You can then add some options according to your time and your desires.
We do not intend in this article to give a lot of details on the destinations.  Instead, we give you a general overview. You can click on the name of the destinations to see the detailed information about the place.
Sapa
Strong points of the destination : Mountain landscapes, rice terraces, meeting with minority ethnic groups, hiking, nature.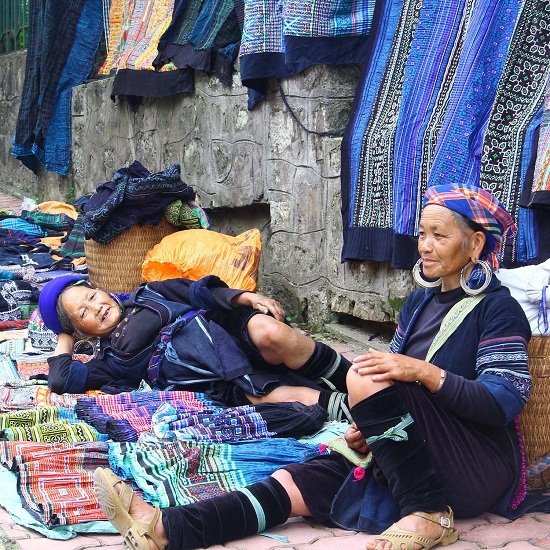 380 km northwest of Hanoi, towards the Vietnamese border with China, lies the misty, mountainous town of Sapa. Sapa is an accessible mountain town, only 6 hours away by road or overnight train!
The town is home to five of Vietnam's most famous ethnic tribes (Hmong, Red Dzao, Tay, Giáy, Thai and Phù Lá). Sapa attracts tourists for its breathtaking mountain views, cooler climate, exceptional hiking opportunities. It is also an opportunity to stay with locals representing ethnic minority groups.
Tip off the beaten track!
The town of Sapa is charming in itself, with its quaint little streets, cafes and bustling markets. However, Sapa is especially a good gateway to adventures in the surrounding hills and valleys!
There are beautiful places around to enjoy the mountain scenery and admire the rice fields of Vietnam. In addition, an overnight stay in the surrounding villages will promise you an extraordinary experience. It is a deep immersion in the Vietnamese culture!
Hanoi
Strong points of the destination: discovery of the capital of the country, cultural and historical sites, immersion in the old districts of Hanoi and in the life of Hanoians, Vietnamese cuisine.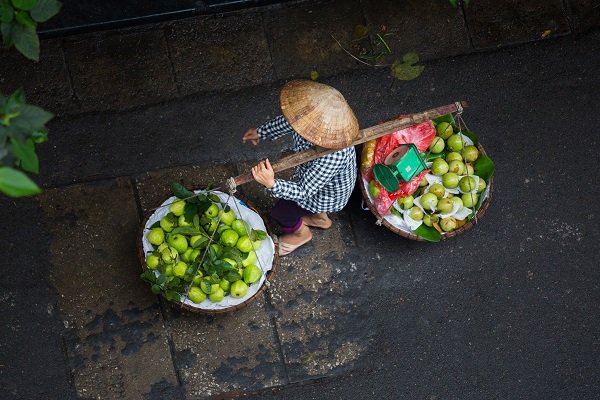 Vietnam's capital, Hanoi, is like a living museum; a fascinating glimpse of an ancient Asian city, but bursting with the energy and pace of a modern metropolis.
Motorcycles, pedestrians, street vendors, rickshaws, bicycles and cars crisscross the narrow streets as tourists timidly try to get around them. Attempting to cross the road is a challenge in itself and takes a little courage the first few times you do it!
Everywhere you look, there is activity and noise. All life seems to be happening outside on the busy streets; working, eating, cooking, playing, creating, feeding babies, laughing or just sitting and chatting. You could spend days watching the people. Crazy, beautiful and hectic, sometimes frustrating – a day in Hanoi is never boring!
Hanoi's Old Quarter and its 36 streets of corporations is a labyrinth of colors, sounds and smells. Perfect for a walking tour. Check out the stalls in front of the stores and stalls, taste the street food and find tiny little alleys to explore.
Also Hanoi is one of the best places in Vietnam to taste Vietnamese food.
Tip off the beaten track
It's simple: let yourself go and venture off the beaten track in Hanoi. You will definitely get lost and find a surprise at every corner.  To find your way back, you will have no trouble finding a cab to take you back to your starting point!
Halong Bay
Strong points of the destination : Unique maritime landscapes, cruise, photo, relaxation, beach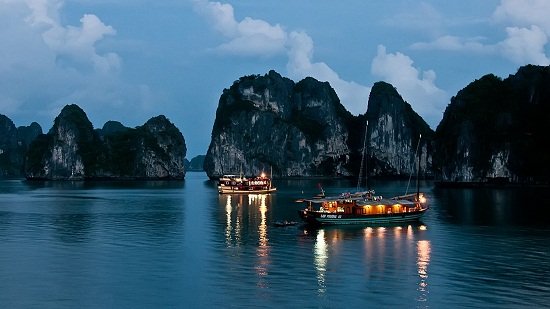 It is the "must see" of Vietnam! A first Vietnam tour from North to South cannot leave out this place. The UNESCO World Heritage Site of Halong Bay in northern Vietnam is on every traveler's list.
It is known by the Vietnamese as the "Bay of Descending Dragons". This describes the silhouette of the limestone outcrops that rise from the water. Day cruises or overnight boat trips are a spectacular way to experience the beauty of Halong Bay. See as many islands as possible. You can go swimming, explore caves, or discover some of the more remote and uninhabited islands while sailing around Halong Bay.
Off the beaten track tip
We have to admit it, to visit Halong Bay, pretending to sail off the beaten track sounds like a paradox. There are some alternatives that are just as beautiful and less known such as Lan ha Bay and Tu Long Bay. Consult our cruise in the bay of bai tu long.
It is also important to choose the right boat company for the cruise. The one that will know how to differentiate itself by the number of places on the boat, an original and calm itinerary…
Ninh Binh
Strong points of the destination: Mountain landscapes, boat and bike rides, hiking, nature.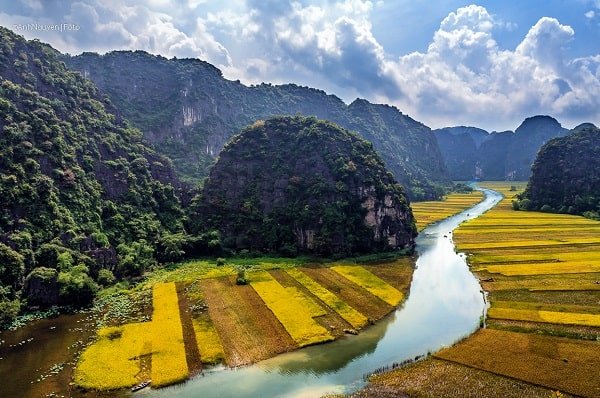 Ninh Binh sums up so many aspects of Vietnam's beautiful landscape in one place. The Ninh Binh region is especially known as the Land Halong Bay, offering unique landscapes of sugarloaf mountains.
The landscape is made up of beautiful karst peaks that rise out of the earth, surrounded by lowland rice fields and winding rivers.  Located at the tip of the Red River Delta region, Ninh Binh has many rivers and tributaries that wander through the land and collect in lakes and ponds. The calm water acts as a mirror, reproducing the incredible images of towering peaks and blue skies.
Although Hanoi is only 3 hours away, it is a peaceful place far from the noise and distractions of the cities.
Off the beaten track tip
If it's not too hot, rent a bike and ride around the pleasant trails in the area. For the sampan cruise, get up at dawn to avoid the tourist influx and enjoy the ride quietly.
Hoi An
Strong points of the destination: discovery of the old district, bicycle ride, hikes, beach, nature, local crafts.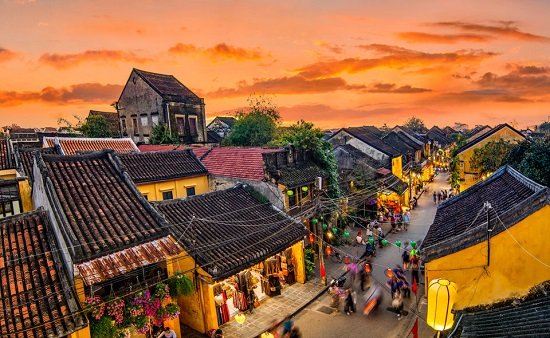 The city of Hoi An, located on the central coast of Vietnam, is an ancient old city classified as a UNESCO World Heritage Site. It is also the seaside resort of An Bang. The city is located only an hour drive from Da Nang, with its international airport and train station and is a popular place in Vietnam.
The old town of Hoi An is an ancient Southeast Asian trading port dating back to the 15th and 19th centuries. The architecture and street layout are influenced by a variety of trading countries; the Chinese, Dutch, French and Indians. Today, the city is very popular with tourists and is an established stop for many travelers.
Because of its history as a trading port, the city has become famous as a place to get a custom suit, a dress and a pair of handmade flip-flops!   It's the perfect place to shop!
Off the beaten track tip
Hoi An is a quaint old town where you can cycle through colorful colonial buildings, stop to buy souvenirs at the market and enjoy a peaceful coffee by the river.   Head to some of the quieter surrounding villages, such as Tra Que vegetable garden, Cam An, as well as the seaside resort of An Bang for a more laid-back experience.
Hue
Highlights of the destination: Historical site of the Imperial City, romantic boat ride
The ancient city of Hue was the capital of Vietnam from 1802 to 1945 under the emperors of the Nguyen Dynasty. For travelers interested in architecture and culture, it is a must-see destination to explore with fascinating temples, pagodas, palaces and Buddhist tombs.
Declared a UNESCO World Heritage Site in 1993, the city has faced its fair share of damage and destruction during Vietnam's recent turbulent history. In the Vietnam War, (1947) Hue was the site of a battle between the French and the Viet Minh. Again, in 1968, during the Tet offensive, Hue was bombed by the Viet Cong and then bombed by the Americans.
Traces of destruction in shrapnel and bullet holes are still visible in the buildings and repairs are still underway today to help restore the city to its former glory.
Tip Off the beaten path
Explore on foot by bike, it's a great way to explore the old streets. Most of the sights are within walking distance of each other.
The most famous attraction in Hue is the Hue Imperial Citadel, the former seat of the imperial government which is a must-see site and gives an interesting insight into Vietnamese history. Visit it early in the morning for a quieter experience.
Saigon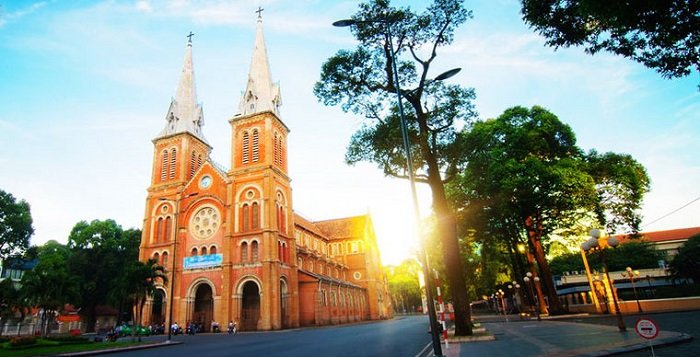 Highlights of the destination: discovery of the economic heart of the country, cultural and historical sites, evening outings, Vietnamese cuisine.
Known by the inhabitants under its former name, Saigon, the largest city of Vietnam became Ho Chi Minh City in 1976 after the country's victory over the French colonial rulers (1954 – 1975).
The city is named after their independence leader and Vietnam's most famous and respected personality, Ho Chi Minh. You will undoubtedly see his photograph thousands of times during your stay in Vietnam, hanging over schools, businesses, streets and houses.
The city itself is an extreme juxtaposition of old and new, technology and tradition, rich and poor; a hectic blur of motorcycle on motorcycle that makes crossing the road an extremely daring feat!
With a booming nightlife and loads of culture, the city is the perfect last stop on your Vietnamese adventure.
Here is a short video edited by us that immerses you in the streets of Ho Chi Minh:
Tips for getting off the beaten track
It is difficult to give advice on how to get off the beaten track in this megalopolis. In any case, you will feel a little less like a tourist in this big city used to international exchanges.
Mekong Delta
Highlights of the destination : Discovery of a unique way of life along the water, boat and bicycle rides, exotic fruits, local handicraft.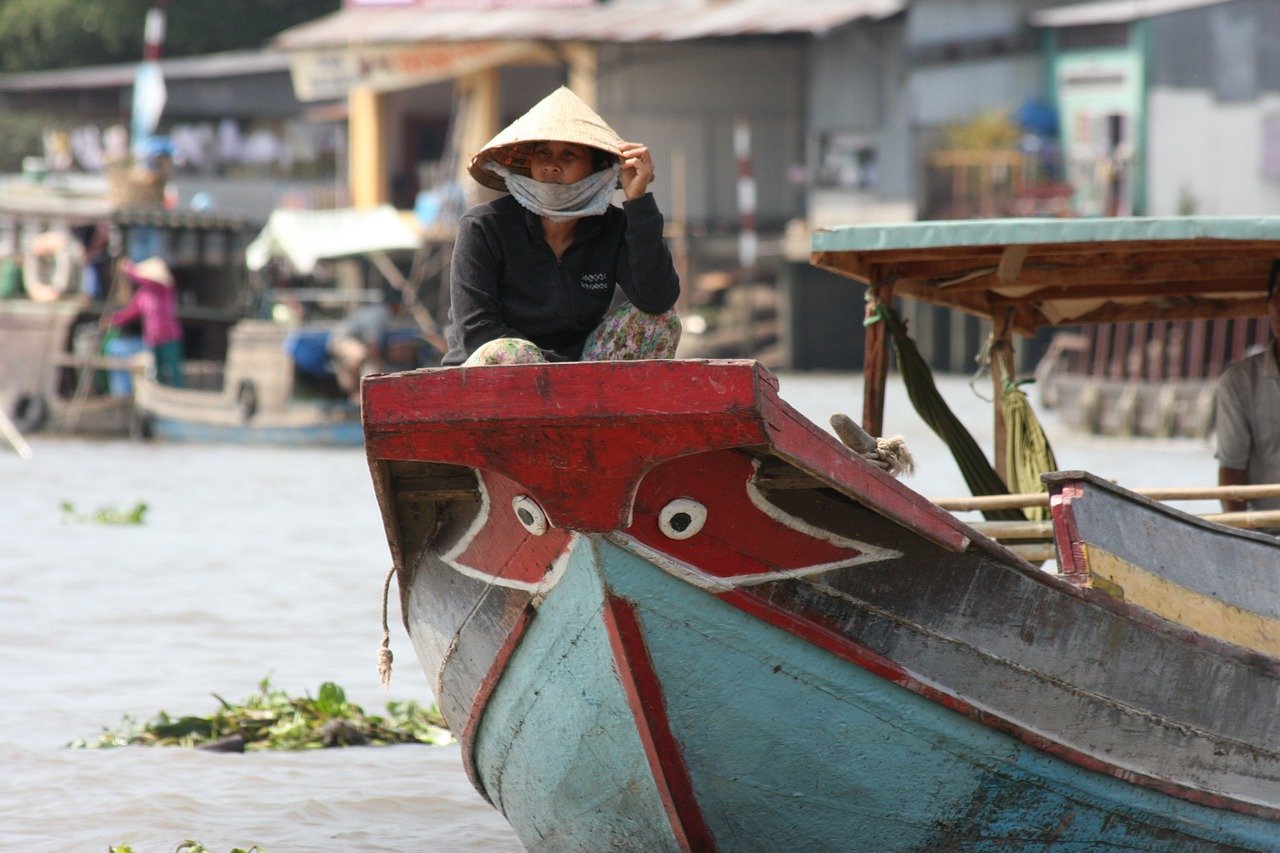 The Mekong River is one of the major rivers in the world. It is the 10th longest river in the world and the 7th longest in Asia. From the Tibetan plateau, it flows through China's Yunnan Province, Burma, Thailand, Laos, Cambodia and Vietnam. The extreme seasonal variations in flow and the presence of rapids and waterfalls have made this river majestic and reputedly extremely powerful.
The Mekong Delta is the region in southwestern Vietnam where the Mekong River approaches and flows into the sea through a network of distributors. The Mekong Delta region encompasses a large part of southeast Vietnam of 39,000 km. The size of the area covered by water depends on the season.
It is one of the most fertile regions in the world with countless rice fields and tributaries on thousands of square kilometers of flat land.
The region is vast, there are different ways to approach the visit of the delta. Check out the Mekong Delta guide article!
Off the beaten track tip
An overnight cruise in the Mekong Delta is well worth it, as the experience of waking up early in the morning to find floating markets and villages all around you is incredible. The small boats are perfect for getting a glimpse of local lifestyles while relaxing in the comfort of a charming floating hotel.
Map of Vietnam from North to South
Here is the map with the 8 most famous destinations. As you can see, the route from north to south is very clear and marked in this long country!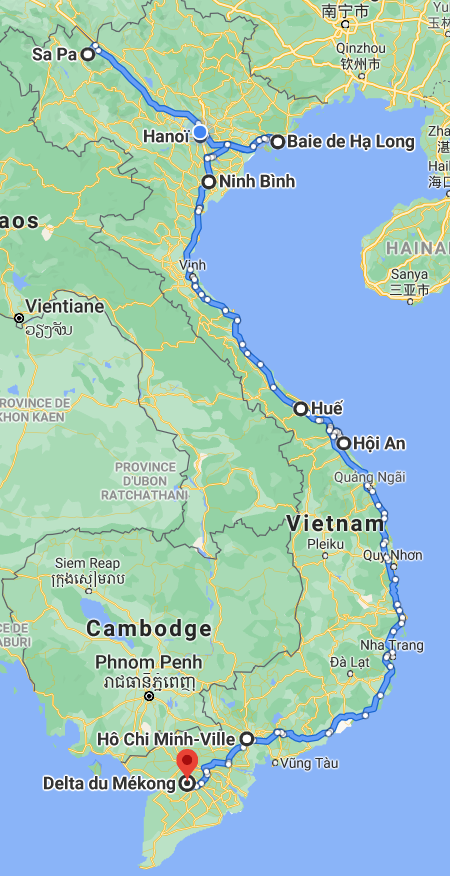 TOP 10 unknown destinations
Less known, but just as interesting and exciting. These destinations are less easily accessible than the ones previously mentioned, so they gain even more authenticity and are destinations that ensure unique Asian experiences. You can combine some of these destinations with the must-sees for a complete adventure.
Don't forget to ask us for a tailor-made quote so that we can build together the Vietnam tour from North to South that belongs to you!
Ha Giang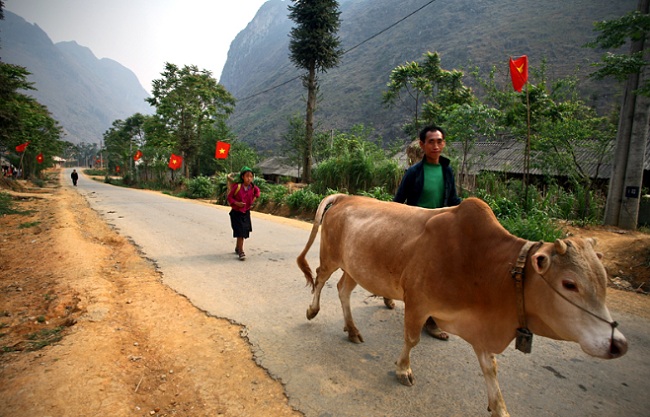 Highlights of the destination: Remote mountain landscapes, discovery of a Vietnam cut off from the world, rice terraces, minority ethnic groups, trekking, nature.
In Ha Giang, we are in the high mountains of Vietnam, the mountains and hills stretch as far as the eye can see. The steep peaks pierce a misty green landscape and the valleys are decorated with terraced rice fields. It is fascinating to drive through these landscapes on narrow mountain roads…
Hà Giang, located in the far north of Vietnam, is a remote area that is home to 22 ethnic minorities with their own unique languages. It is impressive to note that many of the people you meet on the way do not even speak Vietnamese.
With an altitude of up to 2000 meters, the landscape becomes "Martian". Here, ethnic minorities plant their crops on the rocky terraces. The soil is very limited in this area, so they have to take advantage of every available piece of land.
Mu Cang Chai
Highlights of the destination: unique scenery, rice terraces, minority ethnic groups, trekking, nature.
Mù Căng Chải is located at the foot of Hoang Lien Son mountain in Yen Bai province. It's about 6-7 hours drive from Hanoi. If you have time it is a nice destination project in your Vietnam tour from north to south. It is well known for its spectacular rice terraces which are best in June and September.
It is an ideal destination for nature lovers and photographers. The area is vast and visitors can plan a 2 or 3 day trip to Mu Cang Chai and its surroundings.
You will be impressed by the beautiful road from Khau Pha Pass with winding passes on one side and beautiful terraced rice fields on the other. A visit to Mu Cang Chai also gives you an excellent opportunity to meet, talk and stay with the hill tribe family of northwest Vietnam.
Bac Ha
Highlights of the destination: Mountain scenery, local market, rice terraces, minority ethnic groups, trekking, nature.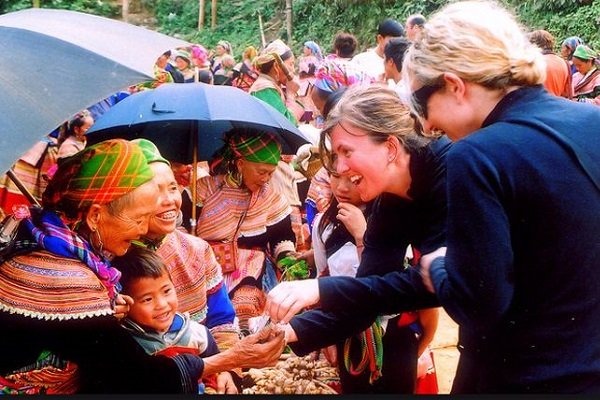 It is another remote mountain destination in the north of the country. Bac Ha is a small village with mountainous surroundings suitable for hiking. The road is picturesque and often dotted with plum and peach trees. You can visit the nearby villages inhabited by the Tay, Phù Lá and H' Mong.
Every Sunday morning, the market gathers the locals from all over the region. It becomes a mixture of colors, sounds and effervescence. Members of the mountain ethnic groups come to shop and sell. This makes it a unique occasion and an authentic mountain scene.
Cao Bang
Highlights of the destination: Waterfalls, natural park, swimming, nature hiking.
Cao Bang is an extremely beautiful and sparsely populated border region of North Vietnam. This mountainous expanse lies on the northeast border with China. It is home to many ethnic minority communities.
Although the Ban Gioc waterfalls have become a popular attraction, this area is often overlooked by tourists. Its unique beauty and culture are therefore well preserved. The landscape here is characterized by steep mountains covered with thick vegetation, terraced rice fields and thin winding roads.
Vietnamese people tended to avoid the mountainous regions in favor of the better farmland in the low, flat areas. These remote and hilly areas were mainly inhabited by ethnic minority communities. This is still largely the case in Cao Bang. The main groups living in the area are the Nung, Dao, Tay and H'mong.
In April 2018, the stunning natural beauty of the area was recognized when UNESCO made the decision to include Cao Bang in its global network of geo parks.
Vu Linh
Strong points of the destination : Huge lake, boat, swimming, nature hike.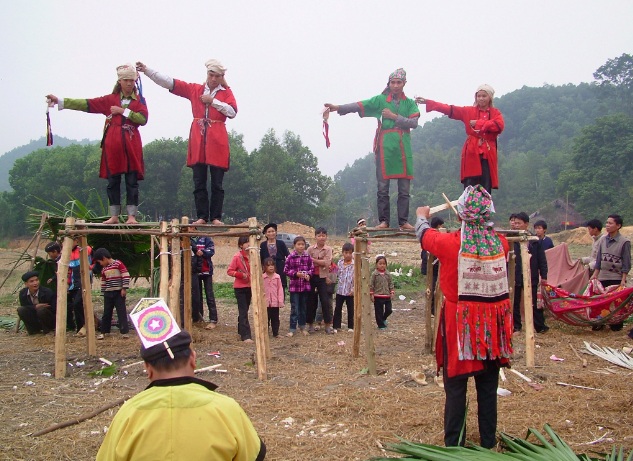 About 150 km northwest of Hanoi, Vu Linh is a rural commune on the eastern shore of Thac Ba Lake, one of the largest artificially created lakes in Vietnam.
Formed by flooding the Chảy River for hydroelectric projects, Thac Ba Lake is about 80 km long and 10 km wide. Its clear, placid waters spread out in tentacles, dotted with hundreds of hilly, forested islands. The small commune of Vu Linh has several excellent homestays, most of which consist of picturesque thatched wooden houses on stilts above the water and crop fields.
Vu Linh's host families are extremely friendly, offering many lake-related activities.  Such as boat trips and assistance with local agriculture. Staying with one of Vu Linh's host families for a night or two is a very rewarding getaway.
Pu luong
Strong points of the destination: rice terraces, off the beaten track, natural park, meeting with the locals, nature hike.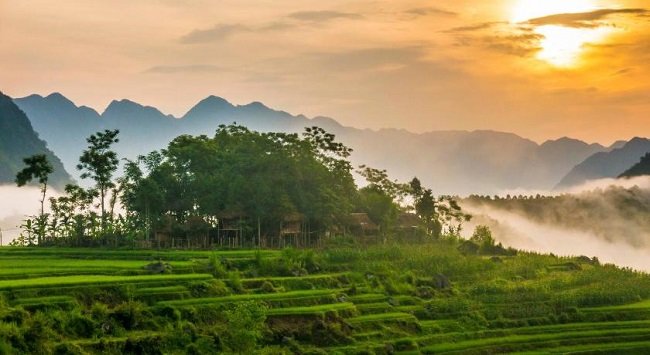 Located in Thanh Hóa province, about 3 hours southwest of Hanoi, Pù Luông Nature Reserve offers an idyllic Vietnamese landscape and authentic scenes of rural life. Steep limestone mountains surround a fertile river valley. The whole is dotted with small villages made of wooden houses on stilts. Bright green rice fields stretch from the water's edge to the densely forested slopes, streaked with waterfalls.
Recently, Pu Luong has become an excellent destination for a few one or two day trips from Hanoi. Hiking through the forest and rice fields, biking through the reserve and visiting many beautiful small villages are among the popular activities for travelers. Pu Luong is one of the "off the beaten track" places near Hanoi.
Ba Be
Highlights of the destination: largest natural lake, biking, meeting with locals, nature hiking.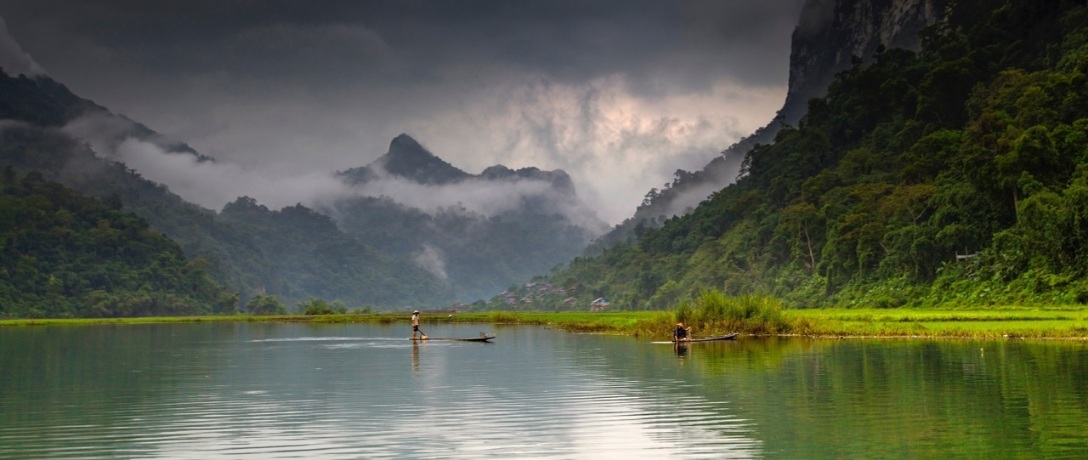 Ba Be National Park is located in the northeastern province of Bac Kan and is 250 km northeast of Hanoi. It is a haven of extraordinary landscapes, fascinating biodiversity and rich local culture.
The ethnic minority communities live in small hamlets and maintain a simple lifestyle. They live off the land and fish in the lakes and rivers. By venturing into the national park, you will have the chance to meet the local people. You will learn about their history and culture. The many areas of the national park are steeped in mystery and legend. These are stories passed down through many generations.
The name Ba Ba translates to Three Lakes, referring to the three parts of the lake: Pe Leng, Pe Lu and Pe Lam. The lake is the largest freshwater lake in Vietnam covering over 500 hectares. It is also the highest, at 150 meters above sea level. The vast lake is surrounded by impressive karst peaks. They make up the Pia Booc mountain range and thick tropical forests.
Phong Nha – Ke Bang
Highlights of the destination : Caves and lake, boat trip, archaeological site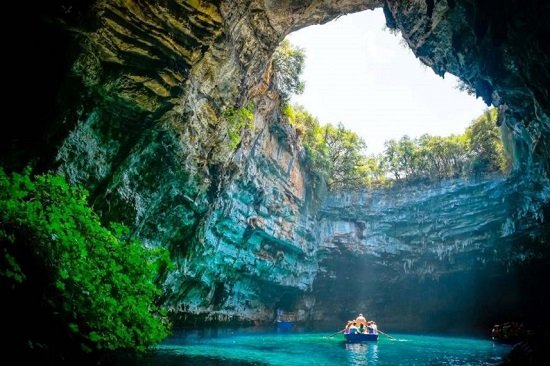 This destination is not often programmed in a tour of Vietnam from north to south. Yet Phong Nha – Ke Bang National Park is endowed with a beauty incomparable to any other part of the world.
Under the rich primary and secondary forests, there is a paradise of prehistoric underground caves. It is one of the largest and oldest karst formations in the world. 400 million years of formation, erosion and tectonic activity have resulted in one of the most amazing cave systems in the world. The magnitude and beauty of the place are almost indescribable. It is a whole subterranean world that extends over 100 km.
The labyrinth includes stalactites and stalagmites of gargantuan size, natural pools and rivers. There is even a cave large enough to house an entire neighborhood.
Points fort de la destination : Ville de montagne, climat, paysages, activité montagne, jardin de fleurs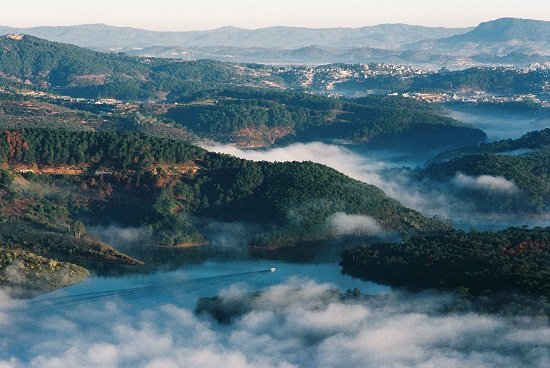 Nicknamed the "Alps of Vietnam", Dalat is a beautiful mountainous city that enjoys a cooler climate than the surrounding area.
Located at 1,500 meters above sea level in southern Vietnam. It is a region where agriculture thrives with a cool and dry air similar to Europe. The landscape is beautiful and unlike anything else in Vietnam, making it a truly unique destination. Conifers such as pines and firs are reminiscent of the French ocean coast.
This climate even allows for the production of wine here. The region became popular when the French settlers moved to the mountains. They wanted to escape the hustle and bustle and heat of the city.
For outdoor lovers, there are many activities around Dalat. From mountain biking to hiking, climbing and canyoning, Dalat is a breath of fresh air and will be a great experience for your Vietnam tour from north to south.
Mui Ne
Strong points of the destination : Beautiful beaches, sand dune, photo, relaxation, fishing village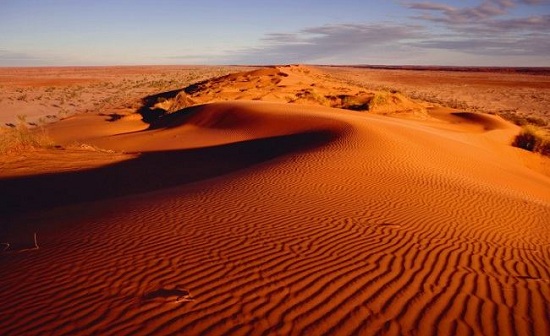 Mui Ne is a small seaside resort that stretches for 10 km along the southeast coast of Vietnam. Its popularity over the years has come in waves. Favored for its arching crescent of sandy beaches and clear waters, the town exudes a friendly, laid-back atmosphere. Easily accessible from Ho Chi Minh City, Mui Ne is a popular escape from the stress of the city.
The relaxed atmosphere and high temperatures during the dry season make it an ideal place to relax on the beach.
A special feature of the area are the red sand dunes.  Named for its fiery colored sand that make up an unusual scene. It is a fabulous place to watch the sunset.  The dunes can be explored on foot and many children are waiting to sell you a ride in the dunes on their plastic mats…
Islands of Vietnam
Due to their insular nature, the islands sometimes take a little longer to reach. However, they offer an essential relaxing and natural interlude! Let's see the islands of Vietnam and their beautiful beaches! a nice addition to your Vietnam tour from North to South!
Think about asking us for a custom quote.  Let's build together the Vietnam tour from North to South that belongs to you!
Cat Ba
Strong points of the destination : Beautiful beaches, natural park, hiking, access to Lan ha bay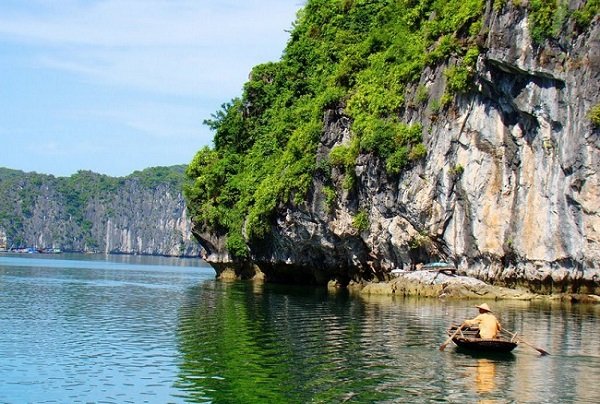 Cat Ba Island is located only 50 km east of Hai Phong City in northern Vietnam. Cat Ba Island is part of a chain of 366 islands located in Halong Bay. With more than 200 km2 of surface, Cat Ba is the largest island.  The island is easily accessible by fast boat. In 2005, Cat Ba was recognized as a biosphere reserve of the Cat Ba Archipelago by UNESCO.
Cat Ba is the place where forest and sea meet, creating a unique landscape. On this beautiful island, visitors are not only enchanted by the beautiful beaches.  They can also discover a mysterious nature through the primitive forests of the island. Cat Ba National Park is a vast 15,200 ha tropical forest with a rich flora and fauna.
Cat Ba is an ideal starting point for a cruise to visit the islets of Lan Ha Bay, the beaches and the floating villages.
Phu Quoc
Strong points of the destination : Beautiful beaches, photo, relaxation, fishing village, bike or motorcycle ride, seafood and fish, swimming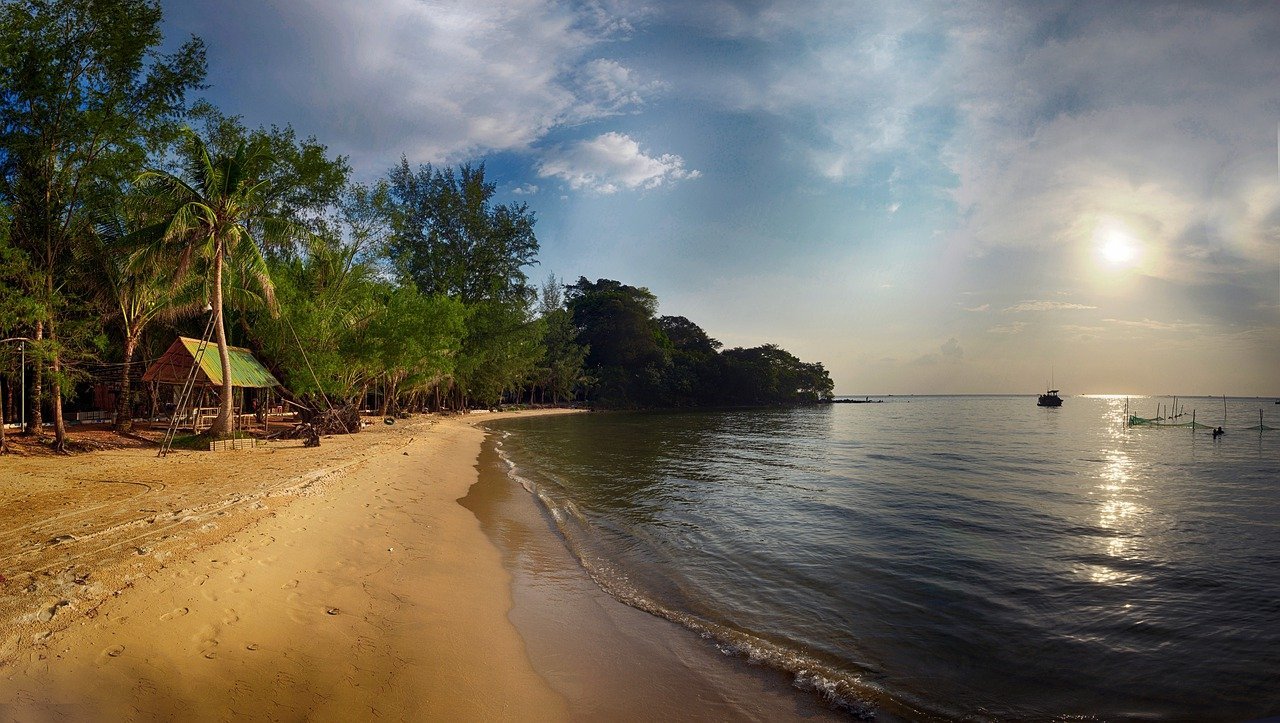 Phu Quoc Island offers an idyllic vision of sandy beaches, thick jungle and clear blue waters. It is located 45 kilometers west of Ha Tien, in the extreme south of Vietnam. Phu Quoc is close to the Mekong Delta in Vietnam and 15 km from the southern border of Cambodia.
It is the largest island in Vietnam and extends 50 km from north to south and 25 km at its widest point. A large mountain range stretches along the island, reaching 603 meters at its highest point.
In a Vietnam tour from North to South, a stay in Phu Quoc fits nicely at the end of the trip.  Besides seaside activities, visitors can explore traditional villages, vast natural parks and Buddhist pagodas.
Con Dao
Strong points of the destination : Beautiful preserved beaches, relaxation, fishing village, seafood and fish, swimming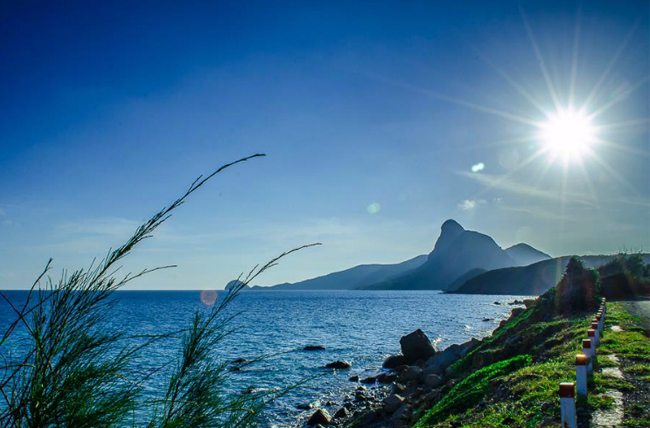 Located off the southeast coast of Vietnam, peacefully isolated in the South China Sea lies the beautiful Con Dao Archipelago. Consisting of 16 mountainous and rugged islands, this remote part of Vietnam looks like a truly forgotten corner of the world.
With a population of about 7,000 people and relatively few tourists, the deserted beaches and deep, thick jungles make Con Dao an attractive destination. Visitors to the island are greeted with phenomenal views of the rich green jungle. Then come the sandy beaches and crystal clear waters.
Worth seeing, The Poulo Condor Jail was a jail set up on the island of Poulo Condor (now Côn Sơn). The bagne was a place of banishment used by the Annamite power before the French colonization.
The isolation and dark past of the islands means that they have been beautifully preserved. They are virtually untouched by the rapid development of tourism in Vietnam.
What budget for a trip from North to South?
Vietnam is one of the cheapest countries in Asia! Here accommodation, transportation and food are really accessible for a small budget.
We can think that a budget of 30 to 40 euros per day and per person for an economic trip will allow to stay, eat and move.
So for a higher budget and with a reasonable comfort, between 80 and 150 euros per person and per day is a fair range.  This depends of course on many parameters.
We advise you to give us your wishes via our dedicated form and we will give you a precise estimate: ask for a customized travel estimate.
Our advice for Vietnam tour from North to South
You now have a better idea of where to go in Vietnam. What to build a beautiful Vietnamese tour from North to South!  To give you an idea, here are two examples of itineraries. You can add or remove the steps you want for a 100% customized trip.
Call our travel consultants for a custom quote!
Images of Vietnam 15 days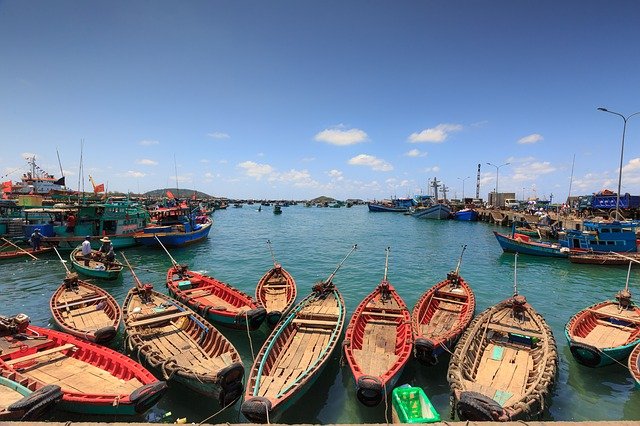 This sample trip takes you on a tour from the North to the South of Vietnam to discover quietly the most important sites of Vietnam. In 16 days you will take the time to discover the famous places while taking the side roads. The warm contacts with the locals are privileged.
Exploration from North to South 18 days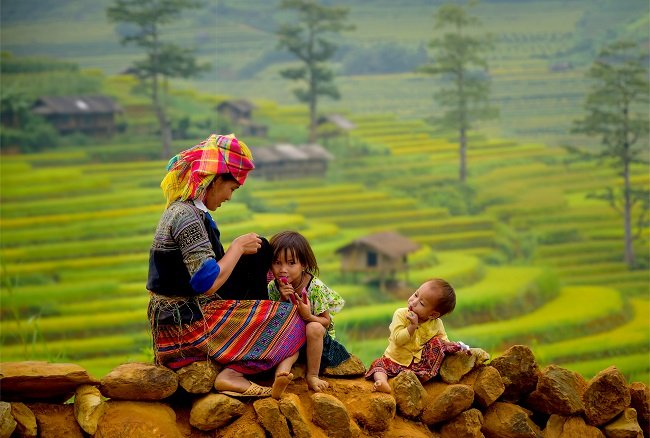 To discover the must-see sites of Vietnam with off-the-beaten-track stops. The North to South Exploration tour will make you visit Vietnam in its entirety. Between cities, bays, mountains, and cultural sites. This tour is complete and offers you a perfect panorama of this magnificent country. All the magic of Vietnam is concentrated in 18 unforgettable days.
Finally, to discover all our proposals of Vietnam tour from North to South, please consult our tour section!
keywords to find this article: Vietnam tour from north to south, vietnam tour, vietnam trip as a whole, vietnam tour from north to south