Why Vietnam is a great place for parents and children? With its varied landscapes, rich culture and delicious cuisine, Vietnam will amaze all ages.  It's a perfect country for a family vacation. The tips and ideas in this article will help you plan your Vietnam family vacation!
Vietnam is an amazing mix of natural highlights and cultural diversity that will delight nature and discovery lovers. Its long history and incredible number of ethnic minorities will excite those who are passionate about history and authentic encounters.
While the rural areas are full of fantastic views, the big cities breathe contemporary life and offer many opportunities to immerse yourself in Vietnam's tasty culinary dishes.
This fascinating country is full of surprises. It is one of the lowest budget destinations in Southeast Asia. What budget should you plan for a family trip? We give you our advice and estimates.
When to go to Vietnam with children?
The weather in Vietnam can be divided into major regions, the north, center, and south.
In Hanoi and the north, the period from May to October is hot and humid with heavy rainfall. From November to April it is cooler and drier. In the northern mountains, December and January can be particularly cold.
Central Vietnam experiences hot and dry weather between January and August when temperatures can reach the mid-30s; while high levels of rainfall can occur in September, October and November.
Southern Vietnam is generally dry and hot from November to April, and hot and humid between May and October, with the heaviest rainfall in June, July, and August.
The best times to visit all of Vietnam with your children are: between October and November, or between March and April.
Where to go with your family in Vietnam?
But where to go on a family vacation in Vietnam? Plan your visit by consulting our list of the best places to visit from North to South.
Sapa
The lush green countryside of the rice fields surrounding Sapa, bordered by the jagged peaks of the Hoang Lien Mountains (often still known by their French colonial-era name of the Tonkinese Alps), is home to some of the most beautiful rural views in Vietnam.
The deep valleys here are home to a diverse mix of the country's ethnic minorities. While the hills surprise with their terraced rice fields and overlooked by the highest peak in the country, Fansipan Mountain.
Hiking paradise
It is the first hiking destination in Vietnam. Here parents and children have a multitude of options to walk around tiny villages and admire the breathtaking mountain views. Sapa is a former French mountain resort and now a bustling and ever-growing tourist center that stands in stark contrast to the sumptuous, tranquil countryside around it.
We choose to tell you about Sapa in this article dedicated to family trips in Vietnam because it is the most accessible site for young and old. However, there are other beautiful places to enjoy the spectacle of the mountains.
Check out this article on Vietnam rice fields to find the most beautiful rice fields in Vietnam.
Halong Bay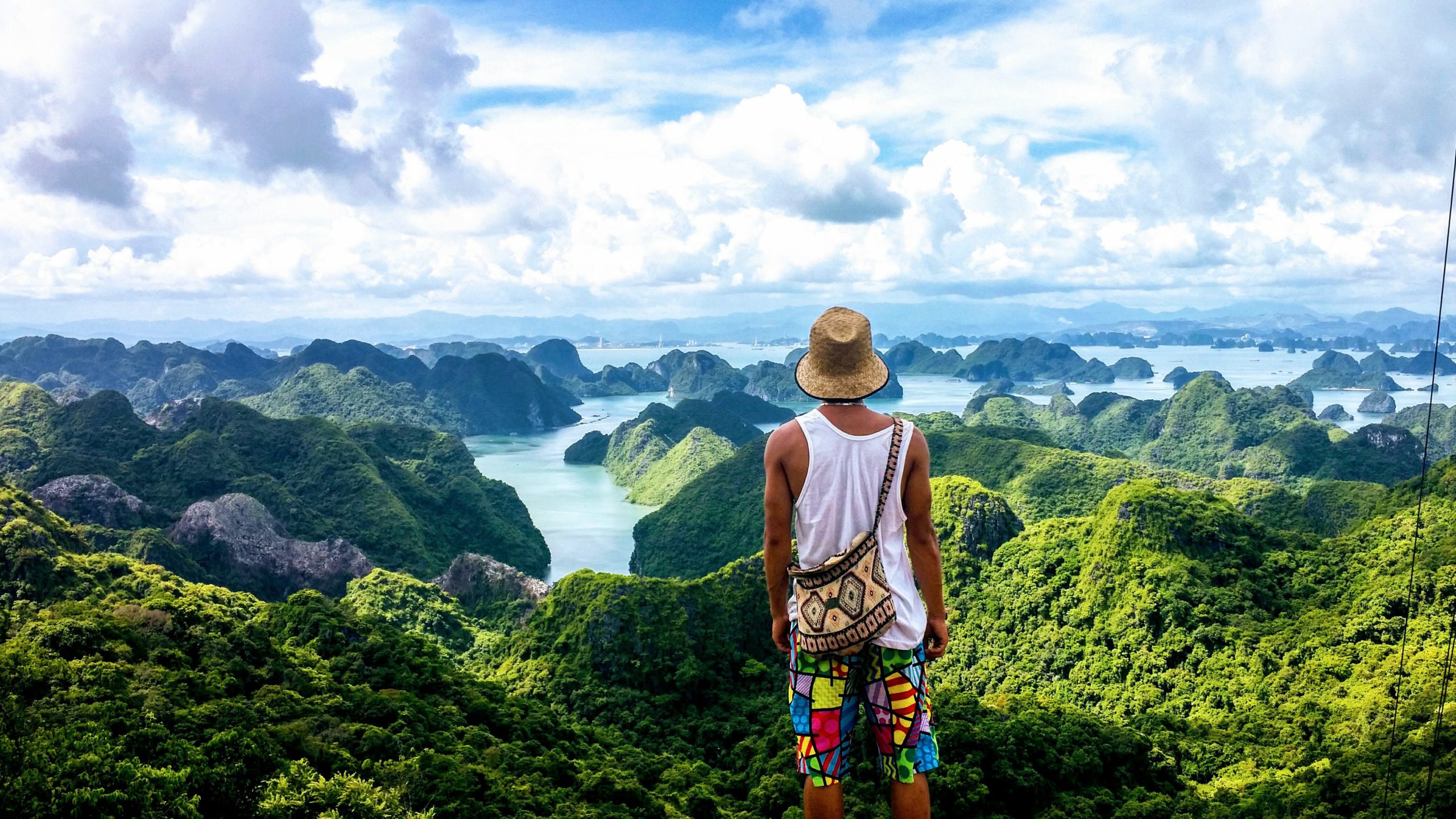 The karst seascape of Halong Bay is one of the most fascinating seascapes in the world and a UNESCO World Heritage Site. Thousands of limestone islands lie in this bay in the Gulf of Tonkin, eroded into jagged pinscapes.
This is prime cruising territory. Opt for at least an overnight visit to see the iconic views of Halong Bay, your family and children will have fond memories of the trip.
There is no shortage of activities: swimming, kayaking, cave tours… For most people, however, the highlight is simply sailing through the sugar loaves and soaking up the beautiful changing landscape.
Halong Bay is a vast area with several possible bay points: Halong, Lanh ha, or bai Tulong.
To know more, read our testimonial of the cruise in bai tu long bay
Hanoi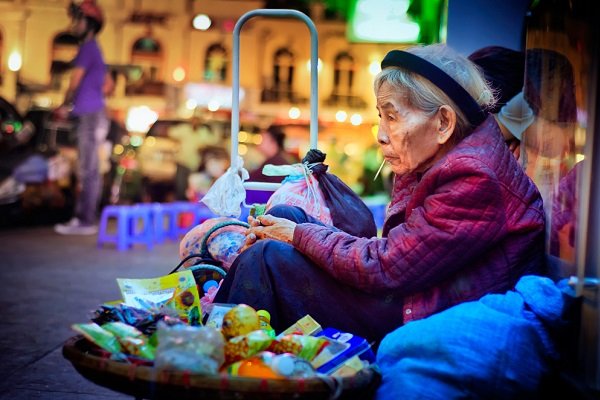 Hanoi is the capital of Vietnam, it is a great place to introduce the country, this ancient city seems to stand the test of time and retains its traditional way of life. Bringing your children to Hanoi is a valuable opportunity for the whole family to discover the history, culture, and friendly people of this lively city.
In the center of Hanoi is the legendary Hoan Kiem Lake, ideal for strolling or watching street performers with many places to eat with the family around the lake. Not far from there, Hanoi's Old Quarter with its 36 streets of corporations is a labyrinth of colors, sounds, and smells. Perfect for a walking tour. Look at the stalls in front of the stores and stalls, taste the street food and find tiny little alleys to explore, the kids will love it.
A water puppet show, a traditional Vietnamese art, would be a great cultural experience for children. The art of puppetry originated in the rice fields in the north of the country.  On the museum side, the ethnology museum is ideal for all ages. It gives an excellent overview of all minority groups in Vietnam.
In the center of Hanoi, the temple of literature is a haven of peace, a magnificent place symbolizing education in Vietnam.
There are also many children's centers or indoor playgrounds for children. In addition, parents can take their children to Bat Trang Pottery Village to learn about pottery-making techniques.
Learn more: Hanoi Guide
Cat Ba Island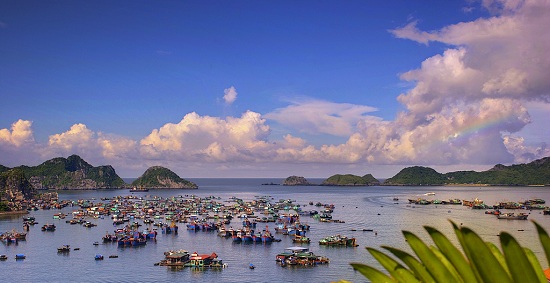 A small island just off the northwest coast in the middle of the famous Halong Bay, Cat Ba is one of our favorite places in Vietnam. It is an ideal starting point to visit Lan Ha Bay, which is just as beautiful as Halong Bay but even less known.
However, there is no question of playing the Robinsons or on the contrary to go to a seaside resort too well known. Cat Ba is a little bit of everything, and this is what makes its charm.  You have to leave the noisy city of Hanoi, two hours by road or highway, a boat shuttle, a small winding road… and here we are in Cat Ba, the largest island of Halong Bay!
On the waterfront restaurants, hotels, small stores seem to contemplate the open sea and the harbor. Strolling from one to the other is a real pleasure.
At mealtime, we can choose from a wide range of options and settings, always authentic and for all tastes.
Streets perpendicular to the waterfront offer the same pleasures. Nearby beaches with golden sand are nestled in rocky settings, a real dream for swimmers!
After a pleasant 177-meter climb, you can take a walk to discover a military fort built for the defense of the island and the country.  It is also possible to venture into the heart of the country
The development of the tourist activity does not seem to disturb the serenity of the inhabitants and it is a peaceful welcome that delights the walkers and the visitors.
More about: The beautiful island of Cat Ba
Phong Nha-Ke Bang National Park
Located in Quang Binh province, north central Vietnam. One of the best places to visit in Vietnam for caving, Phong Nha-Ke Bang National Park, a world heritage site, is a spectacular honeycomb karst mountain formation with huge caves. They house superb stalactite and stalagmite displays. The most popular destination in the park is Paradise Cave, which extends 31 kilometers underground.
The gaping caverns are truly spectacular. Tu Lan Cave is a "wet cave", and a visit here includes swimming in the river of the cave systems. The other most popular excursion is to the Phong Nha Caves, where the interior is accessible by boat. You can access the Phong Nha-Ke Bang National Park from Son Trach
Ninh Binh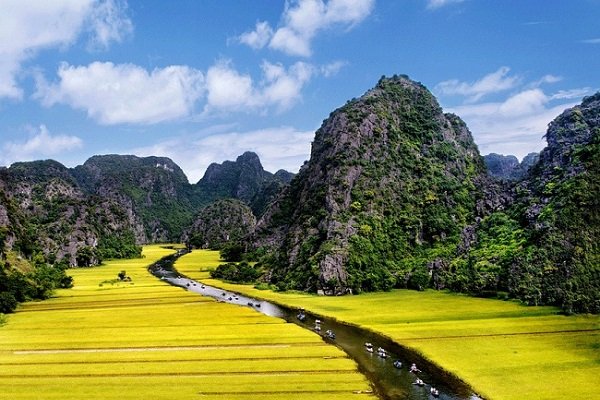 Informally known as "Halong Bay on Earth", Ninh Binh province is a serene rural area of rice fields and beautiful limestone mountains. There is much to explore, including caves that can be visited with a small traditional boat called a "Sampan". The Cuc Phuong National Park and the mountainside temples of Bich Dong Pagoda offer beautiful walks or bike rides.
You can also climb the 400 steps of Hang Mua mountain which offers a breathtaking view of the area. Otherwise a boat trip on the Tam Coc River is a great way to enjoy its natural beauty without tiring your legs!
More about: Halong Bay, the beauty of Ninh Binh
Ba Be National Park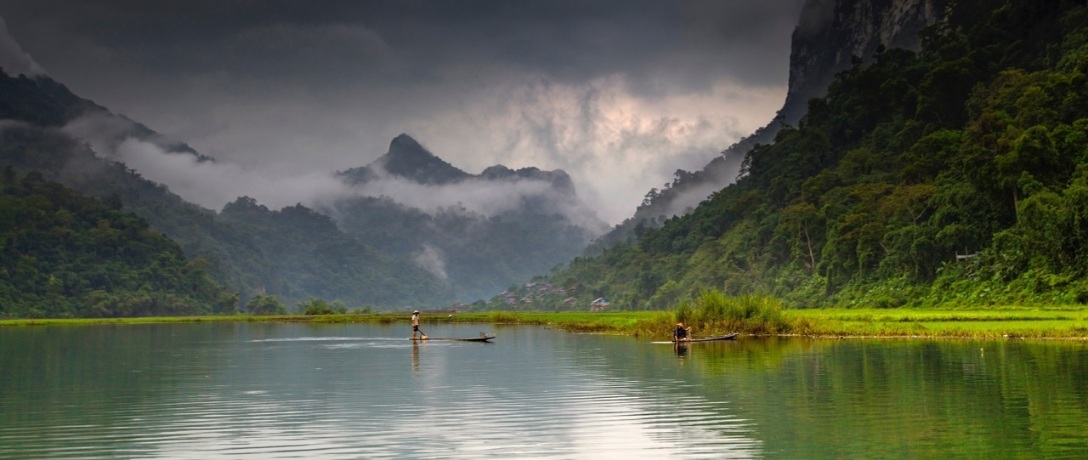 The tranquil Ba Be National Park is absolutely beautiful with the three interconnected Ba Be lakes at its heart, bordered by mountain peaks and densely forested valleys.
Most visitors come here to take a peaceful boat or kayak trips on the lake and explore the stalactite and stalagmite-filled caves in the vicinity, but for the more active, there are also excellent hikes and treks up the hills between ethnic minority villages.
This is one of the most peaceful places in Vietnam, and travelers who spend the night here sleep in a traditional house on stilts along the lake shore, allowing for a simple rural living experience.
More about Ba Be Natural Park
Hoi An

A UNESCO heritage city, Hoi An is a great place to relax with your family. This beautiful old town with its pristine beaches and delicious cuisine is loved by all. There is a wide range of activities for the whole family, such as cycling, cooking classes, strolling through the night market or relaxing on the beach.
Strolling through the heart of the old town is a great experience in itself. One of the sites not to be missed is the Japanese Covered Bridge. It was built in the 1590s by a Japanese community and is guarded by a pair of monkey and dog statues. Why monkeys and dogs? An old tale says it's because they started building in the year of the monkey and finished it in the year of the dog.
A cruise along the Thu Bon River is an opportunity for children to see river life and fishermen at work.
It is also worth returning to the old town at night, as this city is known as the city of lights with lanterns lit up all over town.
Read more: the ancestral city of Hoi An
My Son
Here is an interesting cultural option for your family vacation in Vietnam. It is an excursion that can be scheduled during your stay in Hoi An. This archaeological site is surrounded by mountains covered with lush jungle, My Son is a ruined temple city dating back to the 4th century. This ancient Hindu religious center was still very much in use during the 7th to 10th centuries and only fell into complete decline and abandonment in the 13th century.
There are about 20 temple structures still standing here, all built of brick or sandstone blocks and showing interesting influences from various Asian empires, including Indian and Malay. Note that the temples in Group B are the oldest, while Group A once contained the site's most important monument but was deliberately destroyed by American forces during the Vietnam War.
A good museum on site houses a lot of information about the Champa kingdom.
More about: The sanctuary of My Son
Nha Trang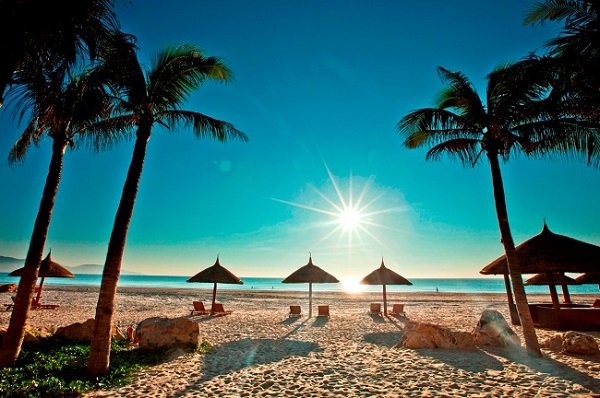 Ask any Vietnamese to recommend a beach and they will probably recommend Nha Trang. Avoid the busy city and stay at one of the secluded resorts. You can lounge all day on the white sandy beaches or take a boat trip and hop between the small tropical islands dotted around. In addition to being home to some of the most beautiful beaches in Vietnam, Nha Trang offers several theme parks.  In addition to mineral mud baths, there is an adventure zone where families can participate in fun activities or enjoy a quiet picnic.
Note that Nha Trang was the hometown of Alexander Yersin, discoverer of the plague vaccine. A museum is dedicated to him in the city.
See our full article on the incredible story of this man.
More about Nha Trang
Dalat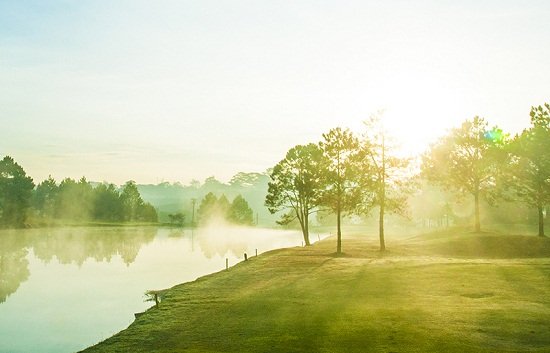 Located in the central highlands of Vietnam, Dalat's temperate climate ensures a pleasant stay all year round. This tranquil city is surrounded by natural beauty, including sites such as the picturesque Prenn Waterfall and the Great Valley of Love.
The destination for Vietnamese newlyweds
This unique combination is a great attraction for domestic tourists and especially newlyweds, Dalat being known as the honeymoon capital of Vietnam. It is also an ideal place for your family vacation in Vietnam. The city center itself seems very urban and has undergone a lot of development, but the surrounding area is still full of European charm with quaint cafes and small stores. The landscape outside the main city is equally captivating with pine forests, rolling peaks and still lakes. The more rural areas have fabulous flower gardens, renowned coffee plantations and patchwork of farmland. The cool climate and vast countryside make Dalat an ideal place for outdoor sports such as hiking.
More about Dalat
Mekong Delta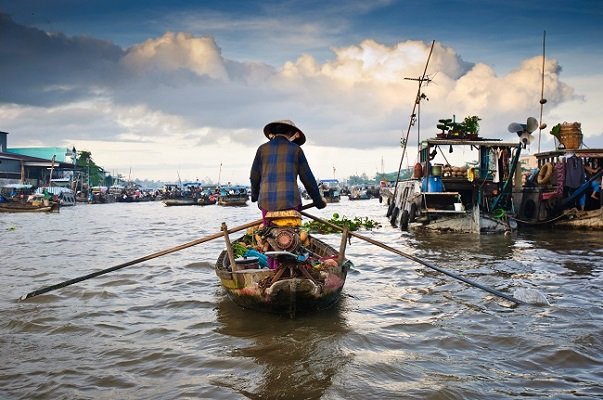 There are names of places that are like known music, met, engraved in our memories…
The Mekong Delta is undoubtedly one of them. We "recognize" it. If you have the chance, when approaching Ho Chi Minh City by plane, to contemplate by the window a part of the Delta, you are impressed by the real canvas of the meanders and silver threads of the innumerable watercourses which compose the picture on the ground.
Life on the water of the delta
When you arrive at the pier (an hour's drive from Ho Chi Minh City), you take one of these canvas-roofed taxi-boats (it can be hot!) which will make its way among the boats selling local products, a veritable palette of fresh products and colors. We are in another world. On the water and with the movement of your boat, the scenes become fluid, a lightness that makes the atmosphere peaceful. Boats loaded with all kinds of products, floating houses with laundry drying in the sun, and always a serene and smiling activity.
Its complicated history, rich traditions, healthy cuisine and friendly people – who tell fascinating and often dramatic stories of life in Vietnam from the past to the present – make it a highly cultural journey. Cycling, kayaking, hiking and diving will keep energetic teens entertained, and there's a great balance of culture and nature and tranquility.
Here is a video we filmed to immerse you in the Mekong Delta:
Learn more about the Mekong Delta
Phu Quoc Island
The fine white sand and sparkling waters of Phu Quoc have universal appeal. This peaceful island attracts mainly honeymooners and families, and is home to many luxury resorts. There are many tours on the island offering snorkeling and fishing, as well as visits to pearl farms and the infamous coconut prison where captured Viet Cong were held.
If you're looking for a good time, "Vinpearl Land" promises a fun day out; the park is home to Vietnam's largest zoo, as well as shows and a plethora of wacky water rides.
Here is our complete info on Phu Quoc.
Cu Chi Tunnel
An absolutely fascinating experience for all travelers that you can incorporate into your family vacation in Vietnam. The visit is not only for those interested in modern Vietnamese military history, the Cu Chi tunnels are a vast network of tunnels that during the war stretched for over 250 kilometers, allowing VC troops to operate and communicate in the surrounding area. Ho Chi Minh City.
Two short sections of the network can be visited with a guide who will take you through the narrow, unlit confines, which are definitely not for the claustrophobic. You will literally crawl on your hands and knees and on some points. You can access the tunnels at Ben Dinh village (the most popular choice) or at Ben Duoc village.
Ho Chi Minh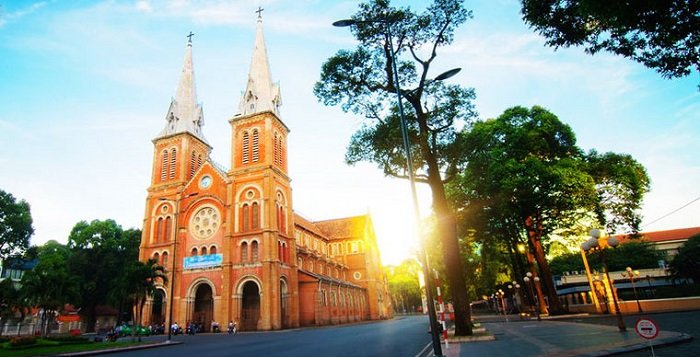 For fans of big cities, no visit to Vietnam is truly complete without a visit to Ho Chi Minh City. The streets are an insane clutter of motorcycles and cars, the restaurant and café scene is incredibly cosmopolitan, and the shopping is the most diverse in the country.
At its center is Dong Khoi, a relatively small and easily reachable central district that houses most of the city's sights. Here you'll find the HCMC Museum, with a brilliant collection of artifacts that weave together the city's history, and the grand Notre Dame Cathedral, built in the late 19th century.
It is an ideal place to end one's stay in Vietnam and shop for souvenirs.
Here is a detailed description of Ho Chi Minh City.
Vietnam map, must-see sites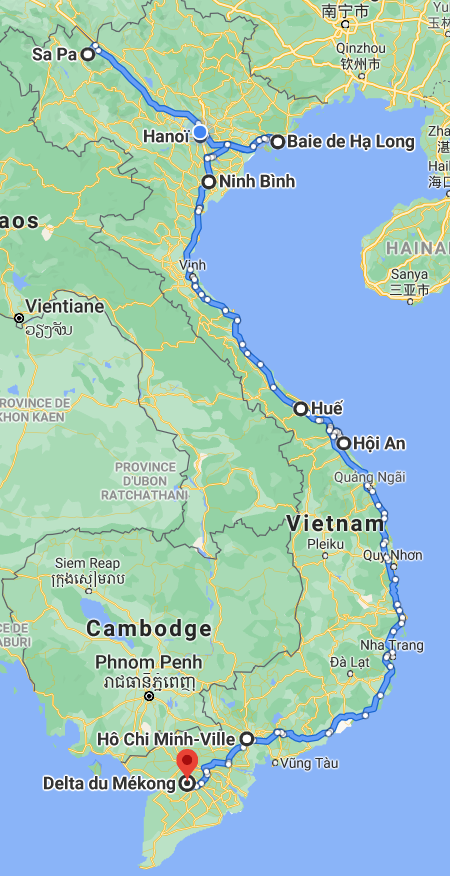 What budget for a family vacation in Vietnam?
Vietnam is one of the cheapest destinations in Asia and even in the world! Here, accommodation, transportation and food are really cheaper than in France.
It is difficult to give generalities, but it is reasonable to say that between 30 and 40 euros per day and per person, it is possible to stay and eat in Vietnam. So for a family and with a reasonable comfort, including transportation and activities, we can imagine a budget between 80 and 150 euros per person per day.  This is really an extrapolation because it depends of course on many parameters.
We advise you to give us your wishes via our dedicated form and we will give you a precise estimate: ask for a tailor-made travel estimate.
What to put in the suitcase?
The clothes and accessories to bring with or without children do not vary much. Of course we insist on the most important items such as sun cream, hat, sunglasses, hiking shoes…
What is important to anticipate is the clothing according to the region and the period in which you are going. You will know everything by consulting our section luggage and clothing Vietnam.
Our best tours for family vacations Vietnam
Discover in this section all the tours best suited for family vacations in Vietnam: family vacations tours
Keywords to find this article: travel Vietnam family, budget family vacation Vietnam, dream family vacation, cheap family vacation abroad.