Vietnam is popular not only for its exceptional cuisine, enticing history and happy people, but also for its natural beauty. Overall, this country is a must-see. Vietnam has many species of birds, mammals, diverse marine life, insects and beautiful flora. With breathtaking views from its mountain peaks and many tour options to book, you may not know where to look first.
Vietnam is a country of tropical lowlands and densely forested highlands, pristine beaches and rolling hills. The Vietnamese have generally lived in close cooperation with nature and are proud of their beautiful country. Today, Vietnam's level of plastic waste and emissions is similar to that of its Asian neighbors, and the bustling cities can be overwhelming in their lack of urban parks and green spaces. However, you don't have to look very hard to find pristine nature protected by the government. Vietnam's national parks are as diverse as the geography itself, and many offer a comprehensive guide to local hikes. Fortunately, we are here to guide you. To make life easier for adventure and outdoor enthusiasts, we've compiled this list. From the north to the south, discover the best national parks in Vietnam with us!
Vu Quang National Park
The north central coast hides a jewel of biodiversity: Vu Quang National Park. It is home to the Saola (nicknamed the Asian unicorn because it is unique and endangered), the giant muntjac and the black deer. The long mountain range and its slopes, as well as rivers and streams, make this place a perfect place for walking. During your visit, you may also see monkeys. Vu Quang is still little discovered by foreign tourists and remains untouched. It is recommended to spend a day here to fully enjoy the scenery of Truong Son Mountains. Take a walk and enjoy the smell of flowers while watching the butterflies flying around. The best time to visit the park is during the dry season, which starts in May and ends in late summer. Be aware that when it rains, it pours in Vu Quang.
Cat Ba National Park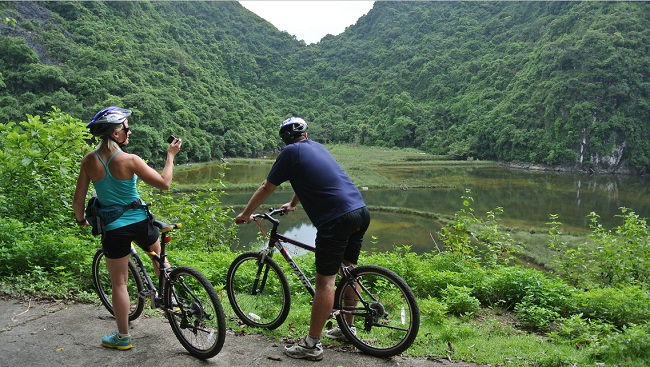 Due to its proximity to the capital, Cat Ba Island and its national park are very popular with tourists. It only takes two hours by car from Hanoi to get to this UNESCO protected bay.  You may have heard of it before, but one of the most popular attractions in Vietnam is Halong Bay. Geologically and technically, this national park and the bay are linked. In addition to the famous boat cruises, you can also go hiking here! A five-hour tour takes you to a floating village and Frog Lake. Cat Ba and Halong Bay cover a large area, so you can come back and explore other places. We then recommend you to visit Viet Hai, Trung Trang cave and Cat Ba town where you can taste delicious seafood! Our favorite time to visit is from February to May and August to November.
Phong Nha-Ke Bang National Park
Phong Nha-Ke Bang, in Quang Binh province in central Vietnam, has a unique attraction. It houses one of the largest caves in the world. If you visit this national park, you will have an unforgettable experience. Boat rides will take you through more than 300 caves and grottoes. Climbing and hiking in the forest are also popular activities.
However, getting to this national park, named after the famous Phong Nha cave, poses several challenges. The first is the location between Da Nang City and Hanoi. Most fly into Da Nang first, then make the five-hour trip to Dong Hoi, which itself is about an hour from the park.
Bach Ma National Park
Bach Ma, near Da Nang City, consists of three distinct areas with the center strictly protected. Typical activities include hiking and walking to the waterfalls and climbing to the top of Vong Hai Dai at 1,430 meters. Reaching the summit with an ecotourist is the highlight of the tour. If you want to visit Bach Ma National Park, fly to Da Nang. The park is about 60 kilometers from the city. You have three options to get to Da Nang. Either join a guided tour, rent a motorcycle, or try your luck with public transportation.
Pu Luong Natural Reserve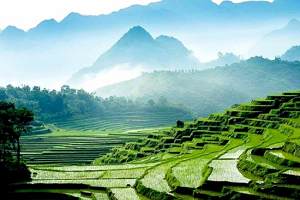 Pu Luong Natural Reserve is a real hidden gem in northern Vietnam. In recent years, it has established itself as one of the country's leading ecotourism destinations. Sustainable tourism is well structured here. Ethnic minority communities living inside the park are actively involved in family stays and hikes, and many programs are in place to protect the flora and fauna.
Pu Luong is a charming landscape of misty mountains, hamlets with wooden houses and large rice terraces. The bamboo water wheels that bring vital water from the streams to the rice fields are a classic feature of the park. No matter which corner you visit, you will be treated to spectacular views.
Don't forget to apply for your Vietnam E-visa
First and foremost, it is essential that all travelers are well equipped to enter the country. Fortunately, the visa application process is relatively simple. Since 2018, it is possible to apply for the Vietnam Visa electronic visa for Vietnam (e-Visa Vietnam) online. The Vietnamese embassy recommends that travelers apply for this e-visa instead of the visa on arrival. The Vietnam e-visa is valid for 30 days and is suitable for both vacation and business travel. You apply for an e-visa quickly and easily by filling out an online application form and receive your visa by email.
The advantage of an e-visa is that you can be sure that you have a valid visa before you leave the country and you are not left in uncertainty about your entry into the country until you arrive. With an e-visa, you don't have to wait in line at the airport and you save the cost of the stamp in your passport.