A stay in the north of Vietnam is an excellent choice to discover the country especially for a Vietnam 2 weeks tour.  Not only is the region home to Hanoi, the capital of Vietnam, but it is also where you will find the famous breathtaking Halong Bays. In Sapa you will enjoy beautiful rice terraces, unforgettable landscapes and encounters. The cultural attractions of northern Vietnam are equally diverse, ranging from ethnic markets in the highlands to hill tribes in the far north. You also have the opportunity to visit the most interesting museums of the country during a stay in North Vietnam.
A stay in North Vietnam will delight nature and hiking lovers. The many mountains, valleys, lakes, islands, beaches are all treasures to discover.

Finally, North Vietnam is very rich historically: the presence of settlers, foreign traders or religious is still very visible in the many historical and architectural monuments. Culturally, it is a real mosaїque with 52 ethnic groups well represented.
How to come to Vietnam from France?
Although Vietnam is exciting as a whole, we sometimes advise our travelers to limit their stay in North Vietnam. Indeed, due to lack of time, or simply by desire to practice slow travel in Vietnam, it is interesting to limit the geographical area for its trip to Vietnam.
It can be difficult to restrict the many options according to your itinerary, Horizon Vietnam Travel proposes you a selection of 10 destinations advised in a stay in North Vietnam. We then indicate you some preferred itineraries to help you to visit them.
Ha Long Bay, the 7th World Wonder of Nature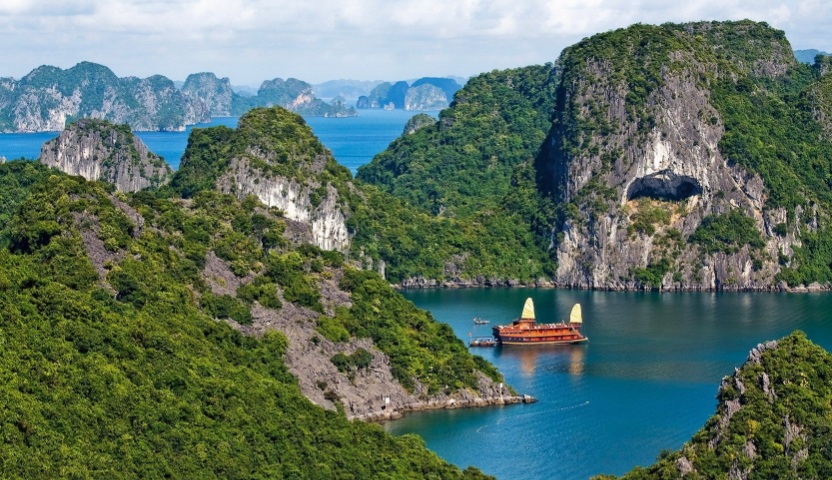 One of the most famous destinations in the whole country is Halong Bay. Its reputation is well deserved, because it is really beautiful. Halong means the descent of dragons. It describes the silhouette of the limestone outcrops that rise from the water. Day cruises or overnight boat trips are a spectacular way to experience the beauty of Halong Bay. See as many islands as possible. You can go swimming, explore caves or discover some of the more remote and uninhabited islands while sailing in Halong Bay.
Note that Halong Bay can be visited in different ways. Actually three bays are now open to visit: Halong Bay, Lan Ha Bay and Bai Tu Long Bay. Discover our article about our cruise in bai Tu long bay!
Where is Halong Bay?
Ha Long Bay is a vast natural marine water bay of over 43,000 hectares (1,500 km2). It is located between Hạ Long and Cat Ba National Park on Cat Ba Island. In Quảng Ninh province in northern Vietnam, on the Chinese border of Dongnan Qiuling. It is 170 km east of the capital Hanoi. By road it takes about 2H30 of travel from Hanoi.
Hanoi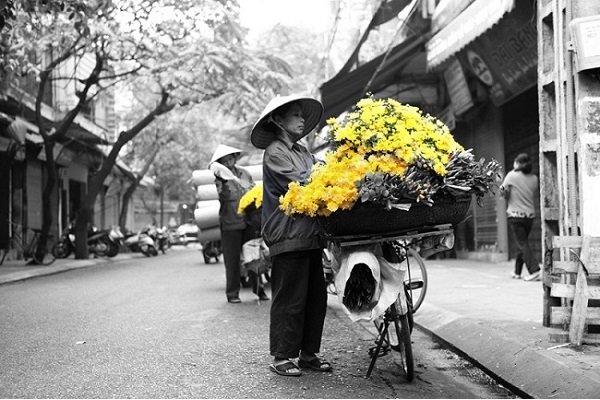 You are bound to visit Hanoi on your trip to northern Vietnam because your plane will land here. As the country's capital, Hanoi is an exhilarating mix of Eastern and Western culture. The French colonialism is visible through the architecture of the city, in particular in the French quarter of Hoàn Kiêm. However, Vietnamese culture is not left behind. Hanoi is full of incredible temples and a visit to the 11th century Temple of Literature is a must. The Museum of Ethnography and the Ho Chi Minh Mausoleum are also major attractions in Hanoi.
Location of Hanoi :
Hanoi is located in the northern region of Vietnam, situated in the Red River Delta of Vietnam, nearly 90 km (56 mi) from the coastal area. Hanoi contains three basic types of terrain, which are the delta area, the middle area and the mountainous area.
To know everything about Hanoi, please visit our dedicated section here
Sapa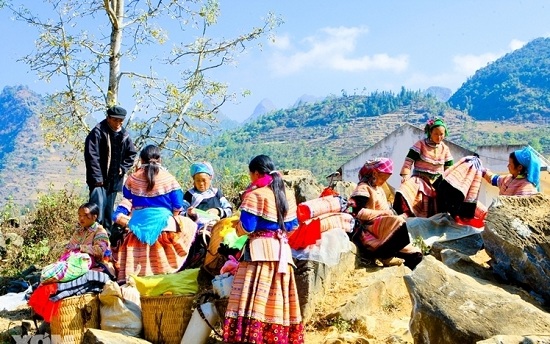 The mountainous town of Sapa is known for its diverse population as well as incredible scenery.  Sapa is home to members of many ethnic hill tribes, including the Hmong, Dao, Muong and Tay. The city also overlooks the beautiful Muong Hoa Valley and its rice terraces, which are stunning to see. If you want to get a glimpse into the lives of local residents and their culture, head to Sapa for a hike or a homestay. You can hike to the most remote villages, then spend the night eating and interacting with the locals in the hilltop villages.
Sapa is one of the most accessible areas for a stay in North Vietnam. However, there are other beautiful mountain landscapes in the surrounding area that offer just as many exceptional experiences. Both in terms of exchanges with the locals and in terms of landscapes. See our article on the best places to discover the rice fields of Vietnam to learn more.
Province of Ha Giang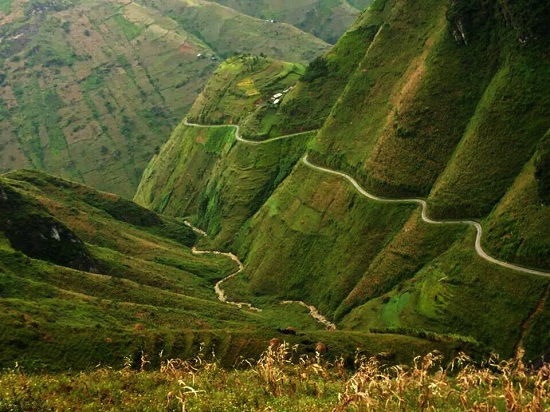 One of the most remote provinces in the country is Ha Giang. So the region and its surroundings is a must for travelers looking for off the beaten track adventure and original experiences!
Near the border with China, Ha Giang province is known for its lush green forests and limestone mountains. It is another incredible destination to explore the ethnic diversity. You can participate in outdoor activities such as camping or hiking.
As a scenic province, Ha Giang is home to many spectacular viewpoints. One of them is the Dong Van limestone plateau which is listed as a Geological Park of the World. This area is endowed with a majestic landscape of Mountains.  It is inhabited by Hmong people who plant corn on the sloping valleys.  In addition, open-air markets are common in Ha Giang. Indeed, Ha Giang is famous for its unique fairs that embody the culture of local people. One of the most famous fairs is the Lung Phin fair, it is a real mix of colors, flavors and smells!
Where is Ha Giang?
The province of Hanoi, about 300 km as the crow flies from Hanoi, is the northernmost province of Vietnam and the former French Indochina. It borders with the province of Yunnan, in the south of China.
All about Ha Giang
Halong Bay in Ninh Binh region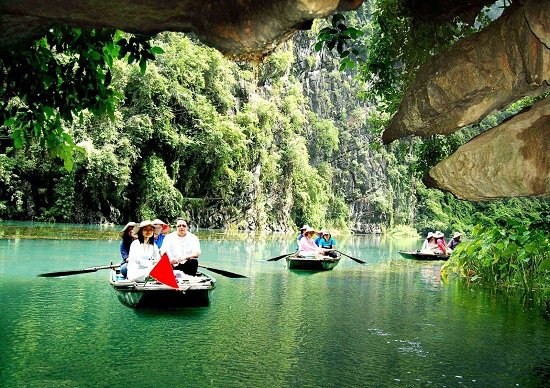 Ninh Binh region is especially known as the land Halong Bay, offering unique landscapes of sugarloaf mountains.
The place can be described as a beautiful landscape of lowland rice fields surrounded by limestone cliffs and rock formations. The best way to explore is by small boat. You will have no trouble finding a boat driven by a local. It takes you along the green rice fields and through the limestone cliffs. You will discover water caves that cross the mountains, dug over time by the river itself.
The area is also suitable for walking or cycling. You can visit Hang Múa, where 500 steps allow you to access a view of the area where the river meanders lazily among the rice fields.
Where is Ninh Binh?
Ninh Binh is located in the north of Vietnam, about 90 km away, the travel time from Hanoi is about 1 hour 45 min. It is possible to visit the area in one day, but it is advisable to spend one night there.
More about: Ninh Binh and Halong Bay
Bac Ha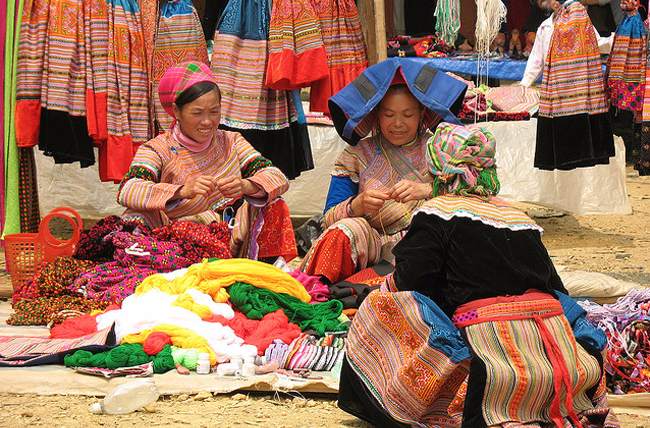 At the northern edge of the country is the town of Bac Ha. Bac Ha is a small village, the best way to explore is to walk around and feel the authentic atmosphere of the place. There are a handful of local restaurants serving delicious and inexpensive food, and several vendors selling handmade crafts.
The mountainous surroundings are great for hiking. The road is picturesque, often dotted with plum and peach trees. You can visit the nearby villages inhabited by the Tay, Phù Lá and H' Mong ethnic groups.
What is also worth a visit in Bac Ha is the Sunday market. Every Sunday morning, people from all over the region gather in Bac Ha, and it becomes a cacophony of colors, sounds and dynamism. Members of the surrounding hill tribes come to shop and sell, making it a fantastic opportunity to see a range of ethnicities in one setting.
Learn more: Bac Ha Mountain Village
Cat Ba Island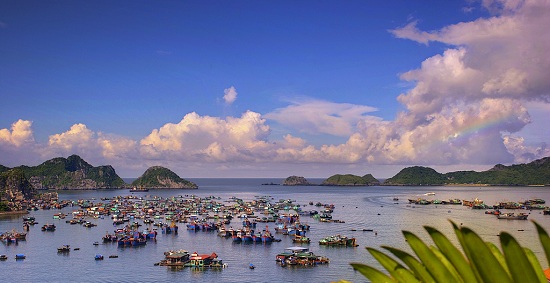 In Halong Bay in Vietnam is the Cat Ba archipelago. While the archipelago has more than 360 islands, the largest is called Cat Ba. A small island just off the northwest coast in the middle of the famous Halong Bay, Cat Ba is one of our favorite places in Vietnam. It is an ideal starting point to visit the Lan Ha Bay which is just as beautiful as Halong Bay but even less known.
On the waterfront restaurants, hotels, small stores are numerous.  At the time of a meal, we can choose all kinds of formulas and different settings. The signs are always authentic and for all tastes.  Nearby beaches with golden sand are nestled in rocky settings, a real dream for swimmers!
In addition, more than 50% of the island is a national park, which was created to protect the rare Cat Ba Langur, a lovable but hard-to-spot primate. If you can't spot any langurs, take a ferry to Monkey Island. There, macaques are found in abundance. Cat Ba Island is also home to the incredible Cannon Fort, which was built in 1942. You can visit the fort and take advantage of the altitude to take amazing photos of the seascape.
Where is Cat Ba?
It is about 50 kilometers from Hai Phong city, a fast boat ride from Hai Phong pier takes 1 hour.
All about Cat Ba Island
Mai Chau
In the heart of Hòa Bình province lies Mai Chau, an area of lush vegetation, beautiful mountains and vibrant culture. Mai Chau is a wonderful place to explore if you want to get an authentic view of the many cultures that have found refuge in northern Vietnam.
Mai Chau is a melting pot of sorts, serving as home to seven distinct ethnic groups: Hmong, Zao, Muong, Hoa, Viet, White Thai and Tay. In addition to the green valleys, the village is distinguished by its houses on stilts. These houses are built 3 meters above the ground and often offer shelter to animals that escape the weather.
Sleeping in a stilt house in Mai Chau and going for a bike ride is an unforgettable experience!
More about: Mai Chau
Yen Bai and Mu Cang Chai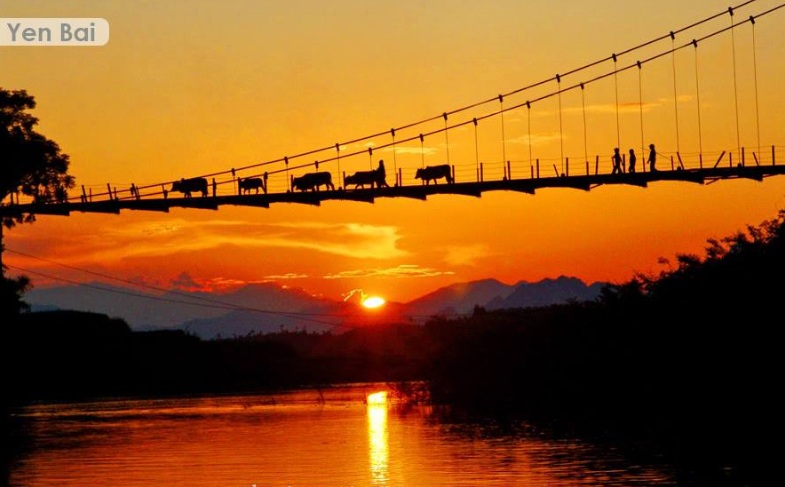 Yen Bai is a mountainous province, located in the northwest of Vietnam. It borders the province of Lao Cai to the north, Phu Tho to the south, Ha Giang and Tuyen Quang to the east and Son La province to the west.
The province is located on the road axis dividing Tonkin into two very contrasted halves: the North-West with very uneven reliefs and the more undulating North-East. Yen Bai therefore combines the characteristics of these two regions.
The region, some 200 km from the Vietnamese capital, can be a peaceful stopover. Stays in pretty Thai villages with delicious dishes accompanied by glasses of local alcohol and walks in the green valleys.
The "Nghia Lo-Mu Cang Chai photographers pass" offers views overlooking the rice terraces. You will visit the Dao ethnic people next to the large Thac Ba lake and palm tree plantations.
Water cruises and visits to tea plantations will complete your discovery of the region…
In short, it is a region that keeps a typical serenity of the middle and high Tonkin: without being touristy, people will give you a warm welcome as in the evening around a meal prepared by the family with a rare conviviality.
More information : Yen Bai province
Pu luong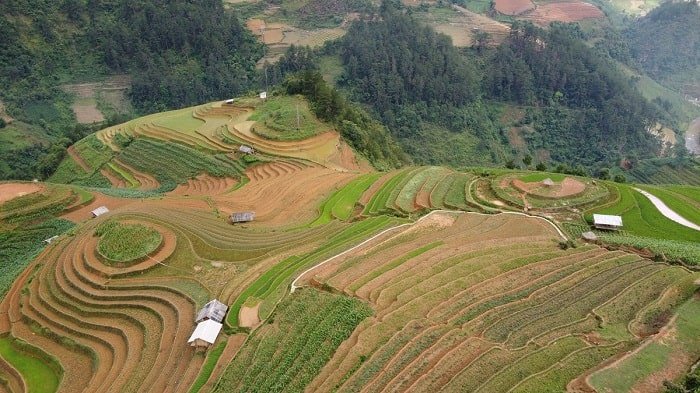 Pu Luong Nature Reserve belongs to Ba Thuoc and Quan Hoa districts and Thanh Hoa district. It has an area of over 17,600 ha and rich flora and fauna. It preserves a tropical forest with unspoiled beauty.
This place is one of the tourist attractions in the northwest that attracts many visitors.
The slowness of Pu Luong contrasts strikingly with the life of the capital a few hours away. Endless mountains, fertile valleys and pristine jungle are just a few good reasons to visit.
The limestone landscape of Pu Luong is a reserve composed of beautiful nature, culture and great biodiversity. It extends from Mai Chau to Cuc Phuong National Park. These are impressive karst formation mountains covered with jungle and beautiful rice terraces.  The background of the landscape is also magical, with the rows of mountains completely covered by a lush forest. The primary forest is still home to some rare species of Vietnamese mammals.
Located not far from Cuc Phuong National Park. Pu Luong has a great similarity in flora and fauna to Cuc Phuong.
North Vietnam Map
To give you an idea of the distances, here is a map with the location of all the destinations previously mentioned: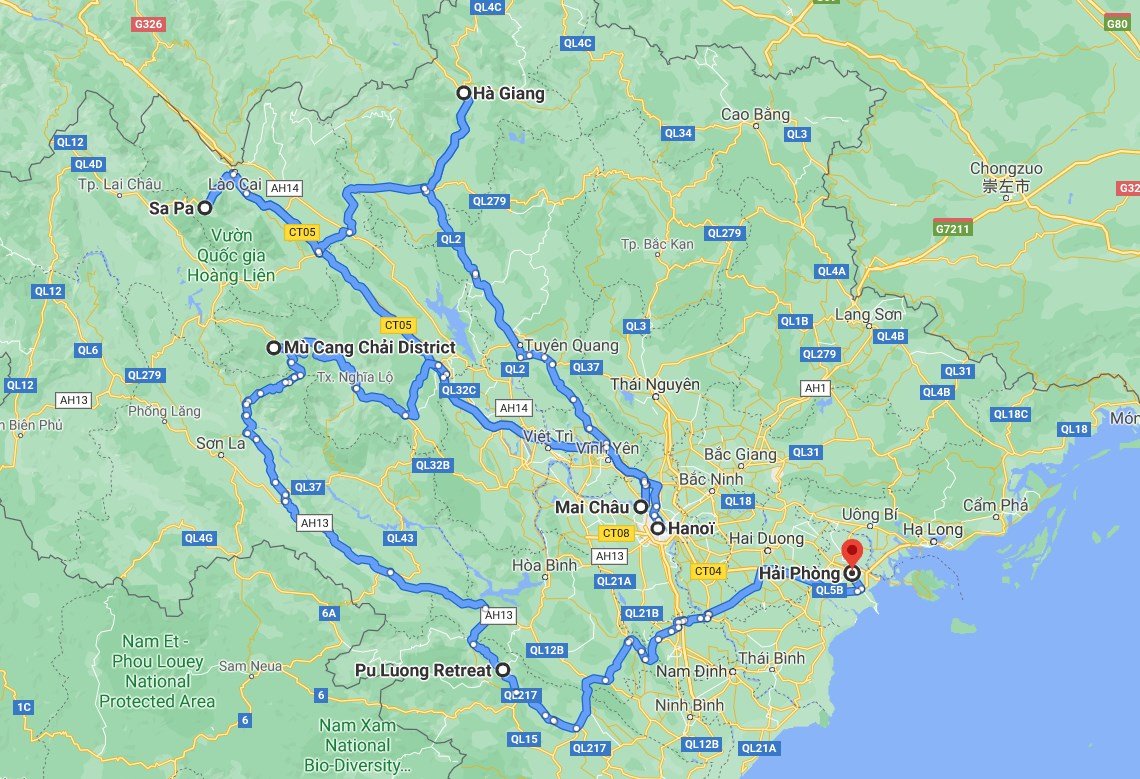 How much does it cost to travel to North Vietnam?
Vietnam is a destination accessible to small budget. Moreover, by limiting your stay in the north of Vietnam you limit the transport costs. Depending on your choice of accommodation categories and the way you travel the prices can however change greatly.
The budget for a 15 days stay in North Vietnam with our agency Horizon Vietnam Travel is about 50 euros per day and per person.
Our 14 days Northern Wilderness tour is based on this budget order.
When to go to North Vietnam?
The north of Vietnam has a subtropical climate punctuated by four seasons. It is the region of Vietnam which knows the biggest contrasts of temperatures.
The best time to visit northern Vietnam is from October to April. It is also the ideal period for travelers who wish to go trekking. Winter (January) can be really harsh in some mountainous provinces in the far north, so bring warm clothes if you go during this period.
Check the weather forecast by region before you go!
Our itinerary advice for a stay in North Vietnam
So, if you want our advice about the recommended itineraries. You can consult our very varied circuits, which can satisfy very different requests, whether it is cultural trips, culinary trips, treks, seaside stays, honeymoon trips…
We can propose you a repertory of unavoidable and off the beaten track sites. Then, you are free to personalize them by making your own modifications, according to your tastes, your availability, your means, but also the weather conditions…, in order to program your own North Vietnamese tour.
See below our most beautiful proposals for a stay in North Vietnam!
Northern Wilderness in 14 days

Locations:  Hanoi – Vu Linh – Bac Ha – Ha Giang – Cao Bang – Lang Son – Ha Long Bay
This beautiful tour will take you through splendid mountain trails of Northeast Vietnam. You will travel through mountain ranges, magnificent rice terraces, beautiful ethnic villages but also you will go to the warm meeting of the mountain ethnic groups still living at the peaceful rhythm of their ancestral tradition. This authentic circuit off the beaten track, adventure trip will be a real return to the sources. You will gain in human warmth and conviviality.
Read more
Homestay in Vietnam in 14 days

Hanoi – Mai Chau – Son La – Dien Bien – Tam Duong – Sapa – Bac Ha – Vu Linh – Ba Be – Ninh Binh – Bai Tu Long
As its name suggests, this beautiful tour will take you to a local's home. Through splendid mountainous regions of North-West Vietnam, which is undoubtedly one of the most beautiful mountainous regions of Asia. The change of scenery is total: winding and descending paths, large soft green basins, small thatched villages hidden under the shade of bamboo forests; small rivers flowing under the foot of exceptional mountains. Finally, an excellent cruise in 02 days and 01 night in Ha Long Bay will close this unforgettable trip!
Read more
Splendor of the North in 3 weeks

Hanoi – Mu Cang Chai – Sapa – Bac Ha – Ha Giang – Cao Bang – Ba Be – Ninh Binh – Ha Long
This brand new and complete program "SPLENDEUR DU NORD" is designed to make you discover the North. In depth and off the beaten track. You will pass by superb landscapes of mountains, rocky peaks, beautiful rice terraces. You will visit perched villages surrounded by mountains and mists, heavenly sites covered with a luxuriant jungle. This trip takes you especially to the warm meeting with ethnic minorities. They still live to the rhythm of their ancestral traditions and the most beautiful "tribal" markets of Asia. Here is the real treasure: the smile of its inhabitants! A mosaic of ethnicities, a whirlwind of costumes and cultures alive.
Read more
High Tonkin in 11 days

Hanoi – Sapa – Bac Ha – Mai Chau – Ninh Binh – Ha Long Bay
This beautiful 11 days tour in North West Vietnam – High Tonkin accompanies you through the most beautiful landscapes of High Tonkin. The warm meeting with many ethnic minorities in high color, as welcoming as endearing is the main spirit of the trip.
To know more about it
Discover all our North Vietnam tours HERE!
We hope to see you soon for a stay in North Vietnam!
Keywords to find this article : North Vietnam stay, North Vietnam trip, North Vietnam tour, North Vietnam 15 days tour