The rice fields of Vietnam are a must-see in the country, they promise splendid landscapes for unique photos but also the opportunity to meet an authentic way of life. Most of them are located in North Vietnam due to their mountainous nature. Rice farming is a central element in Vietnam, indeed, it is difficult not to associate Vietnam with rice, so much of the Vietnamese culture is related to this essential foodstuff.
Sapa and Mu Cang Chai offer magnificent rice terraces, but there are also Hoang Su Phi, Ha Giang, Pu Luong… They are tourist places loved by hikers and photographers. Discover in this article all the information about the beautiful rice fields of Vietnam!
Discover our North Vietnam travel guide to come and admire the rice fields of Vietnam!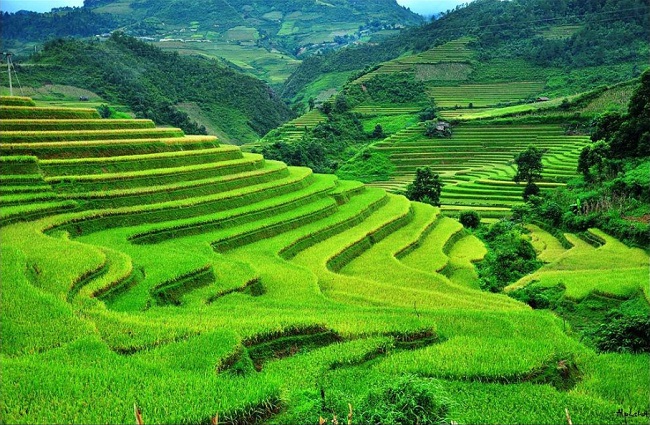 The importance of rice in Vietnam
Just like bread in France, rice accompanies almost every Vietnamese meal. But the use of rice does not stop at gastronomy, it is also present in handicrafts, religious offerings, and social and cultural events… It has a strong symbolic significance throughout the country.
When we talk about rice, we necessarily talk about rice fields, which is the term used to designate the fields where rice is grown.
In this article, we propose you a trip to the rice fields of Vietnam, to allow you to discover the most beautiful places to contemplate and also to know a little more about the culture of the rice in Vietnam.
Rice is a staple food for half of the world's population and its cultivation dates back 7,000 years in Southeast Asia. It is one of the most important crops in the world and an important part of Asian culture.
Rice and the Vietnamese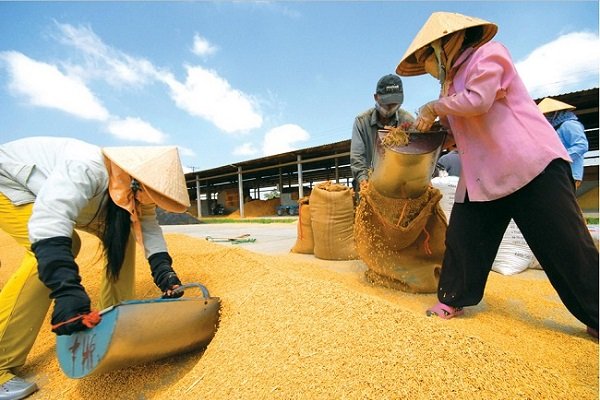 First of all, every Vietnamese kitchen is equipped with a rice cooker, small or large, this kitchen utensil is indispensable for every household. It allows quick and convenient cooking of rice, in small or large quantities. This detail is significant for the importance of rice in Vietnam, isn't it?
Vietnamese people naturally have a close relationship with rice, since they are confronted with it every day since their childhood. The grain of rice is not the only representation of this commodity, far from it, it is found in the form of noodles, soup, porridge, pancakes… There is even rice alcohol. So much so that at any age and in any condition, rice crosses the life of the Vietnamese.
Rice is so important that the equivalent of "eat" in Vietnamese is "Ăn Cơm" (eat rice)
You can find more information on the use of rice in Vietnamese culture here.
Apart from food, rice is used for festive and religious celebrations. For example, rice is thrown at newlyweds, just like in France!
The symbolism of rice is very present in Vietnamese culture. It is often used in Vietnamese literature or even in television productions.
Vietnamese Agriculture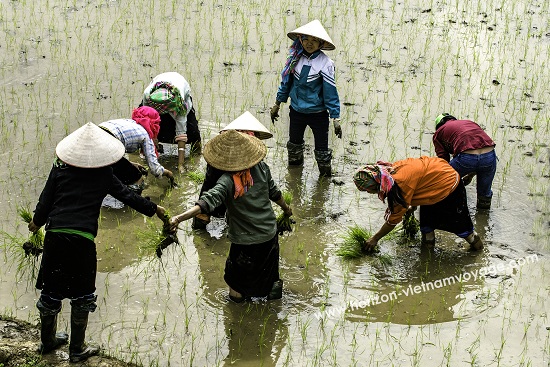 There are thousands of varieties of rice. Rice is a cereal related to oats, rye and wheat. It is available in white, brown, red, black or amber. Its grains can be short or long, thick or thin. Rice grows mainly in flooded fields (it needs a constant supply of water) and is called lowland rice. In countries where rainfall is abundant, rice can be grown on hills and is called upland rice.
Lowland rice, known as wet rice, is the most common species in Southeast Asia and can be planted in two or three crops per year. The seedlings are raised in nursery beds and transplanted after 25 to 50 days into flooded fields surrounded by raised soil at the edge. The paddy stalk is immersed in two to six inches of water and the seedlings are placed in rows about a foot apart.
There are three stages of rice cultivation in Vietnam:
Flooded season: Between April and May, the rice fields in Vietnam are flooded to allow planting in fertile soil.
Green period: In June and July the rice are transplanted to ripen.
Harvesting season: the period extends from August to October depending on the region. During the harvest, the villagers are all at work and the fields are in full swing. This is one of the best times for photos!
Here is a short video on the rice harvest:
The most beautiful rice fields of Vietnam in the mountains
SAPA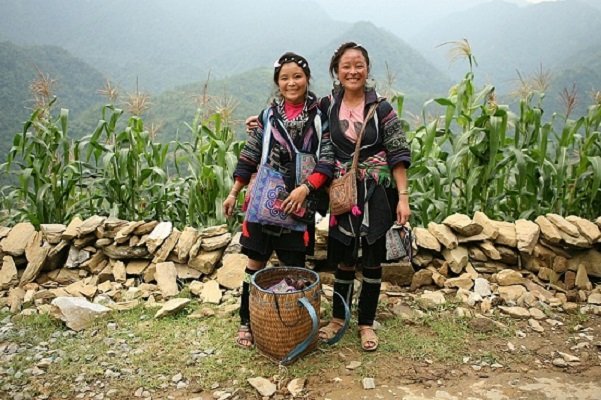 Special features
Sa Pa is not only famous as the highest mountain town in Vietnam but also for the beautiful rice terraces. The rice terraces were carved on the steep slopes usually by ethnic minorities who have been living there for centuries.
If you enjoy hiking, taking great photos, and gazing at the breathtaking natural scenery, you will not regret your visit to the area.
The rice terraces are located in the Muong Hoa valley, between Sa Pa town and Fansipan mountain. A hike in Sapa takes you through hill tribe villages to the top of beautiful green rice terraces with breathtaking mountain views. This expedition will give you a better understanding of the life of the ethnic groups in the region.
Best season to visit
There is only one harvest in Sapa, from late August to early October. September is the perfect month to enjoy a panorama and take pictures with exceptional colours.
The harvest starts at the end of September-beginning of October. Vietnamese farmers are busy in the fields gathering ripe rice. A great time to enjoy the local atmosphere.
How to get there
In most cases, Sapa is reached from Hanoi. But it is also possible to make detours to the surrounding areas.
Let's have a look at the transport possibilities from Sapa:
By train.
Travelling by train takes about 8-9 hours and the train only stops in Lao Cai, the province to which Sapa belongs. It then takes another hour to get to Sapa from Lao Cai station. Travelling by train, especially at night, is a bucolic alternative to travelling, allowing you to admire the beautiful landscape slowly.
By bus
There are daily buses departing from Hanoi at 6.30 am or 10 pm. The one-way trip takes between 6 and 7 hours.
Travelling by bus is quite fast as it goes directly to Sapa without stopping in Lao Cai.
By private vehicle
If you take a private car, you can even reach Sapa in 5 hours.
Bac Ha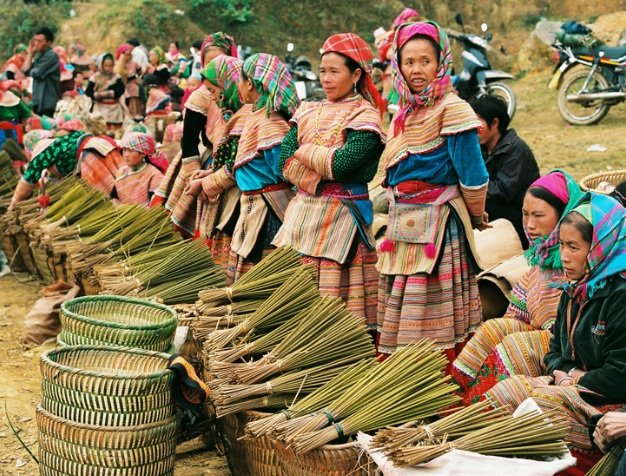 Special features
Bac Ha is a small village of about 7000 inhabitants in the north of Vietnam. The village is three hours drive from Sapa and 1h40 from Lao Cai.
Smaller than Sapa, it is still a striking place with its beautiful landscapes and rice terraces, which are less impressive than in Sapa.
Bac Ha is also famous for its large Sunday market where ethnic minorities from neighbouring villages come down from the mountains to sell their products.
Here you will have the opportunity to enjoy beautiful hikes by stopping in different small ethnic villages. If you want to know more about Bac Ha village, check out our Bac Ha guide.
Best season to visit
As in Sapa, a harvest is carried out from late August to early October. However, March-April offers an interesting alternative as the weather is very pleasant.
How to get there
By train
You can take the train from Hanoi to Lao Cai, an 8-9 hour journey in a romantic setting. From here it is a 1h40 hour drive. Many buses are possible.
By bus
Regular bus from Hanoi. The one-way trip takes between 7 and 8 hours.
Travelling by bus is quite fast as it goes directly to Bac Ha without stopping in Lao Cai.
By private vehicle
Allow 7 to 8 hours
Mu Cang Chai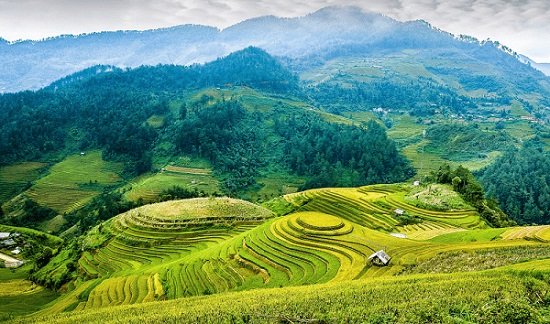 Special features
Mu Cang Chai is considered one of the most important rice granaries in the country and home to some of the most beautiful rice terraces in Asia. The district is famous for its 500 hectares of beautiful rice terraces located in La Pan Tan, Che Cu Nha and De Xu communes.
These imposing fields attract the traveller who likes to be in contact with nature. Here you can enjoy the spectacular scenery in peace and quiet, and meet the friendly and hospitable ethnic minorities dressed in their colourful costumes.
Best season to visit
At harvest time, from September to October, the yellow rice fields are exceptionally beautiful, especially when you are on higher ground. You can soak in the aroma of the ripened rice crops and enjoy the peaceful atmosphere. Perfect for Instagram photos!
How to get there?
Located in Yen Bai province, 280 km from Hanoi, the most convenient way is to use a private vehicle for a journey of about 7 hours. You will then have the opportunity to take breaks as you wish on the way.
There are no trains but regular and cheap bus services are available from Hanoi. The journey is however much longer.
Find all the information about buses with direct prices on this local bus website: Vexere
Hoang Su Phi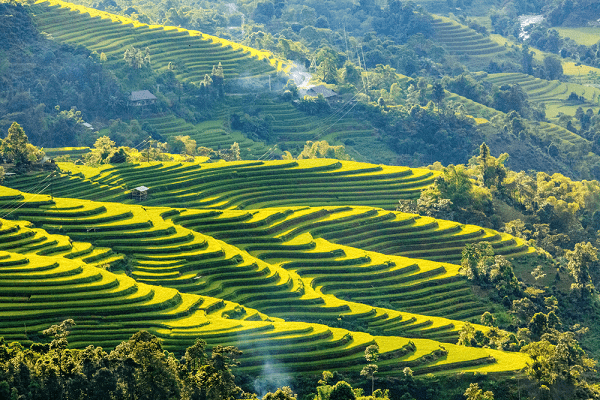 Special features
The rice terraces of Hoang Su Phi in Ha Giang province are known as the most breathtaking in Vietnam. In addition to enjoying a bird's eye view of the rice fields, you will also enjoy an exceptional panorama of karst mountains.
Six villages in the region are recommended to admire the landscape: Nam Ty, Thong Nguyen, Luoc, San Sa, Ho, Phung and Ho Thau. The most beautiful rice fields are in the communes of Ban Luoc and Ban Phung. Standing in the centre of Ban Phung province, you can see the panorama of rice terraces made up of colourful stairs to the top of the mountain.
This landscape of rice fields in Vietnam has been made by the skilled hands of the members of ethnic minorities: Nung, La Chi, and Dao for hundreds of years.
Best season to visit
In June, Hoang Su Phi looks graceful with thousands of green rice terraces peeking through the mountains under the clouds. It is quite fair to say that Hoang Su Phi is an unforgettable land paradise. You can enjoy the beauty of the rice terraces and explore the unique culture of the local residents.
September to October is also an ideal time as the region is full of colour, with its golden rice fields, and it is harvest time. A beautiful effervescence reigns with the farmers who work in the field.
How to get there?
Located in Ha Giang province, 300 km from Hanoi, you can take a bus or private vehicle to get there. Regular buses leave from the Hanoi bus station and take about 7 hours.
Hoang Su Phi is about 80 km from downtown Ha Giang. Public transport is also available.
Getting to Hoang Su Phi by public transport requires a lot of time. We offer private car and driver services to make the most of it!
Pu Luong
Special features
The Pu Luong limestone landscape is a reserve of beautiful nature, culture and biodiversity that stretches from Mai Chau to Cuc Phuong National Park. These are impressive karst formation mountains covered with jungle and beautiful rice terraces.
Pu Luong is located in two provinces; Hoa Binh and Thanh Hoa, about 160 km southwest of Hanoi. It is a popular weekend destination. It still receives relatively few foreign visitors. The reserve was established in 1999 to protect the biodiversity of the area. Here you will find a mixture of pristine forests and cultivated rice terraces. It is a perfect place for hiking.
Best season to visit
The best time to visit Pu Luong is during the rice harvesting season, from September to November, when the rice fields turn yellow and gold.
Also, from February to May, the green season is when the rice stalks have grown. The weather is pleasant.
How to get there?
Pu Luong is about 150 kilometres from Hanoi. It takes about 4.5 hours to get there by car. You can also hire private shuttles from Hanoi, with a stop in Mai Chau on the way. There are no direct buses from Hanoi but there are buses to Mai Chau from My Dinh bus station, where you can take a taxi for the last 90 minutes of the drive to Pu Luong.
The most beautiful rice fields on the plain
Tam Coc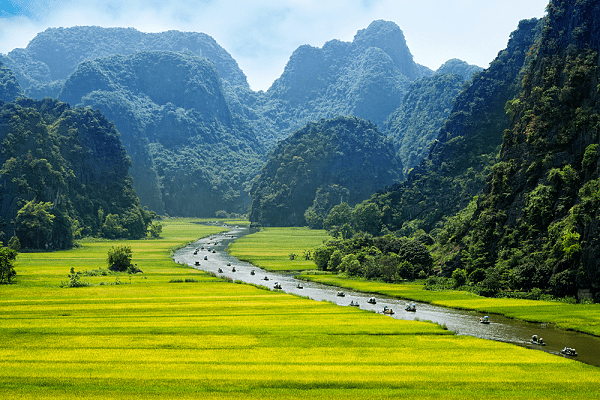 Special features
Located next to the city of Ninh Binh, about 100 kilometres from Hanoi, Tam Coc is famous for its country atmosphere and its sugarloaf mountains. Although less impressive than the rice fields of Vietnam in the mountains, Tam Coc still offers exceptional scenery thanks to the karst formations that decorate the landscape.
Tam Coc is considered to be the land-based Halong Bay.  One of the best ways to discover this is to hop on a small boat and sail between these beautiful submerged rice fields. You can also explore the area in a different way, cycling around this area is another great way to enjoy the beautiful surroundings. You will also have the chance to observe the rural way of life.
Best season to visit
At the end of September, the fields are still green with golden colours, offering a picturesque view, mixed with imposing mountains and peaceful villages.
How to get there?
Tam Coc is easily visited on a day trip from Hanoi. Many buses leave Hanoi all day.
Impact of tourism on Vietnamese agriculture
The success of Vietnam's beautiful rice fields and the development of tourism in formerly remote areas are having an impact. The construction of imposing buildings that do not blend well with the mountainous nature can sometimes be deplored.
Some farmers have discarded their farming carts and started to run guesthouses.
However, the rice culture is so strong in Asia that it still predominates over-tourism. The ancestral traditions of these inaccessible regions remain while evolving according to the world that is constantly changing.
Indeed, the mountainous character, but also the taste of the Vietnamese for the tradition preserves from an uncontrolled evolution of tourism.
Check out our North Vietnam travel guide to see the rice fields of Vietnam!