Vietnamese Coffee
Coffee is a typical drink of modern life and very appreciated by many people around the world. Vietnam is known as the world's second-largest coffee producer in the world, so it's no wonder you see many Vietnamese enjoying this drink. In addition, the coffee consumption culture in Vietnam has a unique feature, clearly showing the culture and life of the Vietnamese.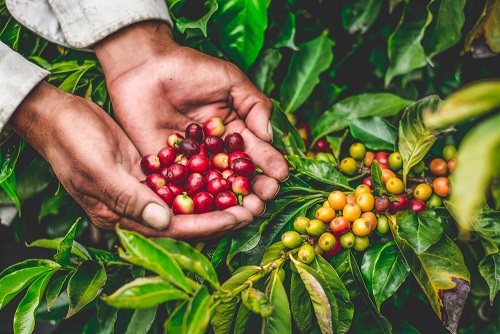 History of Vietnamese coffee
"Cà phê chè" (Arabica) is the first variety of coffee introduced to Vietnam in 1857 by French priests and planted experimentally in churches in some northern provinces such as Ha Nam, Phu Ly, then propagated in central provinces such as Quang Tri, Quang Binh, etc. In 1908, France imported two more varieties of coffee to Vietnam. It is the "cà phê vối" (Robusta) and the "cà phê mít" (Liberica) that are grown in the central highlands. There, coffee trees have developed strongly and over time, people have realized that the Central Highlands region is the most suitable for growing coffee trees. It is the largest coffee growing area in Vietnam in terms of scale and reputation.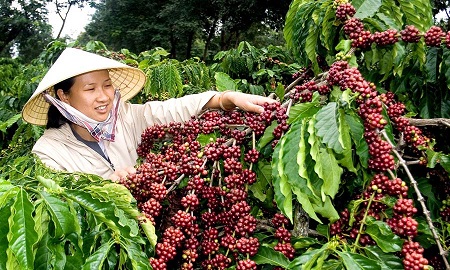 In 2021, Vietnam exported 1.52 million tons of coffee, worth about USD 3 billion, an increase of 9.4% over the previous year. Notably, in December 2021, the export price of coffee reached its highest level since June 2017.
Coffee Capital
Thanks to the favourable tropical climate and fertile basaltic soil suitable for coffee cultivation, Buon Ma Thuot is considered the coffee capital of Vietnam. This is the place where Robusta coffee beans are produced on a large scale, coming to Buon Ma Thuot, you will have the opportunity to taste a rich coffee flavor that is difficult to find elsewhere. And above all, in some cafes of Buon Ma Thuot, you can observe all the stages of transformation and preparation of a cup of coffee which makes you live a unique and memorable experience.
Types of coffee
Known for its unique gastronomical face, Vietnam has many kinds of coffee, each with its own unique flavour creating completely new experiences for those who enjoy it.
Black coffee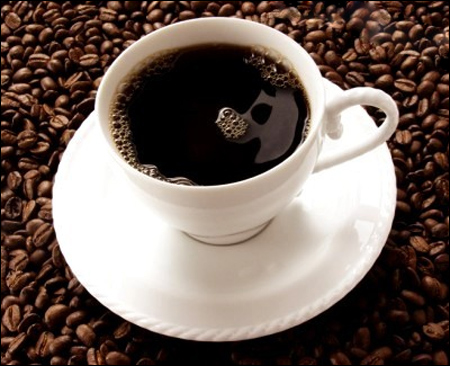 If you're a coffee-lover, you probably shouldn't run out of black coffee. With a strong bitter taste, passionate aroma, and seductive, enjoying a cup of black coffee will help you clearly feel the rich flavour of Vietnamese coffee.
Iced brown coffee
Perhaps the most famous coffee for tourists coming to Vietnam is the iced brown coffee (or iced latte). Its brown colour is due to the mixture of coffee and milk. This type of coffee has been recognized worldwide for its unique preparation. When you enjoy a cup of ice brown coffee, you will have a completely new feeling, the bitter and rich taste at the tip of the tongue combined with the slight sweetness of the milk and the freshness of the ice cream create a perfect and magical drink. That is why this drink has not only conquered the hearts of Vietnamese but also international tourists. The price of a cup of iced brown coffee is quite cheap. In sidewalk cafes, the price varies from 15,000 to 25,000 VND, in cafes with famous brands such as Cong coffee and Trung Nguyen legendary coffee. The price of a cup of coffee varies from 30,000 to 80,000 VND.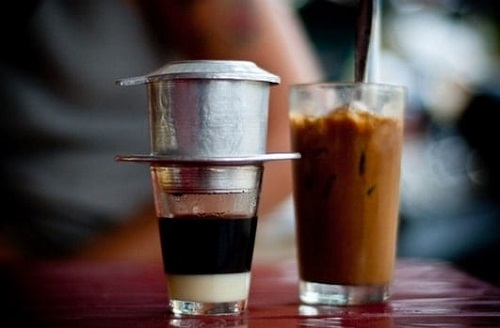 Egg coffee
When you come to Hanoi, be sure to enjoy a cup of egg coffee that was invented by Mr. Nguyen Van Giang, the former bartender of the Metropole Hanoi Hotel during the French colonial period (1884 – 1945). It seems that many people have never thought of drinking coffee with eggs, so this drink appeared in Vietnam and brings a new experience, representing a culinary culture that can be found nowhere else. It is not only a delicious and attractive drink for Vietnamese but also for foreign tourists. The slight sweetness and harmonious, unique taste of egg coffee give people an unforgettable feeling. The price of a cup of egg coffee ranges from 30000 to 80000 VND. Café Giang, Café Dinh, Café Pho Co,… are the places where you can taste a good cup of egg coffee.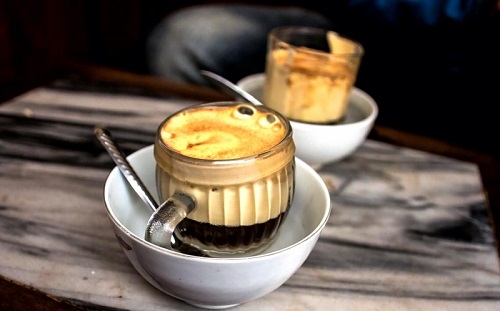 In reality the price of a cup of egg coffee oscillates according to the standing of the place. The more beautiful it is, the more expensive it is!
Salt coffee
Salt coffee is a typical Hue drink. Like sugar or milk, salt is added to coffee to reduce its bitterness. This creation also helps to awaken the flavour to make the drink more delicious and attractive. A cup of salt coffee costs about 15000 to 17000 VND. In Hue, visitors can find salt coffee on Nguyen Luong Bang Street, Dang Thai Than or Han Mac Tu Street.
Features of coffee culture of the Vietnamese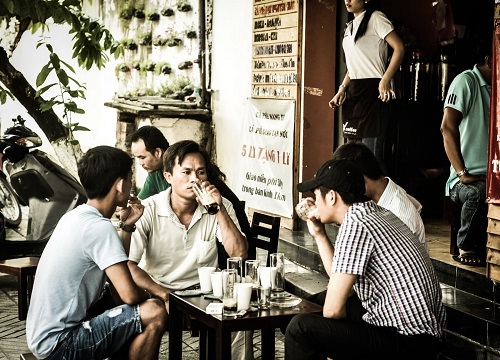 Whether it's the roadside sidewalk cafes or the large luxury cafes located in the city centre, they're always crowded. In Vietnam, people often invite themselves to drink a coffee for a meeting, to chat with partners, or during discussions with friends, relatives, etc. It can be said that coffee is not only a normal drink to refresh or to avoid drowsiness, but it is also deeply rooted in the daily life of Vietnamese as a unique cultural feature.
"Phin coffee"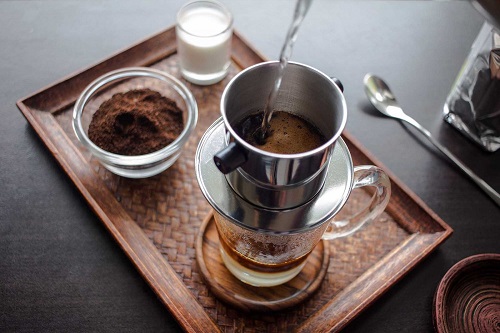 The traditional way of preparing coffee is done using a small utensil called "phin cà phê" (coffee filter). It can be said that "phin coffee" is a typical example of coffee consumption culture in Vietnam. Walking through the streets of Hanoi or Saigon early in the morning, you will meet many people drinking coffee in the sidewalk cafes. Not in a hurry, despite the hustle and bustle of life, they sit comfortably waiting for every drop of coffee as a morning pleasure. To fully enjoy the flavour of coffee, they sip it slowly, little by little, perceive the taste of coffee as that of life.
5 Best Places to Drink Coffee in Hanoi
Giang Café
39 Nguyen Huu Huan, Ly Thai To, Hoan Kiem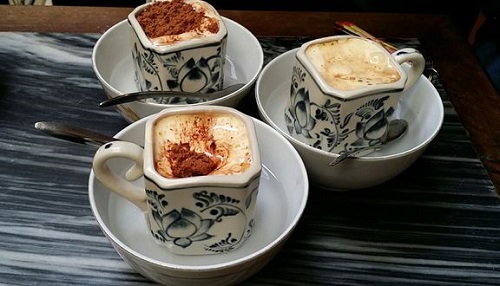 As one of the best famous cafes in Hanoi, coming here you will have unforgettable experiences. Café Giang is not only known for its egg coffee, but you can also enjoy other delicious coffees. With a simple and nostalgic decoration, drinking a cup of coffee at Café Giang will give you a different feeling.
Cong Café
116 Cau Go, Hang Đao, Hoan Kiem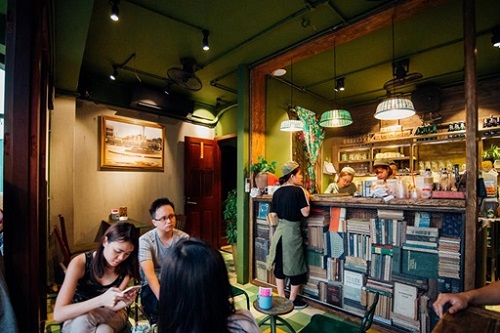 If you want to experience life in Vietnam at the time and enjoy a good cup of coffee, the Cong café is the best choice. With a rich menu, a unique style of decoration from the life of the past allows you to feel peace and nostalgia, forgetting the hustle and bustle of life outside.
Hidden gem coffee
3B Hang Tre, Hoan Kiem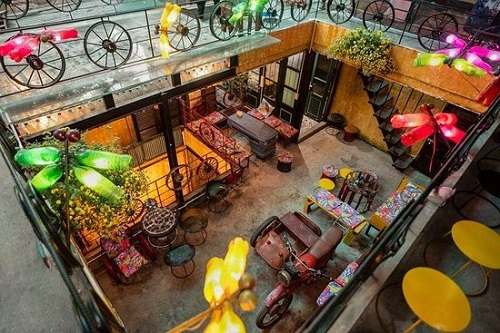 Although its entrance is a bit hard to find as it is located at the bottom of a tiny driveway but once you're there, it won't let you down. The objects of the coffee are entirely made from recycled materials, it is a coffee of unique and strange style with the intention of protecting the environment. If you are a coffee lover and want to enjoy a new experience, do not miss this café and do not hesitate to explore all the floors of the shop to find a corner to your liking.
Loading T Café
8 rue Chan Cam, Hang Trong, Hoan Kiem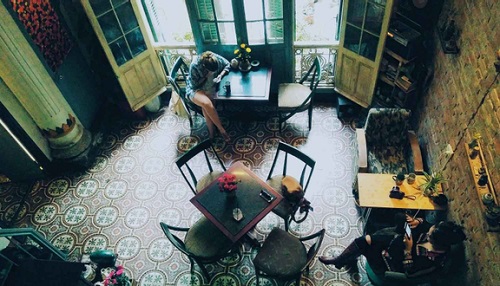 It is a great place to stop in the old town. The decoration of the café is authentic, full of charm, with a slightly French atmosphere, cosy and quiet. Its drinks are also highly appreciated, especially the egg or cinnamon coffee can conquer even the most demanding customers.
Circle coffee- bar
49 Hang Quat, Hang Gai , Hoan Kiem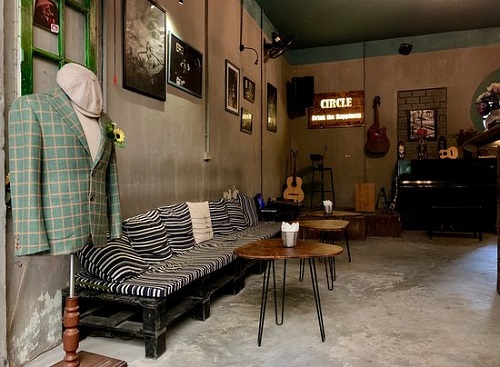 This café is an old French-style house in Hanoi, its space is quite small but very charming and quiet. With great drinks and amazing staffs of kindness, this café pleases many guests. If you are in Hanoi, this is definitely a café that you should check out at least once!
Conclusion
Today, coffee has become an indispensable part of Vietnamese life. Not only does Vietnam bring important economic values, but it is also a unique cultural feature of the Vietnamese people that deserves to be preserved. Coming to Vietnam, and enjoying a cup of coffee will give you a different and unforgettable experience.