With its coastline of more than 3000 kilometers, it is obvious that maritime resources are not lacking and are the delight of Vietnamese and travelers! So if you want to know more about Vietnam's seafood and fish dishes, check out this article!
A wide variety of seafood and fish
You will be pleasantly surprised by the large selection of seafood but also by the many ways in which the Vietnamese prepare delicious dishes. Vietnamese fish and seafood are cheap products, there are many delicious dishes in restaurants to enjoy for a reasonable price.
In all the coastal towns you will find fresh fish and seafood markets, some even form directly on the beach at the exit of the boat! here are some examples of seafood and fish dishes acclaimed in Vietnam!
Famous and delicious dishes
Jellyfish salad, "Gỏi sứa"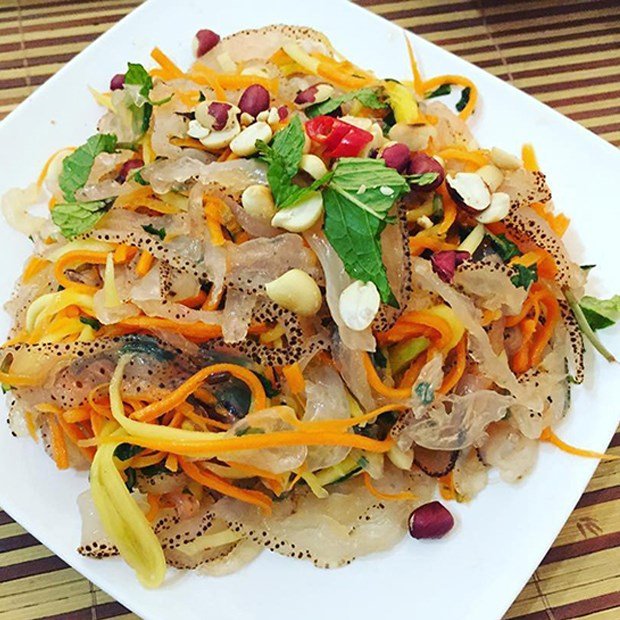 Gỏi sứa is a traditional Vietnamese salad made from jellyfish as a key ingredient. Other common ingredients include chicken, onions, basil, coriander, crushed peanuts, green mango, fried sticky rice, chilli peppers, vinegar, sugar, and spices.
The jellyfish are sliced and soaked in hot water, the chicken is boiled and grated, and the green mango is thinly sliced. The ingredients are mixed and topped with roasted crushed peanuts. When served, the salad is usually accompanied by a sauce consisting of sugar, salt, pepper, fish sauce, vinegar and sliced chilli.
Another popular accompaniment to the salad is a fried sticky rice cake.
This dish is found in most restaurants in coastal regions but also in the more terrestrial regions of Vietnam
Seafood dish with crab, the "Mien xào cua"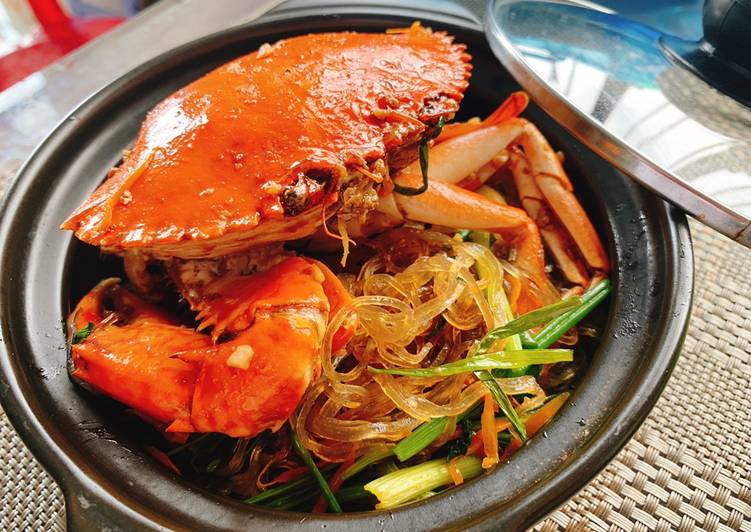 Miến xào cua is a delicious traditional Vietnamese dish consisting of sautéed glass noodles and crab meat. Other ingredients commonly used in the dish include wood-eared mushrooms, carrots, and soy sprouts. The ingredients are sautéed in a large saucepan and then cooked with a combination of lime juice, minced garlic, sugar, water and fish sauce.
Once cooked, the miến xào cua is topped with chopped green onions and coriander before serving. This traditional dish often appears in restaurants, but it is also prepared at home for special occasions.
Lẩu cá tam cá hoi, fondue de poisson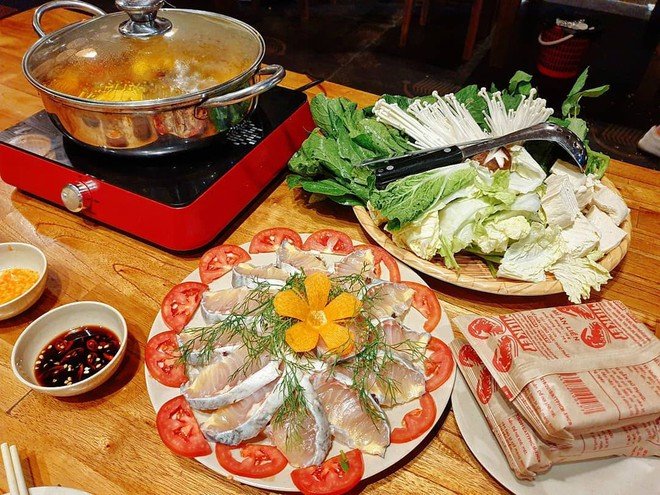 Lẩu cá tam is a festive dish to share with friends!
This trout and sturgeon fondue is a traditional Vietnamese dish native to the Sapa region. It is prepared with sturgeon and a species of fish called rainbow trout. Rainbow trout and sturgeon have been bred in the area since 2005 and are now part of a local speciality that is particularly popular in winter.
The dish consists of slices of salmon and sturgeon and a hot broth, served with local wild vegetables, including pumpkin buds and watercress. This common dish is appreciated by cooking pieces of fish in the hot broth.
Clams with the dish "Cơm hên"
Vietnam Seafood and Fish dishes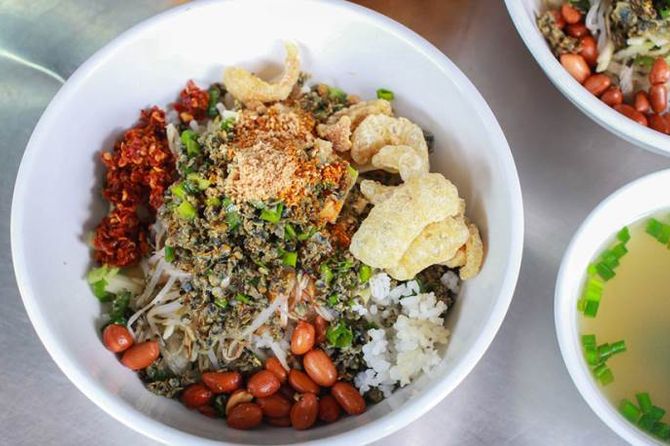 Originally from Hue, this local speciality is prepared with cooked clams or mussels and steamed rice that is usually served fresh or at room temperature. Additional toppings to this simple rice dish include peanuts, coriander, chili peppers, fermented shrimp sauce, carambola, banana flowers, fried onions, fried pork rinds, grilled sesame seeds, or other additions.
A bowl of clam broth is usually served on the side and is intended to be poured over the rice.
Bún cá sứa, jellyfish and fried fish.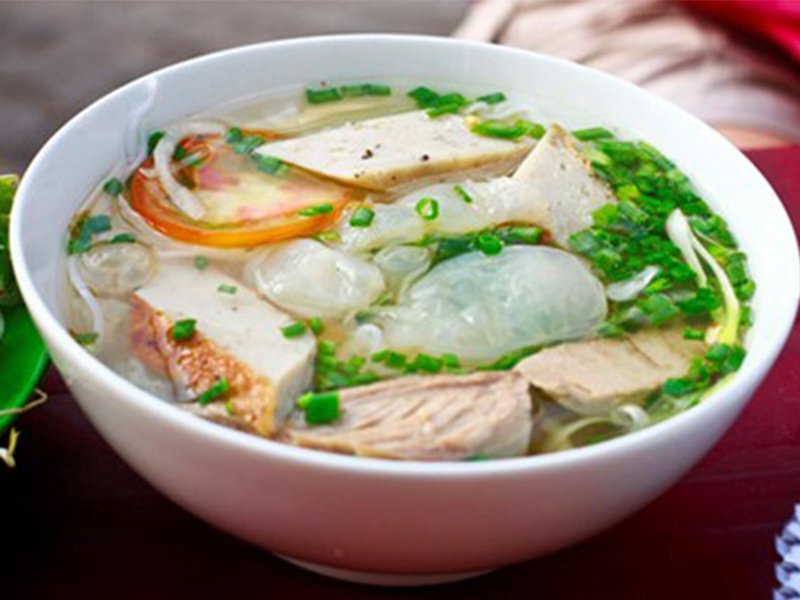 Bún cá sứa is a traditional Vietnamese dish from Nha Trang. This rice vermicelli soup is served with jellyfish and fried fish paste. To make the broth and fish paste, you have to choose fresh paradise fish or leather fish.
The jellyfish is soaked in alum water, rinsed with water, cut into small slices, and then steamed. When served, the noodles are first placed in the bowl, followed by jellyfish slices and fried fish paste, and the dish is finished by pouring the broth over the wetsuit.
Other ingredients commonly used in the dish include raw vegetables, lemon slices, and chilli peppers on the side.
Vu Dai, the braised fish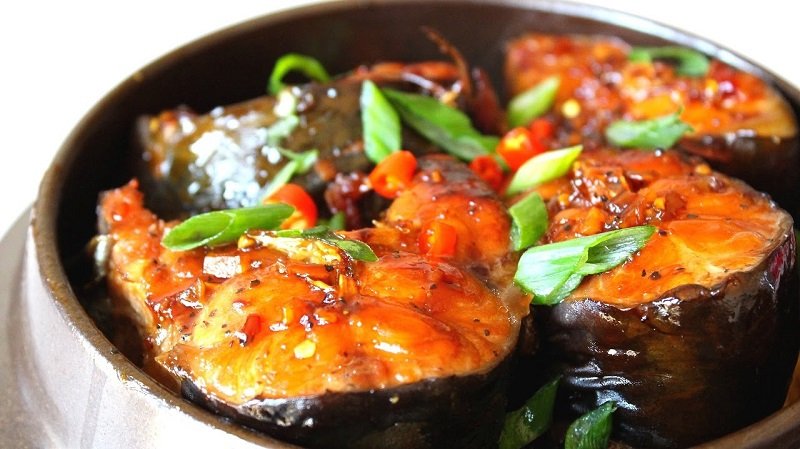 Vu dai braised fish is a traditional Vietnamese dish originating from Vu Dai village, also known as Dai Hoang village. It is composed of love fish, galangal, ginger, pork belly, shallots, chilli peppers, lime juice, fish sauce, pepper and sugar.
Ginger, shallots, chillies and galangal are finely chopped and mixed, while the rest of the galangal is cut into thin slices and placed in a clay pot. The galangal slices are topped with fish, thick slices of pork belly and a finely chopped mixture of ginger, shallots, galangal and chilli peppers.
The combination is braised for 6-10 hours in a mixture of fish sauce, broth mixture, sugar, lime juice and pepper. When the water in the pan becomes slightly thick, the pan is removed from the heat and the fish is ready to be served and enjoyed. This traditional recipe has been passed down from generation to generation in the village of Vu Dai.
Cá kho tộ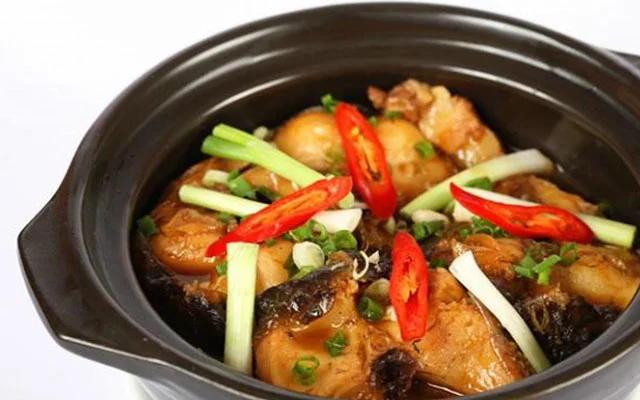 Cá kho tộ is a Vietnamese specialty made from pieces of fatty fish braised in traditional clay pots (tộ). The dish is usually prepared with catfish (cá mèo) or snake head (cá lóc) which is braised and caramelized in a combination of fish sauce, sugar and coconut water, while other additions include minced green onions, onions or garlic.
Cá kho tộ is traditionally served with rice on the side, and it is often accompanied by a bowl of canh chua cá – the Vietnamese fish soup.
Mực một nang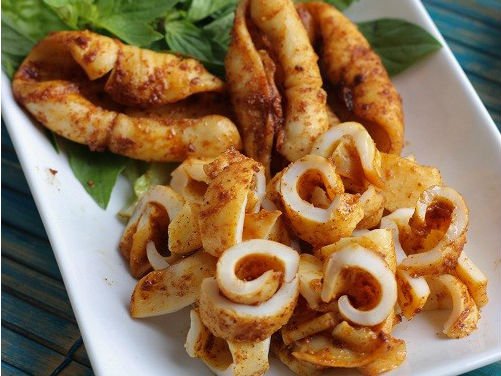 Mực một nắng is a traditional Vietnamese dish originating from Phan Thiet. This seafood specialty consists of sun-dried squid. A large, fresh squid is dried in the sun for a day, and then roasted on hot coals. If the heat becomes too high, the squid will become overcooked, the outside, but tender on the inside.
During cooking, the squid turns yellow and develops a unique aroma. When served, dried and grilled squid are shredded and are usually accompanied by chili fish sauce to dip the pieces. It is recommended to combine the dish with a cold beer apart.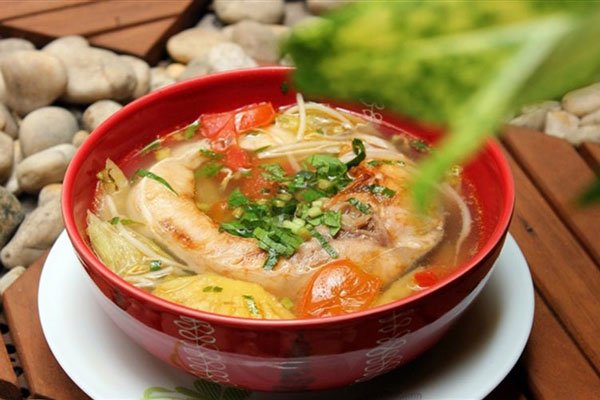 Canh chua Ca
Among the dishes of Seafood and Fish Vietnam, Canh chua ca is popular. This tomato fish soup is native to the Mekong Delta region. It is characterized by its contrasting flavors – sour, sweet and salty. The soup includes ingredients such as seafood (eel, shrimp, snake head, catfish), tomatoes, okra, pineapple, tamarind, soy sprouts and fresh herbs with a tangy taste.
Traditionally, canh chua is served with rice vermicelli noodles or with a side of steamed jasmine rice. There are many versions of the soup depending on the ingredients used – in addition to fish, it can be prepared with water spinach, chicken, bamboo shoots, mustard leaves, pork or beef.
Due to its nutritional value, health benefits and short cooking time, canh chua has the status of a quintessential Vietnamese meal. They can be found all over Vietnam.
Conclusion
Here Horizon Vietnam Travel hopes that this article about the dishes of Seafood and Fish Vietnam has made you hungry and that you will soon come to visit Vietnam with us to discover them!