For Vietnamese, breakfast is an important meal during the day because it helps to charge the body after a long night's sleep, and also provides energy for a new day of work. Breakfast dishes in Vietnam can meet activity needs and provide enough energy and nutrition. Known as a country with the second-largest rice export in the world, Vietnamese dishes are usually rice-based.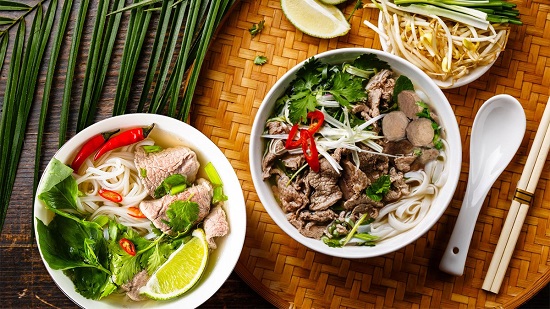 When Vietnamese people have breakfast?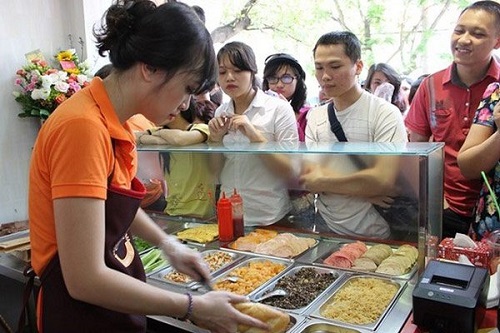 At breakfast, Vietnamese eat quite quickly. The day in Vietnam starts very early for most locals. For students, school hours will start at 7 am or 7.30 am, for working people, working hours will start around 8 am. Thus, the Vietnamese have a habit of having breakfast quite early, from 6 am to 7 am. Many people choose to eat on the way to school or for work.
It is noticeable that some Vietnamese tend to have breakfast outside on the way to work or school. It is also quite common to take breakfast to the office and eat it on site.
What do Vietnamese people eat for breakfast?
Rice
Rice is the main course of the Vietnamese menu and also a dish that Vietnamese people can eat every day. Rice contains a large number of calories, which can provide a lot of energy. For breakfast with rice, Vietnamese often choose to eat at home and they prepare it themselves. To save preparation time, the basic breakfast of Vietnamese families consists of rice and fried eggs. In some families, they can prepare food the day before.
Pho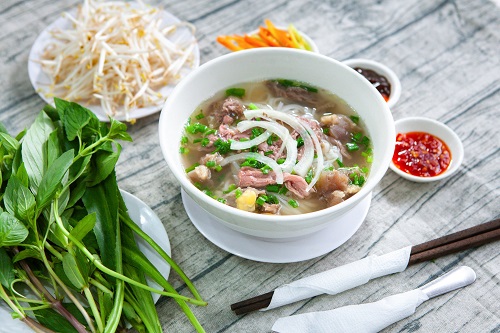 Referring to Vietnam, one cannot help but mention Pho. It is a famous dish not only in Vietnam but also around the world. Thanks to its delicious and nutrient-rich taste, Pho is chosen by many Vietnamese for breakfast. The peculiarity of Pho is its natural sugar broth thanks to the bone marrow combined with the flavours of ginger, cinnamon, anise, cardamom and many other spices, which gives Pho a delicious and irresistible flavour. Pho is often eaten with herbs to enhance the taste of the dish, which makes the dish not boring. Chicken Pho or Beef Pho are two of the most famous types of Pho in Vietnam. It can be said that Pho is an ideal dish to start a new day full of energy, enjoying a bowl of hot and nutritious Pho with an unforgettable rich flavor is a wonderful experience.
If you want to cook a traditional Pho yourself, we offer you an easy-to-follow recipe video that we have made: https://youtu.be/5C_M0UQ65ZQ
Banh mi (Vietnamese sandwich)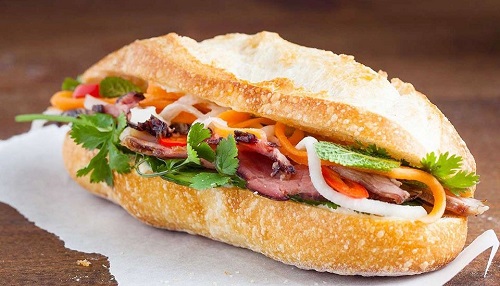 One can imagine the banh mi as a perfect symphony of many different ingredients. Vietnamese bread, once considered a popular dish in Vietnam, has now reached the whole world. Banh mi to eggs or meat with a variety of vegetables, combined with the spicy taste of chilli sauce and the sweet and sour taste of mayonnaise, give people an indescribable feeling of happiness. Thanks to the perfect delicious taste and the convenience of being able to eat on-site or take away, this is a dish chosen by many people for a nutritious breakfast.
Banh cuon (Vietnamese steamed pancakes)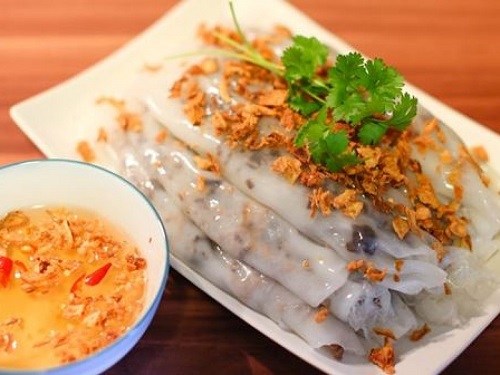 Another dish that many Vietnamese take for breakfast is banh cuon. In particular, for many Hanoians, eating banh cuon even becomes a morning routine. Banh cuon is made from a very fine rice paste, filled with a mixture of ground pork and minced mushrooms, the dried onions sprinkled on the outside. The sauce is a factor that determines the flavor of banh cuon. This is fish sauce with kohlrabi and pickled carrots considered a perfect combination of sour, spicy, sweet and salty. Banh cuon is best eaten when it is still hot. In cold weather early in the morning, enjoy a plate of hot banh cuon, you can feel the wonderful taste of life.
Xôi (Sticky rice)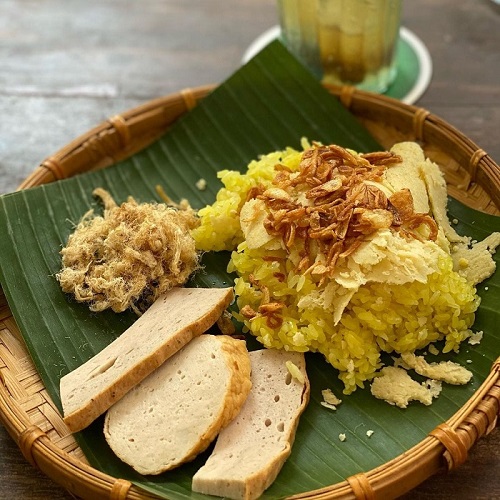 Considered a traditional dish for breakfast and a side dish for many Vietnamese since childhood. With the characteristic aroma of glutinous rice containing a lot of calories, for those who have to work a lot in a day, sticky rice is the right choice. The fried onion and boiled and crushed green beans are added to a handful of sticky rice creating a Hanoi speciality. Today, to make sticky rice more nutritious and delicious, people can eat it with Cha (Vietnamese cold cuts) or grilled sausage, cucumber and a variety of herbs.
Pork rib porridge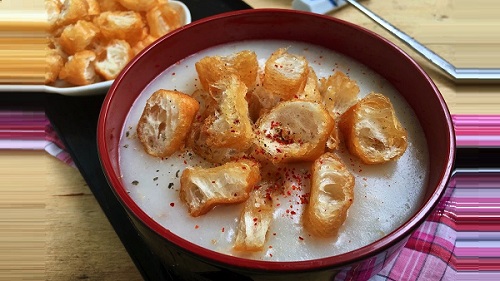 Pork rib porridge is one of the familiar dishes of Vietnamese favorite by many people. Porridge is a compound of delicious rice taste and sweetness of bone broth. People can choose to eat it with crispy Quay (puffed dough stick), this unique combination will give people a delicious feel. Especially during the cold winter in the North, enjoying a delicious bowl of porridge is the most wonderful thing. Not only satisfied with the delicious taste, people can also feel the warmth throughout the body.
Features of breakfast restaurant in Vietnam
Most breakfast restaurants in Vietnam are usually small, as Vietnamese eat breakfast quickly to keep up with working hours, so restaurants don't necessarily have plenty of seating. By the way, sidewalk restaurants are also extremely popular, walking through the streets of Hanoi, it is not difficult to come across a stall a small vehicle used to sell banh mi or small basket of sticky rice. These rustic images have penetrated deep into Vietnamese culture, becoming one of the typical images of the life of this peaceful country.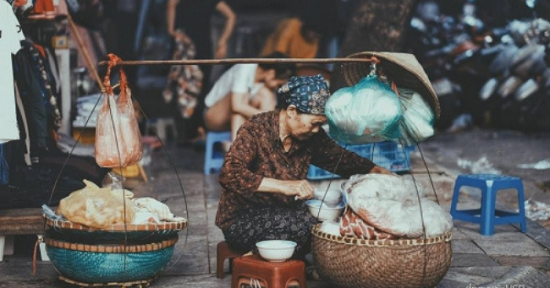 Conclusion
It can be said that Vietnamese dishes always emphasize the nutritional balance between proteins, fats and vegetables, creating nutritious and healthy dishes. Known for its rich cuisine, every dish in Vietnam tastes delicious and different, bringing new experiences for people. Come to Vietnam, savour Vietnamese breakfast dishes to clearly experience the culinary culture here.