Often referred to as "the city of eternal spring", Dalat has a cool and comfortable year-round climate that contrasts with Vietnam's hot and humid landscape. This city of flowers, green meadows, pine forests, lakes and waterfalls attracts many Vietnamese especially for their honeymoon.
This green jewel of nature is located at about 1500 meters above sea level. It is an ideal place for hiking and outdoor activities. You will be amazed by the surrounding wildlife. The area is a real call to discovery surrounded by pine forests and colorful flowers!
In addition, the city's infrastructure is a mix of east and west influenced by the French colonization. European visitors could almost mistake it for a European city.
Dalat is a refreshing stopover that delights lovers of history, culture and nature. Here we give you our best tips and information for your visit to Dalat during your trip to Vietnam.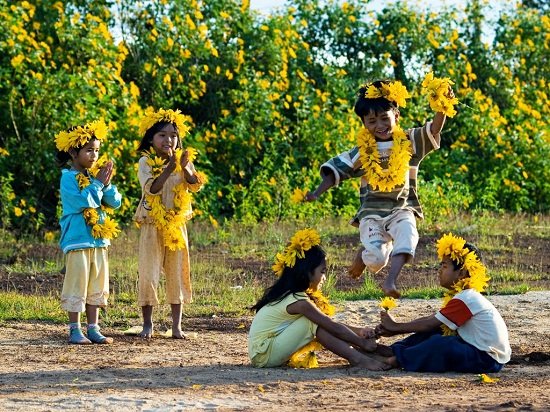 History
The region was discovered during the year 1891, by the explorer Alexandre Yersin. During a great expedition crossing rivers and tropical forests, he discovered the site and the excellent climate of what will become Đà Lạt.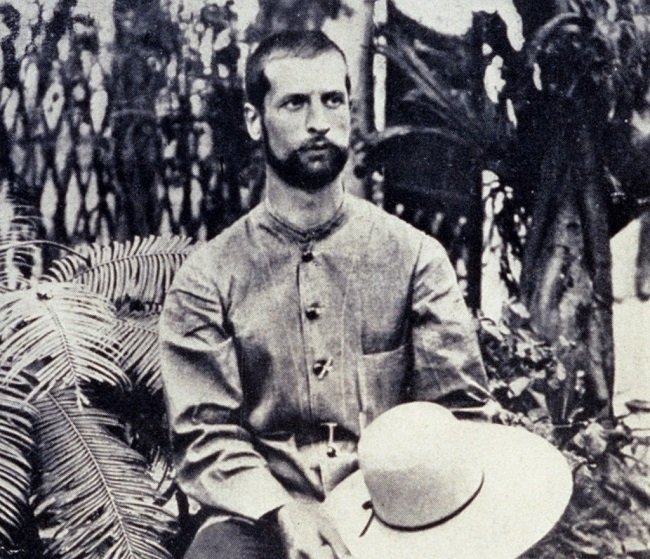 The city is also called "Le Petit Paris" because of its French architecture villas and its replica of the Eiffel Tower built by the telephone company!
In fact, in the past, when Dalat was still under French colonization, French officials planned to turn this city into "Le Petit Paris". An ideal seaside town and an educational center for the settlers' life in Indochina. The place was far from their native land – far away France, so the idea was to bring France back to them. Thus, Dalat was the capital of the Federation of Indochina during the Second World War.
Dalat was fortunate to remain relatively untouched by the ravages of the Vietnam War. Its main involvement was in the Tet Offensive in which South Vietnamese military police units clashed with Vietnamese troops, resulting in the deaths of many soldiers. Thanks to its limited involvement in the war,
Dalat has retained much of the French influence and architecture that gives it its European charm. Over time, Vietnamese buildings have been juxtaposed, giving the city an original style
Dalat- capital of Vietnamese honeymoon!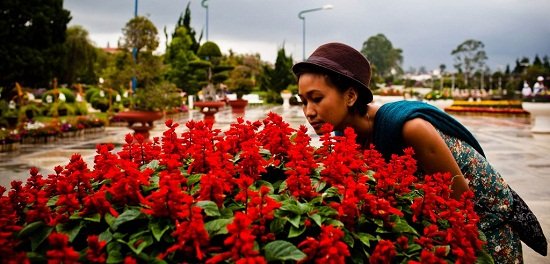 The city is a great attraction for domestic tourists and especially newlyweds, Dalat being known as the honeymoon capital of Vietnam. The downtown area remains full of European charm with quaint cafes and small stores. The landscape outside the main city is equally captivating with pine forests, rolling peaks and numerous lakes.
Everywhere in Dalat there are fabulous flower gardens, making it a very romantic place to be!
Where is Dalat?
Dalat is located in the southern part of Vietnam, 293 kilometers from Ho Chi Minh City.
Dalat Vietnam is 278 km from Bien Hoa City; 1,481 km from the capital city of Ha Noi and 293 km from Ho Chi Minh City; 205 km from Nha Trang. If you take the pass road, it takes only 3 hours to reach Nha Trang city.
How to get to Dalat?
From Hanoi, the most convenient way is to fly. Lien Khuong airport (DLI IATA) is located 30 km south of the city. It is connected by a modern two-lane highway with a picturesque landscape. There are daily flights from Ho Chi Minh City, Da Nang, Hanoi, Vinh and Hue.
There are no trains to Da Lat, so you can also travel by car, bus or train. There are daily buses to Nha Trang (4 hours) and Ho Chi Minh (6 hours). Check out the schedule and fares for the buses.
Buses and cars are quite safe and convenient, but they take quite a long time. However, you can enjoy beautiful scenery on the way.
Dalat map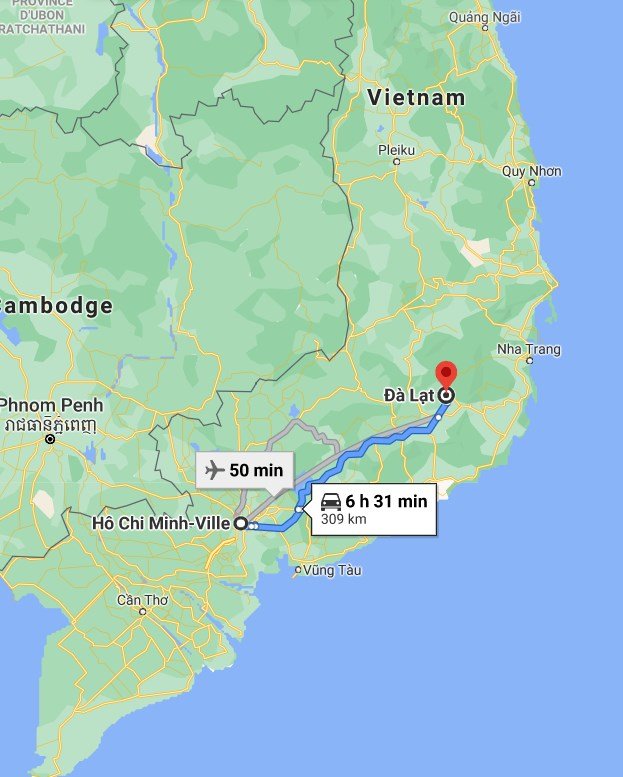 Dalat weather
The best time to visit Dalat is between December and March. At this time the beautiful flower gardens are in full bloom. The temperatures at this time of the year are ideal for outdoor activities such as hiking, swimming and walking.
However, visiting Dalat is still very enjoyable at any time of the year..
10 ideas of visits and activities in Dalat
Walking around Xuan huong lake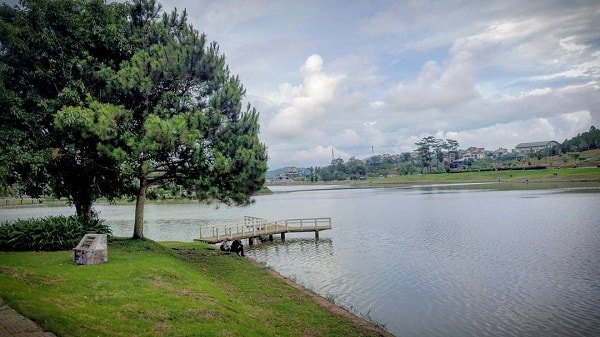 Xuan Huong Lake is located in the city center and is considered the heart of Dalat. A walk around the lake is a good activity for a first discovery of the city. There are original architectural buildings to discover all around and you can enjoy the fresh air.
Around the lake, there are two kinds of trees which are considered as the symbols of Dalat: cherry trees and willows.
From Christmas time, cherry blossoms bloom around the lake bringing a beautiful and romantic atmosphere. It reminds visitors of springtime in northern Vietnam.
Linh Phuoc Pagoda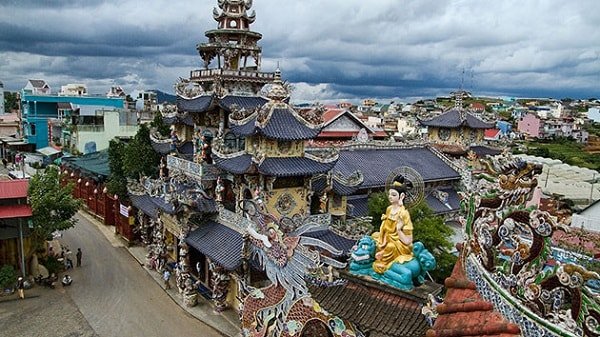 Linh Phuoc pagoda is located in Trai Mat village a few kilometers from Dalat. To get there, an original way is to take the train from Dalat station to Trai Mat village. The journey takes only 25 minutes and trains run regularly.
Linh Phuoc Pagoda is a beautiful Buddhist shrine. Most of the walls are covered with beautiful mosaics. Completed in 1952, the pagoda is often called the pagoda of broken glass. This is because of the 49 meter long dragon head at the entrance gate. It was meticulously reconstructed from 12,000 glass bottles. The main hall consists of two rows of paved mosaics and there are also many intricate mosaic bas-reliefs presenting Buddhist stories.
On the walls and ceilings mythical creatures are drawn from thousands of small pieces of broken clay, porcelain and glass. In front of the Linh Phuoc Pagoda is a 37 meter high bell tower, considered the highest in Da Lat.
The valley of love

Located 6 km north of downtown Dalat, the Valley of Love is a picturesque place consisting of hills with a lake in its center. The place is a romantic getaway for locals and tourists. The French originally named the area the Vallée de l'Amour in 1930 because of its peaceful setting and greenery. The name was changed to the Valley of Peace during the reign of King Bao Dai, and in 1953 was changed once again to its current name.
As you enter, you see a large golden statue with a pair of hands exchanging wedding rings. There are other statues and expressions of love dotted around this large 242 hectare valley.
The green hills surrounding the lake are covered with beautiful pine forests. Flower beds and colorful gardens line the walking paths that lead around the lake and through the forest to Vong Canh Hill. You can admire a beautiful landscape once you reach the top.
Hiking at Lang Bian Mountain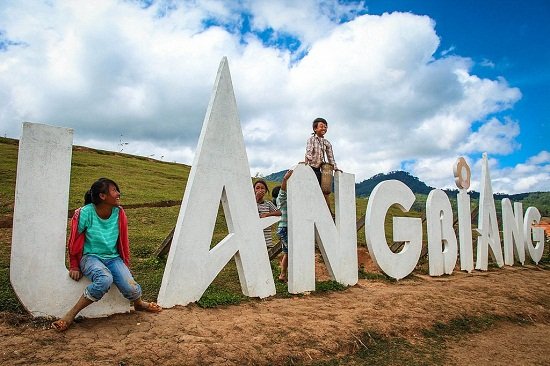 Quiet nature walks along forest trails (or many other adventurous hikes for experienced hikers) are another way to experience the beauty of this area. Da Lat is full of many natural sites where you can find animals and birds. Some hikes can take you to caves, waterfalls, lakes, volcanic peaks, minority villages, suspension bridges and farmlands.
Among them, the hike to Lang Bian Mountain (about 12 km north of downtown Dalat) is one of the most popular places for a day or half-day hike. The mountain is 2400m high.  Three or four hours are probably needed to reach the top. There is a road that will take you through strawberry fields, vegetable greenhouses and a coffee plantation. If you're worried about taking the wrong road, don't hesitate to ask the friendly locals you pass along the way!
Hiking in Dalat is fairly easy and straightforward; many people simply rent a bike and use a local map and off you go. Warm clothes, raincoat, sunscreen and mosquito repellent are usually necessary.
Datanla Waterfall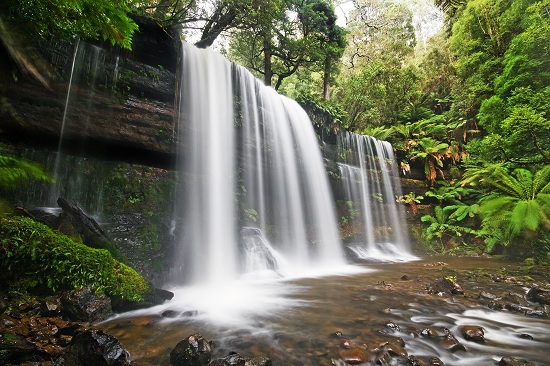 Located 5 km from downtown Dalat, Datanla tourist site includes an area of 312 hectares amidst preserved forests. Here you can enjoy many fun activities and breathtaking natural scenery.
At the foot of the waterfall, the Datanla stream flows slowly through the cliffs and then cascades down. It is located between two vertical cliffs of more than 40m high. Tourists can walk to the waterfall or take the roller coaster to the site for 45,000 dong!
If you feel hungry during your visit, there is a restaurant serving authentic Vietnamese food at reasonable prices.
 Tuyen Lam Lake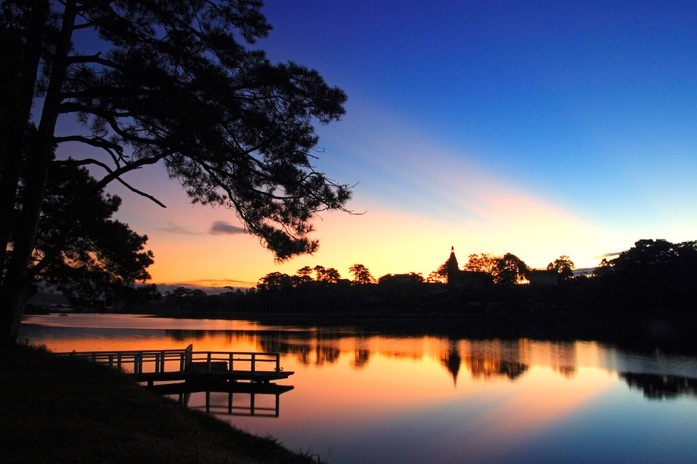 About 20 kilometers from the city center, Tuyen Lam Lake, near the famous Truc Lam Monastery. A bucolic landscape leads you to an oasis covered with flowers and surrounded by a picturesque and charming nature. In the surroundings, small houses on stilts are hidden between pine forests. In spring, the road is adorned with splendid flowers.
A peaceful stretch of water in the middle of the mountains, surrounded by trees and silence depicts the place. An idyllic setting for sunbathing and breathing fresh air…. You can enjoy a sampan or canoe ride on this lake. You will cross on its banks many fishermen.
The Truc Lam pagoda is a Zen Buddhist monastery that you can visit on this occasion. Located at the top of a hill surrounded by pine forests, an easy hike in the middle of nature will bring you there. Surrounded by splendid gardens, the pagoda has an elegant architecture. Inside the main hall, there is the statue of Shakya Buddha. Outside a large bell is hung. Built in 1994, it is a beautiful and well preserved building. Except for the fresh air and the quivering of the birds' song, there is no noise, monastic silence reigns!
Bao Dai Summer Palace
Located about 2.5 km south of the city center, the Bao Dai Summer Palace is a must-see complex.
The palace was built from 1933 to 1937 under the dynasty of King Bao Dai, the last king of the feudal court of Vietnam. Intended as a retreat for King Bao Dai and his royal family to escape the summer heat, but after 1950, during the French colonization the palace occupied an administrative role.
By visiting this 2-story structure, travelers will have the chance to discover the life of the royal family. Through 25 rooms and its facilities. The first floor is the king's workplace. It consists of the office, the guest room and the reception room. On the first floor is the living space of the king and his family. The king's room also has a magnificent balcony. Called the moon observation balcony for the king and queen.
In addition Visitors can explore a variety of different gardens. There is a giant cactus garden, orchid fields and displays of roses, mimosas and hydrangeas. There are also finely carved topiary displays throughout the park. The entrance to the park greets visitors with an arched flower arrangement featuring hundreds of impressive flower pots.
Dalat Night Market
Dalat's night market offers what seems like an endless number of food stalls. They are scattered in the streets around Nguyen Thi Minh Khai. Offering many local dishes at affordable prices. Some of the most popular include traditional rice noodles, banh mi and Vietnamese pizza (toasted rice paper with a variety of toppings).
The market attracts many people during the evening – some for the food, some for the atmosphere and some to perform or watch street performers. Hip-hop dancing, roller skating and jainzi and various games take place in the open spaces of the market. While freshly prepared food is the focus of the night market, other items including textiles, traditional clothing, flowers and fresh produce are also available.
Da Lat Night Market is located in the heart of downtown Da Lat, just a five-minute walk from Xuan Huong Lake. Open daily from 5:00 pm to 10:00 pm
Dalat Flower Garden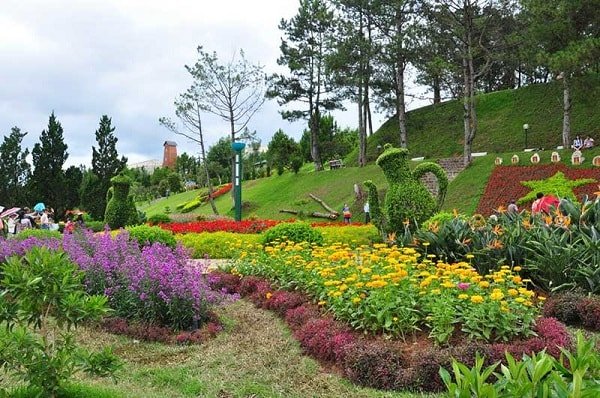 A must-see in Dalat, this 7,000 square meter park is located at the end of Xuan Huong Lake, about 2 km from the city center. This former flower garden of Bich Cau has been renovated and renamed as the city's flower garden. Visitors can enjoy the largest selection of flowers in Dalat. It is also an attractive attraction during the annual flower festival, with hundreds of species such as hydrangeas, mimosas, roses, as well as other imported species such as daffodils or lilies.
This natural museum houses a breathtaking orchid garden and a garden of thousands of African cacti.
The Prenn waterfall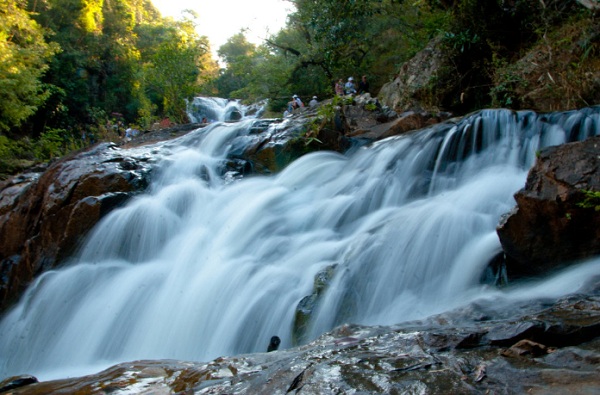 Prenn Waterfall is located at the foot of Prenn Pass, 10 km from the city of Dalat. It is considered as the gateway to Dalat. In ancient times, there was a village of Prenn upstream of the stream, so the waterfall is named Prenn.
The site has an area of 160 hectares, of which pine forest and ancient trees make up 90% of the area. The site has been restored and has many facilities. There is even a cable car for a beautiful view of the surroundings.
In addition you can see ostriches and elephants. You will even be offered a ride on their backs. We don't particularly endorse this kind of activity. But we still point out its existence.
Food in Dalat
Dalat's mild temperatures offer a crop of fruits and vegetables that would not survive in other parts of Vietnam. Here, artichokes, strawberries and avocados are delicious local specialties. A sweet treat that takes advantage of the fruits grown here is ice cream made from fresh avocados and strawberries.
Banh Trang Dalat, the Vietnamese pizza is an original snack. Thin round sheets of rice paper are heated on the grill. They are topped with a mixture of onions, eggs and shrimp. Once the egg mixture has cooked into a soft omelet, it is served with a spicy sweet sauce.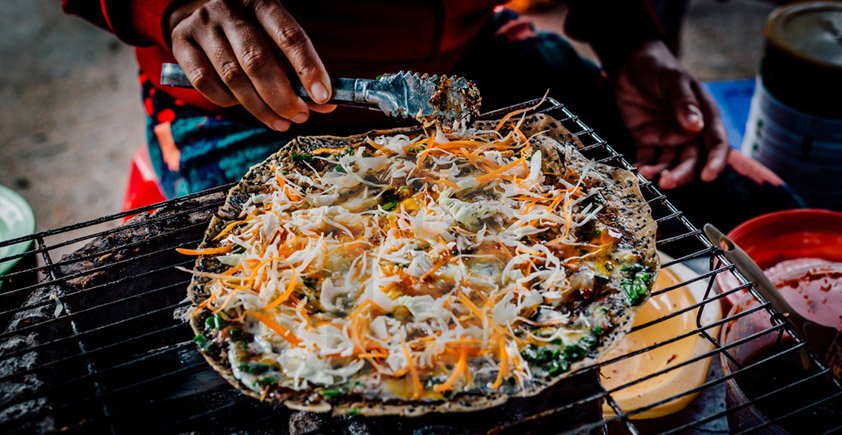 Banh Can is another delicious street food, which can be found in the many stalls. These light and fluffy rice flour cakes are filled with delicate quail eggs. They are then sprinkled with freshly chopped onions. The mixture is poured into a mold and baked until they swell into delicious bite-sized treats.
A more unusual product from Dalat is the locally produced wine known as Vang Dalat. It is made from a blend of grapes from Phan Rang. The city produces a range of different varieties that are sold nationally and internationally. The techniques used to make the wine aim to produce an affordable but delicious European style wine.
Conclusion
There you have it, you know everything about this beautiful and romantic city with our Dalat guide. 
If you would like to have more advice, Horizon Vietnam Travel will help you to organize your trips in Vietnam. Ask for a free quote now.
See you soon!