The city of Sapa in Vietnam is a mountain climatic resort built in 1922 in the heart of a beautiful valley and not far from the Chinese border. More than the city itself, the surroundings of Sapa are beautiful. Composed of mountain rice fields shaped by farmers, the region is conducive to beautiful hiking to meet a very authentic way of life.
The authentic character of Sapa is characterized by ethnic minorities. They have a great respect for their ancestral traditions and they live with it, they still wear the colorful clothes symbol of their tribe and pull the yoke of their ox.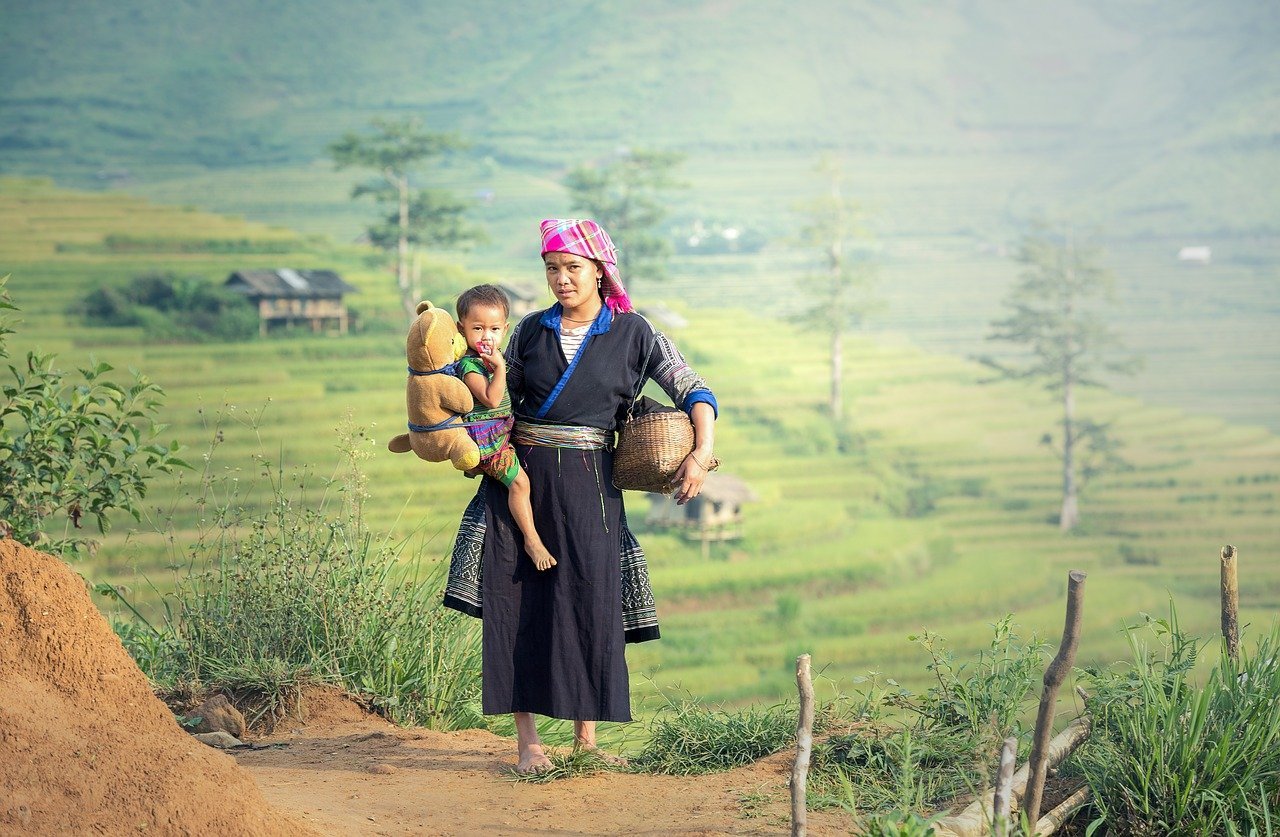 This is especially true when you move away from the city center a little. The nearby villages promise a real cultural change of scenery and a bath of authenticity in the local lifestyles. 
Horizon Vietnam Travel usually offers a homestay for an ethnic immersion experience!
Everything you need to know to prepare for your excursion in Sapa during your trip to Vietnam is in this guide. We give you practical tips as well as the best experiential activities.
Where is Sapa located?
Sapa is located in the north of Vietnam in the Upper Tonkin region. The city rises to an altitude of 1650 meters (in comparison to sea level) on the slope of Lo Suay Tong Mountain, in the north-west of Lao Cai province. It is located about 38 km from Lao Cai and 376 km from Sapa in Hanoi.
How to get there?
Located in the high mountains without an airport, Sapa is accessible by road only. From Hanoi, the most popular way to get to Sapa is by night train. However, thanks to a new motorway inaugurated in 2014, Sapa is also accessible by bus which is faster than by train.
By train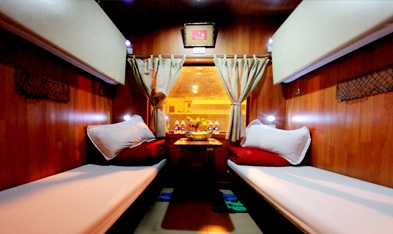 The journey by night train takes about 8-9 hours. You leave Hanoi at around 22 o'clock and arrive in Lao Cai at 5 o'clock. The train stops only in Lao Cai, the province to which Sapa belongs. It then takes an additional hour to get to Sapa from Lao Cai Station. The journey is however picturesque in an old-fashioned bunk room but with all the comforts! You enjoy jungle landscapes along the way.
By bus
There are daily buses departing from Hanoi at 6:30 or 22:00. The one-way journey takes between 6 and 7 hours.
Traveling by bus is both fast and inexpensive. Check the bus schedule for booking before departure.
By car you can reach Sapa in 5 hours.
Sapa map
Where to stay in Sapa?
Since the city is a popular holiday destination, it is not difficult to find accommodation. From affordable hotels to luxurious hotels, Sapa offers a variety of accommodation to suit your favorite and budget. If you travel with us, we always offer you the best quality / price options according to your budget. From a cultural point of view, the most interesting thing is to stay in local habitant's accomodation in the surrounding villages.
Climate
Th city of Sapa in Vietnam enjoys a mild and cool climate all year round, even during the hottest summer months. The temperature very rarely rises above 23- 24 degrees. 
During the winter, the Sapa region seems to be covered by a thick fog. It even happened a few times that it snowed in Sapa (1922 and 1971). The cold is striking, with a temperature that can drop to 0 ° C. January and February are usually the foggiest months. From March to May, the climate is very pleasant, just like in summer and autumn.
The rainy season is from May to September and the heaviest rains occurring in July and August. Although the rains are strong, they are not disturbing cause they do not last and are quite refreshing.
When is the best time to visit Sapa?
The harvest season is the best time to visit Sapa (from August to October depending on each region). The weather is great and the villagers are all at work which creates an explosion of activity in the fields.
Fauna and Flora
This cool climate and mild heat are very favorable for the cultivation of typical fruit-trees of temperate zones. We find rare fruits in Vietnam such as apples, pears, plums or peaches.
Other very unusual trees in Vietnam can be found here: oaks, chestnuts and several kinds of conifers such as pine and thuja. The region is a home of hundreds of thousand-year-old trees, covering an estimated area of 240 hectares. In addition, the region is also a great resource of medicinal herbs.
Besides a rich forest of flora, the fauna system is also diversified with 66 species of mammals such as black gibbon, silver-cheeked langurs …, 347 species of birds such as eagles with large spots, red-crested pheasants …; 41 amphibians and 61 species of reptiles, including rare spike frogs recently discovered in Vietnam.
What to do in Sapa?
 Hiking in the natural park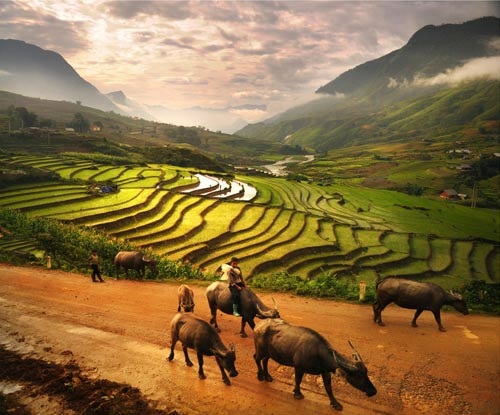 Hoang Lien National Park is the biggest attraction in the area. There are more than 2000 species of tree plants, azaleas and flowers here, of which about 66 species are listed in the heritage of Vietnam such as blue cypress, bamboo pine and red pine.
Thanks to a diverse forest ecosystem, Hoang Lien National Park has become one of the main centers of biodiversity in the country. In particular, this place also preserves and maintains many beautiful features of the traditional culture of ethnic communities living in the central and buffer zones of the national park. 
The park is huge, so there are many possibilities for hiking on one or more days. Your efforts will always be rewarded by a splendid mountain view. To have a great experience, we highly recommend you guys to spend a night staying at a local resident's house.
Visit of the market
Visiting the market is undoubtedly the best way to immerse yourself in the local life. On market days, Sapa is full of activity: the most colorful ethnic minorities of the country, the Hmong, the Dzao, the Zays, the Tays are there to sell their fresh products of the day: peaches, plums, tangerines, bamboo shoots, wild mushrooms, honey…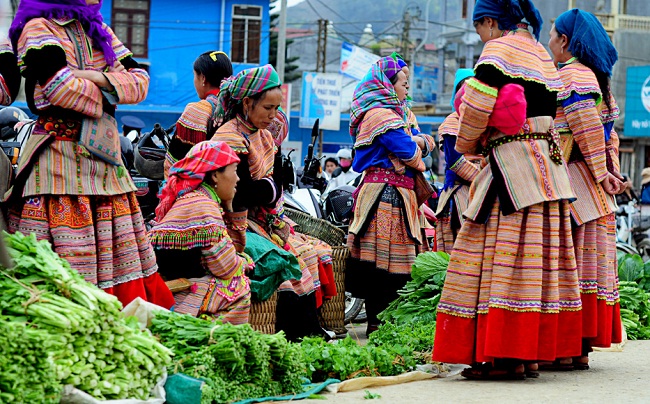 Early in the morning, men and women accompanied by horses loaded with goods, go down their way from the high ridges. They sell their products and buy something from other sellers at the market. Their negotiations are going well!
They sell not only foodstuffs but also handicrafts, traditional clothes, jewels…
Traditional clothes are dyed with natural products, some of which fade when touched, leaving a bluish color on the fingers. That is the reason why we should not put them into the washing machine. It seems like the women are busier at the market. We can think that the men killed themselves by working-hard the previous days on the fields to grow vegetables.
The husbands while waiting for their wives, sit around a pot of "pho" which is a favorite dish of mountain people and they drink from dusk till dawn.
The mountain markets are a must-see attraction during your discovery of Sapa!
Mount Fansipan, the roof of Indochina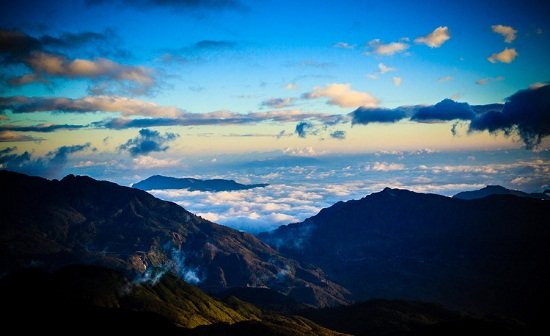 Conquering Mount Fansipan is one of the most difficult activities in Vietnam!   It is the highest peak in Indochina. It culminates at the height of 3143 meters.  This place is ideal for adventure and wilderness hiking lovers. Its ascent is done in the heart of a dense tropical jungle and promises you an unforgettable adventure.
Attention! To reach the summit on foot, you must have a good physical condition because it will take you about 2 or 3 days of walking. It is a difficult hike reserved for experienced walkers. 
Fortunately, a cable car installed in 2016 allows everyone to reach the summit! The bucolic ride in the wagon will promise you exceptional views.
A climbing prize named "Conquer Fansipan" of international scope for domestic and foreign athletes is held in this area.
Spend a night at local habitant's house
 This activity promises a unique authentic experience. You will be staying in their homes with some special arrangements for your stay. You will sleep on a sturdy but clean and fresh!
 It is an opportunity to share a real family moment with the children, the animals, the parents. The moment of sharing the meal with everyone will be the highlight of the experience. You will experience the delicious local cuisine and Vietnamese rice alcohol.
 A late evening stroll around the hamlet allows you to dream and philosophize about the differences in living conditions between the city people and your hosts. The latter seem to have nothing, but they seem to miss nothing… Who is the happiest? It is a vast question.
 Tonight you will learn more about each other and about yourself!
The Thac Bac Waterfall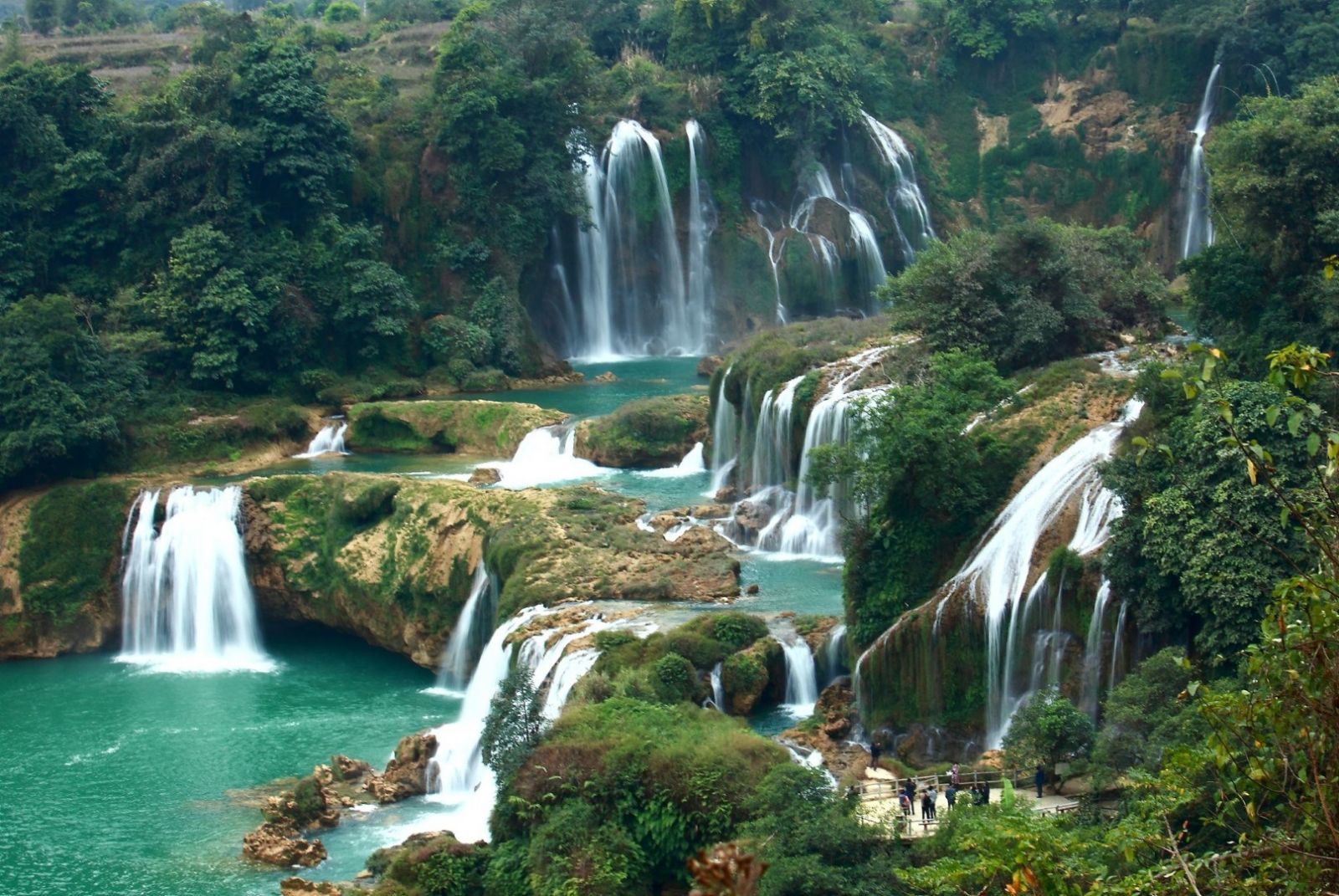 The Thac Bac waterfall located 12 kilometers from the center is also called the silver waterfall. It is a cool stopover that can not be ignored during your trip to Sapa especially in summer. From an impressive height, the waterfall pours silver water on the cliff, splashing and roaring in a refreshing atmosphere. Whatever the season of the year, Thac Bac waterfall flows relatively high.
On the way to the waterfall, you have the opportunity to admire the rice field and mountain scenery of Sapa. On one side of the road, there are mountains with breathtaking pine forests, on the other side, you will find vast fields that stretch endlessly.
Spared from mass tourism, Thac Bac Waterfall is a relaxing destination to rest your soul.
Sapa Church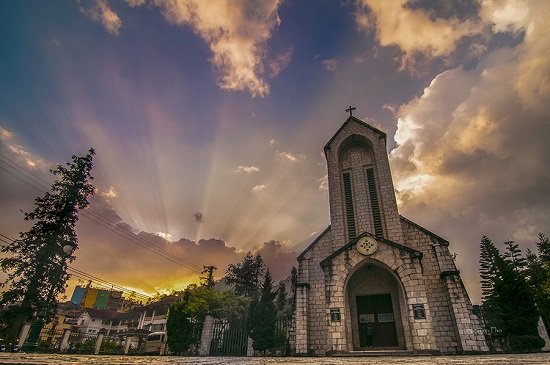 Although the Sapa church is not the largest church in Vietnam, it is still one of the buildings that we should visit in this city. So it deserves a place in this list. This ancient church with a beautiful bell tower was built in the 20th century by the French colonizers. It is also known as Our Lady of the Rosary Church and has become a place for traditional cultural practices of ethnic minority groups.
Sapa's church in the center of the city fits perfectly for a walk to discover the center..
Ta Phin Village
Located about 12 km from downtown Sapa, Ta Phin village is one of the recognized landmarks in the area. The village is home of Red Dao and H'Mong – 2 Vietnamese ethnic minorities.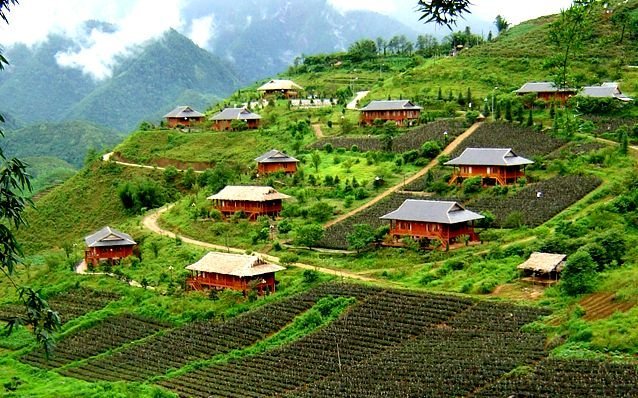 Ta Phin village is located in the valley, still surrounded by spectacular mountains and rice terraces. Here you can observe an authentic rural life. In the middle of children, animals and landscapes it is a memorable moment.
Along the road, there are remarkable sceneries of the Vietnamese mountainous region.  In addition, both sides of the road are filled with blooming flowers. Depending on the season, there would be different types of flowers, and the most beautiful flowers in Sa Pa are buckwheat flowers (blooming in March) and Sapa broccoli flowers (blooming in early winter).
Cat Cat Village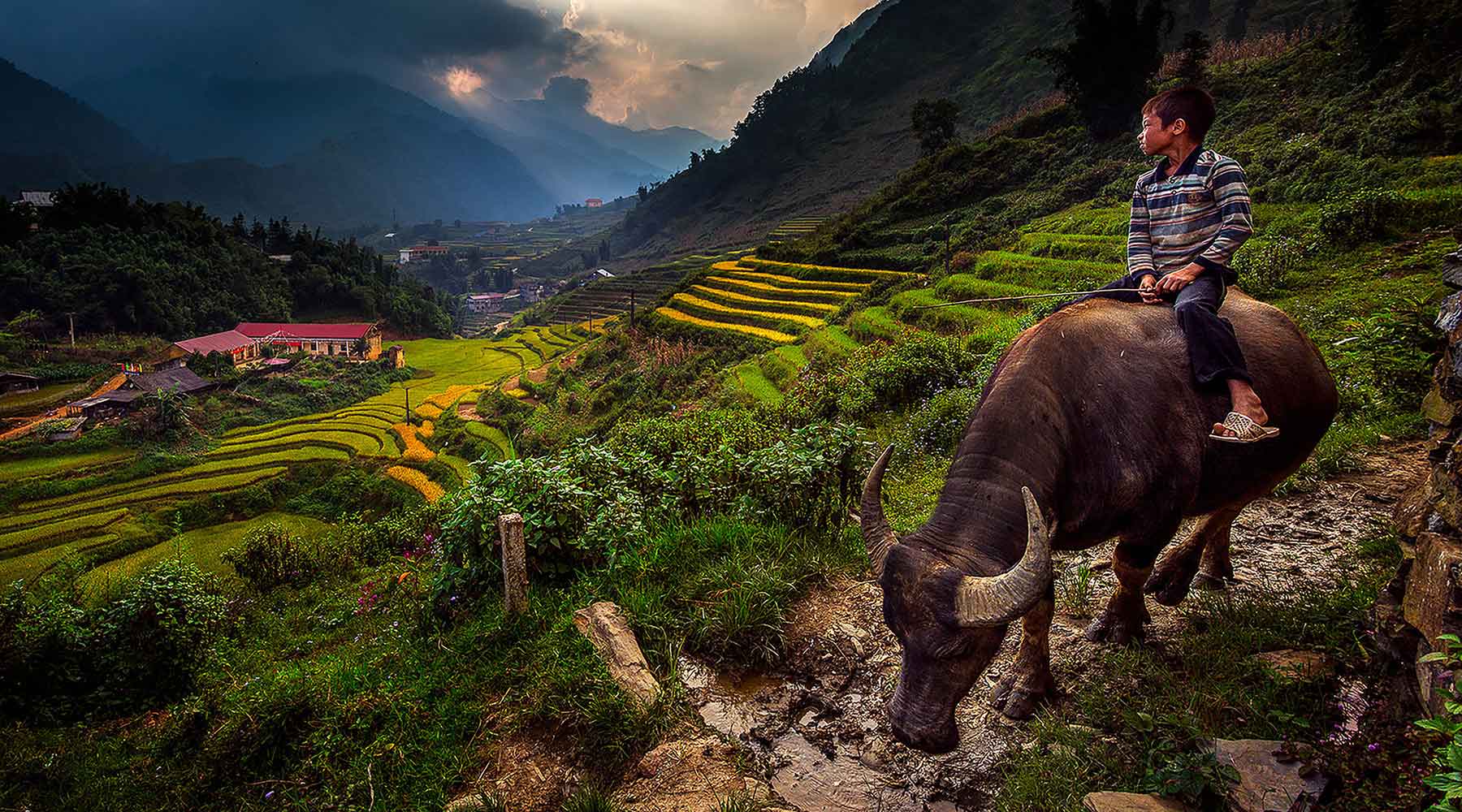 Another village worth a visit is called Cat Cat. It attracts especially for its distinctive customs and practices that have remained in the area, despite the influence of the surrounding modernization.
Cat Cat Village is nestled at the bottom of the Muong Hoa Valley, about three kilometers from Sapa town. This village was built in the 19th century, after the reunion of various ethnic H'Mong and Dzao families. They started to cultivate rice and corn in the area, as well as weave cloth and create handicrafts to survive. 
The village is therefore an interesting and easy hiking idea. It takes one hour to reach Cat Cat on foot. To get down to Cat Cat village, you have to follow one of the main roads in Sapa until you reach a trailhead. Once in Cat Cat, the trail continues to Mount Fansipan for a more challenging hike. The journey is scenic and beautiful, but rather strenuous. Fortunately for you, getting to the village is not as difficult, as you will encounter mostly paved trails and steps
Meeting with ethnic minorities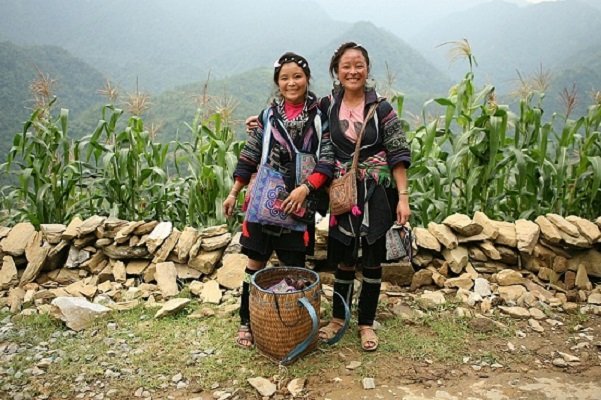 Finally we end this list of activities by insisting on meeting the people. Indeed, during all your activities in Sapa you will be immersed in this unique world of ethnic life. This is really the real treasure of Sapa. An ancestral way of life, which resists by its traditions to the arrival of modern life.
They still pull the cart with their oxen, wade in the mud, cook with wood fire, wash themselves with cold water, often walk barefoot… They don't have an easy life. However, they are far from worrying about the long connection time with their cell phones (although this is changing fast :).
Where to eat in Sapa?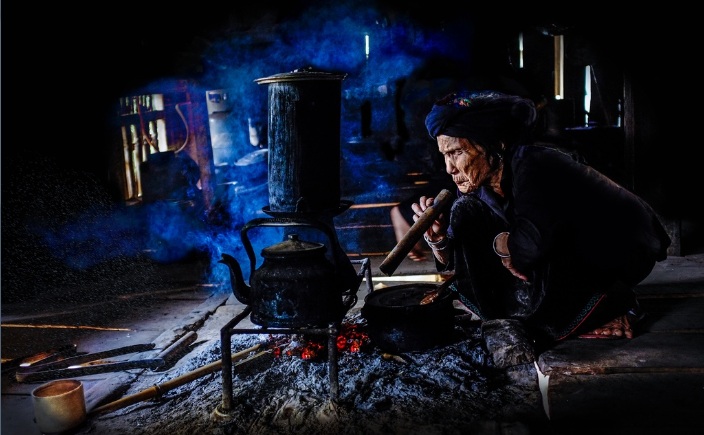 H'mong traditional cooking!
Apart from the delicious meals cooked by families if you stay at a local's house, Sapa has a great choice of restaurants. If you are looking for a good meal in Sapa, head to Cau May Street, which is the main street where most restaurants and cafes are located.
Moment Romantic Restaurant is recommended for a good quality Vietnamese meal. The menu is varied, the ingredients are fresh and there are many vegetarian options. This is a mid-range restaurant.
If you're looking for a local experience, try a Vietnamese hot pot to warm up on a cold night. Gerbera Restaurant is a good place to go. You can enjoy the rustic charm of this local restaurant and its authentic decor.
Sweet tooths will love Le Gecko. The pastries at this establishment are the best in town. It also serves delicious meals in a very cozy place. It is a wooden house of the H'mong minority which is more than 50 years old.
As a good tourist, you may want to eat western food. So if you fancy a good pizza, Delta Restaurant is known for its reasonable prices and well prepared Italian dishes. They also serve Vietnamese dishes.
A bit kitschy and immersive video of Sapa
A bit kitschy and immersive video of Sapa
Our itinerary tips for a trip including Sapa
We hope that the tips and information given in this article will be useful to you. However, if you are wondering how best to include this destination in your trip to Vietnam, check out our trip building guides:
– North Vietnam tour guide
– North to South Vietnam tour guide
You can also let us know what you want and we will send you a program proposal with prices.
Make your request here!
See you soon with Horizon Vietnam Travel!