Where is Soc Trang located?
Situated downstream of the Hau River, Soc Trang is a coastal province in the Mekong Delta and about 231 kilometres from Ho Chi Minh city. 
Soc Trang is a land of cultural, historical and religious values. Once travelling to Soc Trang, visitors will immerse themselves in the quiet and serene atmosphere of ancient temples or the idyllic but poetic beauty of floating markets. Soc Trang will be a great tourist destination in Western Vietnam for those who are in love with rivers.
With a population of 1,621,000 people (in 2022), Soc Trang is home to many ethnic groups, including Kinh, Khmer, Hoa, Cham and others. The integration of ethnic groups has created an extremely unique and rich culture for this province. Friendly and hospitable residents, peaceful landscape and diverse cuisine all blend together to make Soc Trang an ideal destination and one of the top choices for both domestic and international visitors.
Best time to visit Soc Trang
You can admire numerous stunning natural landscapes and experience many new things when travelling to Soc Trang at any time of the year. Soc Trang is located in the tropical monsoon climate, thus its weather is divided into two distinct seasons: rainy season and dry season. Usually, rainy season starts around May and lasts until October. From November to April next year is dry season. The temperature here fluctuates from 26 degrees, and the risk of storms and floods is very little, therefore, travellers can visit Soc Trang during rainy season without worries. However, you can choose a time when Soc Trang organizes festival in order to explore and travel with your friends:
January (lunar calendar): Lunar New Year
March (lunar calendar): Nghinh Ong Festival is held at Kinh Ba beach, Tran De district on the 21st of every year.
April (solar calendar): Chol Chnam Thmay Tet takes place for 3 days from 13 to 15 ( the beginning of the Khmer month).
May (lunar calendar): Garden River Festival, held on the 5th day at My Phuoc dune, Nhon My commune, Ke Sach district, Soc Trang province.
October (lunar calendar): Ok-Om-Boc festival and Ghe Ngo race, held on the 14th and 15th every year.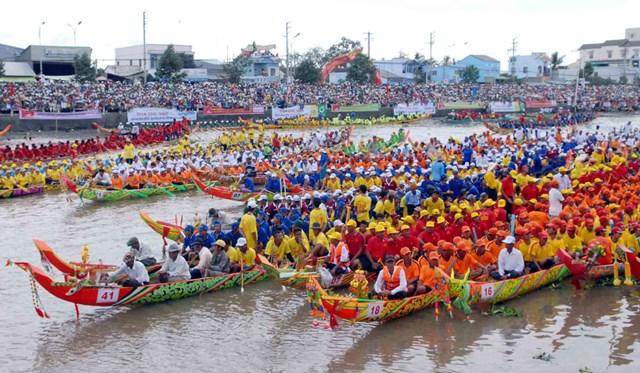 Must-see sights
Nga Nam Floating Market, Bowl (Chen Kieu) Pagoda, Tan Long Stork Garden and Clay pagoda are considered the most well-known destinations in Soc Trang. 
Nga Nam Floating Market 
Nga Nam Floating Market is a bustling trading market that lies at the confluence of five major rivers and is about 60 km west of Soc Trang city centre. Soc Trang people are proud that their tradition of trading at Nga Nam floating market is still preserved for more than a hundred years. At the intersection where five canals radiate in five directions, this old floating market is both a place for boats to trade and a gateway for your journey to discover the last leg of the southern land. Along with Nga Bay floating market (Hau Giang), Cai Rang (Can Tho) and Cai Be (Tien Giang), Nga Nam floating market makes the charm of the Southern region. The vitality of Nga Nam floating market lies in the vibrant atmosphere of buying and selling, with fresh goods throughout four seasons, showing the wealth and abundance of Soc Trang. The busiest and most exciting time of this market is from 3 – 4 am to about 7 – 8 am. Tourists can easily find many types of goods including rice, meat, fresh fruits, seafood and household items.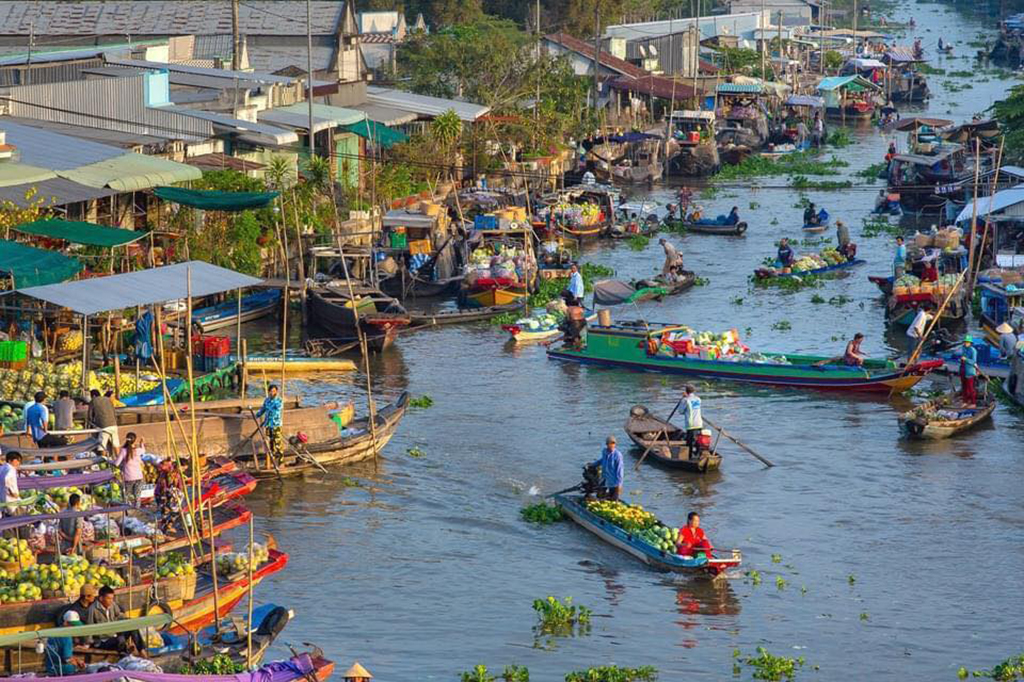 Bowl (Chen Kieu) Pagoda 
Bowl (Chen Kieu) Pagoda, a cultural relic, is considered one of the three largest pagodas in Soc Trang province. The pagoda was first built in 1815 with materials of leaves, wood and soil like many other Khmer temples. Nevertheless, its main hall was severely damaged under the devastation of war bombs. Owing to material shortages during the reconstruction, the monks came up with the initiative to cover its walls with cups and plates. This idea saves construction costs while also creating impressive decorative motifs. Since then, the pagoda has been known by the second name "Chua Chen Kieu".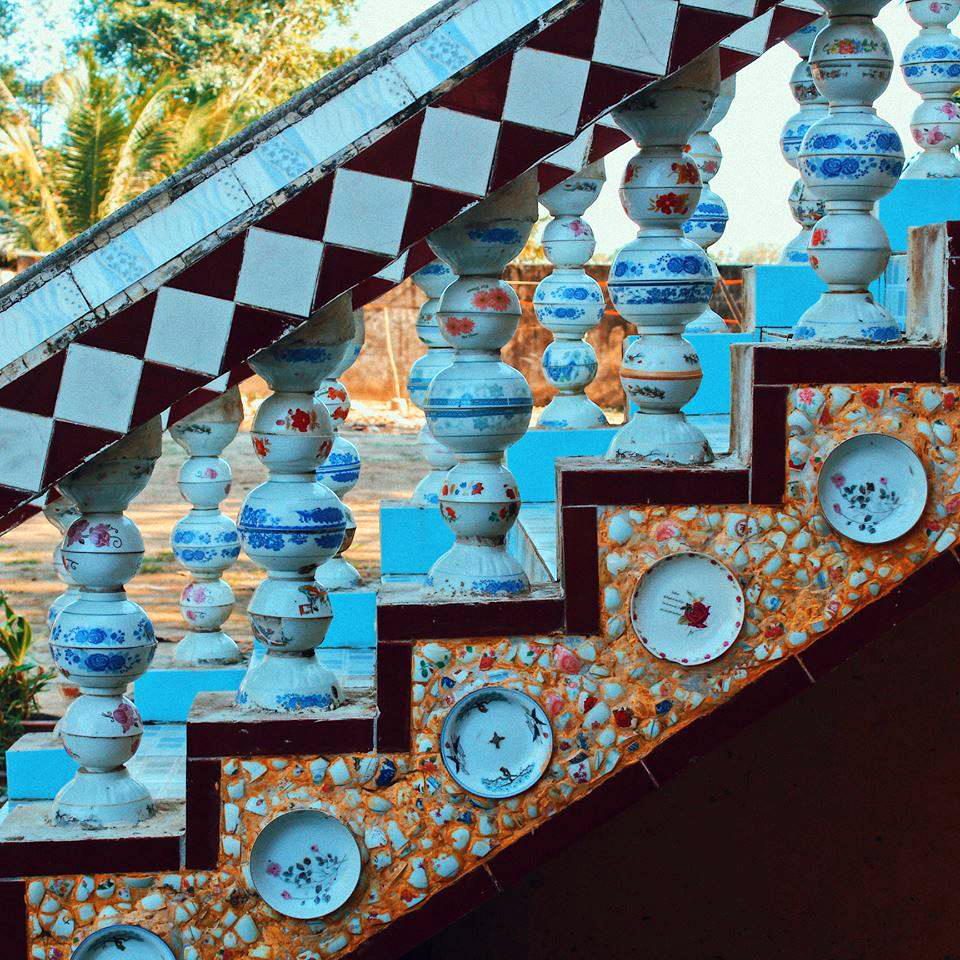 Tourists travelling here will be overwhelmed by architectural works that capture Khmer culture. Bowl Pagoda was designed with the same structure as other Khmer temples, the roof of the main hall was in three levels including 3 folds with the bottom one being the largest. The upper fold has a triangular shape, the two ends of the blade are curved up on each side and the centre of the top has a soaring pointed shape. On the wall of the main hall are paintings that portray Buddha Shakyamuni's life from birth to enlightenment. In addition, this pagoda also preserves 20 small and large, different standing and sitting Buddhist statues.
Chen Kieu Pagoda is an indispensable spiritual pilgrimage site for the locals and Khmer residents. Hence, apart from enjoying the unique architecture of this place, coming here will also give you a chance to learn about the culture of Khmer communities. These special features contribute to making the reputation of Bowl Pagoda and attract more visitors each year.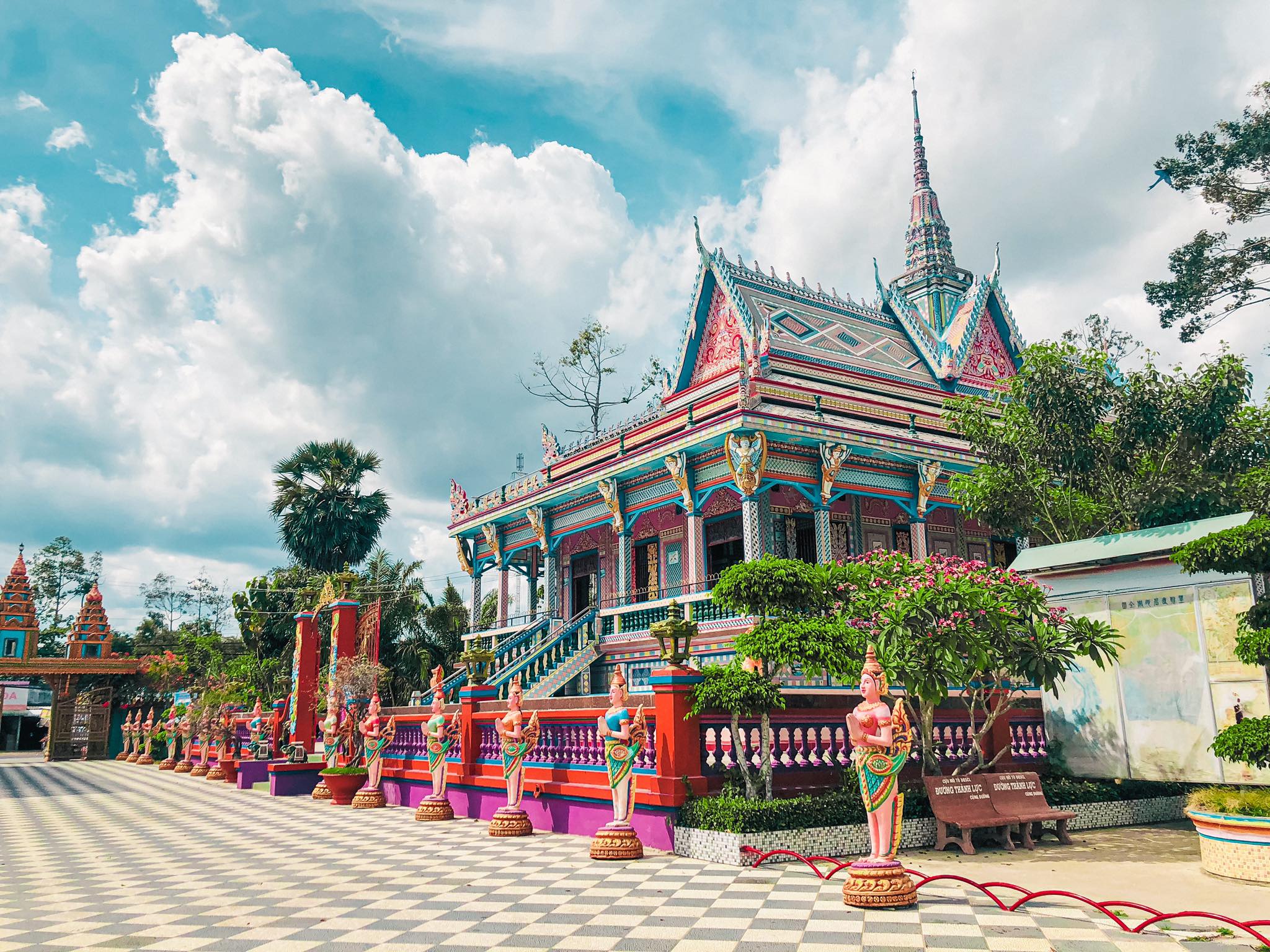 Tan Long Stork Garden
After checking in Nga Nam floating market and Chen Kieu pagoda, you can visit Tan Long Stork Garden for relaxation in the fresh air while watching thousands of white storks sitting on the green trees or flying in the picturesque sky. This promises to be an unforgettable experience.
Tan Long Garden is located in Nga Nam town, about 60 km from the centre of Soc Trang province. This place is not only an eco-tourism destination that attracts a large number of domestic and foreign tourists to visit, but also known as a sanctuary for many species of storks. You will be able to walk on the path lined with trees and flowers, enjoy watching the white storks flying, feel the serenity and leave all your worries behind.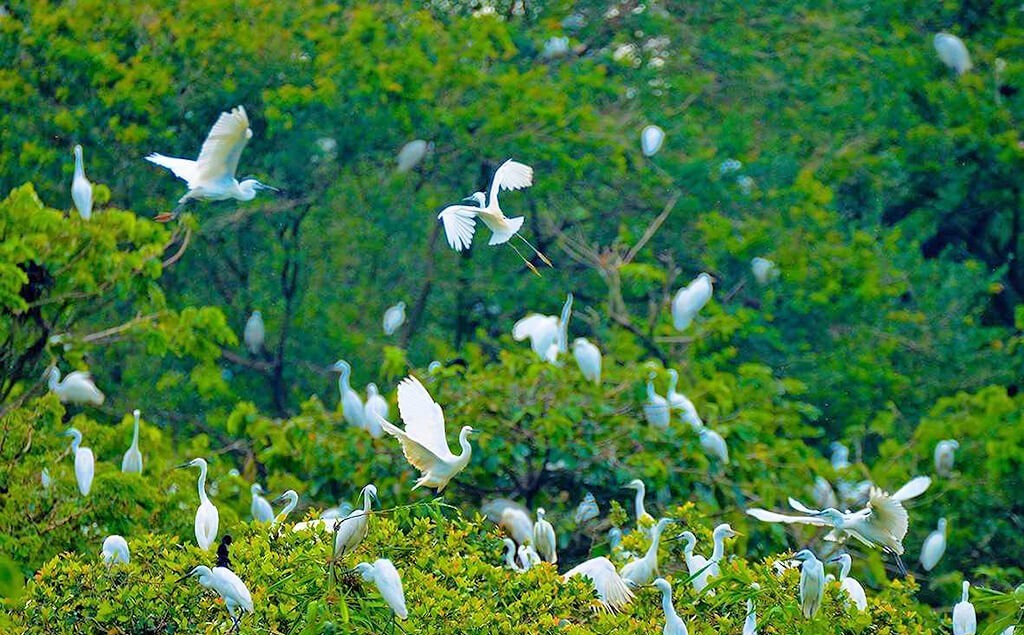 Clay Pagoda (Buu Long Tu)
Clay Pagoda is currently more than 200 years old and is one of the oldest pagodas in Soc Trang. This tourist attraction was built and preserved by the Ngo family until now. Inside the pagoda, there are thousands of statues made of clay with many different shapes, from Buddha, and Arhat to different animals and spirit beasts.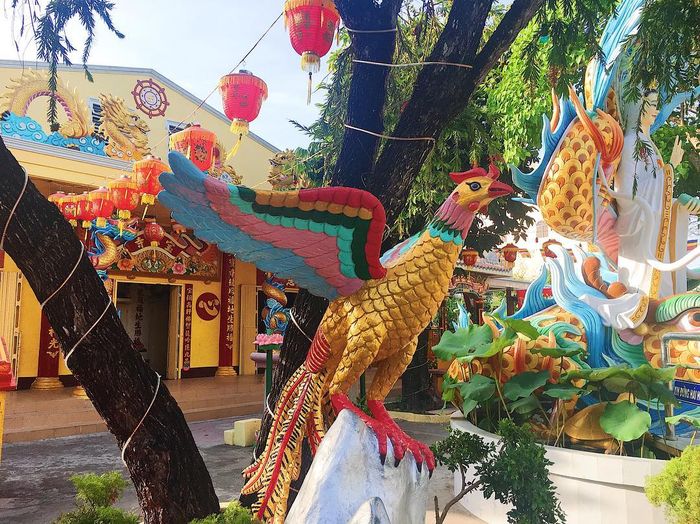 In particular, the Clay Pagoda has 6 giant candles and 2 smaller candles that are listed in the Vietnamese record book. Each candle is estimated to take 70-80 years to burn out. Currently, it is still being lit in the Clay Pagoda.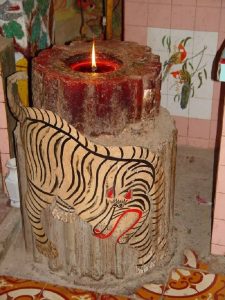 Cuisine
Aside from sightseeing and exploring splendid sights in Soc Trang, you may not want to miss trying the distinctive local cuisine of this province. Soc Trang is best known for some notable foods such as Leo noodle, Pia cake and Cong Cake. 
Leo Noodle
Leo Noodle is regarded as a dish of solidarity since it is the quintessential combination of the Kinh, Khmer and Hoa. Each ingredient creating this dish is a symbol for each ethnic group: the taste of Khmer fish sauce (traditionally prohoc fish sauce), roasted pork of the Chinese and vermicelli, fish and vegetables of the Kinh. Each one is already a speciality, but Soc Trang people combine them harmoniously and delicately to create an exclusive and distinct noodle soup. There are many restaurants along the roads and streets serving Leo Noodle, some even open from morning to night to satisfy those who want to enjoy this special dish. Let's come to Soc Trang and remember to try Leo Noodle.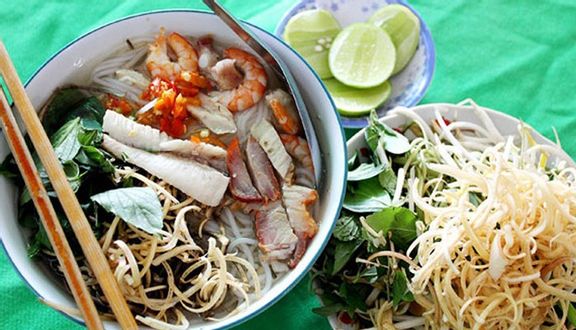 Pia cake
One of the most special dishes to mention is Pia cake, a speciality of Soc Trang that has the characteristic durian aroma. Besides, each thin layer covers the sweet and flexible green bean filling. Just by savouring a piece of Pia cake, you will immediately feel a distinct flavour of durian filling and the fatty taste of salted eggs combined with green beans. All coalesce and slowly melt into mouth. Outside of this cake are thin stacked layers that can be peeled off, as a result, Pia Cake is also known as Banh Lot Da. It can be cut out and eaten immediately or served with a cup of hot tea. The sweetness of Pia cake and the bitterness of tea combine to create a wonderful taste.
With a round, flat, small shape wrapped inside yellow, and red, Pia Cake is considered a symbol of luck, fullness and prosperity, so at the end of a trip to Soc Trang, guests from afar often choose pia cakes as gifts for friends for family. In addition to durian flavour, the cake also has numerous different types of fillings and other flavours such as taro and lotus seed.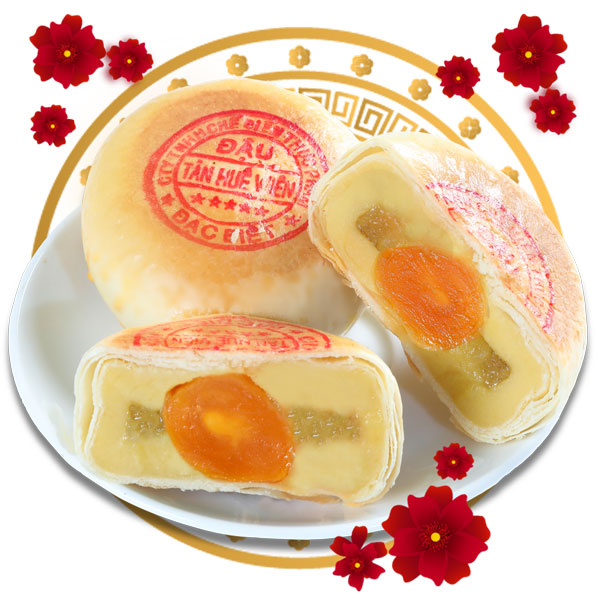 Cong Cake
Coming to Soc Trang without enjoying Cong Cake seems to be a shortcoming for your trip. If you want to eat Cong cake with true taste, you can go to the market area in Dai Tam commune (My Xuyen), and enjoy the cake accompanied by sweet-sour sauce, available vegetables and the crunch right from its outer layer. Cong cake has fragrant smell, golden colour and crispy – moderate spongy.
Its name is derived from the shape of the Cong, a stainless metal tool, truncated cone, flared mouth, with a handle for frying. Its flour ingredients include rice flour, soybean flour and eggs. The filling is minced pork marinated in spices, mixed with chopped purple onion and some steamed green beans. On each Cong cake is an eye-catching golden-cooked shrimp.
Just one bite and you will feel greasy fats, sweet taste of green beans, soybeans mixed with young jicama, minced pork and a faint smell of ground pepper. That creates the unique flavour of Soc Trang Cong cake.