Being away from your familiar country can be a scary experience, especially if you are sick or need medical attention. We hope this article will provide you with the essential knowledge about the healthcare system in Vietnam.
At present, health services in Vietnam vary enormously between urban and rural areas. We advise you to inform yourself well if you are planning a trip to Vietnam. By reading this article you will already know a lot!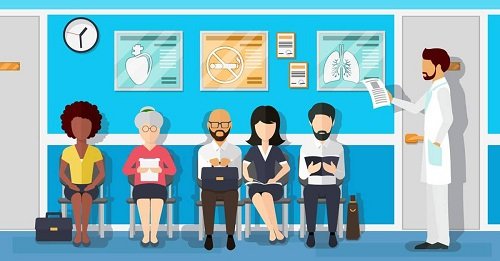 Overview of the healthcare system in Vietnam
As a combination of Eastern medicine and Western medicine, this combinatorial system of health care in Vietnam offers good prevention and treatment of the disease. The Vietnamese government aims to make a universal and affordable health system that will provide the entire population with basic medical care.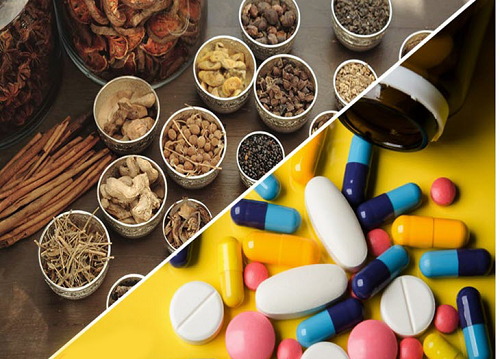 Today, Vietnam's health system is evolving, it is a mixed public-private system.
The public system is organized according to an administrative hierarchy, with the Ministry of Health at the top and the provincial and municipal health authorities below. Indeed, it includes four administrative levels of health facilities:
National level:

The Ministry of Health is responsible for the health care sector for the government and manages several institutions, including hospitals, research institutes and universities. Other ministries also manage their own network of hospitals.

Provincial level:

At this level, there are several hospitals and medical centres. In addition, they also have medical schools offering medical, nursing, and pharmacy programs

District level:

District health centres mainly provide medical and preventive services.

Commune level:

Communal health stations focus on primary health care services at the commune level.
These four levels of Vietnam's health care delivery system provide access to care for all.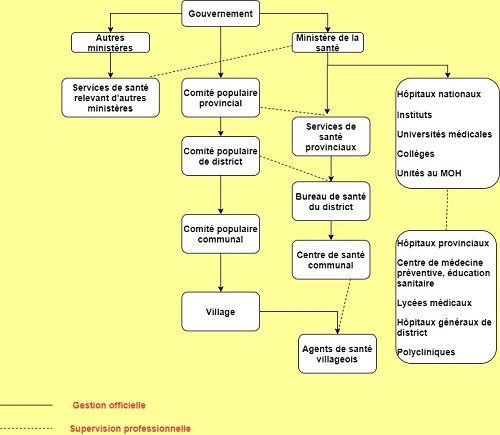 Public Health Services
Access to public hospitals is generally cheaper but often of lower quality due to the higher number of requests. Access to public hospitals is subject to a fee, unlike in France. There is no carte vital system in Vietnam.
The Vietnamese government has set up a social insurance and health insurance system:
Health insurance:

when an insured person participates in a medical examination, treatment, rehabilitation, periodic prenatal examination, or childbirth, he will be reimbursed or deducted immediately from the costs of hospitalization and medicines in the hospital.

Social insurance:

when an employee loses or reduces his income due to illness, maternity, accident at work and occupational disease, disability, unemployment, old age, death, etc. Employees must file and submit to the company for the company to complete the procedures and send them to the social insurance agency. Afterwards, workers receive a social insurance pension.
Access to these two coverages is not automatic.
For health insurance, it is linked to the person's professional or educational activity. In general, the insured person or his/her parents have to pay a small part.
For employees who have been under contract with an organisation for more than 3 months, the total cost of medical insurance is 4.5% of their salary, of which 1.5% is paid by them and 3% by their employers.
For social insurance, the amount paid for an employee's medical insurance is also the amount they have to pay for their compulsory social insurance.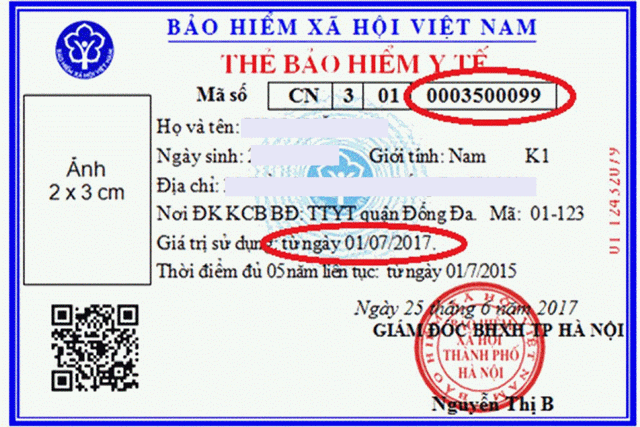 Government Health Insurance in Vietnam
Government-provided health insurance in Vietnam consists of three types: medical insurance, accident insurance, and part of social insurance. Social insurance is compulsory for some people, both local and foreign, in accordance with the Vietnamese Insurance Law.
Medical visitation and treatment fees are only exempt for certain cases such as children under 6 years of age and persons with disabilities who are not able to work and have no income. If you are not on this list, you will have to pay medical expenses, with or without insurance coverage.
Vietnamese people mainly use government insurance for major surgeries and treatments. The process will cover a long time and the costs are very high, such as orthopaedic surgery and cancer treatments. For minor cases such as check-ups, Vietnamese often neglect insurance because the procedures are too complicated.
Procedures in public hospitals
Before the check-up, you will have to provide your information and register at the hospital, pay the fee first, take the number and wait your turn.
If you wish to use insurance, you will have to present it when registering for a control procedure before the payment of the fees. When you check-in at times other than office hours, your payment will not be covered by insurance. If you are hospitalized or need urgent surgery, you must always pay the medical expenses before receiving treatment. You must go to the hospital you chose when you registered for insurance. When you go to hospitals other than the one you have registered, it is very likely that your insurance will be refused, unless the registered hospital is not specialized to treat your disease. In some cases, your insurance may be accepted when you have an appointment at hospitals of the same level (e.g. provincial and national).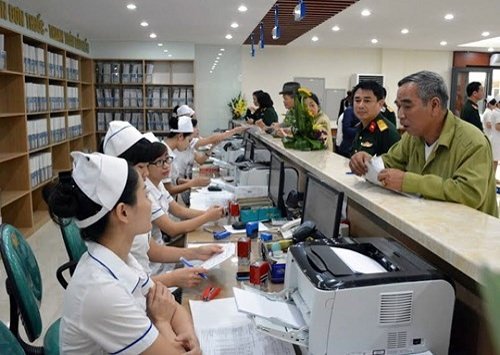 The hospital according to the care required will establish a fee. For each situation, depending on whether you have an insurance card or not, and what type of insurance card you have, you will pay a certain amount.
If you have insurance types 1, 2 and 5, your insurance will cover 100% of your medical expenses with different levels of limitation to other expenses like medication and transfer to the hospital. Type 3 insurance will cover 95% and 100% in some cases, and Type 4 will cover 80%. In addition, not all types of illnesses or medical expenses will be paid by the insurance. Examples of non-coverage fees are the regular pregnancy check-up which does not concern treatment, the use of the prosthesis and the treatment of vision problems.
Public health facilities
In fact, the standards of public hospitals in Vietnam do not meet the expectations of foreigners as in America or Europe. The public health facility in Vietnam is generally underfunded. In addition, the majority of staff, including nurses and doctors, normally speak only Vietnamese.
However, healthcare providers are experienced and qualified doctors. The large size of public hospitals means that they have various medical services to treat a wide range of diseases. The quality and access to medical services such as the number of doctors and state-of-the-art equipment for treatment in urban cities are higher than those in rural areas. This is partly the reason why many hospitals in Vietnam's major cities are filled with people from many neighbouring provinces looking for medical treatment.
Often, rooms are insufficient for all patients and are usually overcrowded. For example, a public hospital in cosmopolitan cities such as Hanoi and Ho Chi Minh City is always overcrowded with a constantly excess bed capacity.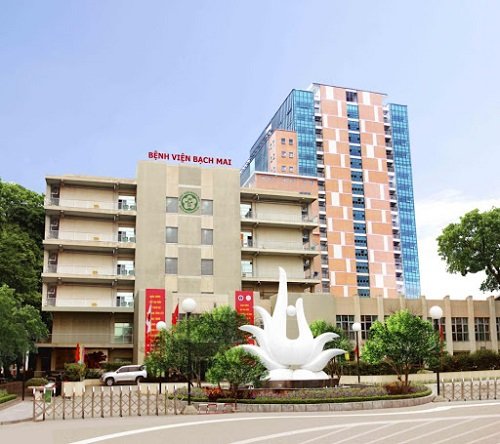 Medicines and pharmacies in Vietnam
Buying over-the-counter medicines in Vietnam are simple, but visitors sometimes have to pay attention to counterfeit or expired medicines. Basic medicines, Western medicines and Eastern medicines are all on sale across the country. Pharmacies are easy to find and well-stocked in Vietnam's major cities, especially in shopping streets, residential areas and hospitals.
In hospitals, there are also pharmacies on site where you can buy the prescribed drug after the check-up. Only certain drugs will be covered by insurance.
Emergency services in Vietnam
The emergency number in Vietnam is 115. However the traffic in Vietnam seems to be very complicated with severe traffic congestion, ambulances in Vietnam sometimes do not arrive on time. A faster and more efficient private ambulance service can be provided by private hospitals. In some cases, the use of taxis to reach the nearest medical facility for emergency medical treatment is necessary.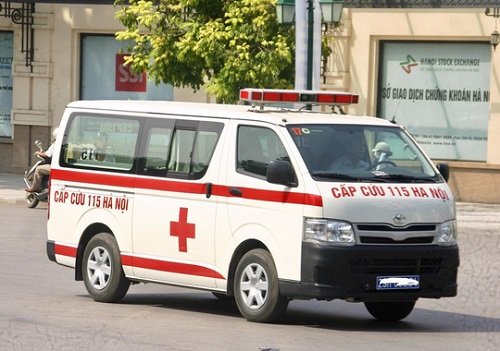 Private Healthcare Services in Vietnam
Private health services include private hospitals. These services are generally more expensive than utilities but more luxurious in customer service. There is no official figure on the number of people who buy medical insurance from private companies. But the cost is at a fixed price and generally higher than the government's, so people who could afford it choose to use private services instead.
Generally, private hospitals in Vietnam are better equipped in terms of high-level rooms and services. They are staffed by qualified doctors trained abroad. And international health insurance is accepted in private hospitals in Vietnam. In addition, doctors and medical staff working in private hospitals in Vietnam can often speak English, French or other languages, making it easier for foreigners to attend in Vietnam.
Life insurance
It is possible to take out life insurance. The principle is to pay each month or each year a sum and after a certain time, we recover a sum with interest. If an accident or illness occurs, life insurance covers the costs of hospital care. If the person dies, there will be money given to his family.
Some common insurance names in Vietnam are Prudential, Generali, Daichi-life, Bao Viet and discounts granted by private hospitals (e.g. Hanoi French Hospital, Vinmec Hospital).
Health Care Facilities
Hospitals and clinics: Some reputable private hospitals in Vietnam are Hanoi French Hospital, Vinmec, French-Vietnamese Hospital, Hanh Phuc Hospital and Hoan My Hospital.
Private hospitals tend to welcome ex-pats, and tourists, so they accept international health insurance. However, the better the service, the more you have to pay. In addition, their sizes are often smaller than in public hospitals with fewer staff.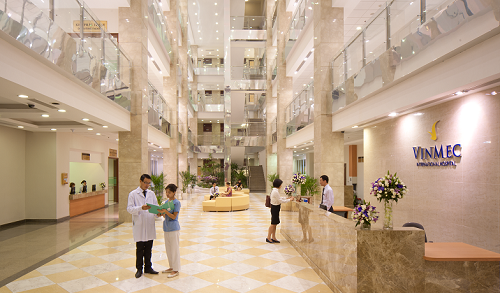 Private clinics can be run by a private organization (such as the French-Vietnamese Saigon clinics), or by an individual doctor from the public sector (so these clinics are only open in the evening).
Pharmacies: Finding medicines (over-the-counter and prescription) in capitals like Ho Chi Minh or Hanoi is not difficult. Even for new travellers, there are many pharmacies that can be easily found on the high streets, in shopping malls and in local markets. We recognize a Vietnamese pharmacy "Nhà thuốc (house of medicine)" on the front. In case of an emergency late at night, there are also convenient pharmacy chains that open until midnights, such as Pharmacity and Vistar Pharmacy.
Always check the expiration date on the package before paying as many dishonest pharmacies may sell you the counterfeit or expired drugs. To take extra precautions, you can bring your own medicines from your home country or buy over-the-counter medicines in hospitals when you travel to Vietnam for a short time.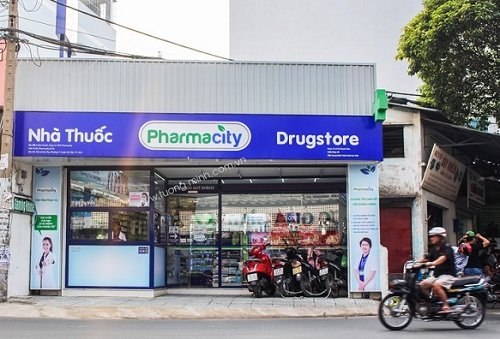 Emergency services. Emergency Medical Response * 9999. This is a private service. The current coverage of this service is in Ho Chi Minh City (14 districts). You can call them 24/7, but there are different fees for in-zone subscribers, out-of-zone subscribers, and non-subscribers. Staff can speak English and Vietnamese.
Procedures in private hospitals
The control procedure is similar to that of the public sector. Acceptance and coverage of insurance are based on the hospital's policy, the hospital's partnership with the insurance company and the insurance policy. Some private hospitals also have membership programs, with which patients will receive special offers or discounts. You will also need to present your insurance card to the staff before making the payment when registering your information at the hospital.
Government insurance can also be used in private hospitals if the hospitals contract with the social insurance service. If you have to pay the deposit before treatment in urgent cases, it depends on the policy of the hospital.
Health risks in Vietnam
Water contamination is still a big challenge for the government of Vietnam. Even though tap water is safe for brushing your teeth or taking showers, it is advisable to never drink directly from the tap.

The chaotic pace of Vietnamese traffic can scare off any first traveller, carefully follow these safety procedures if you decide to participate in a means of transport.

If you travel to rural areas where hygiene standards are not always guaranteed, infectious diseases such as hepatitis B, hepatitis C and tetanus can pose a major threat. Make sure you have taken all necessary vaccinations before travel.

Minor problems such as sunburn, dehydration, and sunstroke should not be taken lightly due to the tropical climate, especially during the humid summer.
You should also take these basic precautions to minimize the risks and ensure that your stay in Vietnam is as safe as possible.
Health services in remote areas
The quality and availability of health care are limited in rural areas. The government has devised a series of new plans to develop the health system in remote areas of the country. Local clinics and hospitals are currently open in many districts while volunteer doctors are also being recruited.
Travelling to Vietnam for a medical procedure
Many Vietnamese currently residing abroad, and even foreigners, choose Vietnam as a destination for various medical procedures. Such as dental treatments, dermatology or infertility problems, etc. in combination with travelling or visiting relatives due to the significantly lower cost compared to Westerners.
Ask your Vietnamese friends and acquaintances for recommendations for a trusted doctor who usually treats local patients because the price for doctors specializing in treating foreigners is much more expensive.
Conclusion on health care in Vietnam.
A trip to a foreign country can be a great adventure of a lifetime. That's why it's extremely important to take precautions before you leave to minimize avoidable risks and avoid unnecessary threats.