Among the handicrafts of Vietnam, it is worth noting the Vietnamese furniture that has made a spectacular comeback in modern life nowadays. With the improvement of the standard of living over the last 20 years, the Vietnamese have adopted some Western habits in food, leisure, clothing, etc. they have also resumed some lifestyles very important for their family life.
For example, while Westerners are building fewer and fewer houses, the Vietnamese still set aside a large budget to build one, only once in their lives, as an important goal. Vietnamese furniture represents an important investment because if one has solid wooden furniture to install in the living room of the house, it is seen as a sign of prosperity, happiness and success of a family.
It is for this reason that the Vietnamese furniture market, especially wooden ones, has experienced an astonishing vitality in recent years. Whether in big cities like Hanoi, Hai Phong, Ho Chi Minh City, or provincial cities, one can easily find wooden furniture shops or an entire street specializing in the manufacture or trade of wooden furniture.
For example, in Hanoi, it is De La Thanh Street in the western part of the city that gathers wood products, not to mention the many other shops scattered throughout the city and on the outskirts. Many villages around Hanoi have also resumed their furniture manufacturing, which had experienced a break during the period of the planned economy. In short, the Vietnamese wooden furniture market enjoys a strong vitality!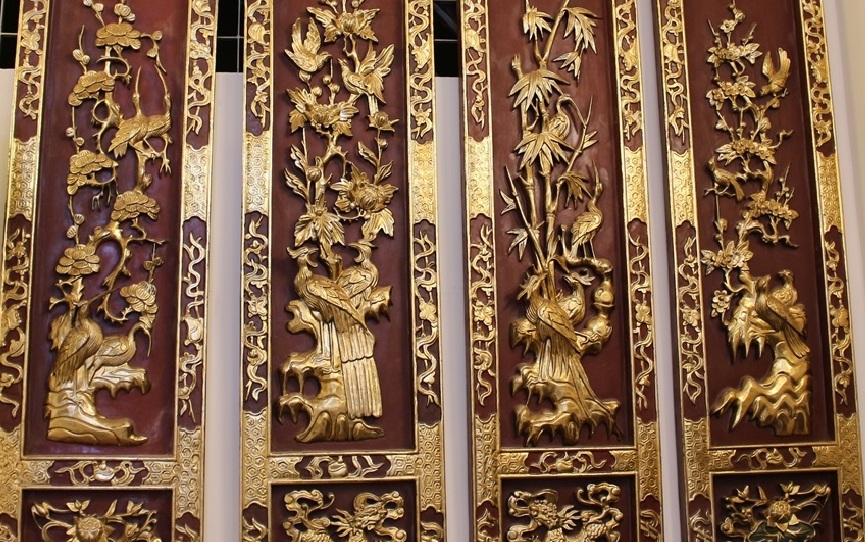 Vietnamese furniture and its varieties:
There is a wide range of Vietnamese wooden furniture. The best-selling wooden furniture is naturally tables, chairs, beds… of all kinds, styles and in all price categories. Even children's wooden furniture is increasingly bought by households. European-style furniture models also abound. On the other hand, there are still many shops or craftsmen who continue to present traditional style furniture, often of a rather heavy style and richly decorated with old Chinese-inspired motifs.
With the modernization of life, the Vietnamese are even investing in the memory of their ancestors, with wooden ancestors' altars occupying an important and sacred corner of the living room. Traders have seized this trend to sell a wide range of furniture of this kind, not to mention a multitude of wooden objects and accessories to put on these altars…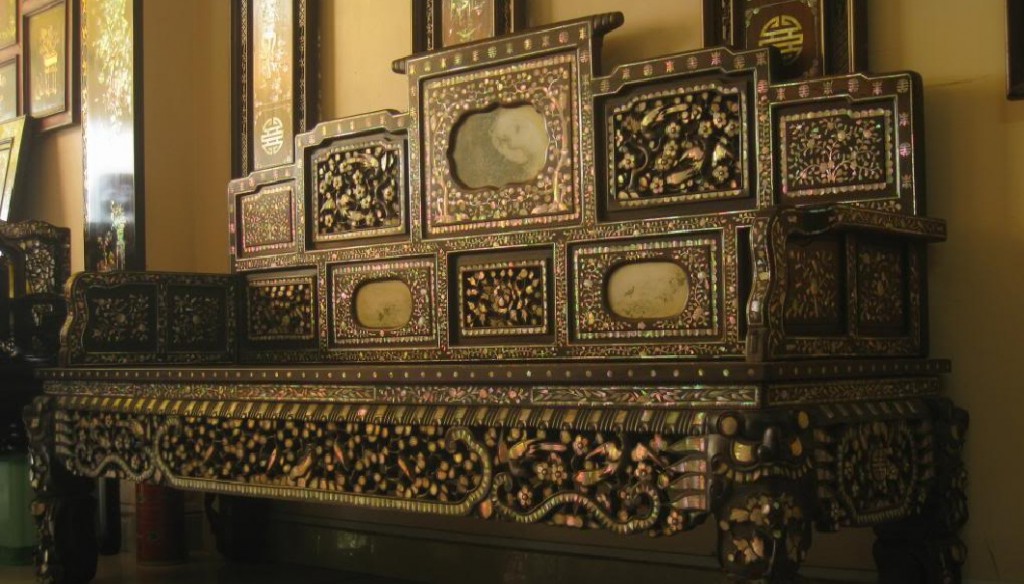 In the living rooms of each house, in addition to the wooden furniture that is preponderant with brown as a dominant colour, some objects made of precious stone or bronze occupy a special place. They are often statues (like Buddha with a big belly), or precisely decorative objects. Many Vietnamese still believe, like the Chinese, that the use of an object of a certain material can create a certain balance and therefore bring benefits to the family. So, more than a sign of success, the use of furniture is in many cases governed by a certain belief or spiritual need. This is somewhat the influence of the ying-yang theory and that of the five elements (metal, wood, water, earth fire). In the age of modernity, we note with great astonishment the return of the profession of advisor in terms of furniture arrangement in a house.
For those who have enough time in Hanoi and want to experience in depth the activity of making traditional furniture, they can visit two beautiful villages specializing in the manufacture of traditional Vietnamese furniture: Dong Ki village on the outskirts of Hanoi; La Xuyen village in Nam Dinh province, etc.
Finally, we invite you to see our short video on wood carving in Vietnam.