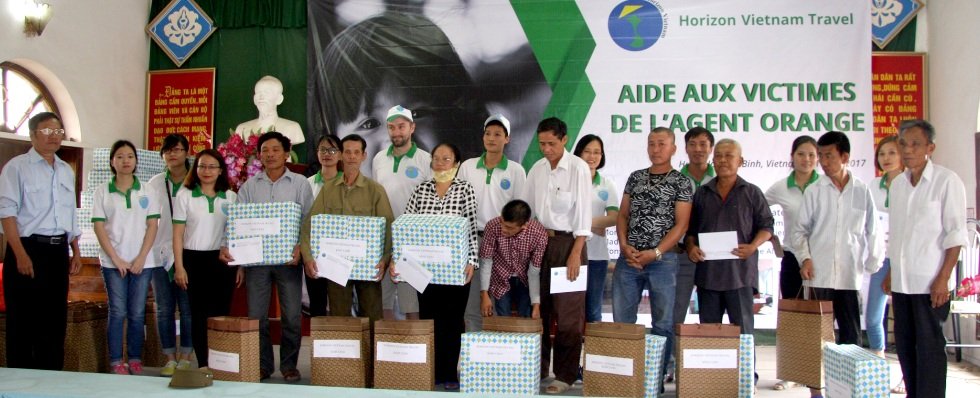 As usual, HORIZON VIETNAM TRAVEL association carries out once a year humanitarian activities to help the poor people in the remote highland areas and the disabled children.
This year 2017, our agency has decided to help the family members who were victims of the Agent Orange war against the American army.
During the last war in the 20th century, Vietnam, Laos and Cambodia were hit with 2,865,808 tons of bombs, which is between 3 and 4 times the number of bombs dropped during the whole of the Second World War, or the equivalent of 450 atomic bombs from Hiroshima.
During this violent war (between 1965-1974), the US army killed more than one million Vietnamese soldiers, more than 2 million civilians and more than four million wounded.
The war ended more than 40 years ago, but the consequences still remain.
The negative effects considered most dramatic nowadays are those caused by the Agent Orange bombs.
Today, the number of Vietnamese victims is estimated at more than 4.8 million.
Agent Orange, which contains dioxin, is suspected of causing two kinds of dramatic consequences: serious diseases such as cancer and reproductive abnormalities, birth defects. There are children of the third generation who are born with disabilities that may be caused by Agent Orange, even if their parents are healthy.
Today, these victims are scattered all over Vietnam.
It is for this reason that this year HORIZON VIETNAM TRAVEL has decided to organize our activities of visiting and helping the severely affected victims.
On Saturday 17 June, our team of 10 people with 2 vehicles, one of which was carrying gifts. We went to the site to meet the 30 families of victims and we distributed a gift of 800 000 VND for each family.
On the spot, we were in a sad and shocking atmosphere, we are really touched by these people only 30 years old who remain immobile on small beds; fed by a very old and poor mother or father. Many of the cases are deaf, blind and mute at the same time. They struggle to survive every day.
In our opinion "the victims of Agent Orange are among the most unfortunate and are the poorest of the poor".
We are very sensitive, proud of our significant activities with a fund that is still quite small but through this activity, we hope to be able to also transfer a message to everyone, to the different associations inside and outside Vietnam to come and help them.
Finally, we would like to warmly thank the donors; the clients of our faithful travellers' club.
1. Mrs LYDIANE ROUVRES
2. Mr Jean-Louis Chatagnier
3. Ms Nguyen Thi Kim Loan
4. Mr TANTAU JEAN MARIE & Mrs Alice TANTAU
5. Mrs Aurore Morançais
6. Mr Yves GLASSON.
Together with all the members of the HORIZON VIETNAM TRAVEL team who helped us in this very successfully organised programme.
Hanoi, Vietnam 23 June 2017
TA BAU, Director-Founder