The rainy season in Vietnam is intense, as it is in other countries subject to this type of climate. Therefore, it is an important and worrisome subject for anyone planning a trip to Vietnam, or simply interested in the climate of this country. 
When we talk about Asian countries, we often hear about the monsoon. You should know that the monsoon differs greatly depending on the various countries. Indeed, it does not occur at the same time and in the same way.
So here is information about the monsoon in Vietnam, which we rather call, the rainy season.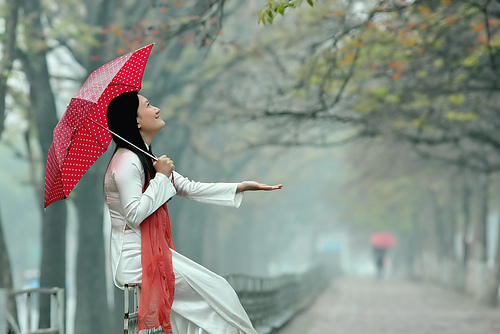 Rainy season period
The rainy season in Vietnam is rather short, generally extending from mid-July to September. After the intense summer heat in June and July, this is a refreshing shower that is appreciated by the Vietnamese.
More generally, Vietnam is subject to two seasons. One, cool and dry, extending from October to April and the other, hot and rainy, extending from May to September. The latter, compared to the other regions of the country, is more clearly marked in the South.
Rain in Vietnam and its characteristics
With the characteristic of passing through low-lying areas on time, the rainy season often brings rapid and intense downpours. In general, we can predict a storm by observing the sky filled with large dark clouds. This indicates that the rain will fall very soon.
It is necessary to quickly find a shelter to admire the scenery of the waterspouts which break from the sky in complete safety!
Watch out for traffic
These heavy showers are not dangerous for travelers, but traveling during this period requires excessive caution. The good news is that the road system in Vietnam is in marked improvement, allowing you to commute in any season.
Clothing for the rainy season
In this season, the rains are intermittent but sporadic. This is why it is useless to bring along a raincoat from home because you can easily catch sight of vendors selling very light raincoats, covering all your body parts from head to toe. They dry very quickly and can be curled up in your bag for next time use. They are offered to you at an affordable price!
For shoes, in the rainy season, you are advised to buy sandals which are capable of draining and drying water quickly with ribbed soles to prevent slipping. For example, in Hanoi, on Cau Go street, adjacent to the water puppet theater, you can find these sandals with scratches everywhere, allowing you to hold your feet well and walk for a very long time without risk of overheating.
How to avoid the rainy season in Vietnam?
Of course the easiest way to avoid the rainy season in Vietnam is to go during the dry season between October and June.
However, if you are unavailable, traveling during this season is still a good choice. All you have to do is adapt during the showers and interrupt your visits. What makes Horizon Vietnam Travel practical is that you have a vehicle at your disposal. This allows you both to take shelter, but you can also continue your journey in complete safety thanks to our drivers who are experienced in driving in these conditions.
Hoping that our little information will be useful in preparing for your trip.