If you want to satisfy your craving for good food, while being able to find yourself in a poetic setting and enjoy creations in Hanoi, there are enough choices for you. Many restaurants in Hanoi are investing in this direction, making the spirit of creation to create its own style. If we have chosen the best popular restaurants for you, we also like to make another selection of restaurants for you according to these criteria.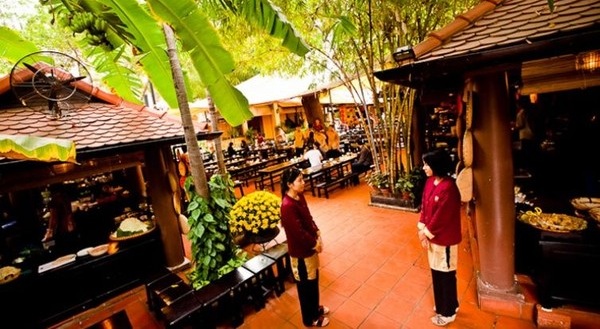 1.

French Grill Restaurant
Address: 8 Do Duc Duc Street – Nam Tu Liem-Hanoi
Quite far from downtown Hanoi but it would allow you to escape the city a bit, to see another more modern Hanoi. This restaurant, hosted by the JW Marriott hotel, has a rare sublime atmosphere, and above all a gifted and friendly chef. Its menus are rich in dishes, especially French, (Steakhouse, Seafood/Fish, Barbecue/Grill, Grill), which promise to be very tasty, and fresh. It is not at all exaggerated if we present this restaurant as a nice place to celebrate a wedding anniversary! Foie Gras ravioli, steak,
2.

Red Bean Restaurant (hosted in the hotel of the same name)
Address: 94 Ma May street
This restaurant, a nice and very quiet place, is a real "pearl" in the heart of a very touristic district of Hanoi. This restaurant has everything the most demanding customers need: taste, presentation, decor and atmosphere, service, etc. You can therefore spend a real evening there!
3. Restaurant Gia Ngu (Gia Ngu Restaurant)
Address: 27-29 Gia Ngu Street
This restaurant offers Vietnamese and mixed menus. Vietnamese cuisine in particular is refined and even creative, with new versions. Chicken curry served in a coconut is commonly enjoyed. You can even order typical and simple Vietnamese dishes like pho-soup with rice paste.
4. Restaurant (Essence Restaurant)
Address: 22 Ta Hien Street
If you live in the central part of the old quarter, it will be very convenient to get there. The fairly varied dishes, both Vietnamese and European, are prepared with great refinement. There is everything that is more exotic: nem-spring rolls, chicken cooked in a banana leaf, crème brûlée, bamboo beef, etc. The staff is gracious and professional.
5. The Gourmet Corner Restaurant
Address: 32 Lo Su Street in the Old Quarter
This restaurant on the twelfth floor offers you a chic setting and above all a view of Hanoi full of poetry. The dishes promise to be beautifully presented and excellent. There is no shortage of Vietnamese specialties. A favorite and highly sought-after place in Hanoi, and therefore it is recommended to reserve a table before arriving there. For those looking for both sophistication and abundance for a full evening, this venue comes highly recommended.
6. Restaurant Coyen
Address: 99 Hang Gai
A suitable place to take shelter from the noise and chaotic scenes of Hanoi. Its setting is indeed very elegant, with very nice, intimate and clean corners. The dishes offered are varied and good. The staff are attentive and charming.