Hanoian dishes are very fine both literally and figuratively. Indeed, if the Hanoians eat little, they are above all looking for refinement, a refinement that is not at all similar to that of the cuisine of the ancient capital of Hue in the center. Compared to Saigon cuisine in particular, Hanoian dishes are not as sweet or spicy, although there are always a few very fine pieces of garlic or chilli. So much the better, it is better to taste it to know its flavors!
Here we offer you the 8 best typical dishes of Hanoi
1. Pho – Rice noodle Soup:
You may have heard a lot about this dish that is found everywhere in Vietnam as the symbol of Vietnamese gastronomy for example. CNN ranks "pho" 28th in the ranking of the best dishes in the world…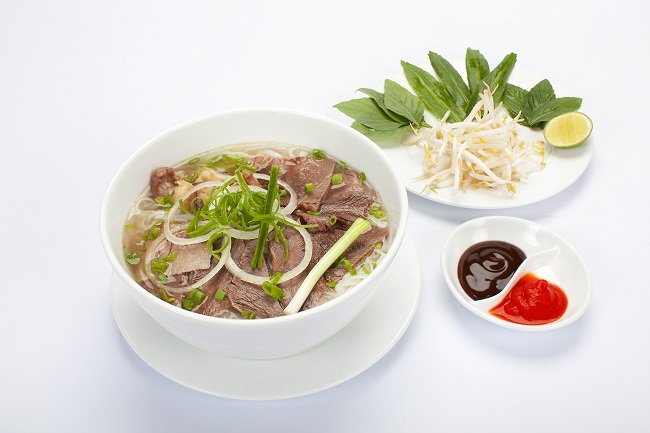 But this detail would have escaped your attention: the pho of Hanoi and the province of Nam Dinh in the North of the country are reputed to have the most taste. The most demanding customers ask that a bowl of pho have a broth with a natural sweet taste, that is to say that it be prepared with beef bones, that it be served hot, with a few stalks of Vietnamese chives, a few drops of lime, and a few fine pieces of red pepper… The rice noodles should be a bit tough. We suggest you below these good addresses
– Pho Ly Quoc Su at 10 rue Ly Quoc Su, a few steps from the Cathedral.
– Pho Bat Dan at 49 Bat Đan Street in the Old Quarter.
– Pho Thin at 13 rue Lo Duc
– Pho Suong at 24 Trung Yen Street.
– Pho Vui: at 13 Hang Giay Street in the Old Quarter.
2. Cha Ca La Vong – Fried Fish
Very fine fish fillets are fried over a charcoal grill, then served with aromatic herbs, rice vermicelli, and roasted peanuts… Nothing could be simpler, but how to season these very fine fish fillets , how to grill them or how to prepare the sauce…it's a skill that only a few restaurants master perfectly.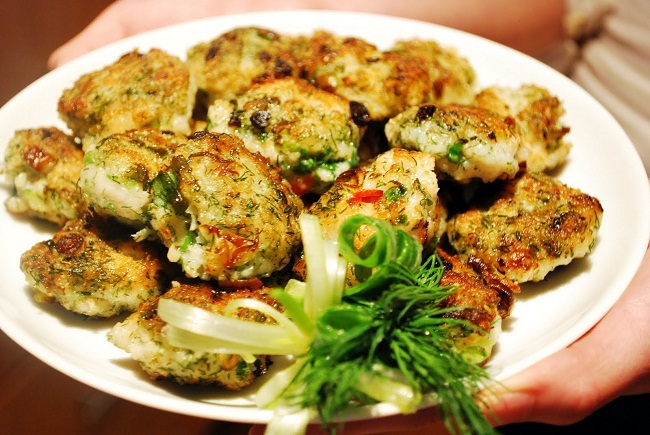 The restaurant "Cha Ca La Vong" (14 Cha Ca Street) was elected by the American news channel CNN as one of the 10 places to see before you die. There are also other fairly good addresses like Cha Ca Thang Long on Duong Thanh Street, the one at 107 Nguyen Truong To Street.
(Cha Ca La Vong)
3. Bun Cha – Grilled Pork noodles with dipping sauce
Many small restaurants along the sidewalks of Hanoi serve this dish, especially at midday when people are taking a lunch break. Everyone dips with his chopsticks vermicelli, salads in a bowl of sauce-a mixture between nuoc mam, vinegar and sugar in which we dip pieces of garlic and pork meatballs grilled on charcoal of wood before using it. A favorite dish of Hanoians!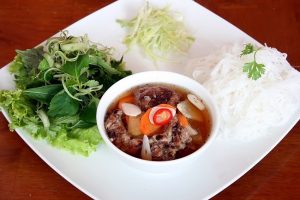 Here are our suggested addresses:
– Bun Cha at No. 1 Hang Manh Street in the Old Quarter
– Bun Cha at 140 Ngoc Khanh.
– Bun Cha at 49 May Hac De.
– Bun Cha at 59 Hang Ma Street in the Old Quarter.
4. Banh Tom Ho Tay – Shrimp Pancakes
Banh tom is prepared with wheat flour dough, cut sweet potato, the whole thing is shaped on prawns and fried in oil. The cake should be crispy, fragrant and served with nuoc mam sauce and vegetables.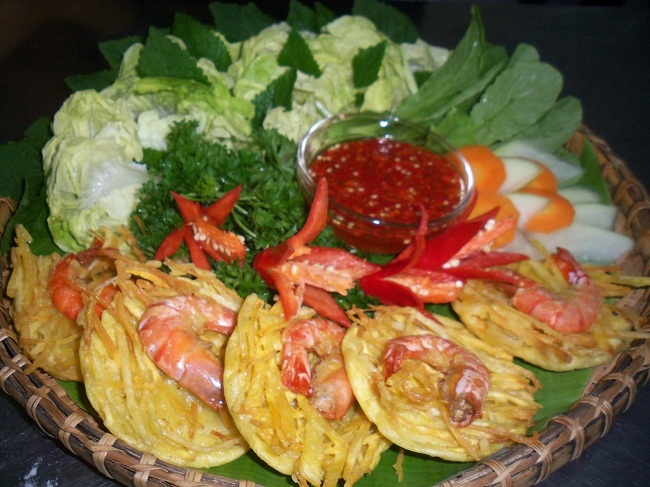 Here are some good addresses:
–Banh Tom Ho Tây restaurant in Thanh Niên street
-Banh Tom restaurant at 22 Hang Bo in the old quarter
(Bun Cha)
5. Bun Thang – Hanoi Chicken Soup
Another dish in which the broth plays a central role. We add lots of ingredients prepared with great refinement. This richness gives this dish full of flavors:
rice vermicelli with shredded chicken, omelet, julienned pork meats and mixed prawns.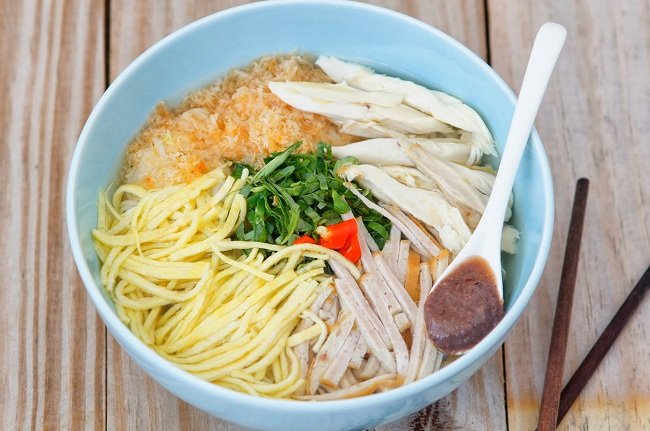 We suggest these addresses:
-Bun Thang at 32 Cau Go in the Old Quarter.
-Bun Thang at 11 Hang Hom in the Old Quarter.
6. Bánh Cuốn or Vietnamese springroll.
Bánh Cuốn deserves to be one of the most typical dishes of Vietnam and Hanoi. Fresh sheets of steamed rice with a stuffing containing ground pork, black mushrooms… It is served with an ingeniously prepared sauce: a mixture of nuoc mam, sugar and other spices.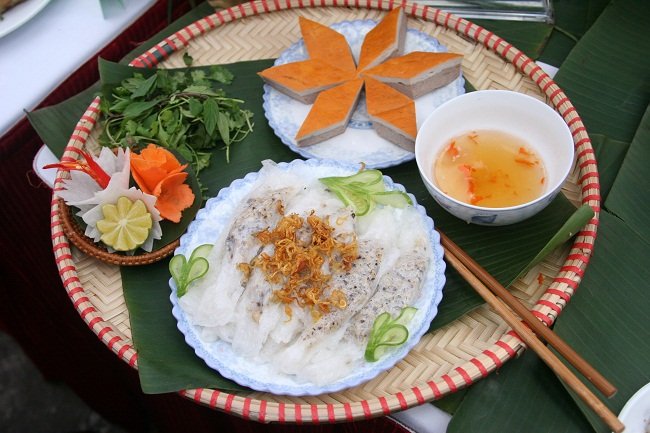 There are enough good Banh Cuon restaurants in Hanoi including:
– Bánh Cuon Ba Trieu – in the street of Ba Trieu (in front of Vincom Tower) is one of the high-end restaurants.
– Banh Cuon Gia An at 61 Huynh Thuc Khang…
7. Spring roll with crabs:
If you are familiar with spring rolls, the crab nem is a more special recipe: if there are always sheets of rice to roll up a stuffing, crab meat is added to the ingredients, which gives a flavor and a particular taste. It is at 123 Bui Thi Xuan Street that we find one of the best restaurants offering this type of dish.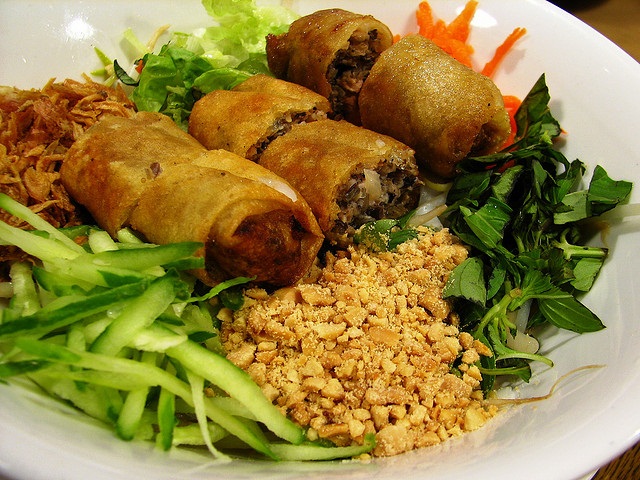 8. Xôi–sticky rice with chicken. 
Hanoians often have it for breakfast, but also at noon. The restaurants of Xoi are concentrated in Nguyen Huu Huan street. It is the Xoi Yen restaurant that is famous.