Vietnamese dishes always leave a striking memory for the traveller. Known for its finesse and diversity, as well as its exotic flavours and scents, Vietnamese cuisine ensures a delicious journey for the taste buds. It is also attributed to balanced nutritional qualities explaining the fine size of the Vietnamese! We offer you a culinary journey to meet the best typical meals in Vietnam. Here, so the list of the 10 best popular Vietnamese dishes.
We explain the specificities of each local speciality such as the Bun Cha of Hanoi or the delicious Bun Bo Hue. We have also made recipe videos for you to concoct at home these delicious Vietnamese dishes.
In order to taste the best local cuisine, contact us to create your tailor-made trip to Vietnam!
The 10 Best Popular Vietnamese Dishes
Pho – rice noodle soup
In Vietnamese gastronomy, pho is considered the symbol of the country, it is the national dish. This dish originates from Hanoi, the capital of the country, it represents the traditional values of the city.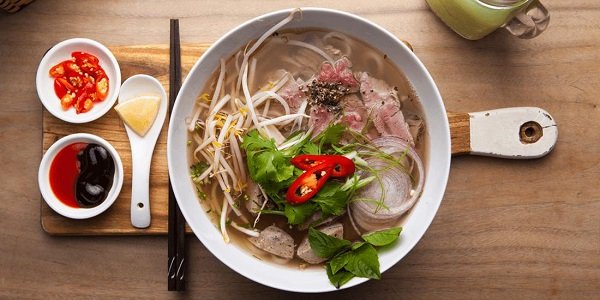 In Vietnam, it can be found everywhere in street restaurants at very affordable prices. After ordering, we sit on one of the typical small plastic stools and all that remains is to feast.
Today, pho has spread throughout the world. So you have the opportunity to discover this dish by staying in your country. However, to really understand the subtleties of this dish and the variations of its recipes, you have to take the time to taste various pho. It is during a trip to Vietnam that you will have the best opportunity to appreciate this dish and observe how the Vietnamese enjoy it.
The recipe seems simple: This is a soup consisting of beef broth and fresh rice noodles. Yet, what is exceptional and refined is the sublime combination of spices such as ginger, grilled onion, anise and cinnamon. Finally, we must not forget the aromatic herbs of the country such as coriander, basil and chives.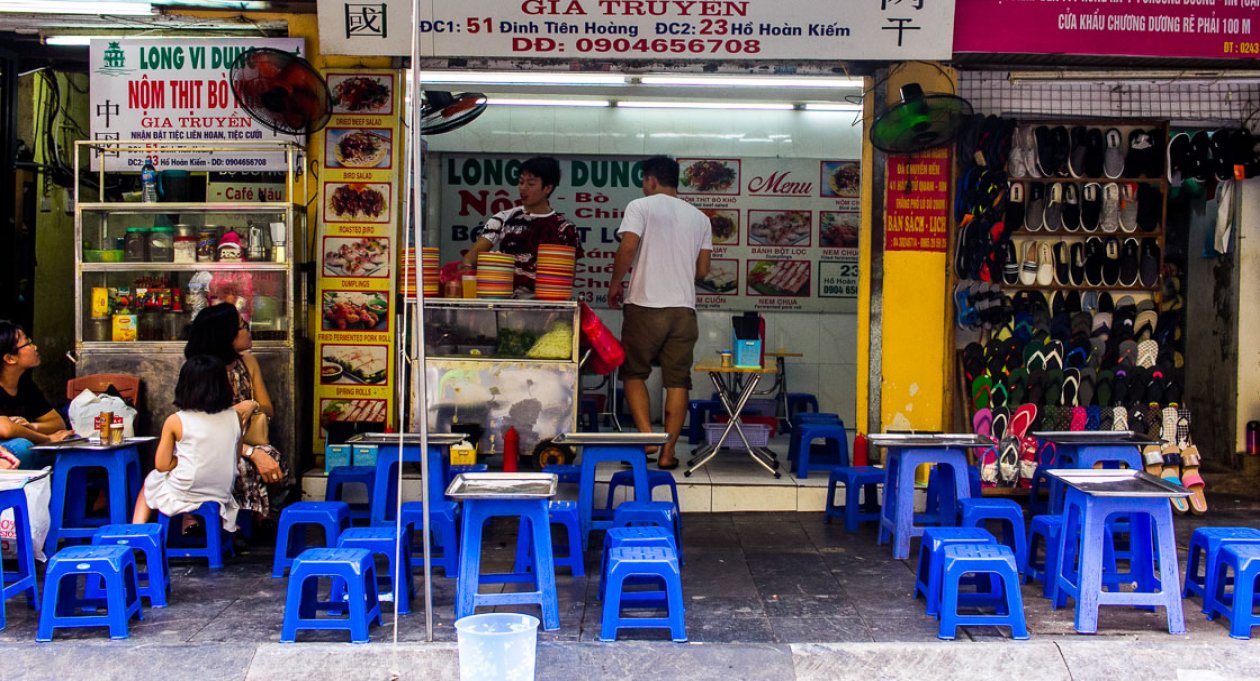 In order to taste the pho, lovers can adjust their bowls to their taste palette by adding chilli, lemon or vinegar.
The average price to taste pho in Hanoi is about 40 dongs, i.e. 1.5 euros!
There are many ways to cook it, so if you want to try to prepare this dish, check out our Pho recipe. We show you a simple way to prepare it.
Where to taste it in Vietnam?
The list of restaurants offering this dish in Vietnam is endless. Pho Bat Dan is however a must-see restaurant in Hanoi since the 1960s the family establishment has only been selling Pho bo (beef noodles) since day one and has never changed its menu.
Address: 49 Bat Dan Street, Hoan Kiem; Hanoi – price between 50 and 70000 dong (2 or 3 euros)
The Goi cuôn – the spring rolls
Just like its French name suggests, spring roll is a Vietnamese dish that brings with it an unforgettable spring freshness every time you enjoy it.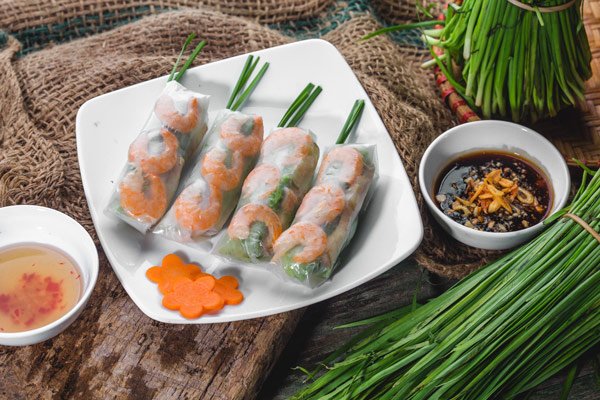 Presented in the form of rolls, to garnish them, we use green salad, a pinch of fresh vermicelli, a slice of pork, a cooked shrimp, finely sliced omelette, a little pineapple and carrots in julienne (of course we do not put all the ingredients at the same time!). A rice cake is used to wrap the ingredients, the thickness of which varies according to their region of origin.
Finally, the essential accompaniment of these rolls is their sauce. This also varies according to the region where you eat spring rolls: in the North, you eat them with the traditional nuoc-mam sauce. In the Centre, they can be eaten with mam-nem and in the South, with a less salty and sweeter version of nuoc-mam.
This Vietnamese dish can be served pre-rolled. But it is often more user-friendly to present the ingredients on trays and everyone rolls their own roll. Each roll may be different. spring rolls are proof of the creativity of Vietnamese cuisine; with preparation and simple food is created a masterful dish! This dish is one of the 10 dishes not to be missed for foreigners during their stay in Vietnam.
If you want to know everything about this dish, discover the way to prepare it: the recipe for spring rolls
Our recipe is in the video!
Address to taste the rolls in Vietnam
In Hanoi, a street is famous for tasting spring rolls on small improvised terraces: street 25 or 33 Ngu Xa street, Truc Bach, Ba Dinh
In Ho Chi Minh, there are two establishments in the centre and easy to find. 
Wap and Roll Restaurant. 
Address: 62 Hai Ba Trung Street, District 1, Ho Chi Minh City. 
Price: 62,000 dong. 
Pho Ong Hung Restaurant 
Address: 207 Phạm Ngu Lao Street, District 1, Ho Chi Minh City 
Price: 41,000 dongs.
Banh mi – the Vietnamese sandwich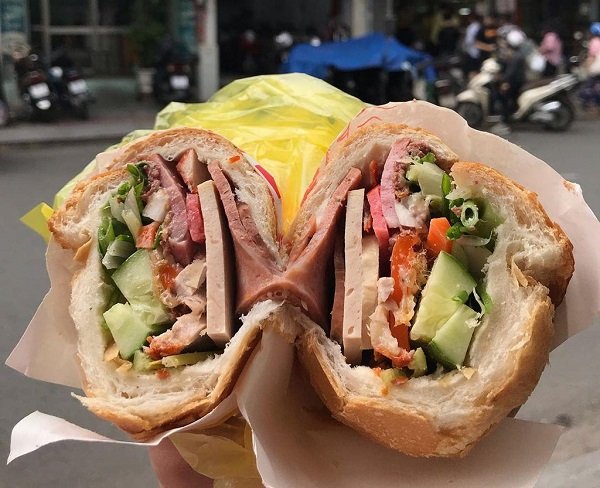 The "Vietnamese sandwich" is one of the 10 best sandwiches in the world. It is a staple of Vietnamese street food. It is recognized as one of the 11 best street foods by the prestigious National Geographic. His secret is not at all confidential: his bread is a Vietnamese baguette, filled with slices of grilled pork or Vietnamese pâté, carrot and green papaya in pickled julienne. Last but not least, we add Vietnamese coriander.
The filling is actually modifiable: everyone can have their own version of banh-mi. They can be found on every street corner in Vietnam, and they are often of excellent quality. But the banh-mi paradise is in Ho Chi Minh city, and Hoi an!
Among the Vietnamese dishes to take away this one is the most suitable for delivery, with no problems with sauces that flow!
Read also Vietnamese street food
Nem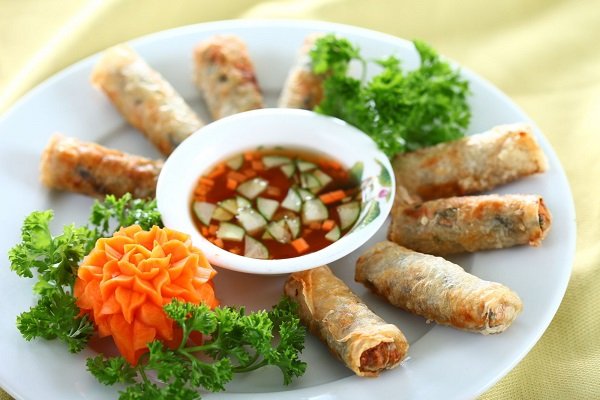 Contrary to what some people think, the Nem is of Vietnamese origin and not Chinese! The "nem" is a traditional dish of Vietnam that is well known to Westerners but also very much loved by locals. It is an ideal dish to share with family or friends. You can eat it every time you enter a Vietnamese restaurant.
Also presented in roll form, the difference with the spring roll and that nems are eaten fried and of course, with nuoc-mam sauce.
Its padding contains different ingredients mixed together such as meat, soy, aromatic herbs, onions, salt and pepper. The whole thing is then a very fine rice cake. Nem is actually the most popular dish in Asian restaurants in France and also in Europe. If you want to know everything about Vietnamese nem, we dedicate a full article, click on the link below.
Discover the recipe of the complete Vietnamese nem in the video.
Bun Cha –  rice noodles and grilled pork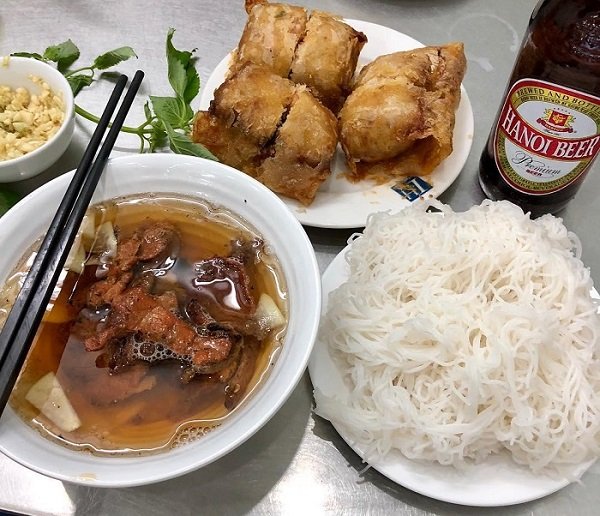 Another Vietnamese dish that counts is undoubtedly bun Cha, whose attractive smell is recognized in every street of Hanoi at lunchtime. Its composition is made of fresh rice vermicelli accompanied by grilled pork. The meat is bathed in a special sauce, the main ingredient of which is nuoc-mam. The Vietnamese raw vegetables which are carrot and papaya add an extra soul to the dish.
Originally, the pork was grilled with charcoal on bamboo stalks that then infused their unique smell into the pork. Nowadays, because of the lack of convenience, we only find in a few corners of Hanoi this cooking of bun-cha.
Where to eat a Bun Cha in Hanoi?
It is very easy to find this dish in Hanoi and throughout Vietnam. However, the quality can vary greatly depending on the establishment. Here is an authentic restaurant in which you are sure to feast:
Bun cha Huong Lien – 26 Lê Văn Hưu Street, Hanoi. Run by The Huong Lien Family for over 23 years. Probably the best restaurant to enjoy a bun cha in Hanoi. the price is 50,000vnd per person. This establishment became world-famous following the visit of President Obama!
Want to taste it? Prepare this dish of the "Bun Cha" by following our video in our dedicated article
 Cha ca – marinated fish fried with herbs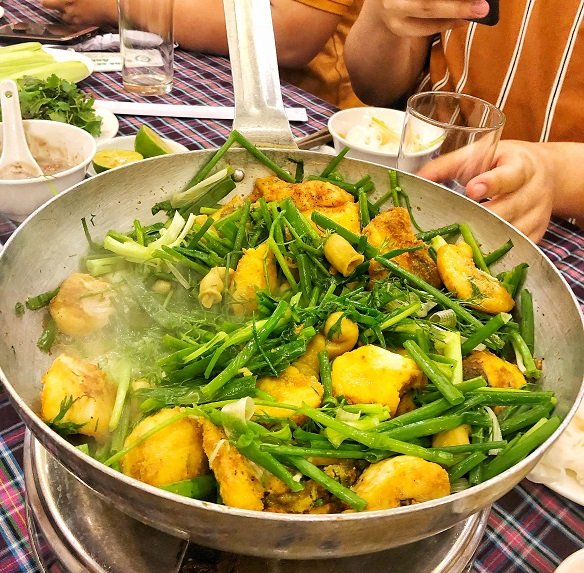 The recipe for Cha ca dates back more than 130 years. It was invented by the Doan family in Hanoi who served the special dish to the troops during French colonial rule.
Cha Ca is a marinated river fish dish with a mixture of turmeric, garlic, shallots, galangal (similar to ginger root), salt, sugar and fish sauce. After marinating the fish for at least an hour, it is usually grilled in advance and then fried in oil when it is ready to be eaten.
It is worth remembering that fish holds an important place in traditional Vietnamese meals with so many appealing recipes handed down by our grandmothers. This popular ingredient is, this time, honoured at the table thanks to the unsuspected culinary refinement of the Hanoians.
With its complex preparation and "rituals" for savouring it, the dish is supposed to express the elegance and culinary creativity of the capital's inhabitants. This dish is served all day long and in all districts at a modest price of 30,000 to 40,000 dong.
Where to eat a Cha Ca?
The restaurant Cha Ca La Vong, which dates back to the French colonization, serves only one famous dish: cha ca! It is a reference place to taste the dish.
Cha Ca Thang Long Restaurant is another quality address located in downtown Hanoi to enjoy a good Cha ca. Address: 19-21-31 Duong Thanh, Hoan Kiem, Hanoi
 Bun bo Hue – beef noodle broth
It is a typical dish of the Hue region in central Vietnam. Recipes with buns are very numerous in Vietnamese cuisine. Still, the best-known bun dish is bun bo Hue. What marks the success of bun bo Hue is its red broth, which contains mam ruoc. Mam ruoc is a kind of shrimp paste specific to the central regions of Vietnam. The vermicelli of bun bo Hue is much thicker than those of northern buns, hence a soft and fluffy texture, which perfectly accompanies the spicy taste of the broth.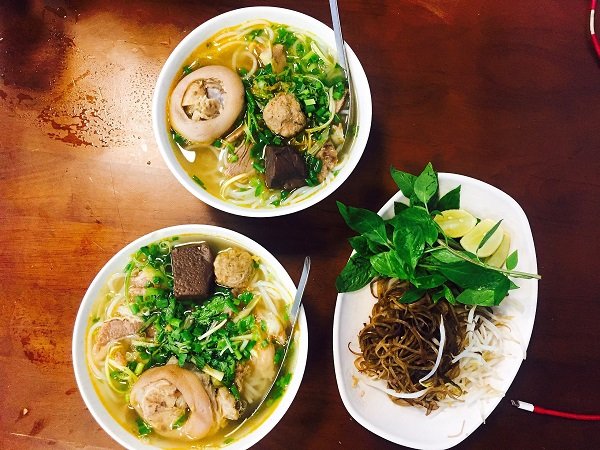 Cao lau – Hoi an yellow noodles
This central Vietnamese dish bears its origin from the small town of Hoi an. It is less known but it is a popular local speciality. What characterizes this dish are the noodles with yellow colours. They are accompanied by smoked pork, crispy skin, salad and soy sprouts. Mint comes to flavour the whole. Finally, everything is incorporated into a broth named Cao Lau. Lemon is also added in most cases.
According to legend, the first Cao Lau noodles were prepared with water from the ancient "Ba Le" well located in the centre of Hanoi. This would have given him his inimitable taste.
This combination of special noodles, pork, herbs and spices makes it a must-have dish during your culinary stay in Vietnam.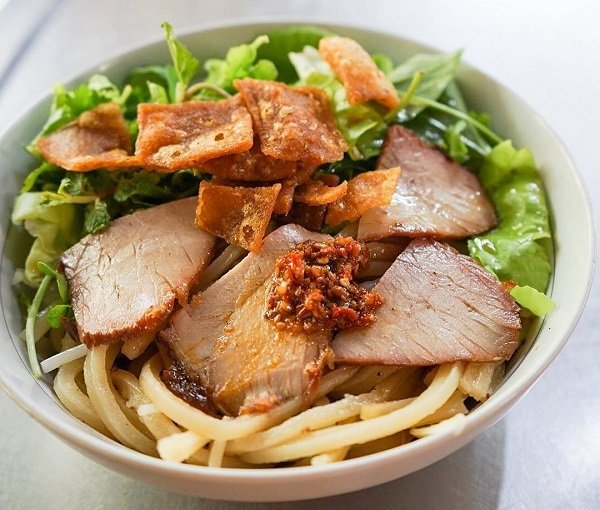 In Hoi An, you will find this typical dish on every street corner. If you are in Hanoi the most famous restaurant serving this meal is Bale well It is located on Tran Hung Dao Street in the centre of the capital and next to the well of the same name. Indeed the restaurant itself cultivates a legend for the least controversial, the water of the Cao Lau would come from the well Bale well!
To know the end of the story the best will be to go there! 
The Cao Lau Lien restaurant is another typical address in Hanoi. The cook's recipe is secret and he only uses ingredients from his garden. guarantees pesticide free! address: No 9 rue Thai Phien
Banh khot – shrimp pancakes
These small Vietnamese pancakes are native to Vung Tau, a coastal region in southern Vietnam. We finish each pancake in one bite; but the latter contains a whole world: the pancake made of rice flour, seasoned with turmeric powder; a piece of soybean sprout; freshwater shrimp; coconut milk… The sweet version of nuoc-mam takes all these ingredients together and offers us a unique culinary experience.

Where to taste shrimp fritters?
This dish is a snack that can be found in street restaurants or small travelling carts of Vung Tau.
Bún bò Nam Bộ – beef rice vermicelli
Here is another delicious dish consisting of Bun (Rice Vermicelli). In Vietnam, Vietnamese love rice vermicelli and Bun Bo Nam Bo is one of Bun's most famous dishes. It stands out for its delicious flavour and nutritional capacity. Indeed, the components of vegetables, pasta and beef ensure you are full of energy all day!
This recipe originated in northern Vietnam, "beef rice vermicelli" is more easily found in restaurants in Hanoi. Quite light and very refreshing with its many herbs, Bun Bo Nam Bo is undoubtedly one of the favourite Vietnamese dishes of travellers. It is very balanced in its flavours and textures, with melting beef and crispy roasted peanuts and shallots.
Cooking bun Bo Nam Bo is not that complicated and all the ingredients are available in France. You can follow our typical recipe explained by My and Nhan to prepare it!
A favourite address of travellers and locals in Hanoi: the restaurant of the same name Bun Bo Nam Bo located at Number 9 Thai Phien Street.
And the dessert bonus! Chuoi nep nuong
The last of the Vietnamese dishes on the list is a dessert from Saigon. This strange combination is appreciated by all. It even won the "Most Appreciated Street Food" award during the World Street Food Congress, held in Singapore at the end of May 2013. The banana is covered with a mixture of sticky rice and coconut milk, then wrapped in the banana leaves is placed on a charcoal barbecue. It is eaten with coconut milk and a little minced peanut.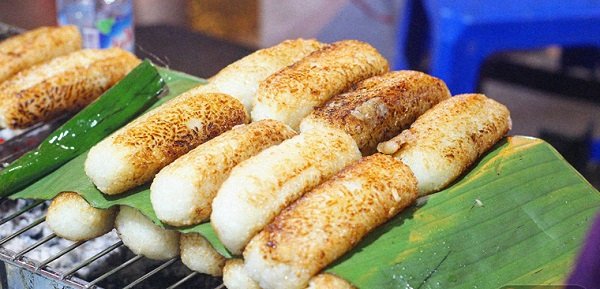 Learn more about Vietnamese cuisine
As you may know, Vietnamese people like to meet outside, in the streets or in parks to enjoy the surrounding freshness. As a result, Vietnam is a specialist in many dishes that are taken on the go, outside and yet delicious! Discover the culture of street food in Vietnam by consulting our dedicated article.
On the other hand, you are not unaware that Vietnamese cuisine is mostly based on rice. you will find in our article on Vietnamese rice all the applications for this commodity. There are some that you may not have even imagined!
Finally, with its coastline of more than 3000 kilometres, it is obvious that maritime resources are not lacking and are the delight of Vietnamese and travellers! So if you want to know more about Vietnamese seafood and fish dishes check out this article!
We wish you to feast on these popular Vietnamese dishes on your next trip to Vietnam! If you also want to know about the 10 popular dishes of China, click on the link.
Conclusion on Vietnamese dishes
You now know the 10 most representative Vietnamese dishes of the country. Needless to say, the best way to excite your taste buds with these recipes is to go there. The best advice we can give you is to taste the local specialities of each city.
To learn all about building a Vietnam tour as a whole and taste the local specialities, check out our north-south travel construction guide.
We wish you a very good culinary trip with Horizon Vietnam Travel, bon appétit!
keyword to find this article: traditional Vietnamese dishes, Vietnamese cuisine, Vietnamese beef dishes, Vietnamese chicken dishes, Vietnamese Christmas meals, popular Vietnamese dishes