Vietnamese cuisine is a central part of the country's culture. Due to the finesse and richness of these dishes, it has become a reference throughout the world. We dedicate a whole section of enticing articles to deal with this delicious subject. Check out our Vietnamese cooking recipes such as Vietnamese nem or spring rolls and enjoy a real Vietnamese cooking class in the Video! Learn the 10 best popular Vietnamese dishes.
We also tell you about the cultural aspect and traditions of Vietnamese culture. In this article, we tell you a little more about the origin of Vietnamese cuisine.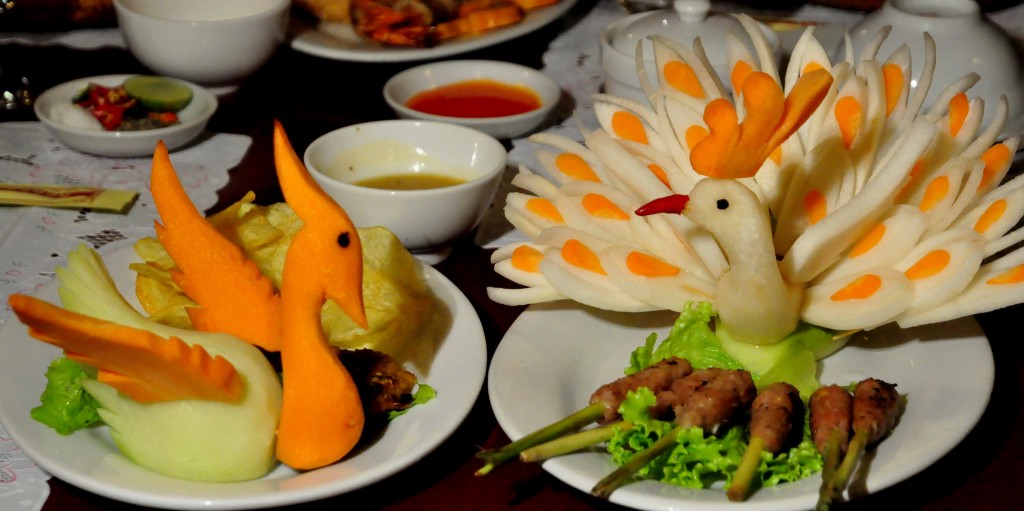 What is Vietnamese cuisine?
Like any other gastronomy, Vietnamese cuisine is a culture that makes the most of its natural environment. Vietnam is famous for its rice terraces and aquatic rice cultivation.
It is the source of this cuisine based on rice from which we derive a whole range of varied products: from boiled or fried rice to different pasta such as pho, vermicelli, banh (cakes) and cakes …
Although the daily meal can be varied depending on the family, from the region the bowl of rice often remains invariable. Rice is eaten with meat, vegetables, fish, with or without soup… and even alone, with just a mixture of crushed peanuts, sesame grains and salt, called muoi-vừng.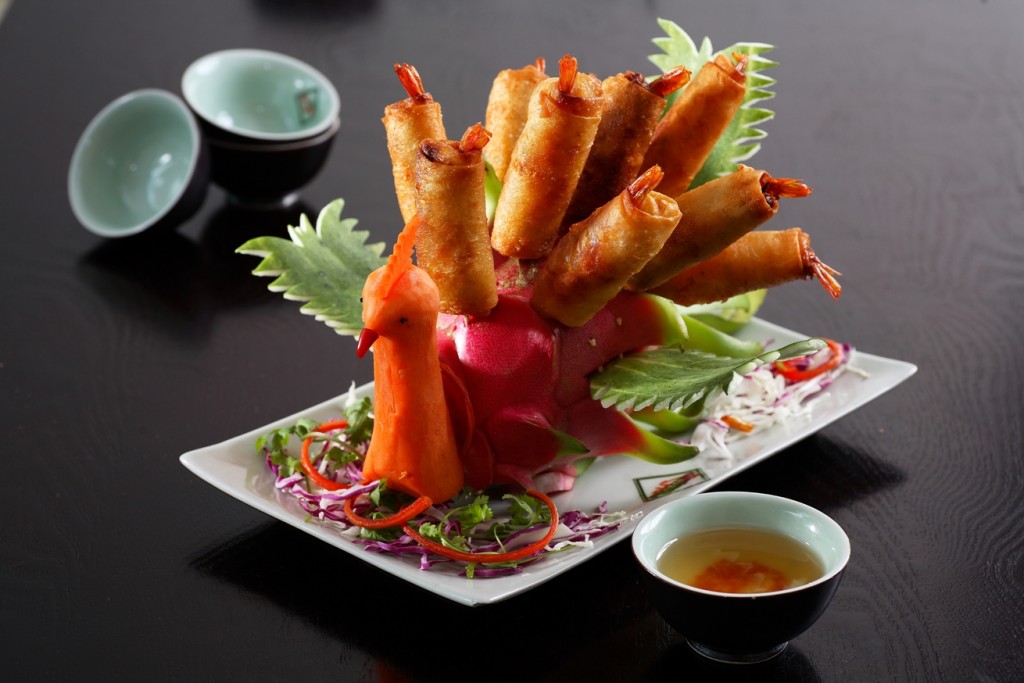 Salty breakfast, the Pho
For breakfast, there are soups composed of pasta and different broths such as pho, bun-rieu, mi-quang, hu-tiu. These kinds of pasta are all rice products, processed differently, to create varied flavours and textures.
Among these dishes, the most popular is undoubtedly the Pho, a soup of rice vermicelli usually embellished with beef. A dish with a subtle taste with well-chosen aromatic herbs. It is said that there are a thousand ways to cook a Pho!
The relationship between the French pot au feu which has great similarity has not been clearly established…
The balance between Yin and Yang
If the taste of Indian cuisine also uses a lot of spices is energetic and explosive like fireworks. That Vietnamese cuisine looks more like one of the shows of the Grandes Eaux of the Palace of Versailles. It is gastronomy of balance and harmony.
Speaking of balance, we must not forget the balance between the elements of Yin and Yang in Vietnamese cuisine.
In Vietnamese philosophy, Yin and Yang are the two indecomposable aspects of a fact or object. Perfection can only be achieved with the existence of these two elements.
The ingredients and spices of Vietnamese cuisine are attached to Yin (duck meat, fish, shellfish, beans, soybeans, eggplant, aloe vera ..); yang (chilli, lemongrass, wings, ginger, pepper, laksa leaf, chicken, goat, beef, alcohol …).
We then find dishes perfectly combined thanks to these two elements such as: duck with its ginger brine sauce; shrimp steamed with lemongrass; eggplant flambéed with caramel… Yet what carries this scale in every Vietnamese dish is the sweet and sour sauce of fish brine. We put in that chilli, lemon juice and sugar (elements of Yang) to compensate with the fish sauce which is quite strong (element of Yin).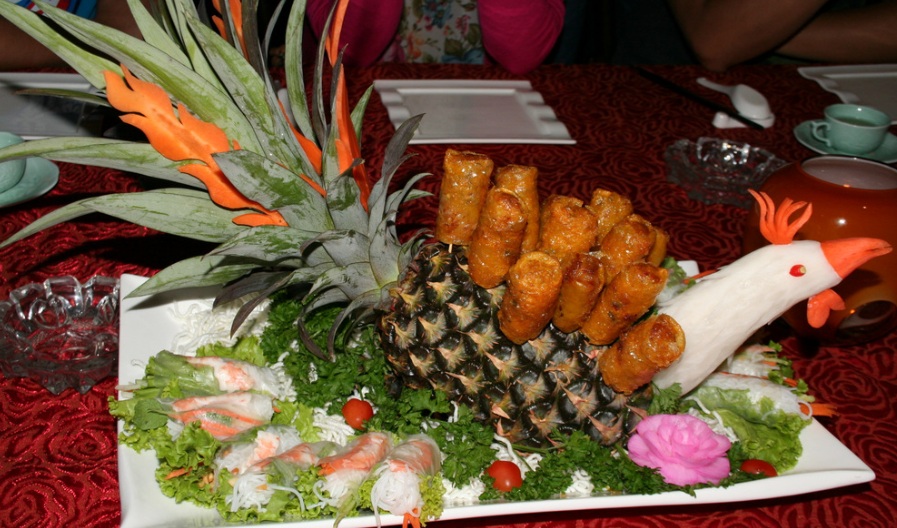 Fresh products
Freshness is also one of the special features of Vietnamese cuisine. Favoured by nature, Vietnam has a nourishing climate for plants and a good river system that provides fish.
Vietnamese food is very fine. In terms of culinary techniques, ingredients are rarely fried. Because it is difficult to consume fried dishes in a tropical and humid climate.
Often, we find the dishes sautéed, boiled, simmered, cooked in the stew, or in a water bath … Especially at the level of the range of salads which is almost infinite in Vietnamese cuisine. Whether it is a fruit or seafood salad, they are combined with the taste of the 5 spices of the brine sauce. They offer a perfect freshness to escape the heat of a summer lunch. The finesse of our cuisine is also expressed by the complexity of the dishes. You never meet an ingredient that can be eaten alone: each is always accompanied by at least one spice.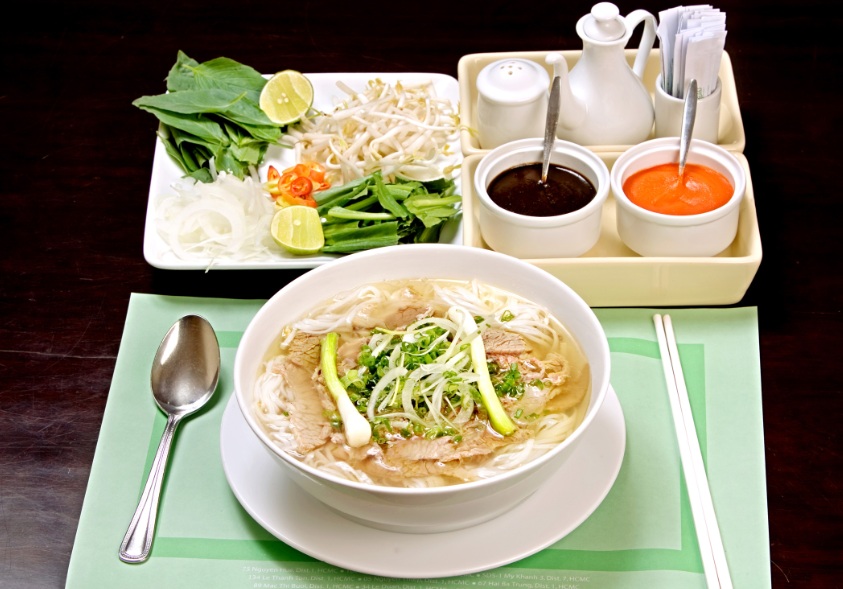 The nuoc-mam, The fish sauce
The star of Vietnamese cuisine is, of course, fish sauce, or nuoc-mam (in the French dictionary). Nuoc-mam is the speciality that differentiates Vietnamese cuisine from other cuisines, especially Western ones. Just like rice, it is one of the popular Vietnamese dishes and a must-have during a meal, whether it is a daily meal, a wedding meal or a diplomatic meal. The cup of sauce used is the symbol of the community spirit of the Viets meal.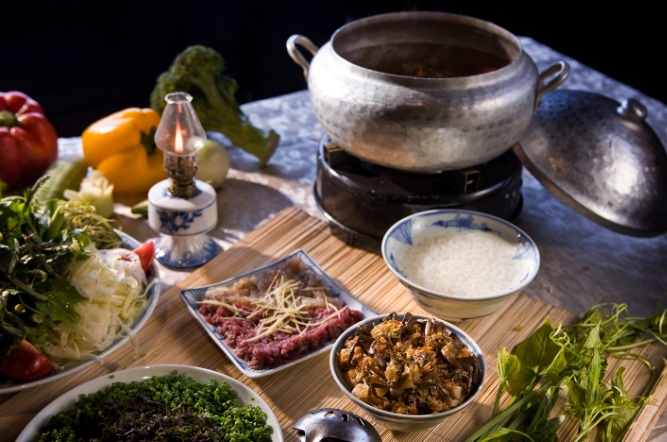 Vietnamese Sharing
If French cuisine requires the art of the table, wine and accompanying dishes, Vietnamese gastronomy is simpler in its way of appreciating it.
In the past, cooking was, and still is, a family affair, not an art of restoration. In addition, the community spirit in the Vietnamese meal is also expressed in the meal. Because they share the same bowl of soup, and the same cup of sauce hence a very welcoming atmosphere. Traditionally a Vietnamese meal is shared on the floor with a wicker carpet as a tablecloth. This is not at all a sign of poverty but a tradition. This is also what makes the Vietnamese much more flexible and can fit in a suit easily.
Let's continue with this comparison, we will find that the French meal is served dish by dish. While in Vietnam, everything is served at the same time. Each bite is a wedding, it can contain rice, soup, vegetables, meat … all together. A full tray "a mâm" that contains all the dishes at the same time is visually very fun. This no longer requires a complex presentation of each individual dish.
Vietnamese cuisine is also marked by Vietnamese baguettes. From the age of 2, small children are already learning to eat with chopsticks; and it's super easy to capture the image of tourists who are also learning how to use them.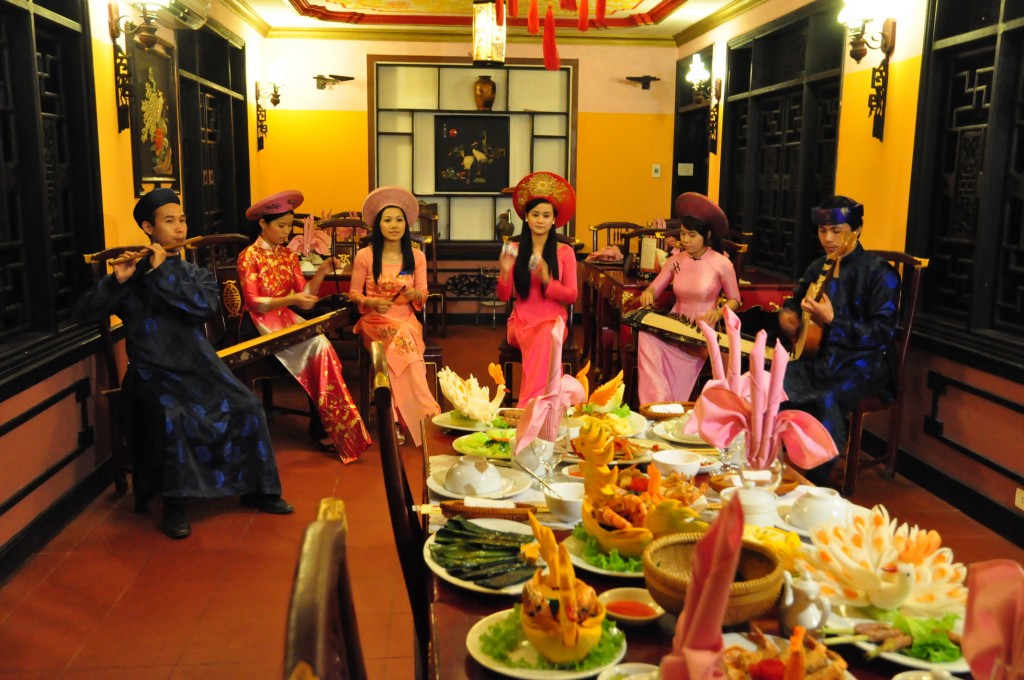 A mobile kitchen
Another speciality of Vietnamese cuisine is street vendors. In the streets of Hanoi and Ho Chi Minh City, there will be women selling various street food dishes. "Bia hoi" beer on draft or tea; and people eat directly on the sidewalks regardless of class or rank. Which is another proof of the easy access to Vietnamese cuisine.
One of Vietnam's greatest writers of contemporary literature said, "Eating is much more than art! It's a whole culture." It is therefore impossible to present you with a complete design of Vietnamese cuisine through a few lines. We invite you to discover our articles that follow, presenting the gastronomic specialities of Vietnam in this section.
And if you want to come and taste all the dishes from us, we will be happy to accompany your trip!