The kitchen is the living portrait of Vietnam's cultural diversity. Here in our country, street food is one of the significant cultural traits. It attracts travelers from all over the world. Travelling is largely an opportunity to taste specialities of a country!
Horizon Vietnam Travel is pleased to present to you in this article some succulent dishes celebrated in Vietnamese fast food. Discover it with us!
Bánh mì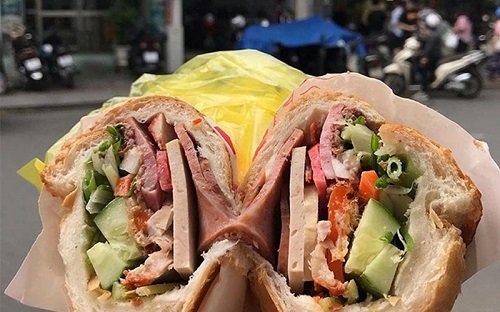 If you are planning to travel to Vietnam – a country with exquisite gastronomy, one of the dishes you do not want to miss is the sandwich called bánh mì. This famous Vietnamese sandwich has always been ranked among the best sandwiches in the world.
The bánh mì has its origin in the French influence on Indochina. The baguette was introduced to Vietnam by the French, then in the 1950s, the Vietnamese began to call it the bánh mì. Over time, the bánh mì has become one of the most famous sandwiches in the world.
You know, bánh mì is considered the emblem of Vietnamese cuisine, you can easily find it on every corner, especially in the morning. It can be served as breakfast, lunch, dinner or as a snack at any time. In addition, the price is really low, it is about 50 euro cents and you have a full stomach for the morning!
The crispy baguette is always stuffed with a set of ingredients: pâté, sauce, cucumber, coriander, grated carrots and white radish marinated in vinegar, Vietnamese sausage and thinly sliced pork. What could be better than a bánh mì to start your day in Vietnam!
In any case, Vietnamese bánh mì is one of the best Vietnamese dishes not to be missed!
Bánh bao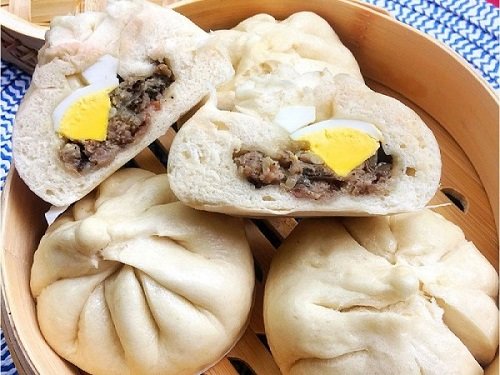 Vietnamese people love Bánh bao as takeaway food, it's delicious and as convenient as bánh mì. Bánh bao is the steamed Vietnamese brioche. The Vietnamese really appreciate this delicious brioche. In Vietnam, bánh bao is sold on the street and in addition, you can practically find it wherever there is an Asian community.
Simply, it is convenient: you can eat it for breakfast or take it as a light lunch or dinner. It is probably one of the most popular dishes of Chinese origin in Vietnam.
Bánh bao is usually filled with salty toppings. This small rice cake contains pork, Chinese sausage, onions, transparent rice vermicelli, hard-boiled quail egg, mushrooms and pepper. There is also a vegetarian version of bánh bao. Especially in winter, what could be more delicious than a fluffy bánh bao with a tasty stuffing that gives a fragrant smell!
It's a pure treat! Do not miss this dish during your trip to Vietnam!
Bánh khọt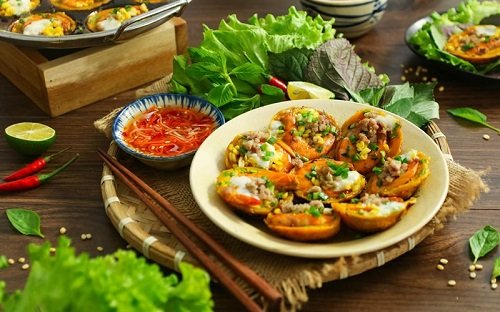 As for bánh khọt, this salty mini pancake is a dish from Southern Vietnam, consisting mainly of rice, and fresh shrimp, served with sweet and sour sauce and vegetables.
The bánh khot originates from the Central Coast of southern Vietnam. Why the name bánh khọt? First of all, khọt is pronounced rotte. Then, when we scrape to remove the bánh khọt from the mould, the noise makes us think of the word khọt. So, to give a name to this dish, the Vietnamese chose the word khọt. This salty mini pancake is named in a special way!
It is easy to find a seller with its bánh khọt in Vietnam, but this dish is sold widely in the centre and the south, especially in cities such as Hue, Hoian, Saigon, etc.
Bánh khọt is truly a dish to try once in a lifetime! An excellent speciality all in flavors for the pleasure of gourmets!
Bánh cuốn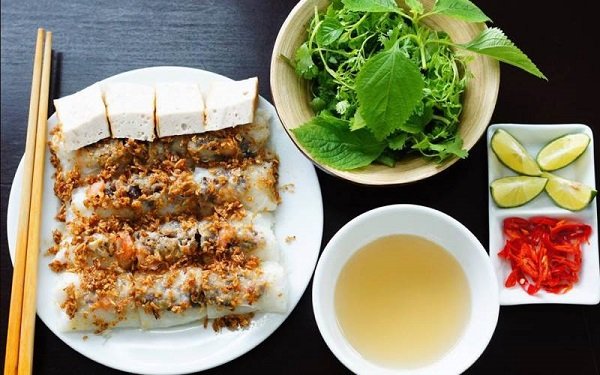 Bánh cuốn (Vietnamese ravioli with ground pork and black mushrooms) ranks among Vietnam's delicate specialities thanks to the tasty smell of its entire ingredients. With very light rice pancakes stuffed with ground pork and black mushrooms and a bowl of nước mắm sauce, we assure you that this good dish will please you!
These ravioli and nước mắm sauces are served hot. The preparation of bánh cuốn is easy to make, first of all, we steam rice pancakes, then we place a little stuffing (ground pork and sautéed black mushrooms) on the pancake and finally, we roll it. To eat bánh cuốn in the traditional way, it is enough ravioli and a bowl of nước mắm! But nowadays, Vietnamese consume it with a few fried minced shallots, a few slices of pork pie, aromatic herbs and even a steamed egg in order to make the dish tastier.
Bánh cuốn is popular with Vietnamese at any time of the day. Yum yum!
Bánh tráng nướng
Vietnam is widely known as a street food paradise with so many dishes. Bánh tráng nướng, known as Vietnamese pizza, has become one of the most popular street foods in Vietnam due to its distinctive taste and affordable price.
In Vietnamese, bánh tráng means rice cake, nướng means to grill. Originally from Đà Lạt, a beautiful city in central Vietnam, Bánh tráng nướng is a delicious grilled rice cake with various toppings. The toppings of Bánh tráng nướng vary by region, below is a medium-low heat grilled rice cake topped with: sausage, Vietnamese pork pie diced; Vietnamese sausage cut into thin slices; mixed quail egg; chives oil; dried beef and mayonnaise.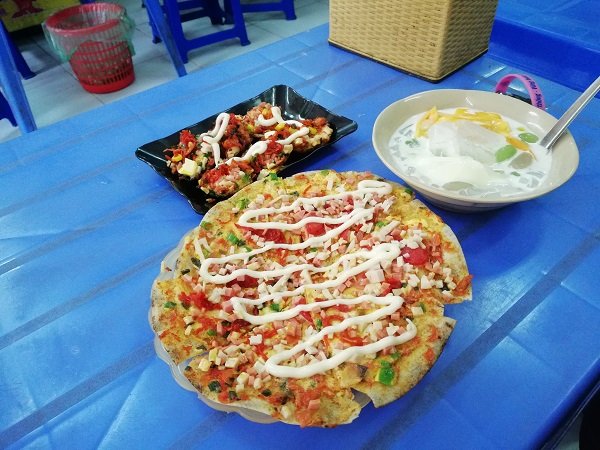 You can fold the grilled rice cake in half or use a chisel to cut it into 4 or 8 pieces. A dish that will make you salivate!
Horizon Vietnam Travel hopes that this information provided will be useful to you! If you feel like immersing yourself in Vietnamese culinary culture, please click on this link to learn more!