Vietnam is a tropical and hot country most of the year, so life outside is well developed. We will talk to you in this article about street food in Vietnam that can be found in abundance.
They are found in various forms and sizes. From the improvised rolling gargote to the ground floor of an establishment that is embedded on the sidewalk, street restaurants offer delicious dishes to enjoy with friends.
It is above all a real culture of the use of sidewalks. In Vietnam, few people have private gardens or terraces, so it is in the public parts that the people go out to get some fresh air.
The sidewalk is a collective good, which everyone can use as they wish, as long as it does not bother the neighbour and the local order too much! It is according to this philosophy that street food, small street restaurants, and even beverage merchants are born and die every day in Vietnam…
Administrative approach and legislation
First of all, you should know that anyone deciding to start street trading will not have to carry out many administrative procedures. A work license is not required. To our knowledge, only a health document would have to be completed.
The trickiest thing will probably be to get along with the local police so as not to be too bothered. It will also be necessary to inquire about the place to use and discuss with the entourage in order to assess the merits of the location.
Sometimes the official aspect of the trade is a little ambiguous, there is a kind of vagueness between the authorities …
A funny scene that we are used to seeing in Hanoi is the passage of policemen, kindly forcing some businesses to remove tables and small chairs from the driveway. As soon as the police left, the equipment was put back in place. The most surprising thing is that it is not uncommon for police officers to pass by several times and the same scenario to happen again! No annoyance, we are in Vietnam!
It seems that there is a kind of tolerance towards these modest workers.
Mobile and riquiqui furniture!
If you have ever been to Vietnam, you will have noticed, that the furniture of this type of restaurant is often minimalist.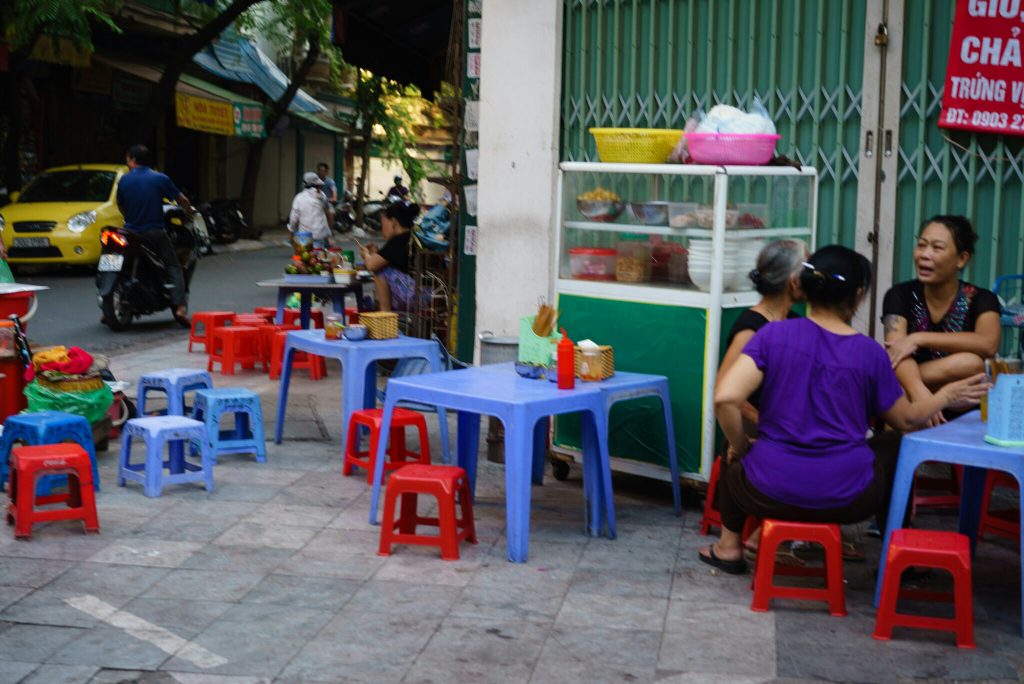 The tables and chairs are close to the floor. Vietnamese people are used to eating like this, tidying up is easier and it's not too uncomfortable for them. They have been used since a very young age for sharing meals on the floor, legs in suits.
You can also watch the Vietnamese squatting in Vietnam in the street. It is a comfortable way for them to rest, a priori no worries about joints!
Most often, chairs and tables are made of red and blue plastic, it looks a bit like dinner equipment for children!
A convivial moment
The rudimentary aspect, the simplicity of the installation favours a relaxed atmosphere conducive to exchange. Whether for coffee, tea, beer, soup or barbecue, Vietnamese people go out to gather and exchange. Although some young people wear sophisticated outfits, no need to worry too much about pageantry, come as you are! If you are alone, you will probably be offered to join a group. That's when knowing a few words of Vietnamese comes in handy!
Street life in Hanoi is like a big family meeting every day on the sidewalks.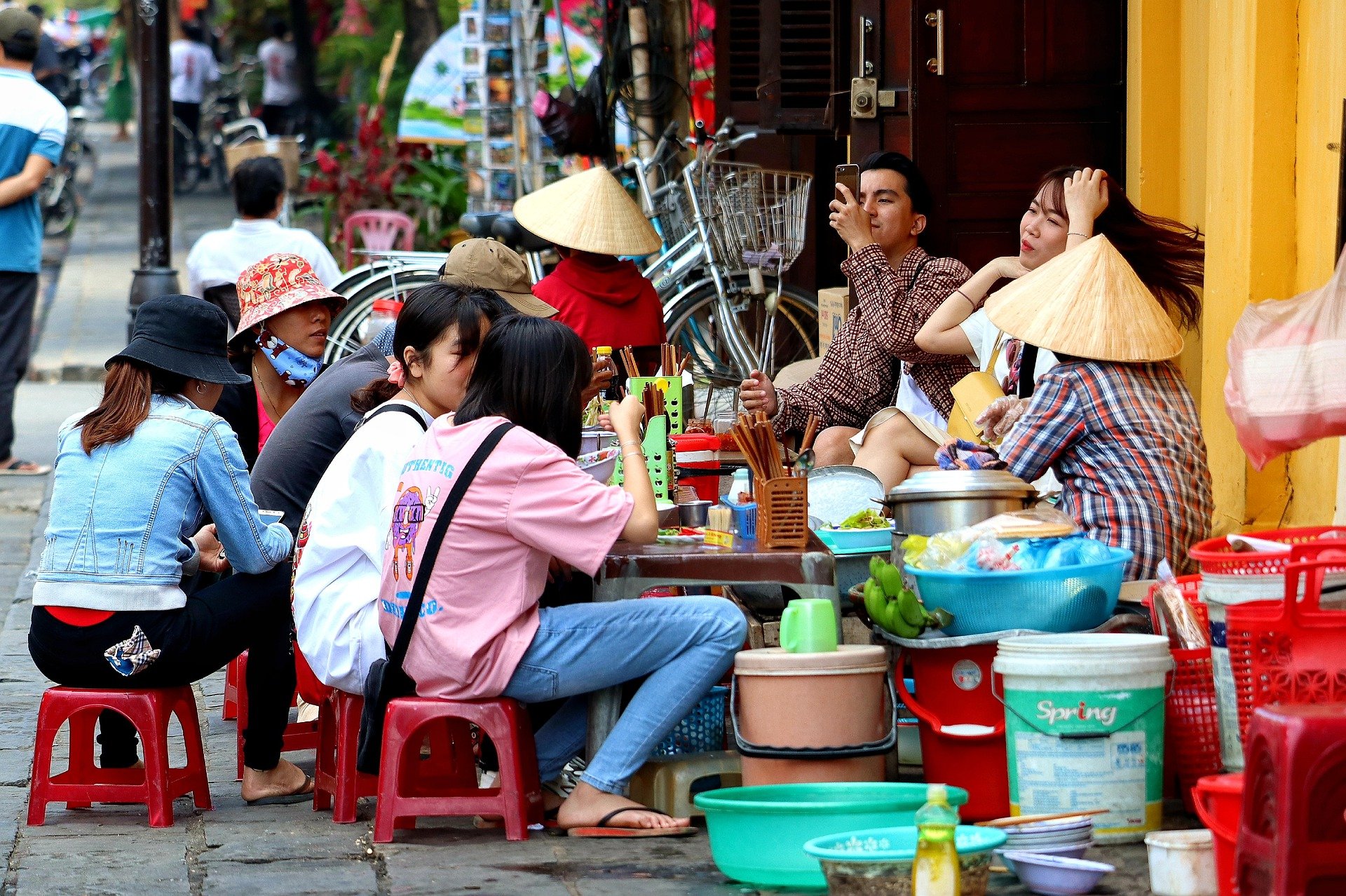 Different types of food or drink served on the street
Phở restaurant, rice vermicelli soup
A must in Vietnam is Phở, the country's best-known soup, more than a dish, it is a symbol. We dedicate a full article on this dish: here.
The Vietnamese particularly appreciate this dish in the early morning, before going to work. It provides most of the energy nutrients needed for a good day! In addition, this soup is really cheap. So rather than having breakfast at home, Vietnamese people go out on the street in the morning to enjoy a good "Phở"
The bánh mì
Another famous dish in Vietnam is the bánh mì which contains in its bun beautiful flavors.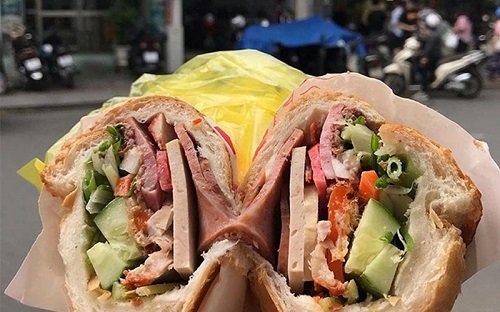 The crispy baguette is filled with pickled vegetables, coriander, fresh chili, pieces of meat – usually pork – or smeared with a layer of pâté. Other toppings may include eggs, chicken, meatballs and more.
The "bánh mì" is easily found everywhere in the streets of Vietnam, it costs less than one euro!
You will find in this article dedicated to the various types of fast food in Vietnam: here
The barbecue
There are many ways to design street barbecue in Vietnam, however there are two categories: standing barbecue and sitting barbecue.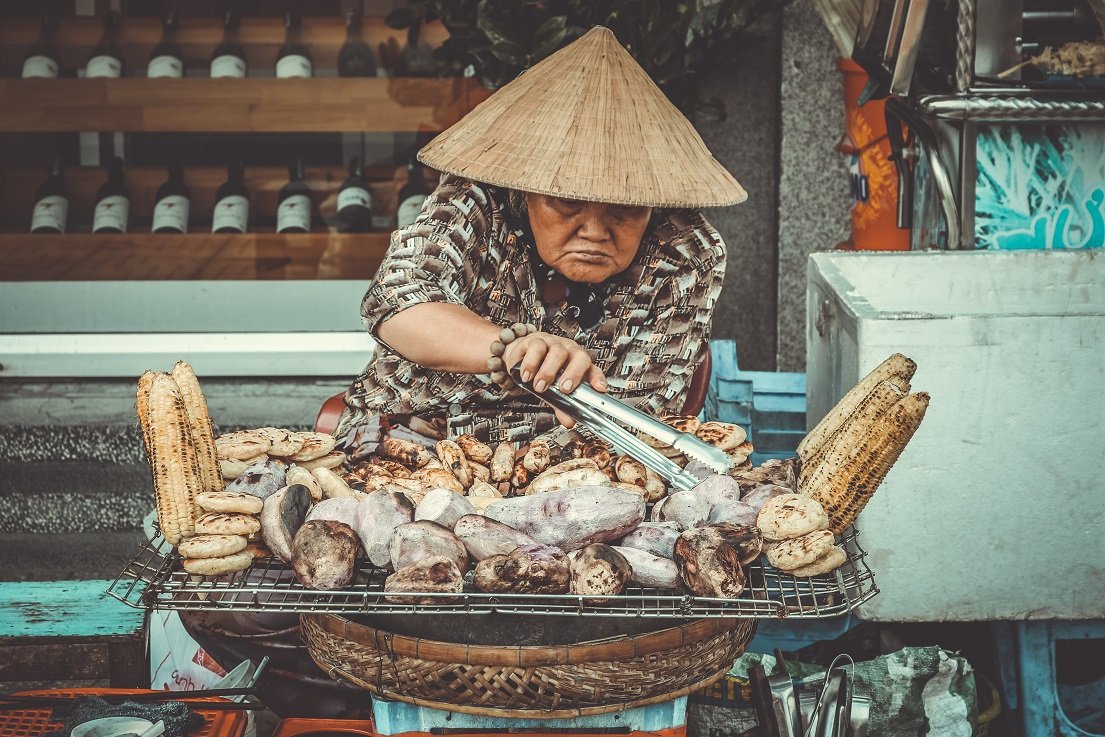 "The standing barbecue" are served by small stalls that you will find close to the places of entertainment: markets, parks, festivals, There are all kinds of skewers made of Meat, shrimp, vegetables, corn, sweet potatoes … that you can enjoy while walking.
"The seated barbecue", here you sit on a small table with a small individual barbecue, you then order the grilled meat, seafood, vegetables …! A delight!
Iced tea, Tra da
Very popular in Vietnam, iced tea can be enjoyed at any time of the day. It allows you to cool off during the hottest days.
The Tra da varies according to the region. It is more bitter in Hanoi and more fragrant in Ho Chi Minh. You will find many Vietnamese chatting over a glass of Tra da at any time of the day.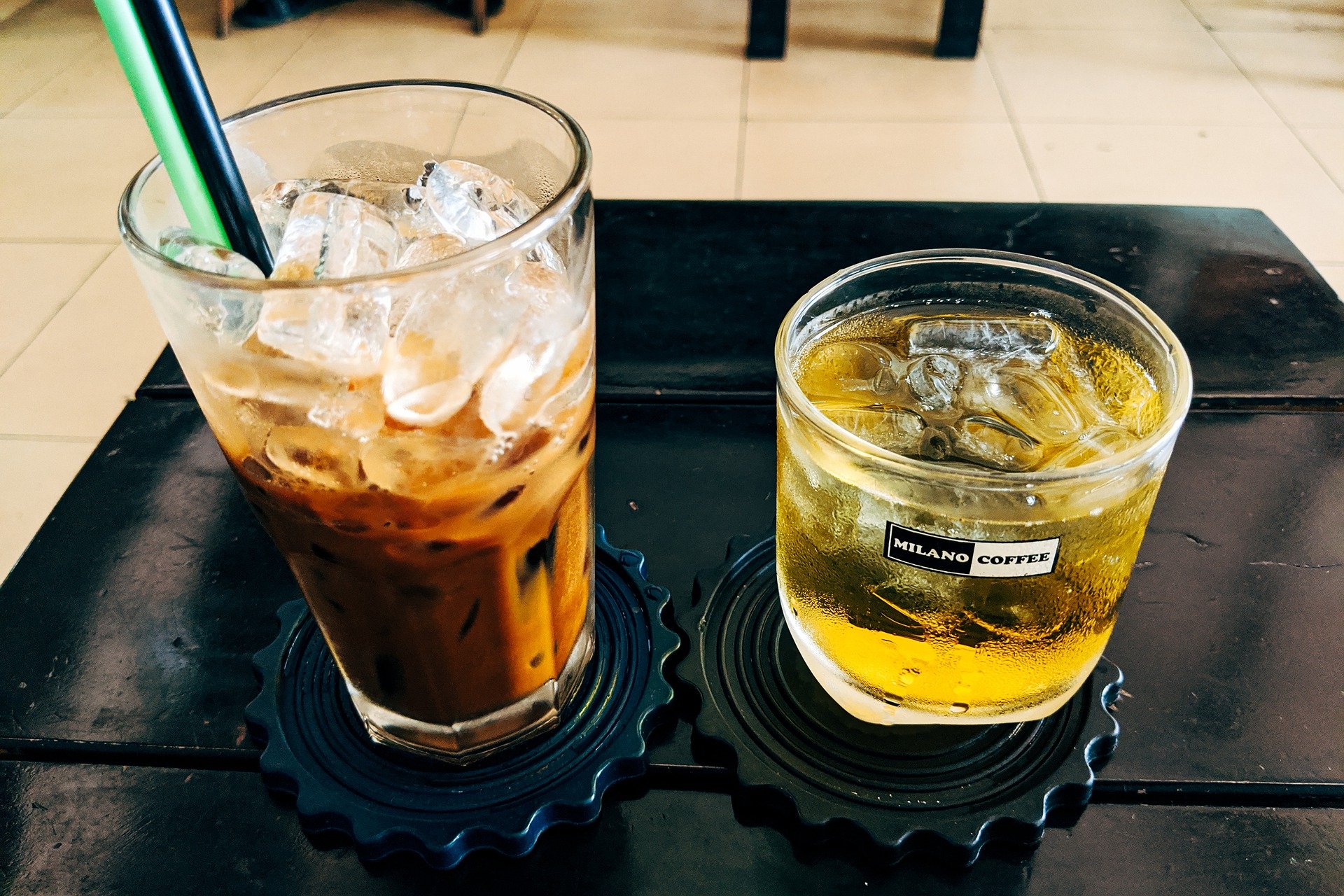 Iced coffee, "Ca phe nau da" or "Ca phe sua da"
Called "Ca phe Nau da" in the north for iced brown coffee or "Ca phe Sua Da" in the south for iced milk coffee, it is the same taste! the recipe is simple: a little sweetened condensed milk in which coffee is poured and ice cubes are added.
Another opportunity to hang out on the terrace with your friends to remake the world!
Sea snails
A little rarer, this met is however a popular snack that you can find in street stalls, especially in Ho Chi Minh City: sea snails. There is also the same principle with fresh crustaceans.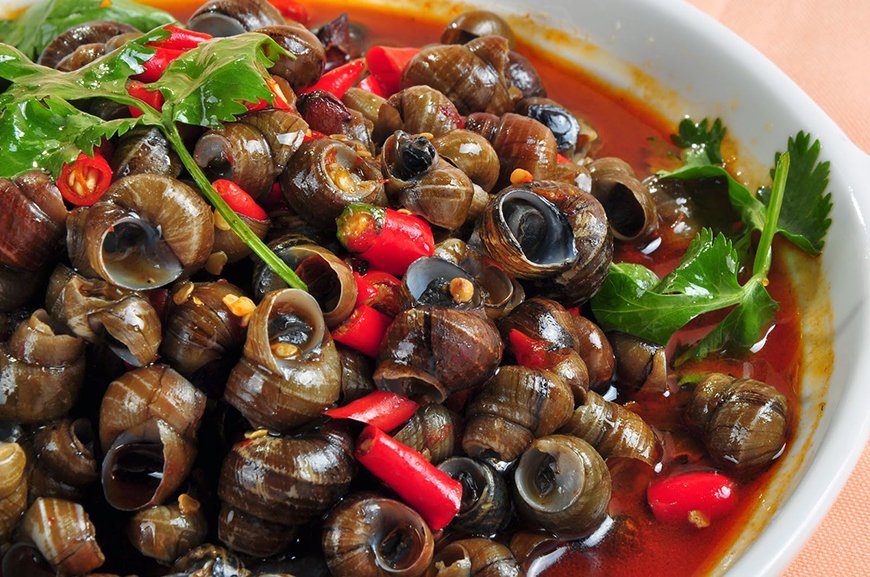 You can choose to cook them in different ways, steamed, sautéed or grilled. These small fluffy and tasty snails are perfect to share with a few friends over an iced beer.
Spring rolls (Gỏi cuốn / Chả giò)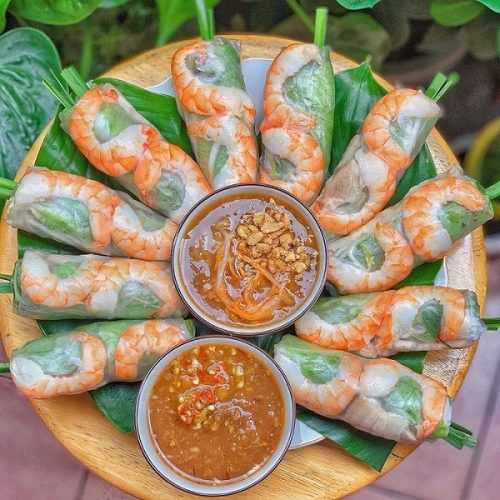 Another dish acclaimed by the Vietnamese, spring rolls! It is a fresh dish especially appreciated when it is hot.
Depending on the restaurants that each have their own specialty you will find many variations
Fresh rolls are called gỏi cuôn "spring rolls".
The other well-known rolls are the nems, they are fried, called "chả giò". 
We have dedicated articles and videos so that you can check them at home:
Vietnamese sweet dessert (Chè)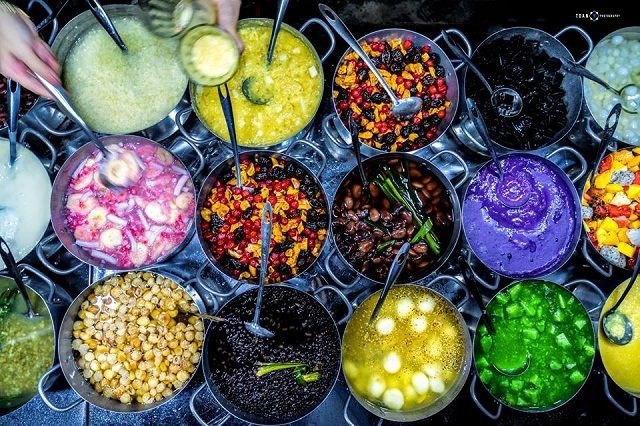 Chè is a word to describe a sweet drink taken as a dessert in Vietnam, it comes in many shapes, sizes, flavors and colors! As a rule, you can find them in the form of pudding, drinks or soup.
The usual ingredients you can find in the chè include coconut milk, sweet beans, sticky rice, colored jellies, fruits and more. Easy to find in local markets, these desserts are perfect for cooling off on hot days in the afternoon.
Hoi An Noodles (Cao lầu)
Cao lầu is a noodle dish that is exclusive to Hoi An. This dish, Hoi An's signature, consists of noodles, pieces of grilled pork, fresh, crunchy greens and crunchy croutons.
According to legend. The reason why you can only find cao lầu in Hoi An is due to the peculiarity of its unique noodles that must be prepared with water from an ancient well, the Ba Le well, and mixed with a special ash native to Hoi An. It is also said that the secret of the precise recipe is known only to a few families in the region!
Aside from cao lâu, there are other signature dishes that you can only find in Hoi An. Walk the streets on this motorcycle food tour or set off on a walking tour to experience what else the area has to offer.
Vermicelli with fried tofu and fermented shrimp paste (Bún đậu mam tôm)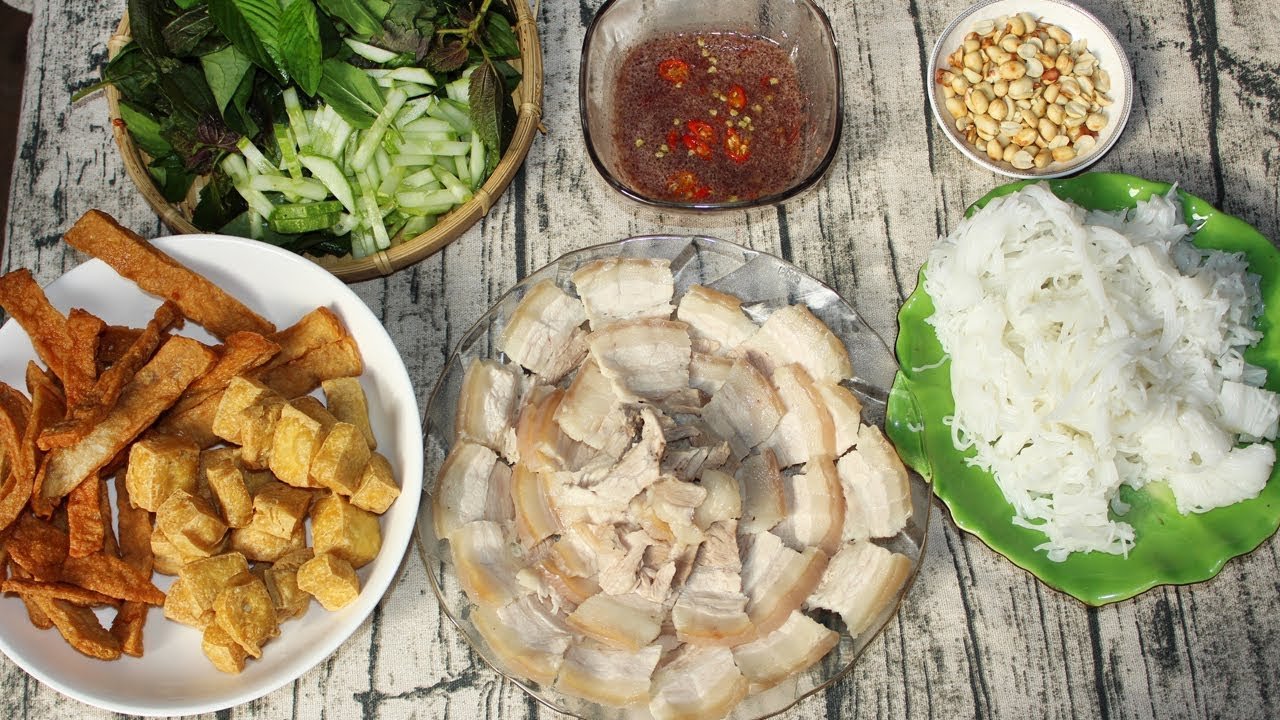 Each culture has its own smelly but tasty food and in Vietnam it is the bún đậu mắm tôm!
The ingredients are simple and simple but the flavors are complex and robust. Mainly composed of vermicelli noodles, fried tofu, pork, the other accompanying ingredients usually include cucumber, mint, leaves of You taste this dish by dipping the dishes in the shrimp paste sauce. The smell can be a bit of a deterrent, but trust us, it's worth a try.
Vietnamese pizza (Bánh tráng nướng)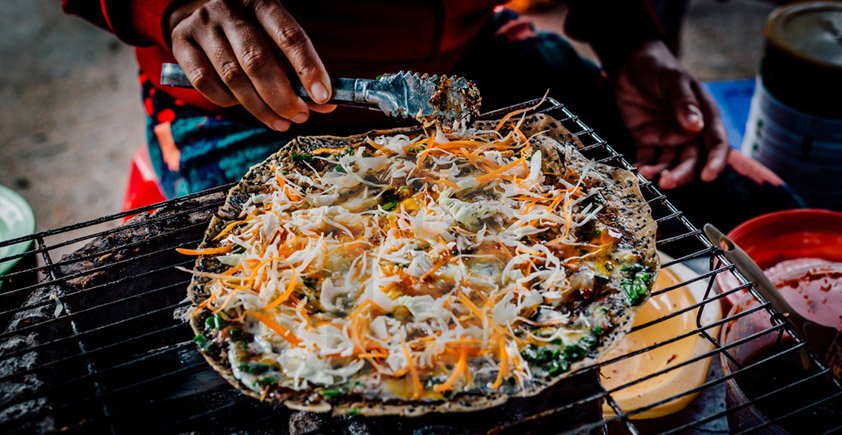 A popular snack, especially in Ho Chi Minh City and Dalat, this Vietnamese pizza consists of rice paper grilled on the barbecue and topped with ground pork, shrimp, eggs or various other toppings. Topped with fresh herbs and served with mayonnaise, tamarind or chili sauce, this pizza is really surprising!
Banh cuon
More famous in the north, Banh cuon is a term used to describe rice flour rolls in Vietnam.
Bánh cuon is a popular Vietnamese street food consisting of steamed rice rolls stuffed with pork (banh cuon nhan thit), mushrooms (banh cuon than tri) or both (banh cuon Ha Noi). The dish is usually served with a fried shallot sauce, sweet and sour fish sauce (nuoc mam chua ngot), a variety of fresh herbs and a lime sauce as a side dish.
Spicy beef noodle soup (Bún bò huế)
Originally from Hanoi, this vermicelli dish can be found throughout Vietnam served with grilled pork and a sauce accompaniment.
You can choose to eat it in 2 ways: wrap everything in a large lettuce leaf and dip it in the sauce before taking a bite or mix everything in the sauce and eat it as you would in a bowl of phở.
Bun cha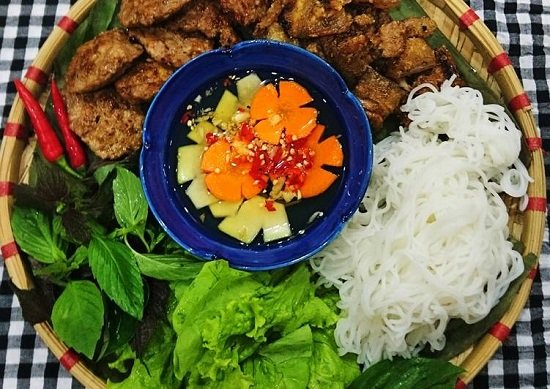 Bun cha is a local dish originating from Hanoi, the capital of Vietnam. Throughout Vietnam, you can find many dishes that share a similar recipe to bun cha (like Bun Thit Nuong in Saigon), however, the real bun cha is found in Hanoi! it is the most famous Street-food street restaurants in Vietnam!
The dish is very simple to make and can be found at any time of the year. In the following article, you will find the Bun cha recipe on video: here.
Spicy green papaya salad (Gỏi khô bò / Gỏi đu đủ)
The base of gỏi khô bò consists of a bed of julienned unripe papaya. Tossed with roasted peanuts, strips of beef jerky, basil leaves, cilantro, and crispy crackers, this salad is also sometimes called gỏi đu đủ.
The star of the show, however, has to be the dressing that comes with the salad. Just the right mix of zest, salty, sweet and spicy – it's a taste you'll never forget!
Other examples of street activities
In addition to Street-food street restaurants in Vietnam, the exterior is widely used for various activities, here are some instructive examples.
Asian chess game
Acclaimed by the oldest, this game comparable to our chess game is often played in the streets. You will surely find a large number of people surrounding a game, indeed even if you are not a player one can be passionate about observing the progress of a game.
We will not explain here the relatively complex rules of this game from China, but you will have no trouble finding a partner in Vietnam.
Taking nap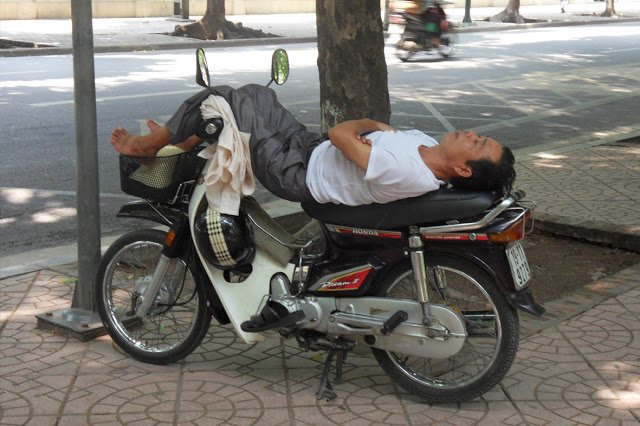 Vietnamese people have an impressive ability to fall asleep just about anywhere if they wish. They seem to have the ability to detach themselves from external noise to create a bubble of serenity.
Some practice napping in positions worthy of a balancer, especially on their motorcycle!
Market
Sidewalks in Vietnam are also used by sellers of vegetables or fruits.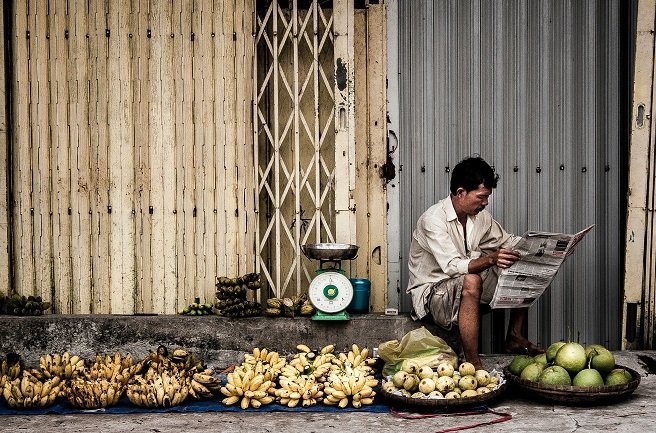 Conclusion
That's it, we hope you enjoyed this article about street food in Vietnam. You will have understood that more than a simple need to eat, this is a cultural and social whole that the Vietnamese share when they find themselves outside.
We are waiting for you to make you discover this in real life! come and discover the street-food restaurants in Vietnam.