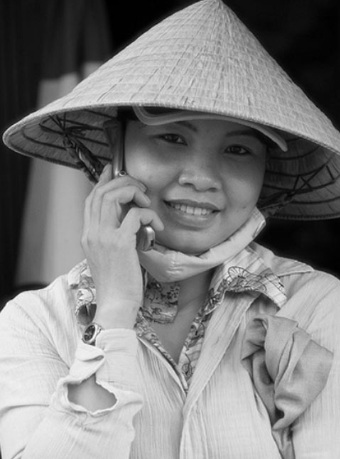 In preparation for the trip, many of our customers express their concern to us, it is how to ensure good contacts with their family throughout their distant trip. We assure you that it is quite simple these days.
Currently, there are many telecommunication networks such as: internet, mobile phone, post office, television network, computer network, switched telephone network, global telex network etc…
Below are some practical and popular ones in Vietnam:
Internet
While traveling, you can find cyber cafes all over Vietnam, even in small towns in the countryside or in the mountains, it costs around 4000 dong for an hour of cyber cafe. Cafes-ambiences, restaurants, popular cafes, even quality buses offer their customers the free WIFI network. You can connect to the internet on site, with your own laptop or mobile phone.
Cellphone
Before, it was difficult to make contact with the family when traveling abroad because almost all mobile phones were blocked there. Nowadays it is quite different. With the "World" option, you can use your own laptop operating in Vietnam, as well as in Laos or Cambodia. For tri-band ones, they are easily unlocked by a supplier at home. Then in Vietnam, with a local SIM card with credit value. When the card has no more credit, it can be recharged at the post office or in small telephone shops.
In Vietnam today there are 3 major telecommunications operators: Vinaphone, Mobifone and Viettel. They offer credit cards at several rates: 10,000- 20,000- 50,000- 100,000- 200,000- 500,000 dongs. The rate for an overseas call is around 3,500 dong per minute.
Post Office
Apart from these two networks above, one can also make calls to post offices. In major cities, there are several post offices in each district. In small ones too, there is often a large central post office. Telephone booths are available there, with a counter inside that allows you to know the exact amount during the call. The sum is then to be paid at the counter.
Private shop
Phone booths are often offered in telephone equipment shops, but their price can be much higher than at the Post Office. In addition, hotels often offer these services, national or international, obviously their price is double the official one charged by the Post Office.
To know:
– To call from abroad to Vietnam: Dial 0084 (country code) + the number of your correspondent without the initial zero.
– To call from Vietnam to France: Dial 0033 (country code) + the number of your correspondent without the initial zero.
– To call from Vietnam to Switzerland: Dial 0041 + city code (22 for Geneva / 61 for Basel / 21 for Lausanne) + the number of your correspondent.
– To call from Vietnam to Belgium: Dial 0032 + city code (2 for Brussels) + the number of your correspondent
– To call from Vietnam to Canada: Dial 001 + area code + the number of your correspondent