The questions of schedules in Vietnam and Indochina are very important for foreign tourists, especially for those who come from Europe or America, therefore very far from Southeast Asia. There is the distance and the time difference which is important, the different rhythms of life between the two continents, then the opening and closing hours of shops, banks, embassies or consulates, of certain administrations in Vietnam. All of this needs to be taken into consideration for a foreign tourist visiting Vietnam. Better information on these different points will allow you to better prepare your trip in order to make it as pleasant as possible. If the Vietnamese often say "Health is worth gold", it is certainly also so that the journey of Western tourists still remains exotic from different points of view thanks to a typical environment and that, despite significant modernization, certain things remain characteristic in Vietnam.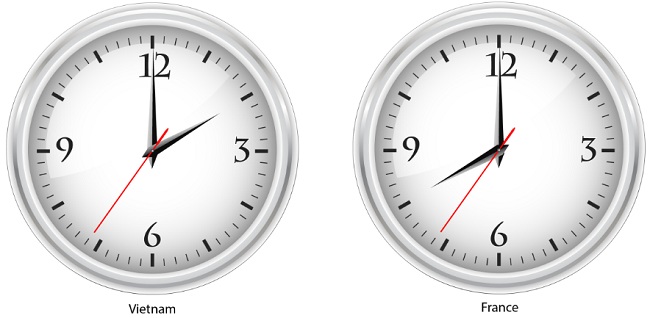 Time differences
In terms of distance, there are more than 9000 km between Vietnam and France, and about 15000 km between Vietnam and the United States. This is equivalent to more than ten hours of flight! (not to mention the possible stopovers which, in many cases, last quite a long time). For tourists from Europe or North America traveling this far for the first time, these numbers are by no means insignificant.
But jet lag is arguably the biggest challenge for most travelers from Europe or North America to Vietnam. There, it will take a great effort to adapt. But our few information and suggestions will certainly be useful to you!
Compared to GMT time, for the United States, the time difference is 7 hours in winter and 6 hours in summer. That is to say, if the watch indicates 7 am according to GMT time, it will be 2 pm in Vietnam in winter and 1 pm in summer. Between France and Vietnam, there is a difference of 6 hours in winter and 5 hours in summer. That is to say, if it is 12 noon in Paris, it will be 6 p.m. in winter and 5 p.m. in summer, in Hanoi or Ho Chi Minh City. Vietnam, Laos and Thailand have the same time zone. In short, the lag is significant enough to tire most travelers, especially those who are not used to traveling so far by plane.
To lessen the effects of jet lag on you, we have some suggestions for you:
+ Make yourself as comfortable as possible on the plane and try to sleep during the flight.
+ Take your time on the first day to avoid excessive fatigue.
+ Try to get as much sleep as possible on your first night in Vietnam, even if it's not very obvious; model your meal and sleep schedules on those of Vietnam.
+ Avoid naps in the middle of the day, try not to consume too much alcohol or coffee during the first days, and drink at least one to two liters of water a day when you arrive.
For our part, in the programming of your activities and visits to Vietnam, we always plan a rest time for you, which is quite long following your arrival and your installation in your hotel. This will allow you to rest a little after your arrival in Vietnam and to be in good shape for your possible visits.
If you are curious to discover local daily life, be aware that the Vietnamese have a very different pace of life from yours. First of all, they get up very early in the morning. From 4-5 a.m., you can already come across on the roads in the suburbs or in the city, in Hanoi or Ho Chi Minh City, small traders on motorcycles or bicycles going to the markets. In the countryside, people get up at 5 or 6 am, you can already see people feeding pigs or chickens. On this point, we can say that the Vietnamese are one of the hardest working people in the world! On the other hand, knocking on the door of a shopkeeper too early is considered derogatory, despite the fact that popular restaurants meet the needs of those who go to work and open very early in the morning, between 6 and 9 am. In Vietnam, in general, people start working at 8 o'clock. Some sectors open a little later, around 9 a.m. Very recently, according to new regulations in force aimed at preventing morning traffic jams, the different sectors of activity start a working day at different times, especially in city centers. On the other hand, the shops close quite late. The supermarkets close between 9:30 p.m. and 10 p.m. The small shops are very dynamic and generally close quite late in the evening. In this regard, there is no official regulation. For the Vietnamese, especially the young people who are more and more likely to go out in the evening, and who generally still live with their families, dinners are for them an opportunity for family reunions from which one should not be absent without a justified pretext. 
Here are the opening hours of some business sectors in Vietnam:
+ Small private shops usually open from 9am to 7:30pm, but you will find some open until 9pm in downtown Ho Chi Minh City .
+ Administrations are generally open from 8 a.m. to 11:30 a.m. and from 1 p.m. to 4:30 p.m.
+ Banks display similar opening hours, with opening hours ranging from 8 a.m. to 11:30 a.m. and from 1:30 p.m. to 4 p.m., from Monday to Friday in most of the country. Only in major cities will you find bank branches open on Saturdays.
+ Post offices, on the other hand, open over a long period of time: from 7 a.m. to 8 p.m., and are generally open every day of the week, including Sundays. Central posts in Hanoi and Ho Chi Minh City even go so far as to open their doors from 6 a.m. to 10 p.m.
You also have every interest in knowing the opening hours of the embassies in Vietnam:
The services of the Embassy are open (Monday to Friday) at the following times :
Hours of services other than those of the consular section:
+ 8:30 a.m. to 12:00 p.m. and 1:30 p.m. to 5:30 p.m
Hours of the consular section:
+ 8:30 a.m. to 11:40 a.m
Have a good trip to Vietnam!