Introduction
The enthusiasm for the practice of running in Vietnam has remained and been growing, the number of practitioners and of races is continuously and significantly increasing. In addition, the growing number of races in beautiful and picturesque places in Vietnam adds spice to the practice of this activity.
Whether you are a seasoned athlete or a weekend runner, you will find our best tips for running in Vietnam here!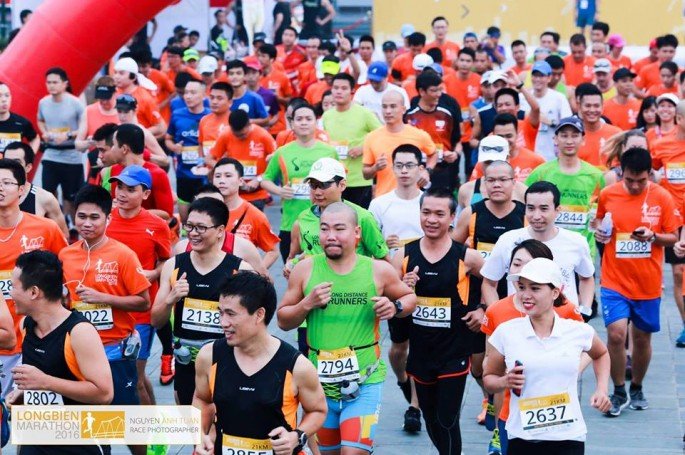 The practice of running in Vietnam
In the near past, at dawn it was more common to see the Vietnamese, traditional by nature, indulging in a few Tai chi and Chinese gymnastics or even practicing a few group dance steps…
Today in the parks and around the lakes, a large number of sportsmen practice running. The development of sports halls also attracts a lot of people.
Everyone has their own pace, their own style – whether wearing flip-flops and a tank top or wearing the latest fashionable outfit to impress your neighbor. Runners are witnessing a drastic increase in Vietnam.
There are many groups of runners who organize themselves to motivate each other to practice together.
We know some in particular who have the particularity of being English-speaking, located in Hanoi. Their members gather every week to organize outings in kind or split sessions: The name of the facebook group is "Red river Hanoi".
Just like in France, the practice, the level and the population are very heterogeneous.
The practice of running in Vietnam is also a socializing element that allows you to meet people who share the same interest, it is easier to exchange!
West Lake
Located northwest of the city, West Lake (Tây Hồ), with a circumference of 15 kilometers, the course can be adapted to all levels, the lake is huge and it's nice to run around. Beware, however, of pollution peaks and traffic at certain times.
Banana island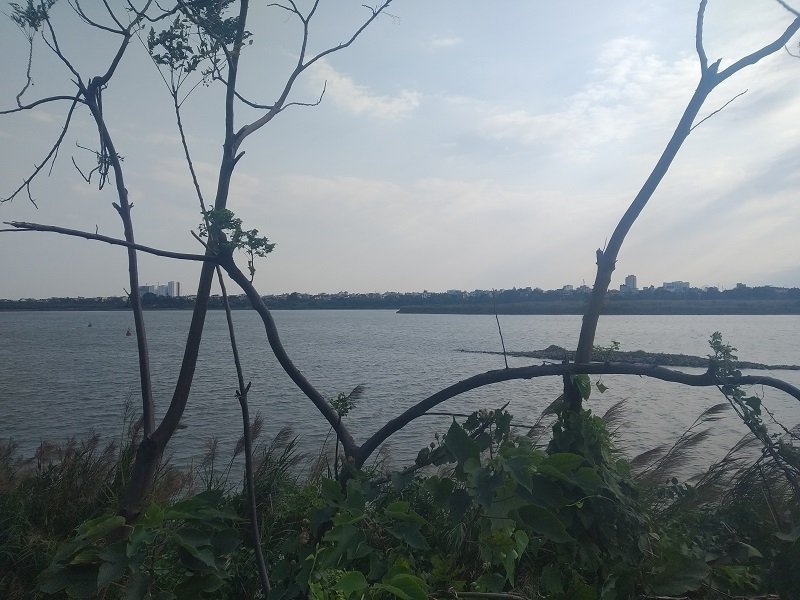 Not far from West Lake lies Banana island that offers a course. In the heart of beautiful nature and just a few hundred meters from the city, we run on a dirt path in the middle of exotic plantations, along the river red. What a dream!
Soc Son Mountains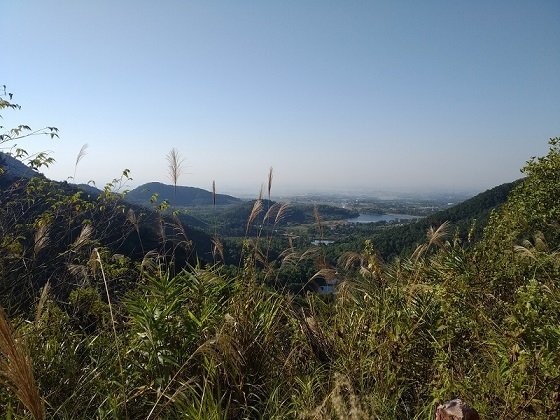 Soc Son is ideal for climbing and taking a breath of fresh air in the middle of nature, just a get-away from the city. The province of Soc Son, located 35 km from Hanoi, offers beautiful mountains and many hilly routes to train in trail.
Thong Nhat Park
Located near Hanoi Station in the city center, it is a pleasant park with many trees and a large lake with a circumference of about 3 kilometers.
Sword Lake (Hoan Kiem Lake)
The most famous lake in Hanoi. Not quite an ideal place for running because Hoan Kiem Lake is quite crowded. It's still a nice place for a little jogging. The outline of the lake is blocked to traffic on weekends, many people go there to walk, gather, etc
Other places in Hanoi
There are also a multitude of lakes and parks in Hanoi to be able to practice your jogging.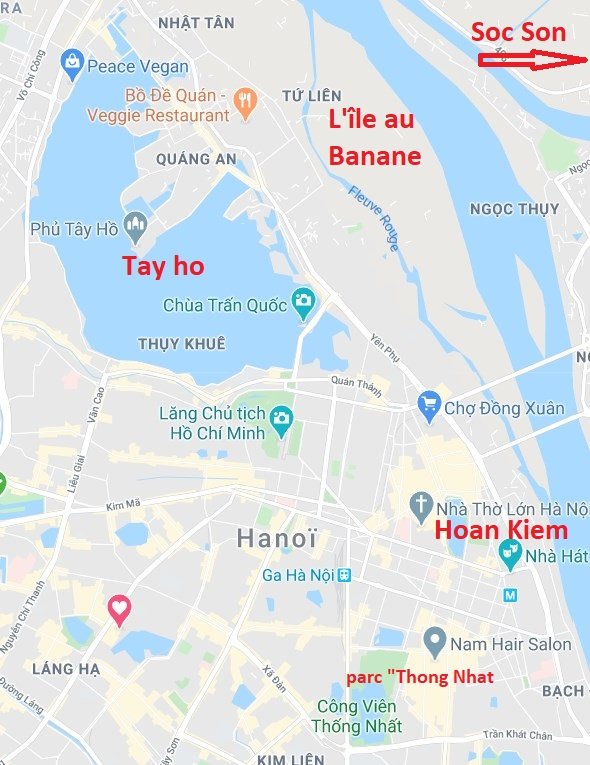 Climate adaptation
Vietnam has a tropical climate, so it is often hot and humid. That is to say practically all the time in the south and from April to October in the north.
Be ready to sweat a lot! It is therefore advisable to hydrate a lot and to adapt the intensity and length of the effort. Increase speed gradually to see how your body reacts.
The Vietnamese generally train very early in the morning, starting at 5:00 a.m. to take advantage of the morning mildness.
Running equipment
The revolution for the French athlete arrived in 2019: Decathlon settled in Hanoi and Ho Chi Minh. So don't worry, we find the same products as in France and at the same price.
Home or office delivery is particularly good. Everything proceeds fast, you don't even need to pay in advance, you can give the money to the delivery person directly.
Of course there are also a multitude of sports shops where you will find shoes that suit you!
Here are some addresses in Hanoi:
Address: 15 Quang Khanh Street, Quang An, Tay Ho, Hanoi https://www.mude.vn/
Active store: house number 22, lane 358/40/62 Bui Xuong Trach, Khuong Dinh Ward, Thanh Xuan District, Hanoi City, Vietnam.
Anta sport: 72A Nguyen Trai, Thuong Dinh, Thanh Xuan, Hanoi
Go sport: No. 42 Tran Thai Tong street, Cau Giay district, Hanoi, 100000 VND
Tuan Vu Sport: 12 Trinh Hoai Duc, Cat Linh, Dong Da, Hanoi
BECK SPORT SHOES: 24 Alley Well Jam, Bach Mai, Truong Dinh, Hai Ba Trung, Hanoi
Sports halls
In big cities like Ho Chi Minh, Hanoi and Danang you will have no trouble finding a gym. In general, the equipment is new and of good quality.
Most infrastructures offer monthly and annual subscriptions.
In addition to running, there are weight machines, yoga classes, dance classes and sometimes even a swimming pool.
Sporting events on running and trail running
Here are some of the races organized in Vietnam. These are the most famous and are generally very well organized. However, it is possible that from one year to another, one disappears to make way for a new one.
In these years troubled by the covid epidemic, many events have been moved. Here is the site to get all the up-to-date information:  https://123go.vn/
In January: Vietnam Trail Marathon
Distance available 10km/21km/42km/70km – Trail Category
Located in Moc Chau, The Vietnam Trail Marathon is an opportunity to discover the majestic hidden trails of Moc Chau and venture far beyond the beaten track.
In February: West Lake Half Marathon
Distance available 3km/6km/15km/21km category: road race
Update – In 2020 the race is postponed to July due to coronavirus
The course is located around the big West Lake, so it's all flat, guaranteeing a competitive atmosphere for a race in the heart of Hanoi.
In February Cau Dat Farm Ultra Trail
Distance available 05km/15 km/35km/55km: Trail category
Arriving at Cau Dat Farm Ultra Trail, you will enjoy the path around the oldest tea farm in Vietnam. It is rich with more than 100 years of history.
Imagine, you will run in the middle of green tea hills, vast fields of flowers characteristic of this plateau region. Plus February is cherry blossom season which blooms on both sides of the road.
In March Hanoi Marathon Techcombank
Distance available 05km/10km/21km/42km – Road race category
Located in Hanoi, Northern Vietnam, the Techcombank Ha Noi Marathon 2020 plans to showcase many attractions in the Vietnamese capital, allowing competitors to experience the incredible beauty, culture and history of this thousand-year-old city.
In March: Dalat Ultra trail Distance
Distance available 07km/14km/21km/42km – Trail Category
Located in the protected area of ​​Phong Nha Ke Bang National Park, you discover part of Vietnam's world natural heritage, with the most spectacular caves, underground rivers and flora and fauna in the world.
In April: MEKONG DELTA MARATHON – Hau Giang
Distance available 05km/10km/21km/42km – Road race category
This beautiful solidarity race located in the south of the country, in the Mekong Delta, plants a tree for each runner.
You discover picturesque villages, remote green fields… From 2020, for the first time, water supplies will be directly taken care of by the local population, immersion guaranteed!
April: Hoi An Discovery Marathon
Distance available 05km/10km/21km/42km – Road race category
April brings the perfect transition time to Hoi An. The ancient city in the middle of Vietnam stretches along the Hoai River, bright with the magic lanterns slowly floating in the echo of traditional Quang songs creating such a memorable feeling. Register for the HOI AN DISCOVERY MARATHON 2020 to discover the unique vibrations of Hoian.
In April: Island run by "school on the boat"
Distance available 03km/05km/10KM
The race takes place in Hanoi at the most natural and picturesque place: Banana Island which touches the Red River. This race is organized by the NGO "school on the boat" which supports the schooling of some of the children living on the slopes of the river. It's a race of the heart!
In May: HA GIANG DISCOVERY MARATHON
Distance available 06km/12km/21km/42km – Trail Category
Located north of Ha Giang, near the Vietnam-China border, Ma Pi Leng Road is nestled in the middle of the valley with four surrounding rock surfaces. This is also where the majestic mountains really challenge your mind. In addition, apart from breathtaking landscapes, you meet the ethnic minorities of the area.
In May: Vietnam Jungle Marathon
Distance available 10km/25km/42km/55km/70km – Trail Category
Offering 10km, 25km, 42km, 55km or 70km of "wonder trails"! The race takes place in the Pu Luong Nature Reserve. Home to ancient jungle, soaring limestone peaks, bustling rice paddies and small ethnic minority villages, life here goes on as it has for generations.
Get ready for the heat challenge too!
In September: Vietnam Mountain Marathon
Distance available 10km/15km/21/42km/70km/100km – Trail Category
This race is a unique track adventure in a spectacular mountainous region of northern Vietnam in SAPA.
Share the trails with water buffaloes and ethnic minority groups. Small dirt roads and narrow trails will lead you through majestic mountains and valleys usually accessible to locals only.
Each route will feature challenging climbs, exhilarating descents and a real insight into local life in ethnic minority villages. 
In December: Hanoi Ultra trail
Distance available 5km/15km/35km/55km – Trail Category
A Trail race in Hanoi! You don't have to go too far or cross different mountains to get a difficult but still poetic track. Some climbs like the aptly named "bête de soc son" will leave traces in your mind and in your legs.
In December: Techcombank Ho Chi Minh City International Marathon 2020
Distance available 05km/10km/21km/42km – Road race category
The Techcombank Ho Chi Minh City International Marathon 2020 offers an incredible opportunity to visit one of the fastest growing cities in the world in one day.
This race follows a route of historical landmarks including spectacular viewpoints over the city skyline. Every finisher returns home with incredible memories.
Conclusion
Horizon Vietnam Travel hopes you have found useful information about running in Vietnam.
If you wish, Horizon Vietnam Travel is of course able to organize a tailor-made trip. We can include some sporting events in your trip, so don't hesitate to contact us!