Upon arriving in the country, all foreign visitors must pass necessary and indispensable procedures of Vietnamese customs.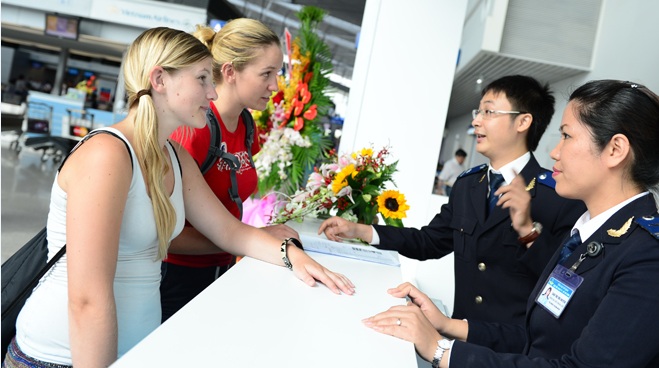 First of all, you must have your passport, it is a very important identity document. Then, it is necessary to apply for a visa to be able to enter Vietnam, except for nationals of countries which are entitled to benefit from a visa exemption regulated by the Vietnamese Government (countries in the ASEAN group, some European countries).
CUSTOMS' FORMALITIES
All visitors, entering or leaving by any route are advised to make declarations and present luggage to customs officers in Vietnam. By air, the formalities are generally faster than those by land or sea.
When you arrive at customs, you are given a declaration sheet to complete. After you have ticked and completed the numbers from 1 to 16, you show it to customs officers or immigration controllers.
It should be noted that luggage and clothing , personal belongings and goods brought into Vietnam are individual goods, not part of the group of non-imported, non-commercial, and tax-exempt goods.
To speed up customs formalities, you must declare:
– Foreign currency, cash worth more than 7,000 USD or other currencies of equivalent value.
– Camera, recording and other electronic instruments that are not individual tools.
– Jewelry (especially gold), precious stones not belonging to private property.
– Gold (more than 300gr). In case of more than 3.000gr, the surplus sum will be kept and re-exported.
– Goods excluding baggage exempt from tax.
At the entrance, travelers can bring a certain amount of foreign currency, gold, silver, precious stones, but they must be declared in detail. In addition, they benefit from the exemption from taxes imposed on: 50 cigars or 150gr of tobacco; 20 cigarettes; 1.5 liters of wine or other non-prohibited things but all at a value not exceeding 300 USD. It is forbidden to bring into Vietnam: weapons; explosive and easily ignited objects; opium and drugs; poison chemicals; any type of firecracker; pornographic products – those that are not suitable to the mores and customs of Vietnam ; children's games with bad influences on moral development, with negative consequences on social security…
When leaving Vietnam, travelers' luggage will be declared. In case a quantity of gold exceeds 300gr, it is mandatory to make a declaration and obtain permission from the State Bank so that they can leave Vietnam. We are not allowed to leave Vietnam with weapons, explosives, drugs, wild animals, precious plants and documents relating to national security.
In case of non-compliance with customs regulations for entry and exit, travelers will certainly be punished under Vietnam law.
Have a good trip to Vietnam!