Vietnam Visa on Arrival (with Invitation Letter from Vietnamese Immigration Department):
Since 1999, the formula "visa on arrival" has been applied at the port of three airports of Hanoi, Ho Chi Minh, and Danang. Foreigners can therefore obtain their visa on arrival without needing help from Consulates or Embassies. This way is considered the easiest and fastest.
 How to get a Vietnam visa on arrival?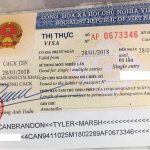 Vietnam visa on arrival
For this type of visa, you must provide the necessary information shown on your passport (note: the passport must be validated for at least 6 months)
Your full name

Sex

Date of Birth

Nationality

Passport number

Passport issue date

Date of arrival and departure from Vietnam

Arrival airport name
There are two different costs to be paid:
The visa authorization application fee (in other words the invitation letter to Vietnam) is 25 USD/person.

Airport boarding fee = 45 USD/person (according to Vietnam Customs General Directorate) for a single entry; 65 USD/person for multiple entries in less than a month and 95 USD for more than a month.
Normally, tourists can ask the travel agency where they are staying to be responsible for paying the first visa fee.
The second fee will be paid directly to the Vietnamese Customs on-site, visitors have no right to intervene to take it.
With this type, you do not have to do anything at home regarding the visa but it is only intended for those who enter Vietnam by air (for other cases, it is better to have a visa from home).
Visa procedure at Vietnam international airport
When disembarking, go to the right at the visa counter, give the flight attendant your passport, duly filled out valid M3 form, immigration authority's documents permitting visa issuance and two household-sized photos. European projection (sometimes only one is required). Then go to the end of the counter where there is a fixed height screen. Wait for your name and photo to be displayed, let a synthetic voice call your name and go to the waiter to whom you will deliver the visa fee amount. This officer will give you your visa stamped passport and visa fee payment receipt. Go through the immigration control directly opposite, go downstairs to collect your luggage and head towards the exit if you have nothing to declare to customs.
You can download the M3 form here.