A question often asked by tourists as they prepare to come and explore our beautiful country. Is WIFI connection in Vietnam easy to access?
Horizon Travel Vietnam gives you all the information about this important issue in this article!
European mobile plan
In most cases, your European phone plan does not include mobile Internet in Vietnam. Using mobile Internet with your plan generates a high additional cost.
Turning off the "CELLENT DATA" option on your phone is absolutely necessary to avoid high bills at the end of the month. It's important to note that if you have the international option, using 4G with your plan will cost you.
For example, free mobile charge 7 euros 50 per megabyte, it can go very fast!
Better to connect to WIFI in Vietnam.
Accessing WIFI in Vietnam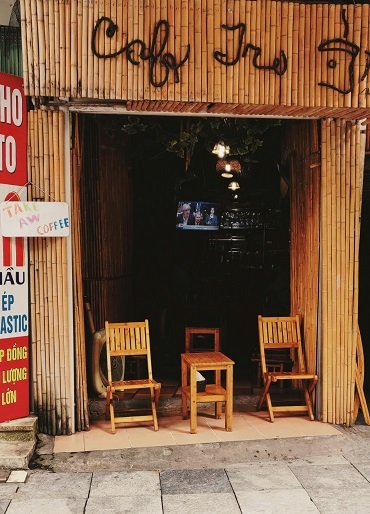 It is true to say that WIFI connections in Vietnam are very accessible, free. It's much easier than in France. In all shops, cafes, restaurants, hotels, guest houses, you will get free entry. Most of the time the code is displayed in a conspicuous way.
We can determine that for practical reasons the codes should not be very complex. We usually find "8888888" or "12345678" !! Vietnamese people don't care much about computer security…
WIFI is also available in some public transport, such as buses, but admittedly the system is still perfect, we didn't catch the signal very well.
Access is well provided throughout the country, even in the most remote areas. One of our guide friends made the same comment when we visited an ethnic minority village. The order of priority is as follows: No. 3 returns to the country, No. 2: on electricity and priority No. 1 on internet access !!!
Therefore, you will have no problem connecting to WIFI in Vietnam.
Applications
To make your access easier, there are apps that automatically connect you to a WIFI network when you reach a network known to the app. Many public places and private brands adhere to this free WIFI system.
The application "Wiman" is one of the best known, it covers more than 250,000 hotspots in the country.
Speed ​​and stability
In terms of network speed and stability, they are rated as the best in the world in big cities like Hanoi or Ho Chi Minh. This is of course less likely to happen in more remote places. But that shouldn't be a problem since you're here on vacation, there's no need to go too fast.
In every case, competent authorities provide you with Vietnamese mobile phones you can contact them at any time.
Mobile Internet package with Vietnamese subscribers
If mobile Internet access is necessary for you at all times, it is of course possible with the Vietnam domestic package. You can buy a prepaid card for internet access. The main carriers in Vietnam are Viettel and Vinaphone. Their offers are similar, charging around 100,000 VND (4 euros) for a month's access to 4 GB of data per day. It is too much!
You pay in cash, so no administrative or credit card worries!
If you travel with Horizon Vietnam Travel, our team will be able to advise you throughout your journey.
Conclusion about WIFI connection in Vietnam
In any case, we recommend you make the most of your trip and try to limit your time in front of small screens. We often rely on it in our daily lives. So your trip will be a great opportunity to look up and enjoy the stunning landscapes that Vietnam has to offer!
In addition, there are places that advocate disconnecting from the internet, as evidenced by the sign of this cafe (see picture below)
It says: "We don't have wifi. Do you talk like 1992!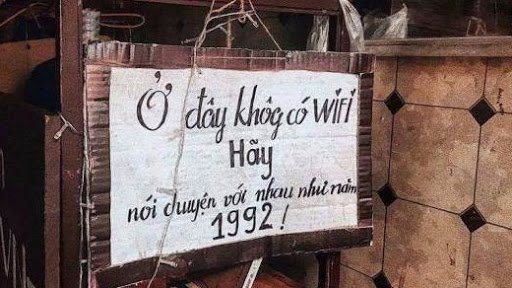 If you also have questions about electricity in Vietnam, you can refer to our dedicated article on the topic!