Hello
Thank you for your email
I must tell you that as far as we are concerned, we have an unforgettable memory of crossing your magnificent country.
The organization you had set up was perfect. We were able to visit the most symbolic and emblematic sites of Vietnam throughout our journey from North to South of your country.
We found the people very friendly and welcoming to the French. (Which surprised me a bit) I was also surprised that in the hotels the reception staff put themselves at our height by trying to speak our language. I was even able at his request to provide some typical sentences in French to a friendly person from the reception of the Rose Garden hotel.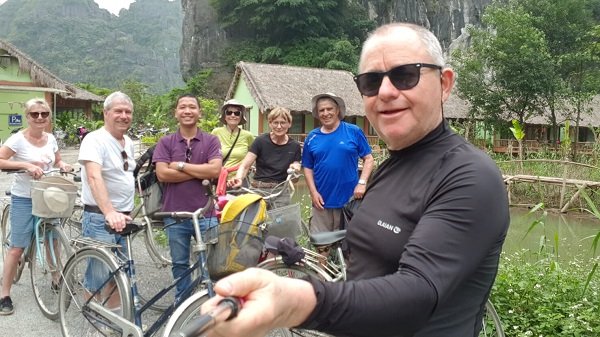 We have no complaints about the quality of the accommodation you had booked for us. There too it was perfect: clean rooms, hearty breakfasts, friendly staff, etc etc
The French-speaking guides provided us with a lot of information throughout our visits while telling us the habits and customs of your country. In the north (pleasant and slightly humid weather) and in the south (we were very hot) the guides were young and mastered French well. In the centre, (wet and hot weather) our guide was older. However, he mastered very well the history of his country but had a little more trouble speaking French even if his words remained very understandable. He had known the war and this brought a plus in his comments.
Our three guides helped us well during this trip and were good advice when it came to finding a restaurant for our free meals or for our souvenir shopping.
Thanks also to the different drivers because it is not easy to circulate in your country. We quickly realized that when crossing a street the pedestrian is not a prioritiare (as is the case in France) and that it is necessary to be very vigilant and careful.
If our future travel plans lead us to return to Asia, no doubt we will call on the services of your agency
With the link below you will be able to access a folder in which there are some photos. If you have difficulty accessing it do not hesitate to tell me I will send you the photos in the form of two or three emails.
Have a great weekend and thank you again for everything.