Train in Vietnam for your trip? What it looks like?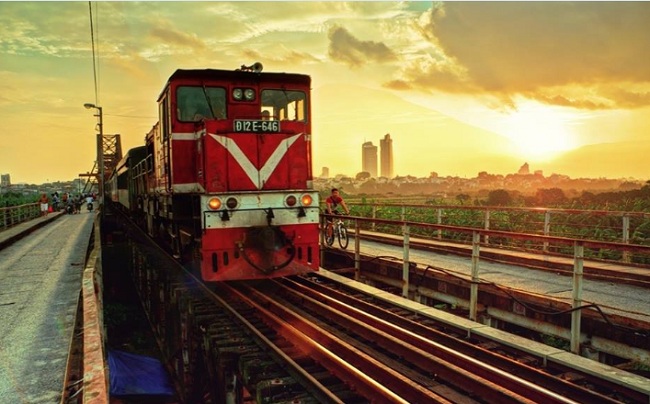 If you think the train in Vietnam will look like a French or Japanese TGV, you will be disappointed.
If you imagine it to be similar to a European train from 100 years ago, that won't be quite right either, but you're getting a little closer to reality!
Indeed, the railway lines in Vietnam are already old, they date for the most part from the years 1920-1930 at the time of French Indochina.
The carriages have kept their somewhat rudimentary appearance, but the cabins are on the other hand more and more modern and better and better equipped. This is to satisfy the increasing need of Vietnamese for more comfortable compartments, but also to take into account the increase in foreign tourists.
So, if you hope that a train trip in Vietnam will be a unique experience, our answer will be "YES". We can say this for the following reasons:
Firstly,  there are two main railway lines already in operation in Vietnam, namely the line from Hanoi to Lao Cai in the mountainous North West and the cross-Vietnamese line Hanoi – Ho Chi Minh City which crosses the country from north to south.
The latter has stops in all the provinces along its length. Compared to Vietnamese highways which are modernizing at an impressive speed, the landscapes along the railway lines are more exotic, more varied and more charming. Vietnamese trains do not run fast, 50-60 km per hour on average, which is an asset, because it allows a traveler to observe the passing landscape more deeply and quietly.
Many stops at provincial stations will offer you typical scenes of everyday life: street vendors, old buildings or old local station doors, or just seeing or hearing ordinary people, young or old, talking or getting to know each other… unique scenes that you won't find with other means of transport! And the high level of security is also a very convincing reason for your choice!
Second,  if you have comfort issues, especially on a long drive, we can tell you that's nothing to worry about.
You can indeed find, provided you book your ticket very early, very comfortable cabins: berths with mattresses, called "soft" according to the local language, with air conditioning, towels, bottles of water, and even small gifts like cakes or fresh fruit! Cabin rental agencies now adapt their offers with great flexibility to the very varied demands of their customers.
For example, we can completely transform a cabin with four berths for four passengers into a cabin with two berths for a couple for example, of course we will pay more!.
Moreover, the categories of cabins, like the rental agencies are multiplying and competing more and more, becoming more and more varied. You have, for example, the wagons of Livitrans, those of Orient Express, those of Tulico Express Train, those of Royal Express Train…. These wagons are all of good quality, nevertheless, there is a difference between them, and of course, the prices are also different. The Victoria carriages are advertised as one of the best categories, but they are exclusively reserved for travelers who also book rooms from the Victoria hotel chain of the same name. Moreover, the other, smaller agencies are making a great effort to improve their services. At the level of the infrastructures of the reception stations, there has also been a great effort in recent years to modernize the equipment, especially the signaling and indication system. In many stations, it has become electronic.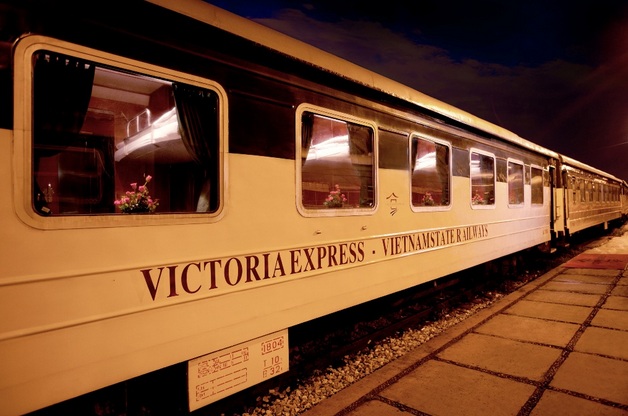 What are the train lines in Vietnam?
We now provide you with more detailed and practical information about the two main train lines most frequented by tourists in Vietnam.
The line trains-Vietnamese Hanoi-Ho Chi Minh City and vice versa:
On average, a North-South trip and vice versa will take between 30 and 40 hours. There are departures every day. The SE1 and SE3 trains from Hanoi to Ho Chi Minh City and the SE2 and SE4 trains from Ho Chi Minh City to Hanoi are the fastest (about 32 hours and 29 hours respectively). They stop in all the provinces located on the railway line, including major tourist centers in the country such as Hue, Da Nang, Nha Trang…
The main classes on these trains are hard seat, soft seat, hard sleeper and soft sleeper, these can be divided into a number of subclasses. For economy places such as seats, the reservation can be made one or two days before departure, but for higher classes such as soft chairs or berths, it will be better to reserve several days before departure or go through a travel agency. travel. If your trip coincides with the traditional Tet period of Vietnam, you will need to book your ticket several months in advance. For several years, the network of sale and distribution of train tickets has been developing well in the major cities and tourist centers of the country. In addition to direct sales counters in station premises, there are a multitude of sales offices or online sales sites. If you make a trip organized by an agency, the latter often books your ticket for you. We present below some tables on some main routes and the ticket prices according to the different categories:
1. Train from Hanoi to Saigon
Currently, there are 03 Hanoi-Saigon express departures:
Express train SE1 (34.20 Hours), departure from Hanoi at 7:00 p.m.

Express train SE3 (29.30 Hours), departure from Hanoi at 23:00

Express train SE5 (30.55 Hours), departs from Hanoi at 12:25 p.m.
We offer two categories of accommodation:
Air-conditioned "hard" sleeper cabin (without mattress): 6 berths per cabin

Air-conditioned soft sleeper cabin (with mattress): 4 berths per cabin
Please find the fares and timetables for these trains below:
Train
Station
Air- conditioned hard sleeper cabin 
(USD/ticket/one way)
Air-conditioned soft sleeper (USD)
Arriving time
First floor
Second floor
Third floor
SE 1
Hanoi
19h00
Vinh
16
15
13
17
00.46
Hue
32
30
26
33
08.01
Da Nang
35
32
28
36
10.34
Nha Trang
58
55
46
59
16.17
Sai Gon (HCM)
63
59
50
64
04.10
SE3
Hanoi
23h00
Vinh
17
16
14
18
04.07
Hue
33
31
27
34
13.03
Da Nang
36
33
29
37
12.58
Nha Trang
59
56
47
61
18.13
Sai Gon (HCM)
64
60
51
66
04.30
SE 5
Hanoi
12h25
Vinh
15
14
13
16
18.00
Hue
31
29
27
32
01.02
Da Nang
34
32
30
35
03.33
Nha Trang
58
56
54
60
09.01
Sai Gon (HCM)
62
60
58
64
20.00
Note:
The price of the train in USD is for one way

If you would like to book a private cabin, you should book the 4 berths (if it is a 4 berth cabin) or the 6 berths (if it is a 6 berth cabin).

Ticket prices do not include meals.
2. Train from Hanoi to Hue, to Danang
Apart from the ones on SE1, SE3, SE5 as mentioned in article 1, there is another departure for Hue: HN 1 at 8:10 p.m.; and wagons from the private company Livitrans which rents some wagons from the Government: compartments for 4 people, clean, air-conditioned and equipped with good quality mattresses.
In addition, there is also another departure from the Vietnam Railway Company which joins Hanoi and Hue: HN 1
Train
Station
 4 soft sleeper cabin USD/ticket/one way
Arriving time
Livitrans
Hanoi
 0
19.00
Hue
 68
08.01
Danang
 80
10.34
HN 1
Hanoi
20h10
Hue
 50
10h30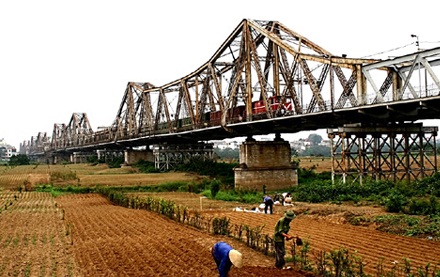 The Hanoi–Lao Cai Line
This line allows you to get to Sapa, a town in the mountainous North-West altitude whose surroundings are populated by minority ethnic groups such as the H'Mong and the Dao.
This railway line, as it connects Hanoi with the very exotic Northwest in terms of cultural diversity and natural landscapes, is very busy. The trains are often crowded. If the advantage is the reduction of accommodation costs, the fact that these are night trains has a disadvantage: you cannot see much, except when approaching Lao Cai or Hanoi in the morning with some morning activities available to your eyes. Every evening there are a few trains serving this line between 7:00 p.m. and 9:30 p.m. in both directions Hanoi-Lao Cai and Lao Cai-Hanoi. Prices and categories vary widely and are becoming more and more competitive thanks to a multitude of companies participating by leasing wagons from the Société Générale des Chemins de Fer while modernizing them. These companies are quite numerous and offer quite competitive prices. You can, for example, consult these companies Livitrans, Tulico, Orient Express, Victoria… Livitrains has its counter in the main building of the Hanoi train station on Le Duan street. Victoria also has her own office near the main building of Hanoi Railway Station. Most of the other companies have their counters in the secondary building of this station overlooking Tran Quy Cap Street. All these companies have their websites, and thus offer online booking possibilities. Victoria also has her own office near the main building of Hanoi Railway Station. Most of the other companies have their counters in the secondary building of this station overlooking Tran Quy Cap Street. All these companies have their websites, and thus offer online booking possibilities. Victoria also has her own office near the main building of Hanoi Railway Station. Most of the other companies have their counters in the secondary building of this station overlooking Tran Quy Cap Street. All these companies have their websites, and thus offer online booking possibilities.
We present in the list below the timetables and prices of the trains Hanoi – Lao Cai and vice versa:
Hanoi – Lao Cai – Hanoi train fares
Company Name
Price USD/ticket/one way
VIP cabin (for two people)
Deluxe cabin (4-berth cabin)
Tulico

Not available

35
Livitrans
75
37
Hanoi – Lao Cai – Hanoi train schedule
Hanoi – Lao Cai
| | | | | | | |
| --- | --- | --- | --- | --- | --- | --- |
| Gare | SP1 | SP3 | SP5 | LC1 | LC3 | SP7 |
| Hanoi | 21:15 | 21:55 | 8:20 | 22:05 | 6:10 | 20:40 |
| Viet Tri | | | | 0:12 | 8:16 | |
| Yen Bai | 1:53 | 1:40 | 12:40 | 2:30 | 10:40 | 0:22 |
| Bao Ha | 3:16 | | 15:14 | 5:08 | 13:32 | 2:47 |
| Pho Lu | 5:03 | 4:44 | 15:59 | 5:53 | 14:19 | 3:29 |
| Lao Cai | 6:15 | 6:00 | 17:05 | 7:10 | 15:40 | 4:35 |
Lao Cai – Hanoi
| | | | | | | |
| --- | --- | --- | --- | --- | --- | --- |
| Gare | SP2 | SP4 | SP6 | LC2 | LC4 | SP8 |
| Lao Cai | 20:15 | 21:00 | 8:40 | 18:45 | 9:45 | 19:30 |
| Pho Lu | 21:22 | 22:07 | 9:47 | 20:04 | 11:34 | 20:34 |
| Bao Ha | 22:21 | | 10:35 | 20:49 | 12:20 | 21:17 |
| Yen Bai | 0:17 | 1:10 | 13:45 | 23:10 | 14:59 | 23:31 |
| Viet Tri | | | 16:13 | 1:46 | 17:42 | |
| Hanoi | 4:30 | 5:05 | 19:10 | 4:00 | 19:55 | 4:10 |