A visit to Ngoc Son temple
Built during the Tran Dynasty (1225 – 1400), Ngoc Son Temple located on a green island in the northern part of Hoan Kiem Lake – Lake of the Restituted Sword – is truly a touch of charm in the city centre landscape. The island on which this temple is built is accessible by a pretty red bridge – "Bridge of the Light of the Rising Sun", which is preceded by a few doors decorated with typical Vietnamese symbols: frogs supporting an inkwell, tigers, dragons, a five-storey brush tower…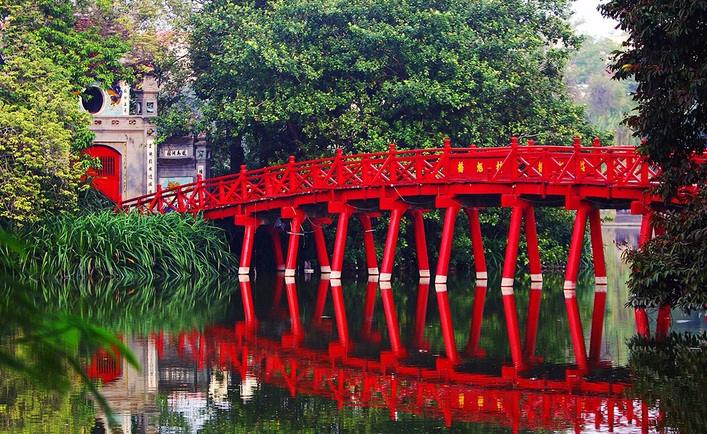 All this creates a landscape perfectly harmonious with the surroundings which corresponds to the aesthetic taste of the Vietnamese or to the Vietnamese soul: water, a hill or a mound of the earth occupied by a small temple whose entrance path, often very long, winds around instead of running straight ahead…
A must-see:
If properly noticed, the significance of the upside down paintbrush tower on a stone mound on one side of the main gate of the temple and the inkwell on the back of a frog on top of another secondary gate is questionable. In fact, it is a more recent monument, dating from the mid-19th century. Its author was Nguyen Van Sieu-a literary man from Ha Noi renowned for his talent in letters. It was he who had the idea of adding these architectural elements to an old temple that already existed, but was in a state of degradation at the time. These forms are often presented as a symbol of the culture and politics that the Vietnamese often defend against external aggression, both literally and figuratively.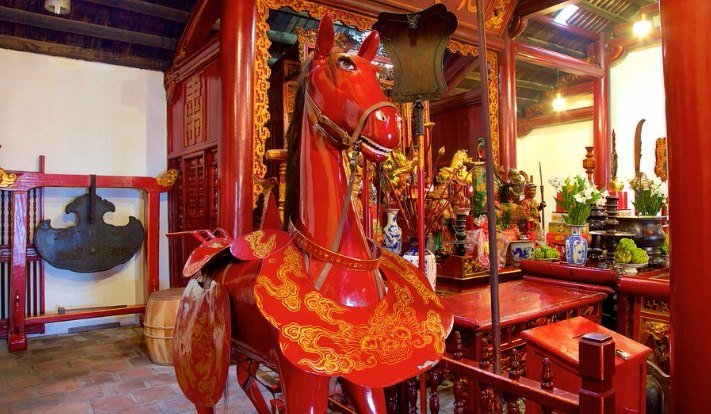 Under the aspect of beliefs, the Ngoc Son Temple-Jade Mountain Temple is often presented as a symbol of the spirit of synchretism and open-mindedness of the Vietnamese.
The monument houses altars dedicated to three figures of Chinese culture and venerated by Taoism, the fourth at the back was dedicated to a Vietnamese generalissimo who repelled the Mongol invasions in the 13th century, Tran Hung Dao. There is also a small room off the main altar where a mummified turtle is displayed. This is a bit of a local animist tradition. For the Vietnamese, it is a sacred animal that is often the object of worship. This temple still houses a giant turtle dating from the 15th century, measuring 2.10 m in length and weighing 250 kg.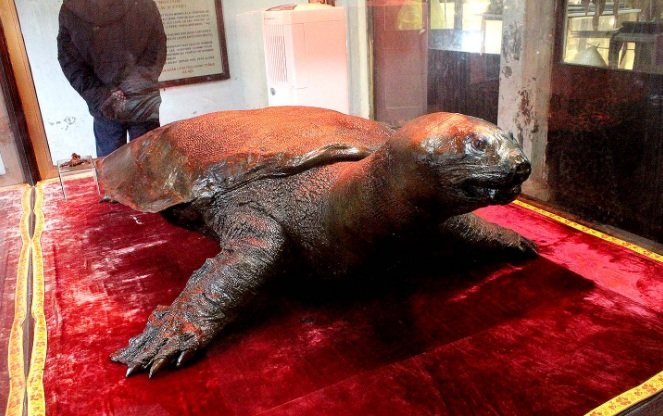 For a foreign visitor, he can get lost in a confusion between myth and history and wonder about the reasons for these cults. But here, we should not complicate things too much: the Vietnamese are open to any exotic belief, and even in a permanent resistance relationship against an empire, they also admire the culture and devote their respect to characters recognized as talented and virtuous, whatever their country of origin!