A visit to the Tran Quoc pagoda
Reflecting on the water of the Great Lake for 15 centuries, the Tran Quoc Pagoda, with so many legends surrounding it, has become one of the cultural treasures of the capital Hanoi.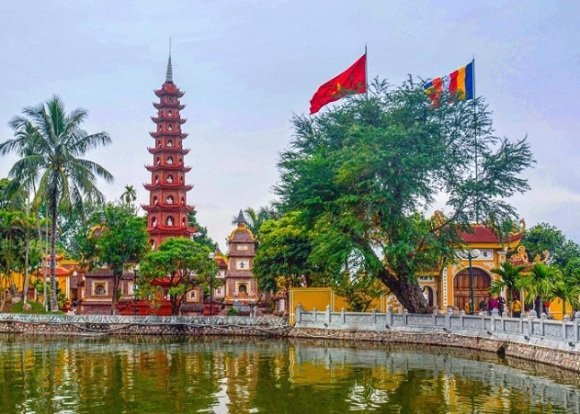 A brief history
According to the Dictionary of Cultural Relics of Vietnam (Hanoi, 1993), the pagoda, originally called Khai Quoc "Foundation of the Nation", was built under the earlier Ly Dynasty (Ly Nam De, 544-548) in Y Hoa village on the Red River. It was moved during the reign of King Le Trung Hung (1615) to the interior of the Yen Phu dike and rebuilt on the former foundations of the Thuy Hoa Palace (Ly Dynasty) and the Han Nguyen Palace (Tran Dynasty). In the years 1624, 1628 and 1639, the pagoda was restored and enlarged. These works were recalled by Nguyen Xuan Chinh (the first winner of the supreme competition) in a stone stele erected on the pagoda in 1639. At the beginning of the Nguyen reign, it was again restored with bells and statues. In 1821, Emperor Minh Mang visited it, offering 20 taels to embellish it. On the occasion of Emperor Thieu Tri's visit in 1842, the pagoda changed its name to Tran Bac "guarding the north". However, its name Tran Quoc, dating from the reign of Le Hy Tong, known as Chinh Hoa (1680-1705), is still used by modern Hanoians.
The architecture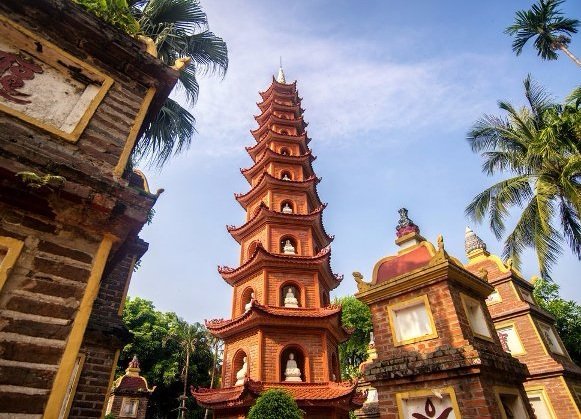 In 1998, Venerable Kim Cuong Tu, the managing monk of the pagoda, was commissioned to build an 11-storey tower 15m high on a 10.5m2 base. Each floor has six arched doors and contains a statue of Amittaba Buddha. The tower has a total of 66 statues and a 9-supported lotus flower candlestick made of precious stones at the top.
Tran Quoc Pagoda has retained its unique architecture, different from other pagodas, and houses many precious Buddhist statues, especially the golden wooden statue of Sakyamuni, and 14 older stone steles built-in 1639. In addition, a Bodhi tree has been planted on the grounds of the site. It was brought from Tay Truc by the Indian President Prasat on the occasion of his visit to Vietnam in 1959 and offered as a present to President Ho Chi Minh. With its harmonious architecture, surrounding nature and great cultural and historical value, Tran Quoc Pagoda was listed as a "cultural-historical heritage" in 1989.