Although Hanoi and Saigon (Ho Chi Minh City) are popular destinations in Vietnam, if you visit both cities on the same trip to Vietnam, you will find that each has a distinct "character", an identity of its own. Hanoi – the capital of Vietnam has a more traditional and peaceful atmosphere while the southern metropolis, Ho Chi Minh City is more modern, more hectic.
In this article, Horizon Vietnam Travel presents to you the differences between these 2 big cities of Vietnam.
Weather
and humid subtropical" climate, which basically means cold and dry winters and hot and humid summers.
Hanoi has 4 seasons with distinct temperatures. But in general, it is divided into two seasons: hot and cold. The first one lasts from May to September with quick showers having the average temperature of 28°C. Sometimes it can reach up to 40 ° C. From November to March is the cold season. For the inhabitants of this tropical country it is often too cold in winter, while for Westerners, the temperature is quite acceptable. In fact, it was sometimes up to 7 ° C in this region.
While Sai Gon (or Ho Chi Minh City) has a tropical climate, with 2 seasons: rainy season and dry season enjoying warm temperatures all year round (on average from 28 to 32°C). The peak could reach 33 to 35 ° C.
Generally speaking, Hanoi's climate is more pleasant in autumn (from mid-September to the end of November), while the best time to visit Ho Chi Minh City is from December to April.
It's up to you to find your ideal season!
Lifestyle
Despite its forced urbanization in the last two decades, as the capital of Vietnam, Hanoi keeps its special charm, its traditional beauty thanks to its historical monuments, its folk activities, its traditional architecture. The streets of the old quarter still contain old houses, colonial buildings, traditional markets, restaurants, as well as cafes, restaurants that have served the people for generations. Hanoi is therefore more conservative than Ho Chi Minh. Almost all places of entertainment are closed before midnight. It is a much more reserved and quiet nightlife than the southern economic capital. Respect for tradition and culture is therefore very important in Hanoi, but that doesn't mean you can't have fun! On weekends, the old Hanoi hosts a pedestrian area, where you can see many people playing in the street, doing shows, dancing, painting, singing… This place is very lively and the atmosphere is festive!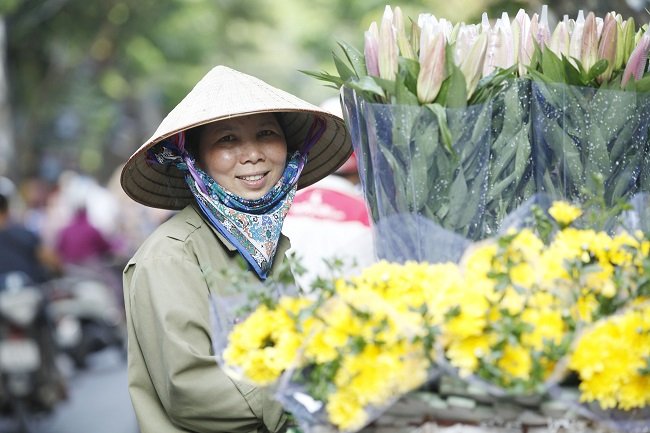 Ho Chi Minh City has been strongly influenced by American and French culture, which has resulted in rapid modernization. Luxury hotels, fashionable shopping malls, entertainment venues and skyscrapers are becoming characteristic features of this city. Ho Chi Minh City offers a lot of wider leisure places and very different from the capital. It is endowed with a multitude of bars, restaurants, cafes, clubs and other entertainment places, some of which are open all night long. Indeed, it is said that this city never sleeps! But if you like to visit historical monuments, don't worry, you can find attractions all over the city, such as the Reunification Palace, Cao Dai Temple,… The advantage of Ho Chi Minh, is that the modern blends beautifully with the traditional.
Shopping
Offering a more authentic shopping experience, Hanoi offers traditional markets and old stores, street vendors selling handicrafts, local art and fresh produce. The cries of the street vendors remain an ineffable trait in the hearts of Hanoians. Moreover, you will not find two identical streets in the old quarter, each one is specialized in certain products such as silverware, shoes and silks,…The old quarter of Hanoi is a captivating labyrinth of 36 streets of trades selling the authentic products of Vietnam. Thus, you will inevitably find your happiness within these small streets, what better than to make its purchases in a framework which captivates you?
Ho Chi Minh City is more modern. This southern metropolis is known for its shopping malls, large and modern stores, such as Vincom Centre, Takashimaya Vietnam and Parkson Plaza department store. In this city, you will find more western products, but the grandeur of the buildings and the frenetic atmosphere is an experience not to be missed.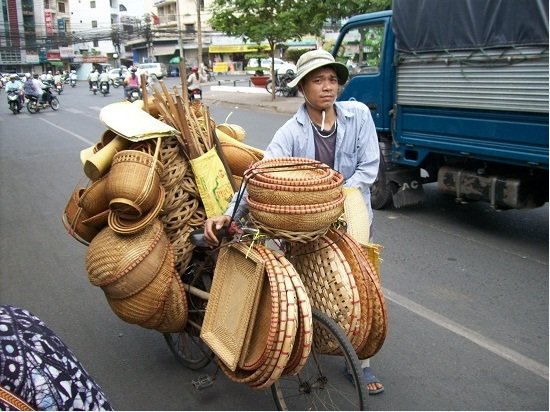 Cuisine
Ho Chi Minh City is known as the food capital of Vietnam, where you can enjoy not only authentic Vietnamese specialties, but also restaurants of foreigners serving Japanese, Chinese, American dishes… There is something for everyone!
While street food reigns in Hanoi, its narrow streets hosting many street vendors, family restaurants. You will find thousands of small kiosks with plastic chairs and tables on the sidewalk where you can taste the famous Vietnamese pho (rice and noodle soup). However, the variety of food is not as rich as in Ho Chi Minh City.
Flavors & Ingredients
Sugar is a fundamental element of southern cuisine, especially in Ho Chi Minh City. But, in Hanoi, the food becomes more salty and sour. Pickles, some herbs and aromatic leaves are used in Hanoi cuisine while they are rarely found in southern dishes
Hanoi is ideal for those who want to immerse themselves in the traditional culture of Vietnam while the southern metropolis is more modern and more influenced by the western culture.
And you, which city attracts you the most?