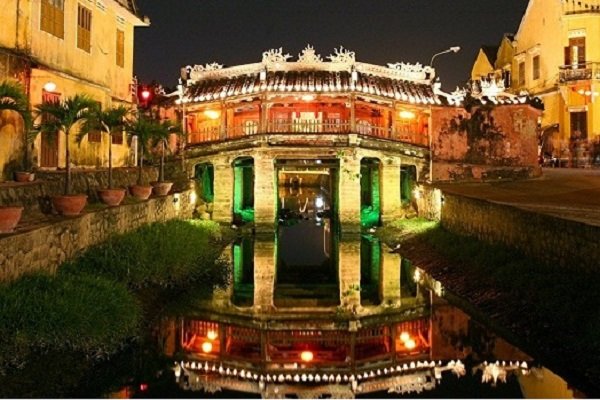 Existing for more than four centuries, the Cau Pagoda is one of the most famous tourist sites in the ancient city of Hoi An and also an emblem of this city. It is on the list of must-see activities in Hoi An.
The Cau Pagoda is also known as the Vien Lai Pagoda. It was built in the early 7th century by Japanese traders to connect the Chinese and Japanese quarters. Therefore, the Cau Pagoda is also called "The Japanese Bridge".
Legend of the Japanese Bridge
According to a legend, there was a monster called "Mamazu" living in the sea. His head was in Japan, his tail in India and his back crossed Hoi An. This monster often caused earthquakes and floods in Japan and Hoi An was no longer peaceful.
The Japanese built this bridge to worship the geniuses of monkeys, dogs and this pagoda is considered as a sword plunging into the back of Mamazu so that this monster could not wave its tail, causing natural disasters.
Two areas to visit
The Japanese bridge consists of two parts: the covered bridge and the pagoda which are all made of wood. The door of the pagoda is carved with three words, Lai Van Kieu. This name is given by King Nguyen Phuc Chu during a visit to Hoi An in 1719.
Most tourists come to the pagoda to admire the ancient architecture – a very special architectural style.
Outside, a pair of dog and monkey statues guard each end to protect this area. Both animals are sacred symbols in Japanese culture. Many Japanese emperors were born in the year of the monkey and the year of the dog. According to a document, the construction of the bridge was started in the year of the dog and finished in the year of the monkey.
Although this site is a pagoda, no Buddha statue is put inside. In the centre of the pagoda is a wooden statue of a northern genie Tran Vo Bac De. The Vietnamese believe that this genie can bring good luck and good things to people.
Although it was built by the Japanese, it has the architectural features of the Vietnamese. It is also a good example of Japanese architecture of the time. The pagoda was renovated in 1817, 1865, 1915 and 1986.
This monument is not only a bridge or a pagoda, but it is also a "communal house" of the villagers. Nowadays, many religious activities are held here.
The heart of the ancient city
The Cau Pagoda is considered the "heart" of the ancient city of Hoi An. It is a cultural and architectural combination between Vietnam and Japan. It is also recognized as a national historical and cultural monument. A typical symbol of Hoi An tourism, one of the most beautiful sites not to be missed in Hoi An.
You can see the image of this bridge on the 20,000 VND banknote of Vietnam.